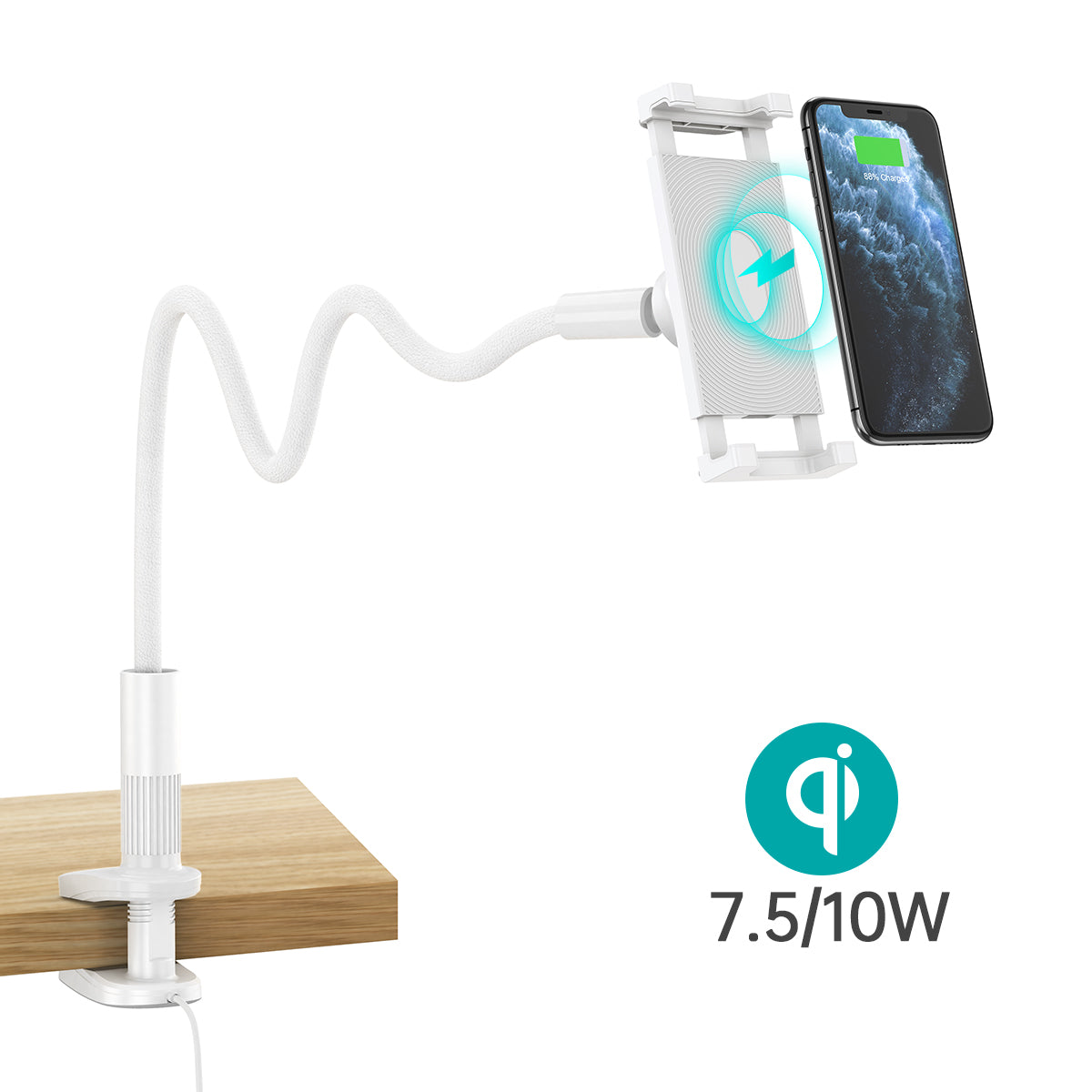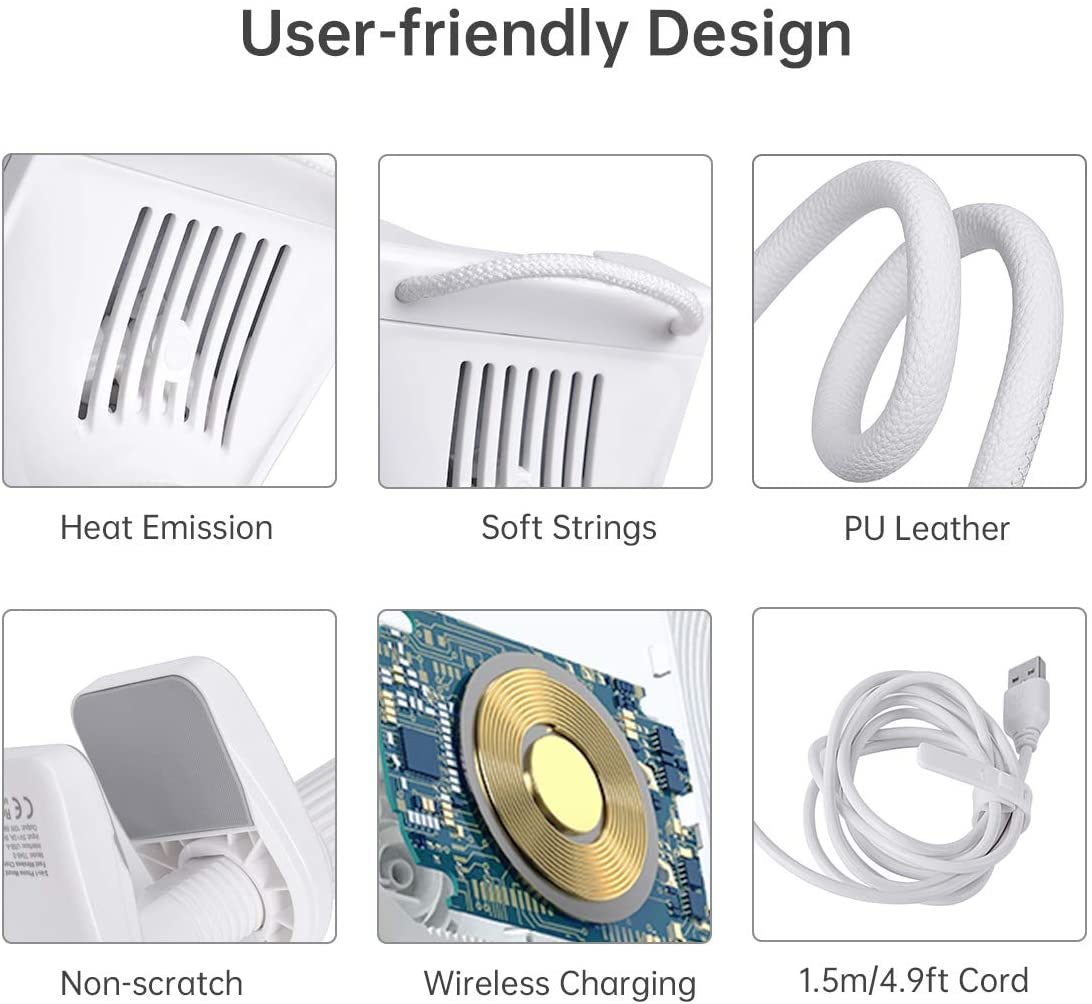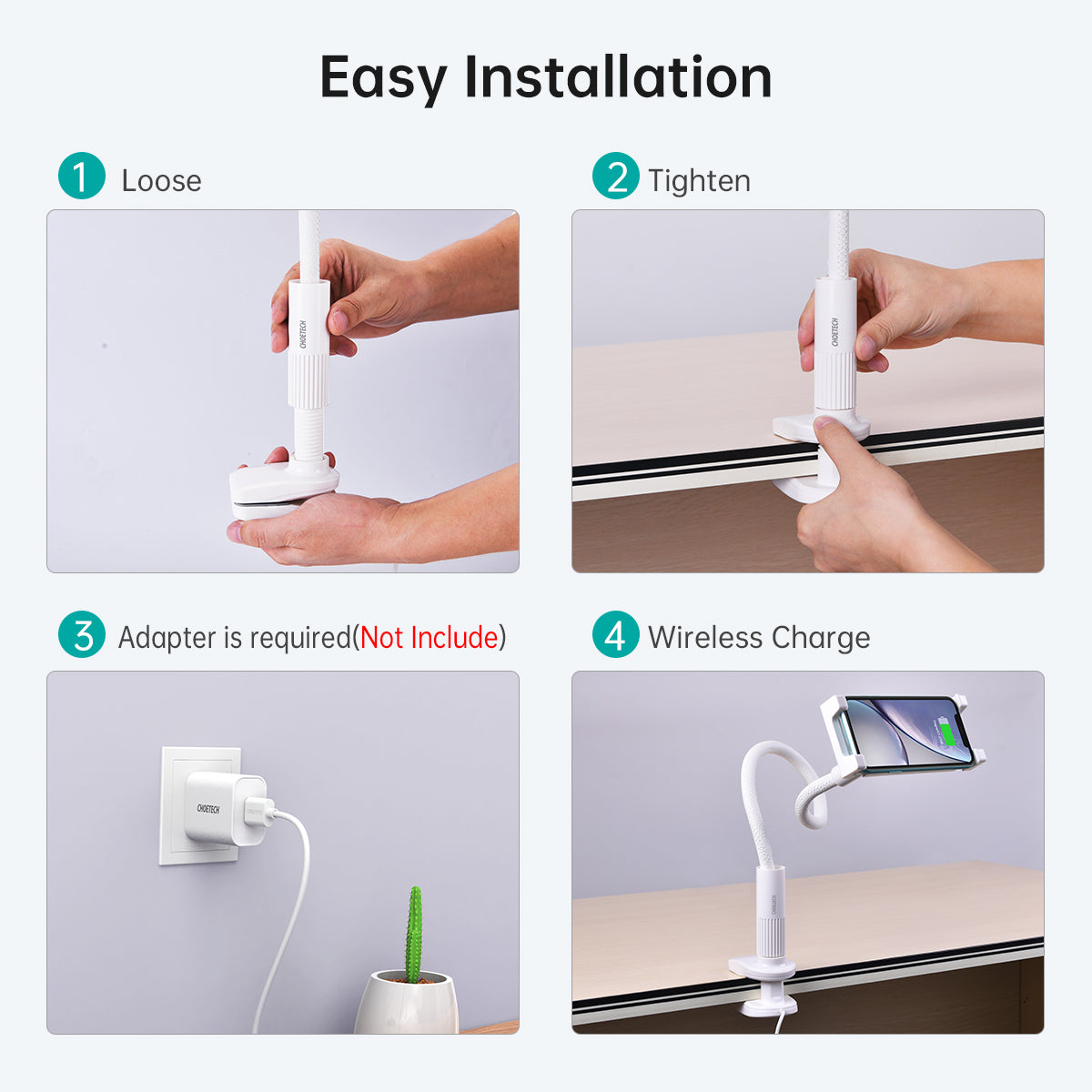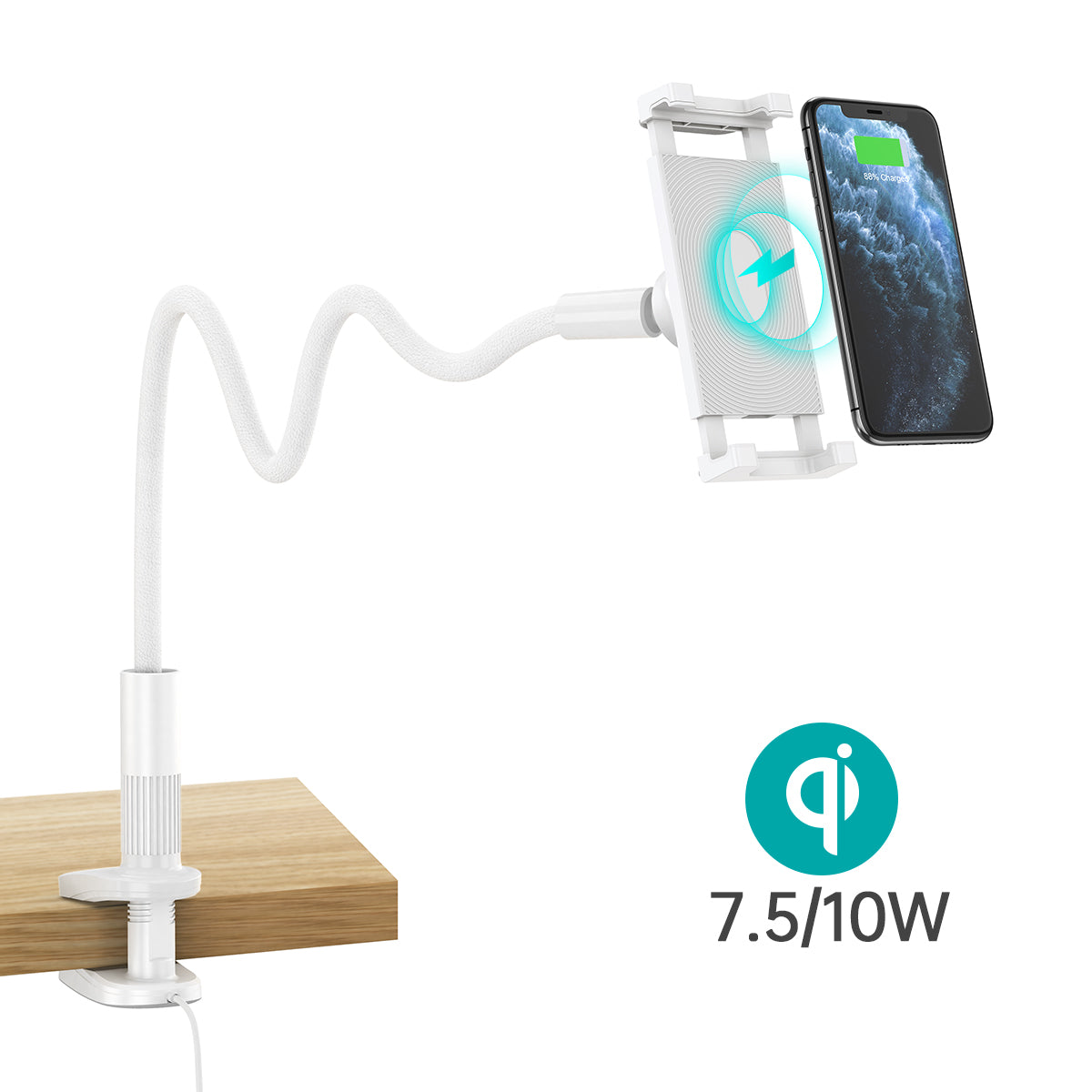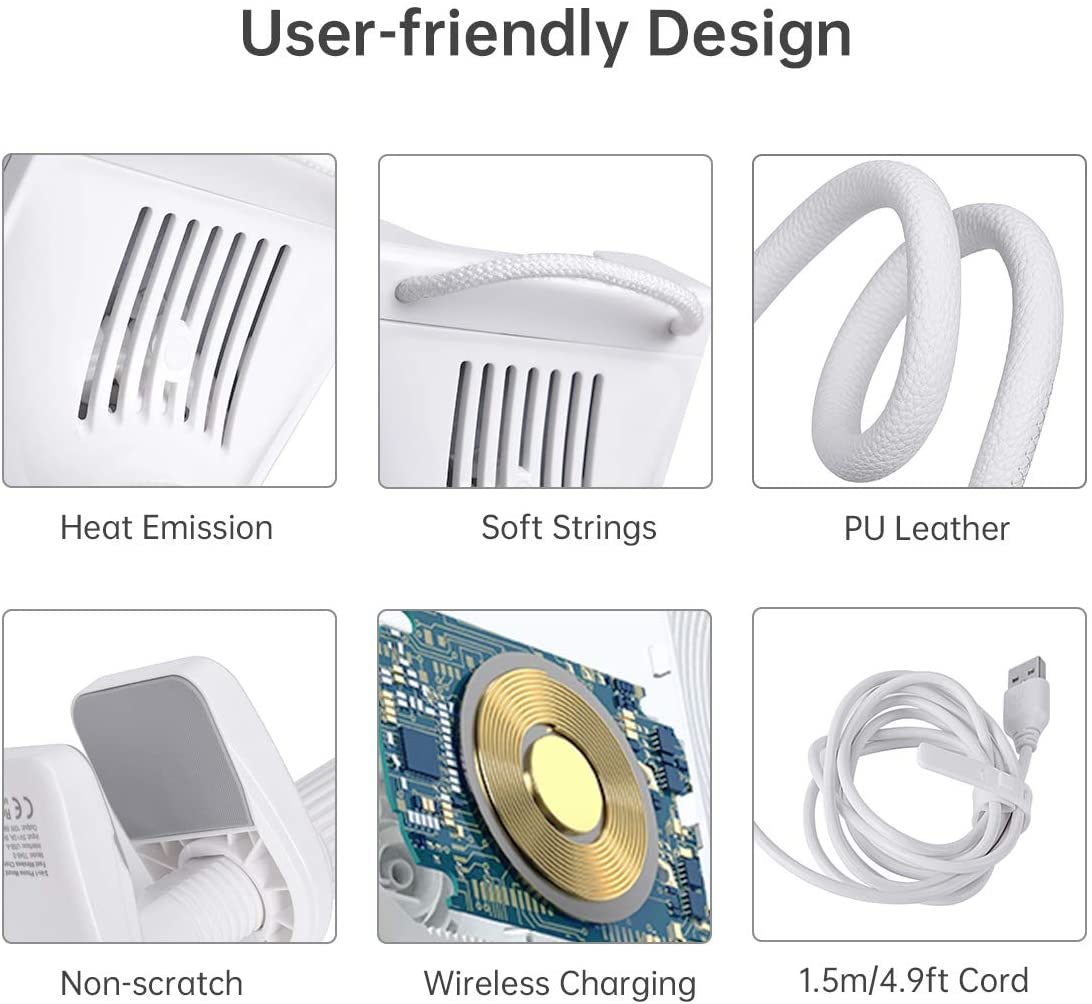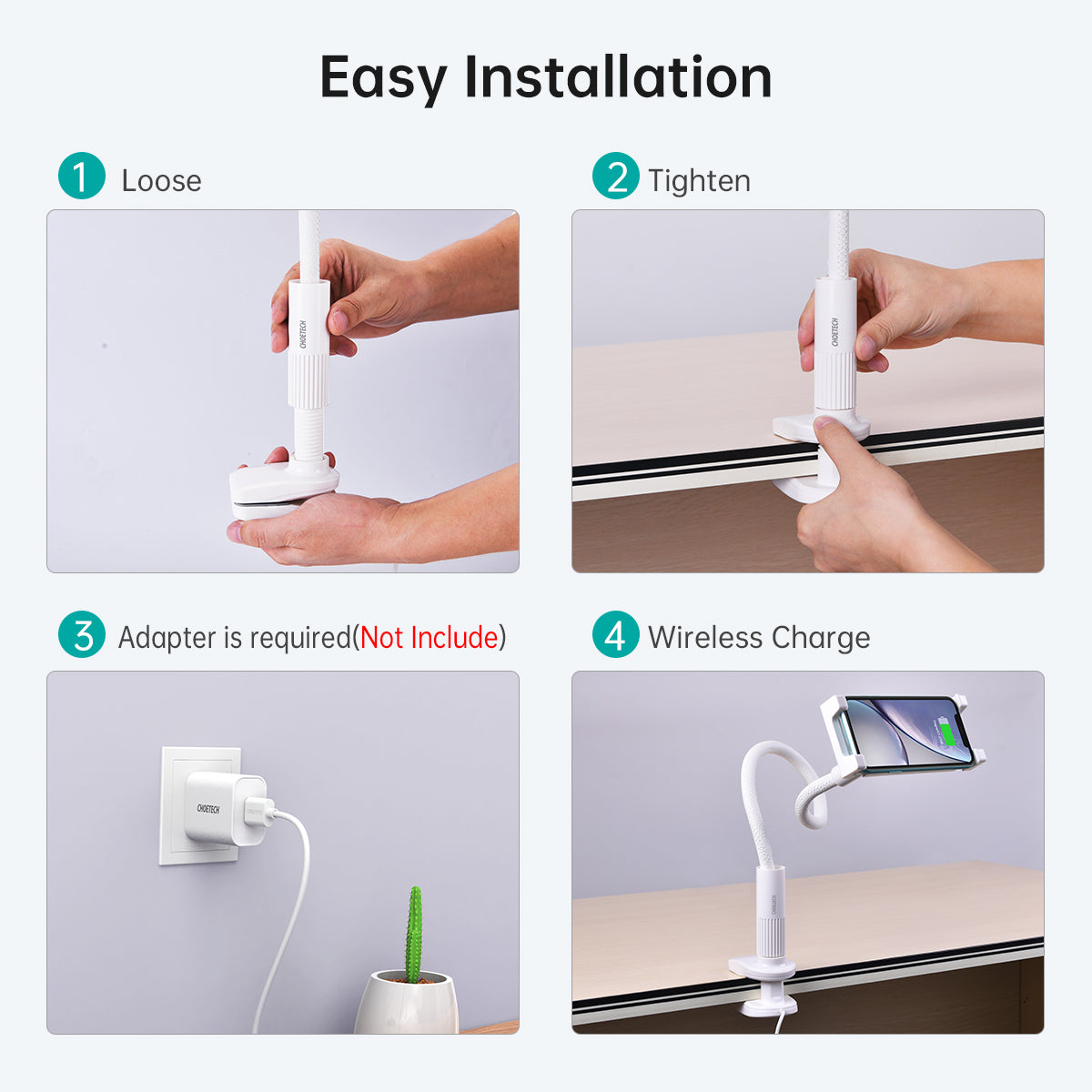 T548-S Choetech 2-in-1 Phone Mount & Fast Wireless Charger
Choetech's 2-in-1 Phone Mount & Wireless Charger is one of the first wireless charging stands that combines wireless technology with an adjustable lazy arm stand. Enjoy movies and dramas while lying on the bed and charging simultaneously. With a 360 degree rotation clip on the phone mount, a flexible long gooseneck arm - you can freely adjust it to your best viewing angle to reduce neck fatigue and easily position your phone at the desired distance.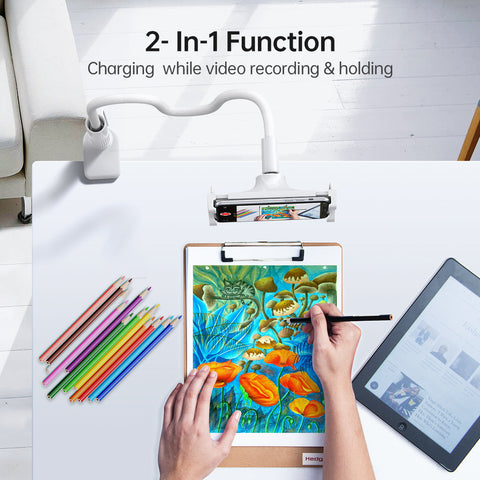 2-in-1 Phone Mount & Wireless Charger
This is the first wireless charging stand that combines wireless technology and an adjustable lazy arm stand. You can either use it as a phone mount or as a wireless charger, so you can charge Qi-enabled devices.
10W & 7.5W Wireless Charging
This Qi wireless charger delivers the fastest possible wireless charging speed. 7.5W for iPhone SE(2020), Max/XR/XS/XS Max/X/8/8Plus, iPhone Series 11-14 and 10W for Samsung Galaxy S20/S20 Plus/S20 Ultra/ Note10/Note10+/S10e/S10+/S10/S9/S8/Note 9/Note 8 etc. at, 5W for other Qi-enabled phones. Our wireless phone mount charges directly through cases UNDER 6 MM THICKNESS. Magnetic and metal attachments or cards will interfere with the charging process.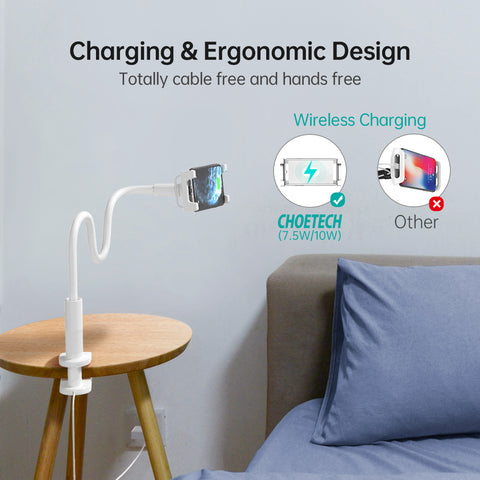 Adjustable & Easy to Install
With a 360 degree rotation clip on the phone mount and a flexible long gooseneck arm - you can freely adjust it to your best viewing angle when you're lying on your bed or sofa. Reduce neck fatigue and easily position your phone at the desired distance. It has a strong clamp to hold your phone securely. It's easy to attach on furniture such as table and bookshelf. (phone holder for bed)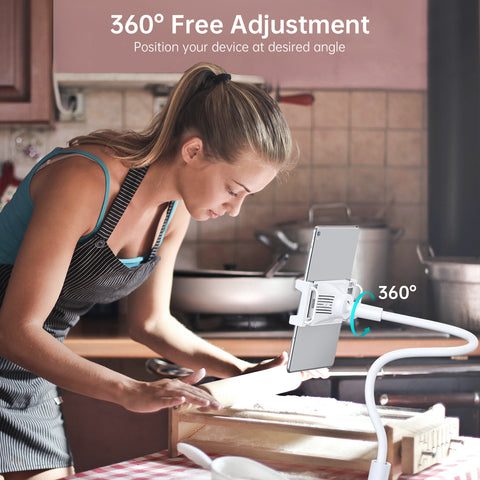 Excellent Stability
Distinctive dual-arm design - the thicker lower arm is to keep stability and the thinner upper arm is for easy twist. Flexible enough to twist yet durable enough to withstand repeated bending. Instead of fixing with screws, a spiral clamp that is easy to operate is used. The stability is stronger because it can be used if there is a small contact area between the desk and the edge of the bed.and it does not scratch the desk or bed headboard, and also has an anti-slip effect.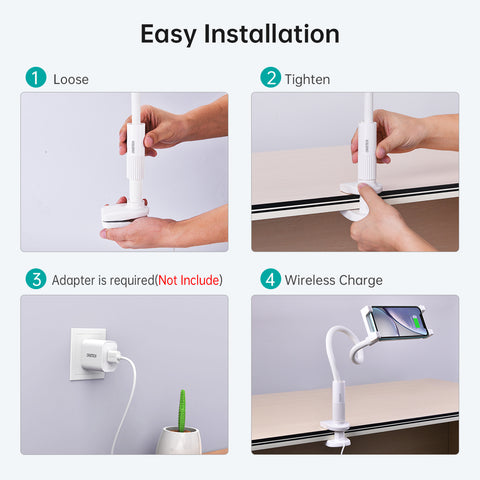 Widely Compatible
Applicable to phones and tablets up to 4.7"-9.7". Adjustable arm length: 700 mm; phone/tablet fixed part width: minimum 125*70 mm, maximum 175*70 mm; plate thickness such as table to be fixed: 0-70 mm, it can be used anywhere without worrying about the thickness. Examples of compatible models: iPad (9.7 inch), iPad mini(7.9"), iPad Pro (9.7 inches), iPhone SE 2020/11/11 Pro/11 Pro Max/XS/XS Max/XR/X/8/8 Plus, Samsung Galaxy S20/Note 10/S10, Note 10, Google Pixel, Sony, LG.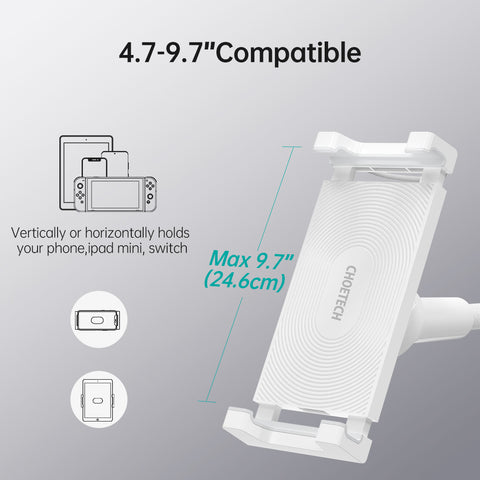 Customer Reviews
Pixlchik from US on January 31, 2021
I love this Wireless Charger Gooseneck Phone Holder because I just had surgery for a proximal row carpectomy (bones removed from dominant wrist--yeouch!). Can't tell you how many times I've fumbled or dropped my phone using left hand or my right on its splint. This Wireless Charger Gooseneck Phone Holder allows me to just pull on the strings on either end to extend out the springed system then let go so it pulls back and locks my phone (Note 10+, but pretty much any phone) in it's grasp. Yes I have to use my mouth and left hand to do that, but the springs are easily pulled out without much effort, yet snap back firmly enough for a solid gold of the phone. My second photo shows the percentage of charge that appears right as you plop the phone in if you have a phone with the wireless charging capacity. Now I can lay in bed, tilt this in any direction while I lay in bed, and use either the pen stylus or my left hand to browse click and scroll letting my right wrist heal! Awesome! My only complaint would be I wish the neck was a tad longer so the phone could go more over my head with the phone being directly in front of my face... As it is, I kinda have to turn my head to the left or angle my body a bit to the far end of my mattress so I'm straighter... But this still has been a life saver during COVID as I take care of my aging father and my teen son so have been doing all the shopping via instacart online. 😊👍
CS_0406 from US on October 3, 2020
This Wireless Charger Gooseneck Phone Holder is amazing. My phone is virtually attached to me, and it has taken its toll on my hand. Sometimes it feel as if my hand is permanently in a claw as I am always holding my phone. I put this Gooseneck Phone Holder on my nightstand and it has made a huge difference. I have it angled so that it is perfectly placed on my right. The wireless charging works great as well, so when I'm done playing games on my phone, it is always just where I need it to see the time all night.
Honestly, I'm shocked it took this long for someone to come up with this. Cannot recommend this more highly!
Brett & Destiny Nugent from US on October 9, 2020
If you are looking to use this to record videos flat on your desk/surface. For instance, I do hand lettering and needed a tripod that could flip all the way down to face flat on my desk and this Wireless Charger Gooseneck Phone Holder is absolutely perfect! After ordering 2 and having to return them this was really pleasant! I have an iPhone 11 max and it holds it sturdy without flopping over or falling off. As long as you have a surface close to you that you can clamp it down on then this should work perfect for you. My desk doesn't have a ledge that I could clamp it onto so I just clamped it onto my wicker shelf that sits next to my desk and it works perfectly. It is not super long so you want to make sure to have something close that you can clamp it onto. It also has a decently long USB cord so you can charge your phone while recording if your phone is dying which is extremely helpful because with old tripods if my phone was dying I would have to wait to record until my phone charged so this is a really nice addition! Overall, I would 100% recommend us and would definitely buy Wireless Charger Gooseneck Phone Holder again!
5@+y@ from US on September 21, 2020
I was pretty happy with what Wireless Charger Gooseneck Phone Holder did as it sometimes allowed me to use my phone as a backup for my online meetings when my home network didn't live up to it. Now with schools starting remote, internet connection is absolutely a nightmare and unpredictable. This meant my phone stays on the holder longer. This needed more charge and lo! Behold Choetech already had this figured out. A double sturdy gooseneck, and a hard clip that stayed locked in to my table and charging my phone as I took my meetings is exactly why I took a day or two to write my feedback. I will keep you posted on how this works longer term. PS - does not ship with a charger and I have not checked speed of charging yet.
SupraTuner from US on October 2, 2020
Wireless Charger Gooseneck Phone Holder. Great Wireless Charger, sturdy arm. I was able to clamp this to my 1.5" desk with no issues. The Arm does wobble, but what arms dont? it does stay stable and very ridge after it stablizes. I also use it on my headboard to charge my phone, while also watching movies or playing games. Super convenient! My only wish was that it was a sideways grip option (so i could use my phone camera while its charging). But I believe their design is one way to ensure the coils will always work with any phone that is placed in the cradle.
Richard from UK on August 5, 2020
Wireless Charger Gooseneck Phone Holder is a pretty simple product. It's not the prettiest. It sort of looks like a shower accessory, but functional it works. I have bent the "hose" many directions and the charging is consistent. It's very heavy material so I think it will last. It supports the weight of an iPhone 11 Pro Max just fine. I hope to use it in my racing simulator set up for my dashboard.