T200-F Choetech Magsafe Car Mount Wireless Car Charger
Choetech designed this Magnetic Wireless Car Charger Holder to keep your iPhone mounted through any road bumps. High-quality base equipped with strong magnets and flexible ball joint make it easy to flip from portrait to landscape mode with one hand. This Car Charger is compatible with iPhone Series 12,13,14 and with MagSafe cases on - just snap your phone, case and all, against the magnetic surface to keep your music, calls and navigation going without any signal interference.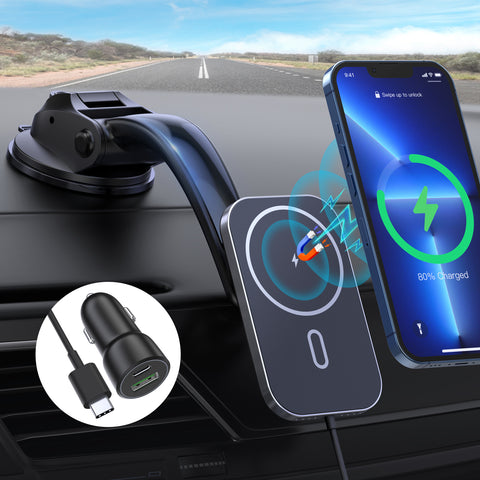 Compatible with MagSafe Cases

This Magnetic Wireless Car Charger is compatible with MagSafe cases, just set your iPhone Series 12-14, case and all, against the magnetic surface and go.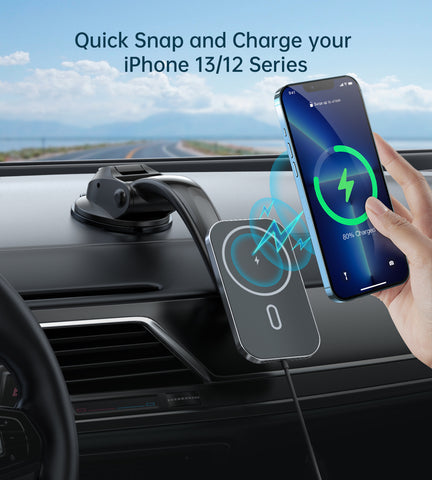 No Signal Interference
The 16 magnet built-into the Car Charger Holder adopt a constant closed magnetic field, which is more advanced than other MagSafe Car Chargers. It does not interfere with the phone signal and ensures smooth navigation.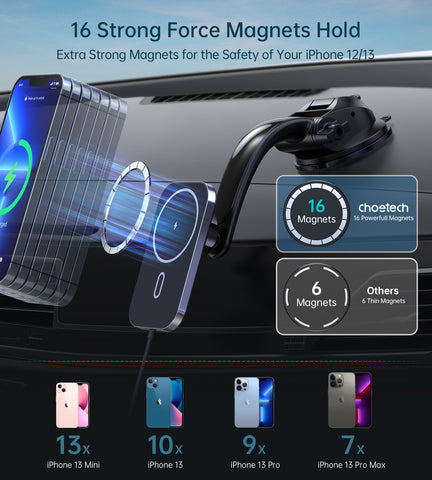 Customer Reviews
Kole from US on March 16, 2021
This wireless magnetic car charger works perfectly with my iPhone 12 Pro Max. Please note that you must either have no case on your iPhone or a MagSafe case for it to have a strong hold. My Apple Leather MagSafe case works great with this Choetech Magsafe Car Mount Wireless Car Charger.

I really like how thin the Magsafe Car charger is. I have had no problems with my phone falling off, or even moving at all while driving. Recommended.
Newboyx from US on March 2, 2021
Choetech Magsafe Car Mount Wireless Car Charger is everything I needed for my commute! I already had a compatible car charger for the mount to plug into. Keep in mind you will need a USB C car charger that will put out enough power to power this mount (Choetech sells several that will work). Mounting in my vent could not have been easier. It has an easy to use key to turn to adjust the clamp in the vent. I just had to pick my spot and tighten the key. Plugged the hardwired USB C cable into my car charger and it just worked. The magnets built into my iPhone 12 Pro Max attached on the first try. Charging started automatically. The magnetic connection seems to be holding strong. I have used Choetech Magsafe Car Mount Wireless Car Charger for several days on the road and have not had even the slightest bit of slipping.
A reminder that you will need to have a MagSafe compatible case to get full grip with the mount. Or just mount with no case.
RM from US on April 27, 2021
Received it this afternoon and took it for a spin.

The phone is held firmly in place by the magnets on this Magsafe Car Mount charger and by the adjustable clamp. The phone simply "snaps" in place and stays there.

The Magsafe Car Mount doesn't have any LEDs on it, which I like and prefer (Wouldn't know it's charging unless you look at the phone or Navigation screen).

The cable is a USB-C so if you don't have it in your vehicle, you'll need an adapter for the charging to work.

The speed of the Magsafe Car Mount is fast. Has to be close to a percent a minute.

When it comes down to it, the reality is that I don't use wireless charging much because CarPlay requires a wired connection in my vehicle. Choetech magsafe car mount is nice to have the option and for the stand to serve as more than just a magnetic stand.

Wish that Magsafe Car Mount also wirelessly transferred data but that's a whole other topic.
Michael H. from US on May 13, 2021
# Pro Tip
This Magsafe Car mount phone holder will work with your Iphone 12, 12 mini, 12pro, or 12 pro max. your phone must have magsafe built it. If you are going to use it with case, get a case with ring around it.

#Built Quality 5/5
- The part that touches your iphone has rubber coating on it. it will not scratch your phone.
- The Magsafe Car Mount is about 1" elevated from the car vent. your phone will not rub against car trim.

#Ease of use 5/5
- As a former Uber/Lyft Driver, I tried so many different car mount. This is the best solution for me. magsafe car mount it easy. and it charges phone while your phone it attached to the magsafe car mount.
- This Magsafe Car Mount support PD 3.0 which means it will charge the phone at the highest speed there is.

# You would need USB-C Charger. Either pick up Double USB-C Charger set. or Pick Up USB C and USB 3.0 combo charger.

Drawring Simon from UK on May 26, 2021
I usually stick to adhesive or customized car mounts for solid mounting points. However, I can't seem to find either for magsafe car mounts. Vent mounts seem to have evolved since they first came out. This magsafe car mount is as solid as I can imagine for being on a vent. Vents won't be as stable as fixed attachments because vents inherently move. But this magsafe car mount is as good as can be expected.

The magsafe car mount is fairly fast. I don't necessarily want super fast charging as it's not generally good for long term battery health. But this magsafe car mount isn't quite 15w fast and not nearly 5w slow. I have the included cable tucked away. The cable is black, blends into dark interiors, and it's only usb-c. You may need to get a usb-c 12v adapter to use the charger like I had to. The magnet is strong, the mount is sturdy enough to not move when you pull off the phone. Also, this is a full size magnet car mount, so it doesn't rotate around, it stays aligned vertically (or horizontally if you set it up that way). It's as good as I could find until they come out with adhesive/custom mounts for magsafe.
Marty M from UK on May 11, 2021
I recently purchased this Magsafe Car Mount to go along with our new van, as we plan to take a lot of roadtrips this summer, and I want my phone charging during navigation and music playing. I used to use the actual cord, which was fine, but this works with my new iPhone 12 which I really like. I was nervous that it would not be stable enough to hold the phone during some bumps in the road, but it has stuck there throughout, never dropping off. I was also impressed at the vent clip, as it sticks really well and has held the same position since installing it. I like the charging capability, and had to buy a USB-C charger for my port, but I am glad at the quicker charging capability. Overall I am very happy with this Magsafe Car Mount.
Nick Presley from UK on May 28, 2021
For years I've wanted this combination - the ease of a magnet phone holder, and the convenience of wireless charging. I've had one or the other on my previous Android phones, and it was always a choice to make.

Recently I switched back to the iPhone, and Magsafe charging with this Magsafe Car Mount from Choetech is exactly what I wanted. The iPhone 12 lines up easily with the charger, holds securely while driving. And the clamp for connecting to the car vent is sturdy and tight. I've had plenty of vent mounted holders that will fall off, slip out of alignment, but this one has been great so far.

My only preference would be USB-C cable I could swap out instead of built-in, but pretty minor detail. Overall, highly recommend this Magsafe Car Mount.
J. Ballard from UK on August 3, 2020
The Magsafe Car Mount charger works great. I started using it with my Lumia 950XL and I am now using it with my HTC 10. Charges both phones extremely quickly. In my 25-minute drive home I get about a 20% charge. It looks nice and easily plugs into the power port on my F-150. I love that it includes a USB Type-C cable.

The customer service from Choetech was great. After about seven months with the charger, (shortly after I got my HTC 10), it started odd behavior of showing "Charging Rapidly", then "Charging", the charging light would go out, then back to "Charging Rapidly", etc., all the while not actually charging. (The problem was only on the QuickCharge port - the regular port charged my phone, albeit a bit more slowly.) I contacted Choetech via email 7/21. They replied quickly and by 7/22 I had a tracking number for the replacement. It came from China so it took a little longer, arriving on 8/1. The replacement works as great as the original did.

I gave it 5 stars for two reasons: 1) when Magsafe Car Mount works, it works great and charges my phone quickly like it should, and 2) even though I had an issue (which can happen to any product manufactured by anyone and the heat here in Arizona can be brutal), Choetech addressed it quickly and sent me a new one with no hassle.