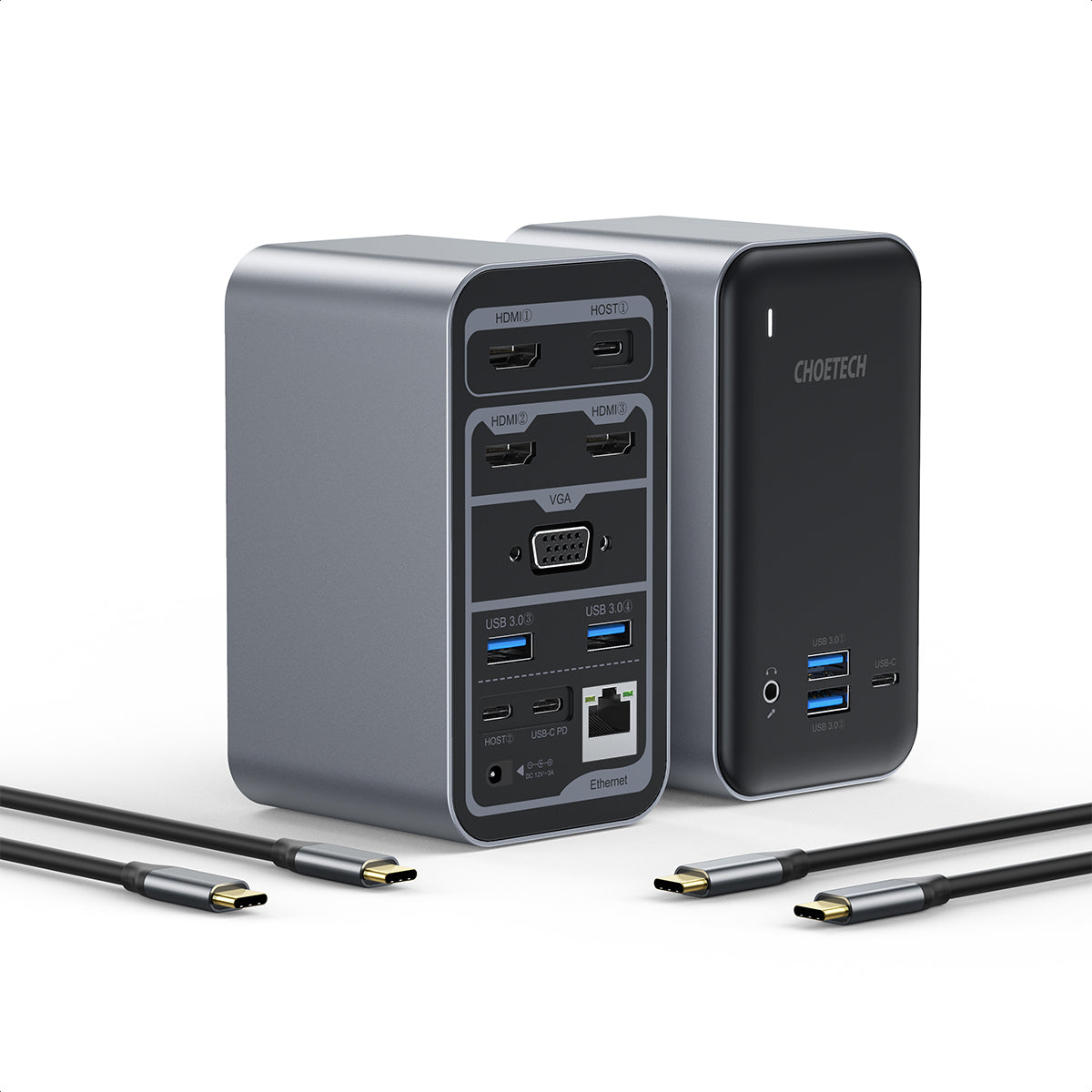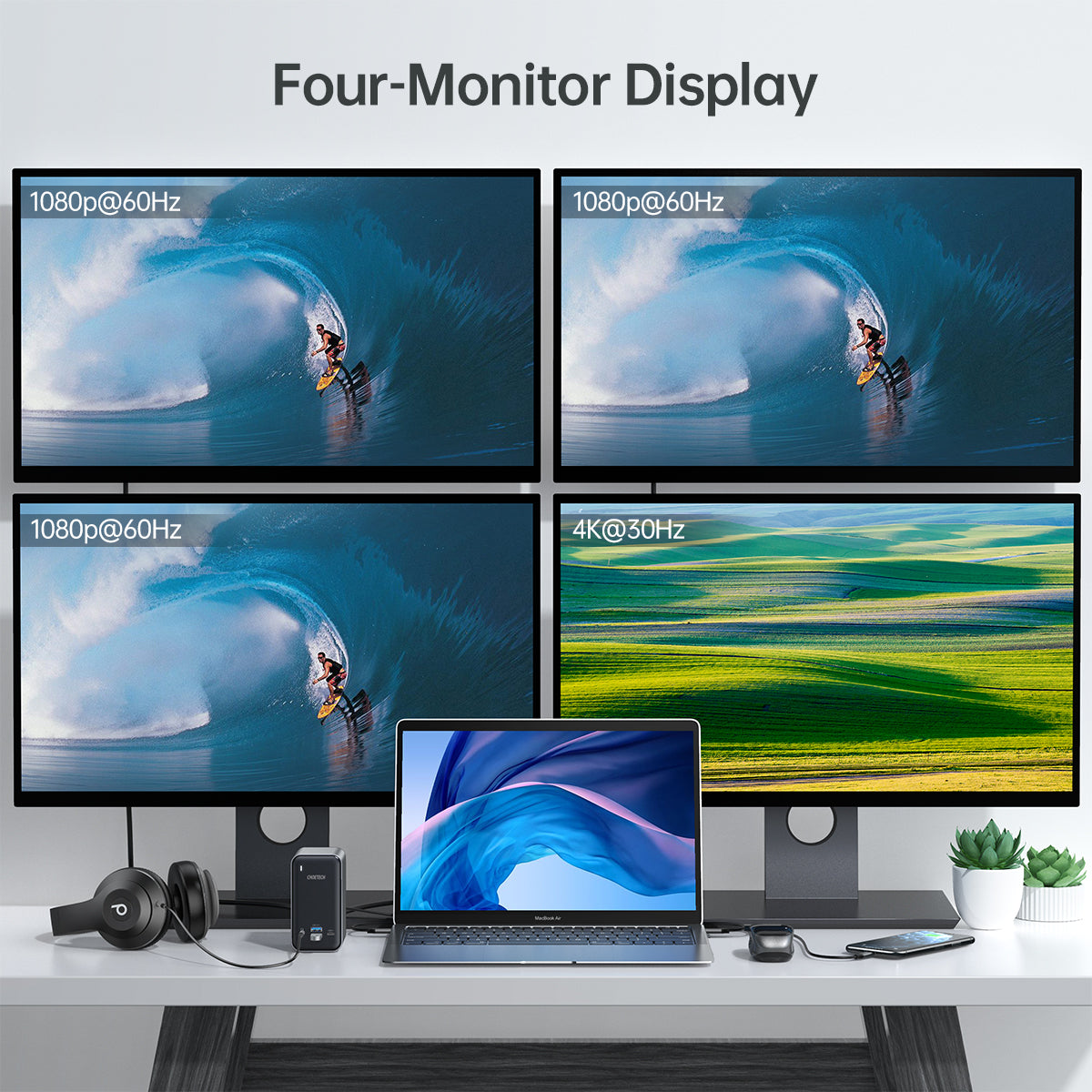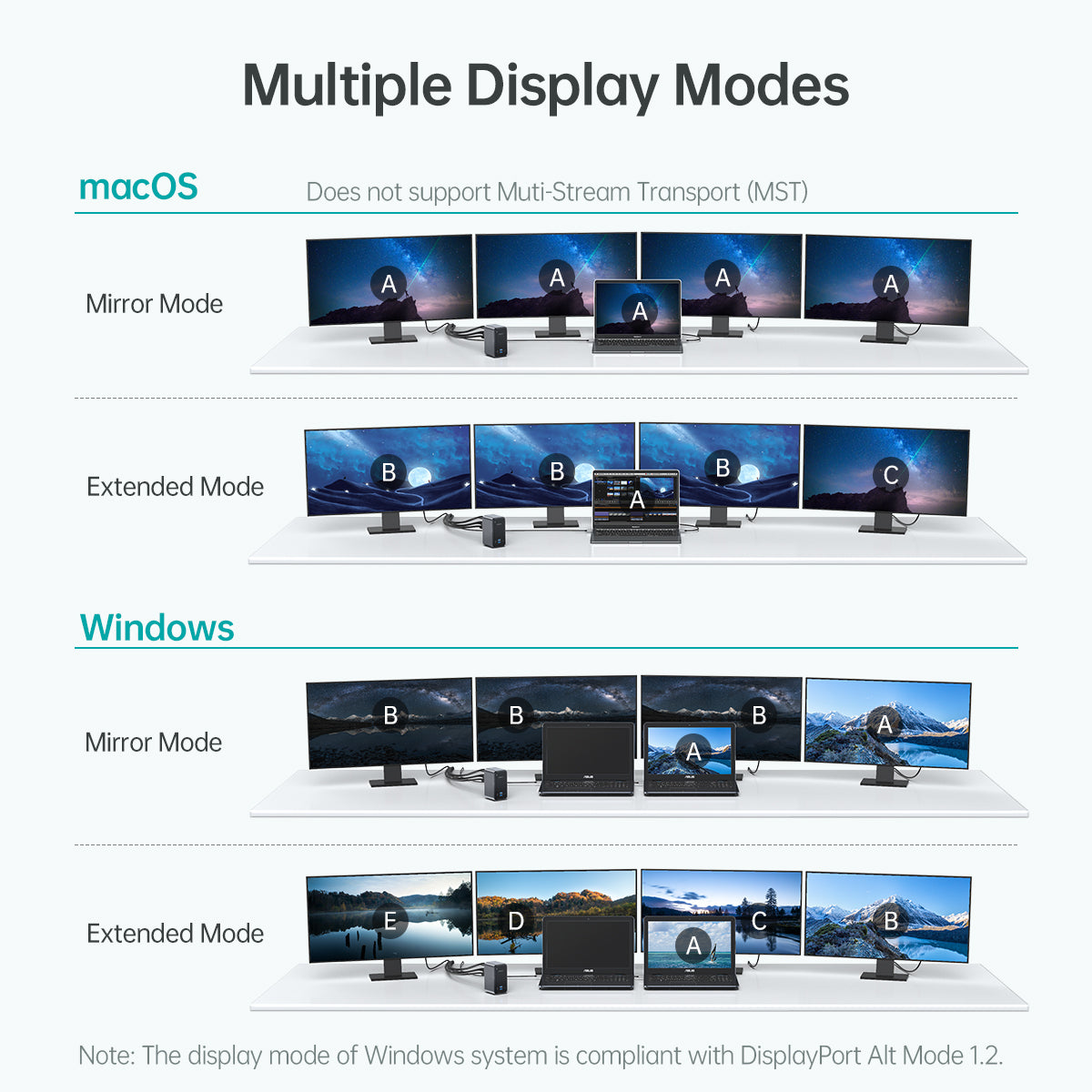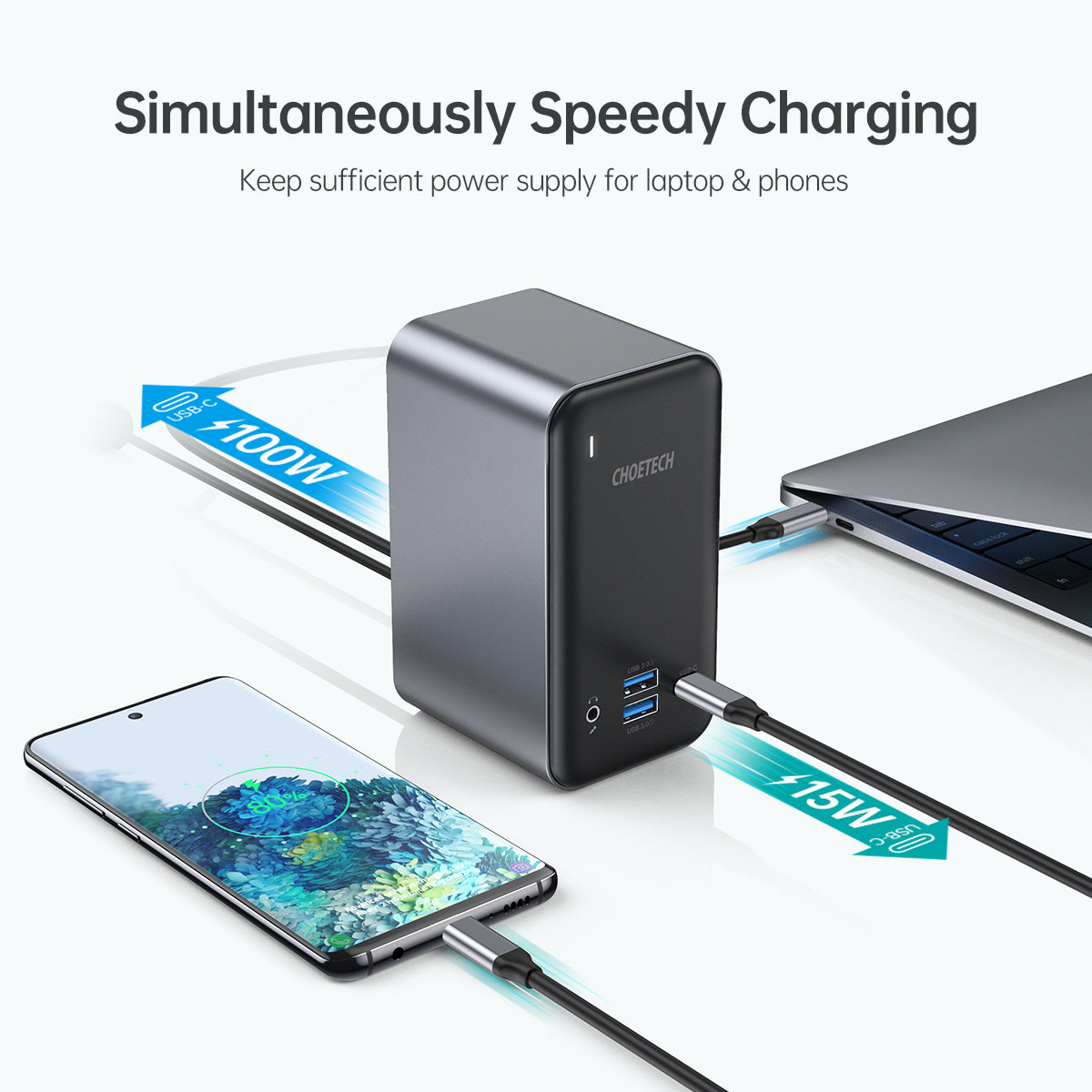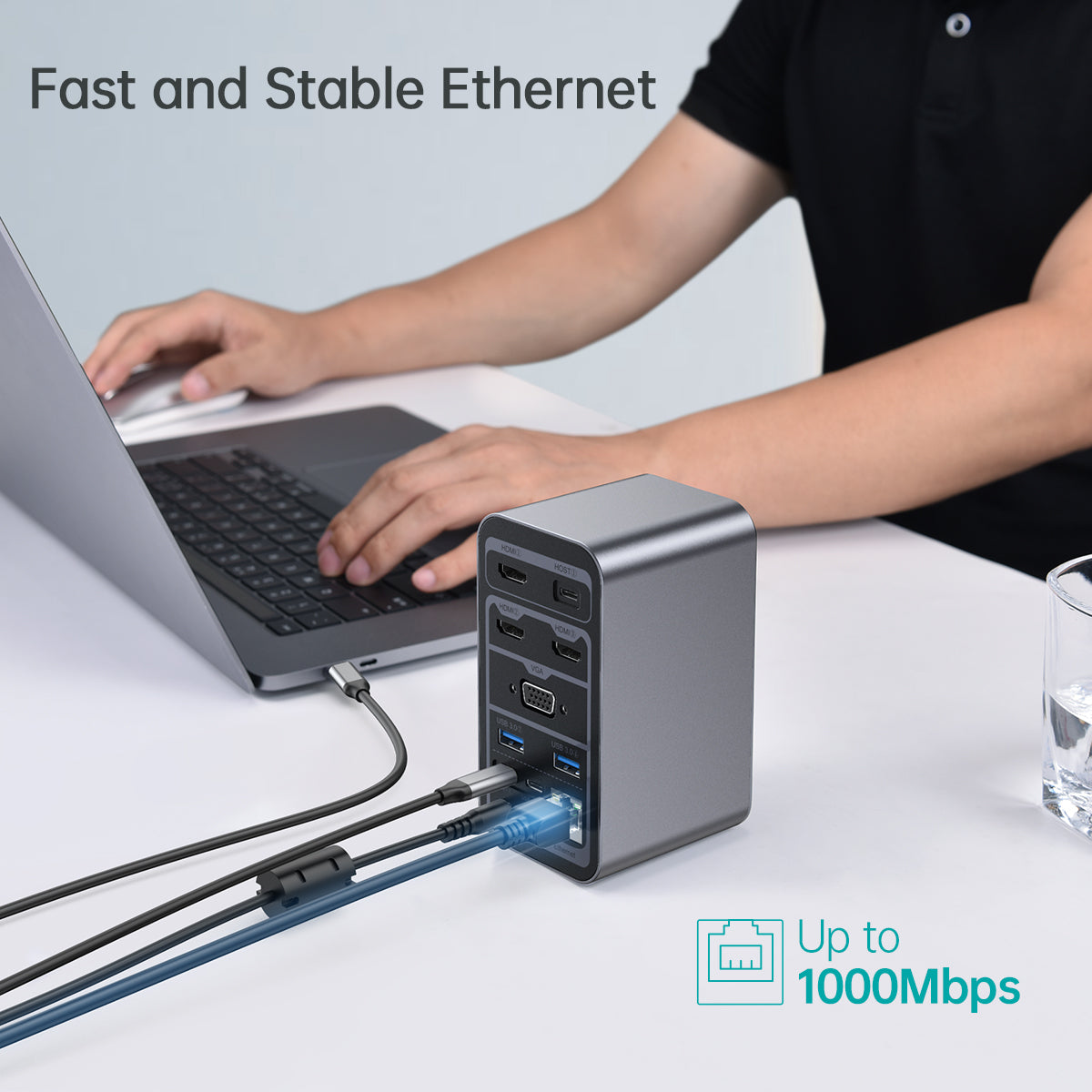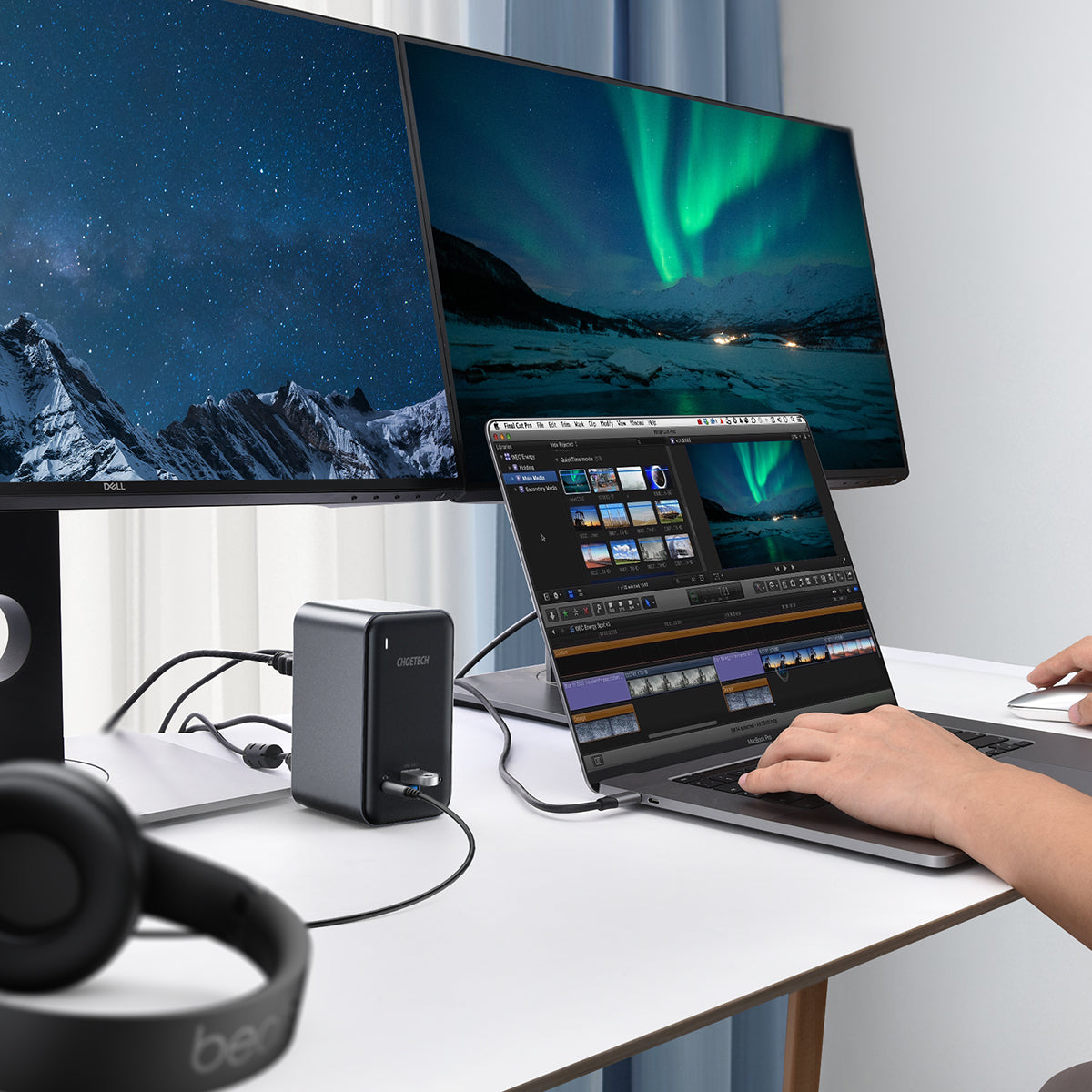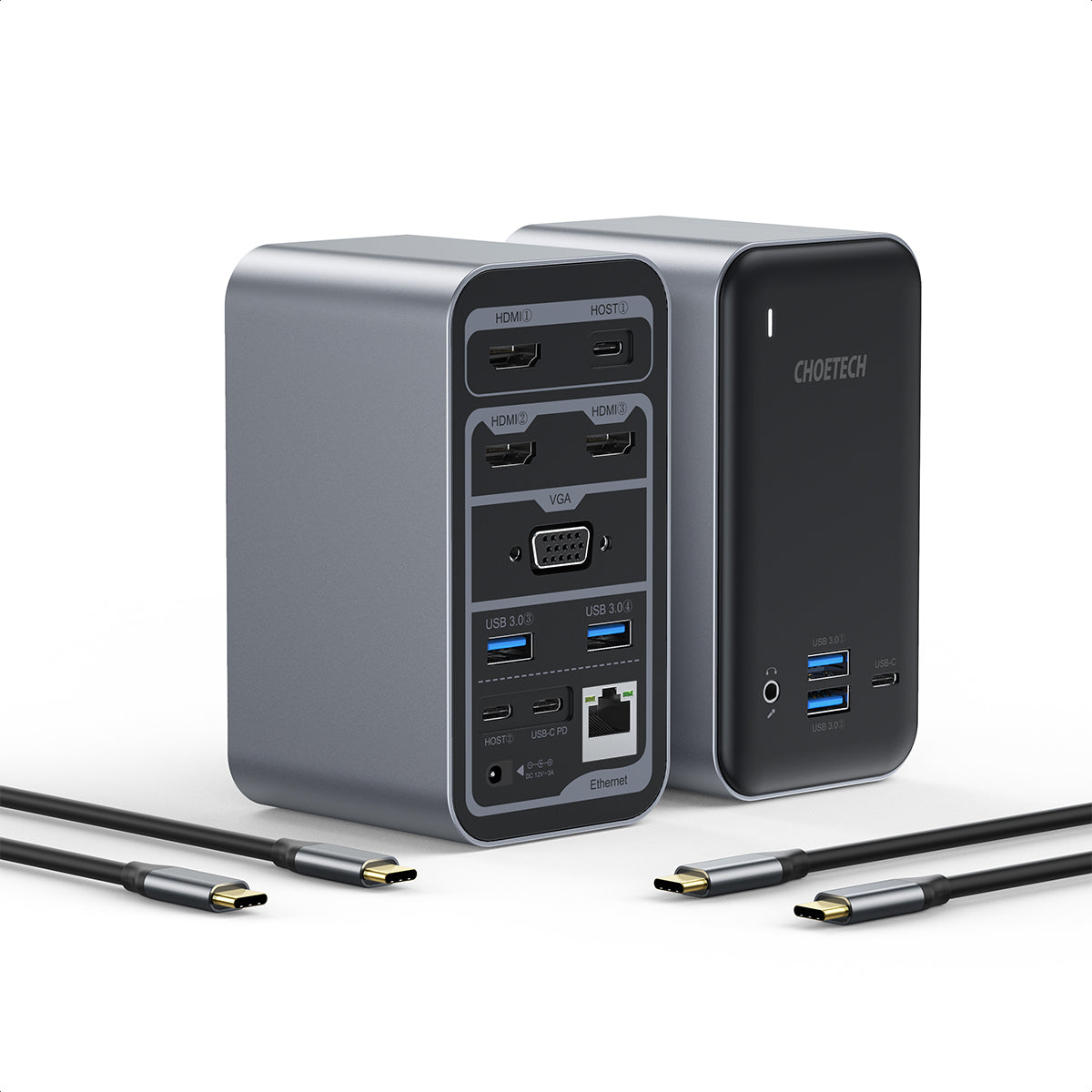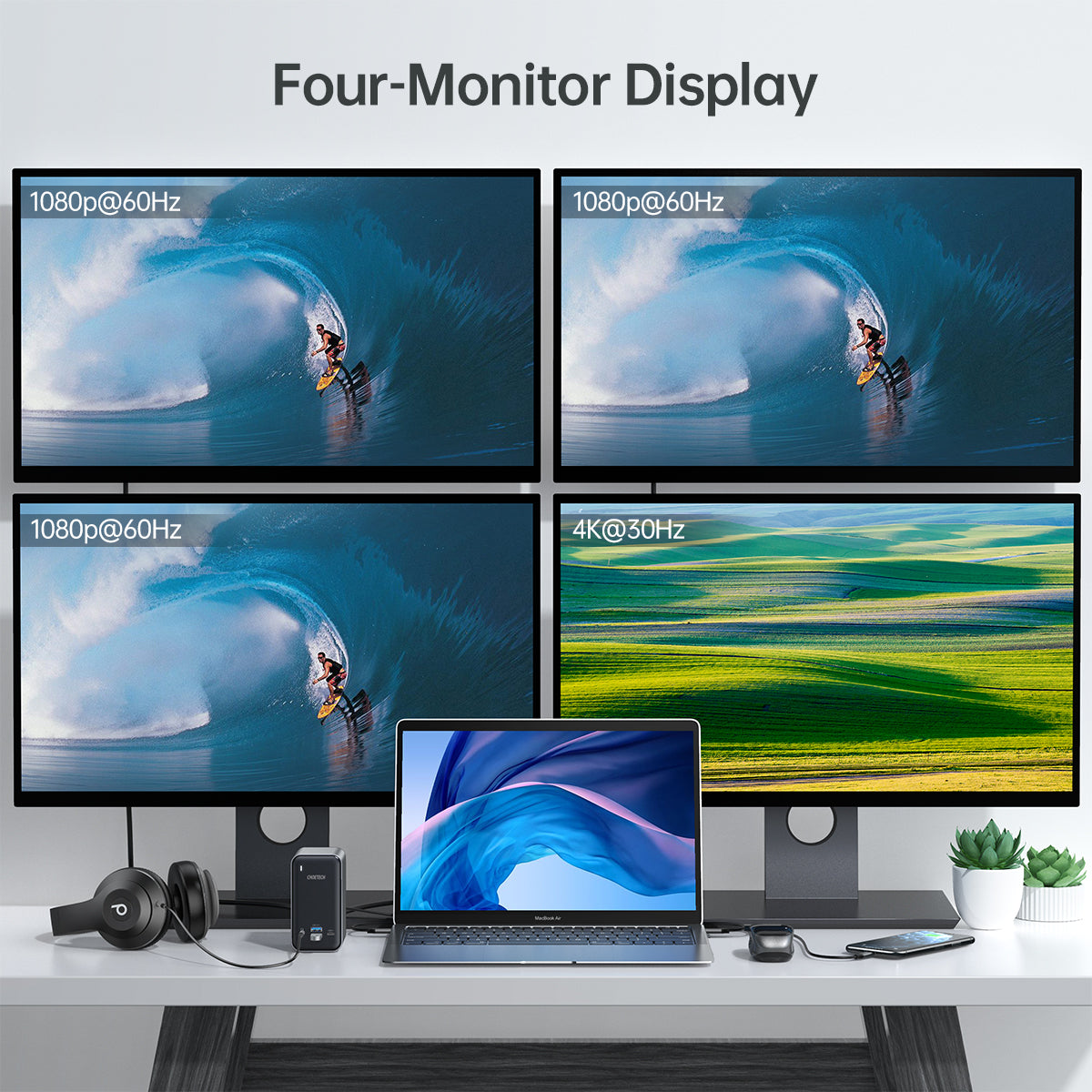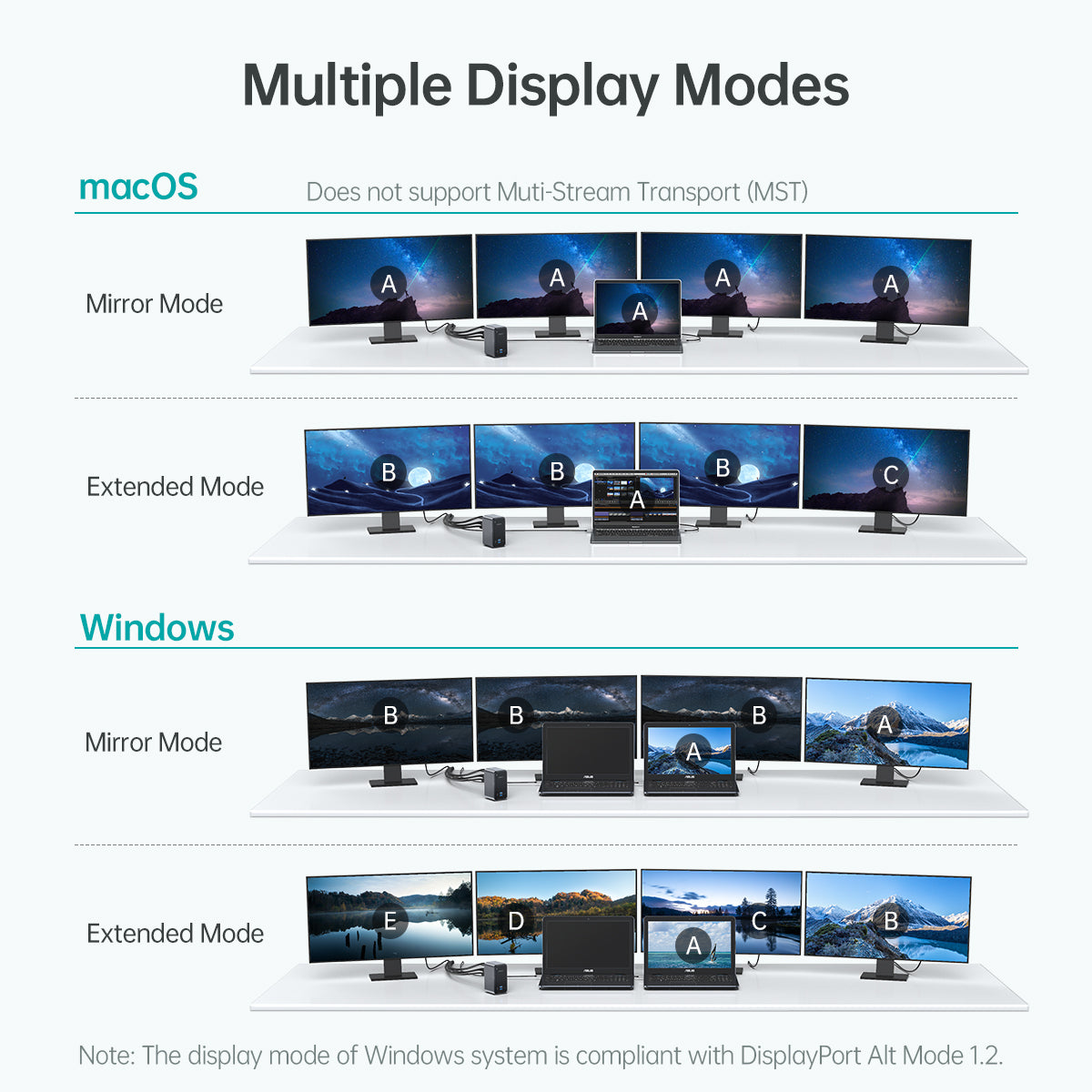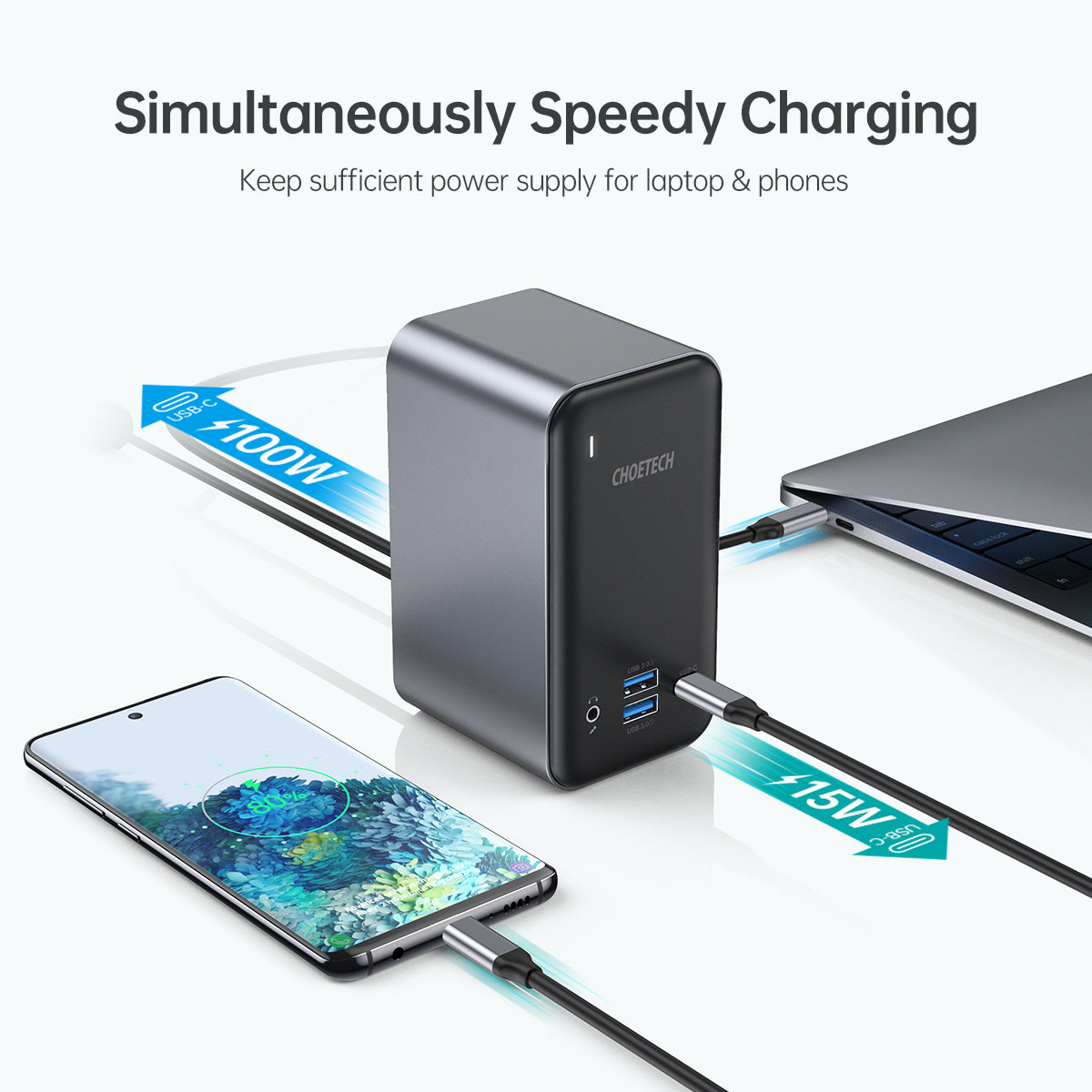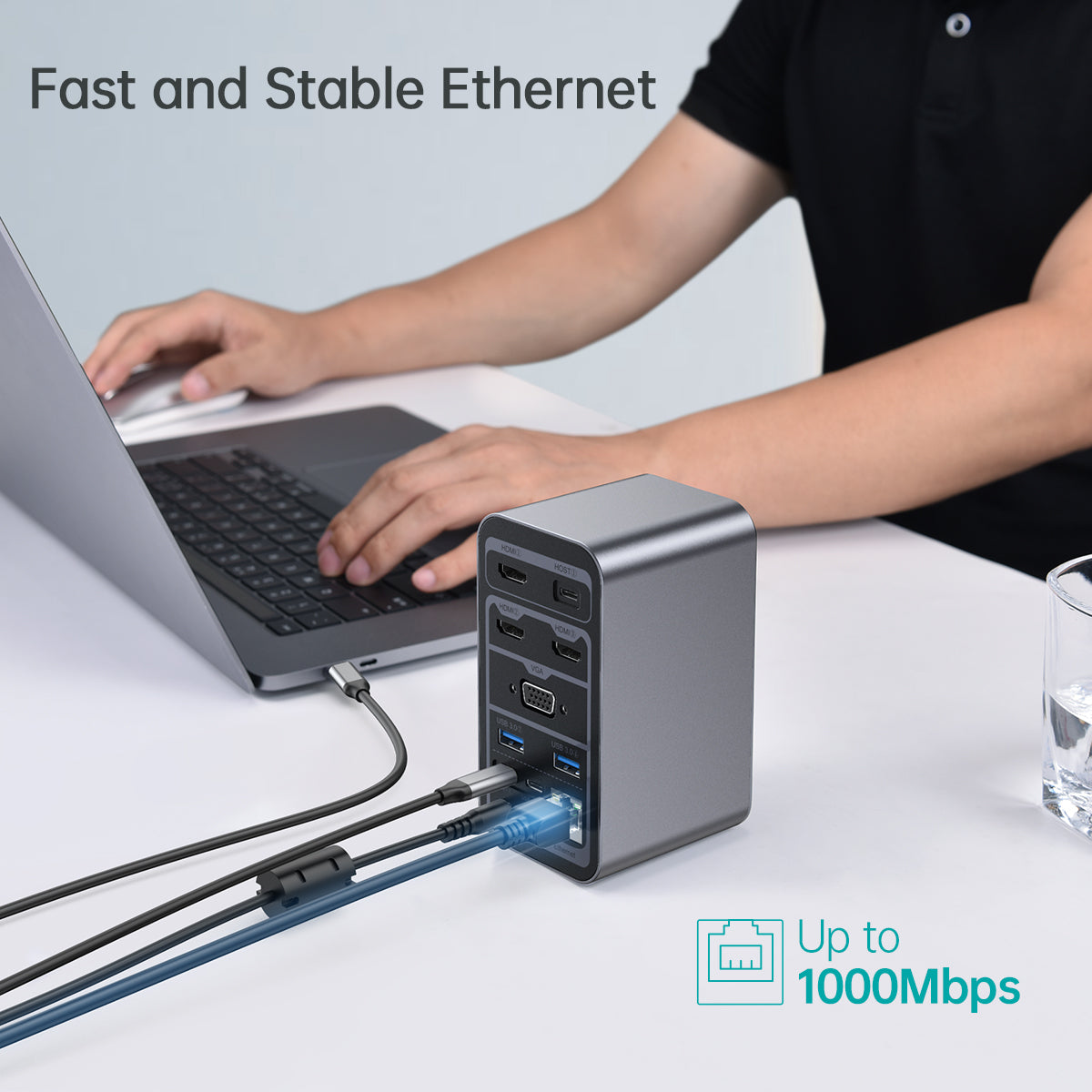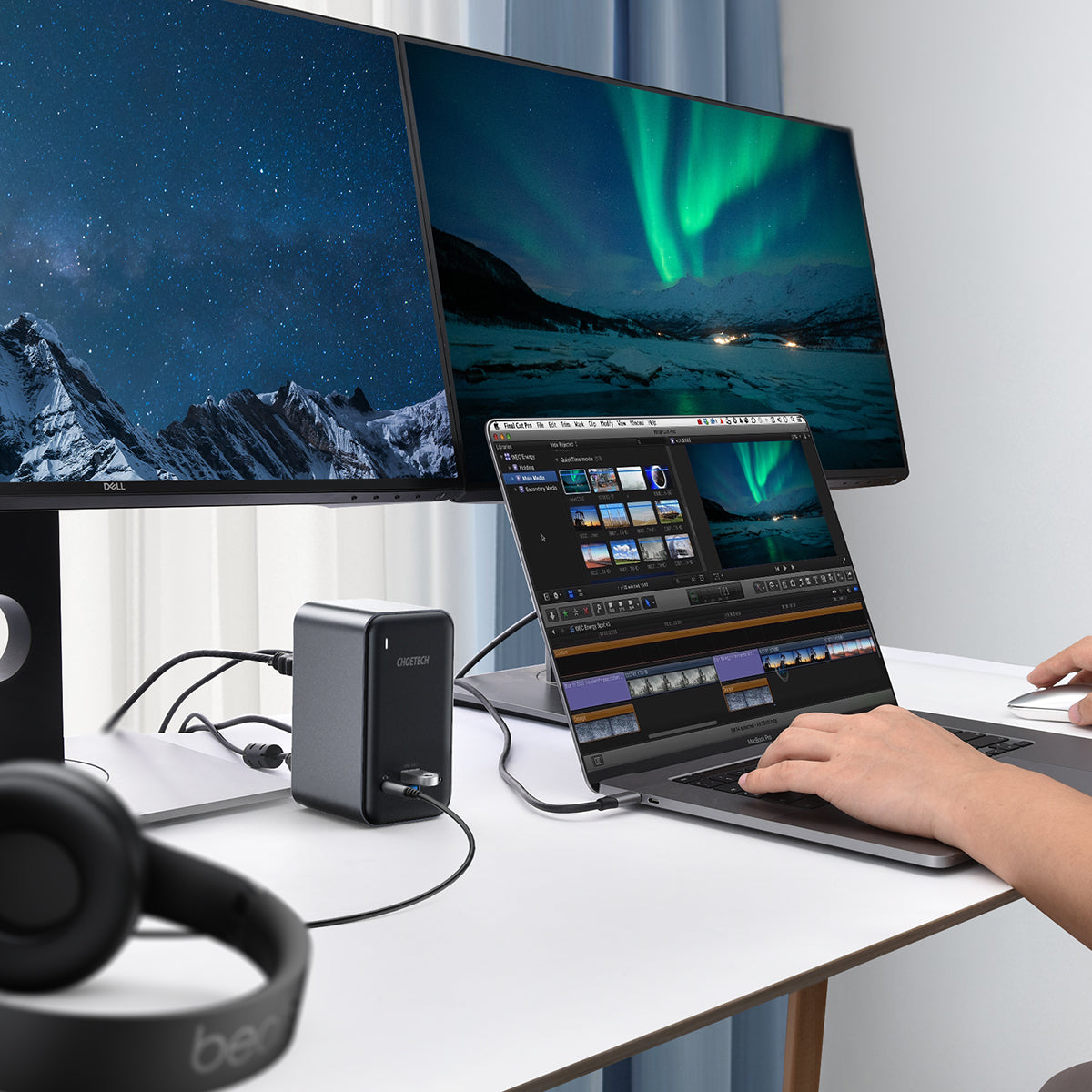 HUB-M21 Choetech Multifunction USB Docking Station
Choetech's Multifunction USB Docking Station is equipped with 15 ports to improve your desktop workspace. This universal docking solution will expand your Windows laptop or MacBook with the 15 ports you need, including three 4K HDMI, one 60Hz VGA, four USB 3.0, two USB-C, a USB Type-C port for charging, a USB-C PD Input, a DC port, 1000Mbps Ethernet, a 3.5mm jack.

Massive Expansion 
This Multifunction USB Docking Station expands capabilities for most iOS & Windows laptops, and combines 15 ports in a one step solution including 3 x 4K HDMI, 1 x 60Hz VGA, 4 x USB 3.0, 2 x USB-C for Host, 1 x USB-C for charging, 1 x USB-C PD Input, 1 x DC, 1 x 1000Mbps Ethernet, 1 x 3.5mm jack. The Thunderbolt 3 port powerful enough to connect up to 11 peripherals. A 36W DC power supply adapter and two USB-C to USB-C cables are included.

4 Monitor Display
When you have two hosts with Windows or iOS system, this docking station supports up to quadruple display on external monitors. The only triple display is supported for one host. HOST1 expand to HDMI1 monitor. HOST2 can expand to HDMI2 + HDMI3 + VGA, and support Triple display. Multiple display modes is available including mirror mode and extend mode. You can immerse yourself in working, entertaining, videos/image editing or stock exchanging at the same time.

Unparalleled Charging & Data Transfer
With USB-C PD100W input, 2 USB-A (5V/1.5A), and 1 USB-C (5V/3A), the USB docking station provides power for your USB-C laptop and your smart phones or other gears at the same time. USB-A①② and 1 USB-C support 5Gbps data transfer and high-speed charging for other devices, but USB-A③④ is only used for data transmission. 1000Mbps Gigabit RJ45 Ethernet makes you transfer a 1G movie in few minutes.

Wide Compatibility
Plug and play, no driver required. Compatible with certain devices over Thunderbolt 3 orUSB- C, like MacBook Pro 2020/2019/2018/2017; MacBook Air 2020/2019/2018, MacBook 2017/2016; Google PixelBook; Microsoft Surface Go/Go 2/Pro 7/Surface Book 2; HP Spectre X360/X/EliteBook/ENVY X360; Dell XPS 13"/15", Lenovo Yoga X1, C940/C740; ThinkPad X390/T490/T590; iPad Pro 2020/2018 and more.

Small & Compact but Powerful Thunderbolt Docking Station
Clean up all thunderbolt dock, dongles, or heat dell docking station, the laptop dock is a better choice whenever you work from home or office. Less heat, more features, more possibility than other normal hp docking station, small and compact just looks like a mini PC.
Package Content
1 x Multifunction USB Docking Station
2 x USB-C to USB-C Cable
1 x User Manual
Customer Reviews 

Trish from UK on October 25, 2020
This works perfect with my MacBook Pro. I able to connect 3 monitors to this docking station easily. This is extremely portable and has a super small footprint. I appreciate that the item comes with two additional USB-C to USB-C cables. It also comes with an extra VGA port. It would be nice to see perhaps DVI or DisplayPorts but this is definitely great on it's own. I might need to buy another one for my home office!
Nick from US on October 26, 2020
I have a desk setup where I'm constantly swapping between my personal laptop, work laptop, and gaming desktop, and this hub is the perfect solution for connecting to any of them with just one cable. I connect my keyboard, mouse, headset, and monitor to this hub, and run one of the included USB-C cables to whichever computer I need to use. I've been blown away at how sleek this is and how well it works. Usually, I get heat and HDMI issues with USB-C hubs I've used from other brands in the past, but this one handles it all with ease!
Amanda  from US on October 20, 2020
Now that I work from home, I have a two monitor setup that is compatible with my Windows laptop. I wanted to enjoy the same setup with my Chromebook (Samsung Chromebook V2). My previous mount only had one HDMI port for an extended monitor. Choetech's 15 in 1 dock has officially solved all of my problems. I can now run both monitors off my Chromebook via HDMI. My USB keyboard worked with no issues and I'm confident that this thing will handle everything else that the instructions say it can!