T511-S Choetech 10W Fast Wireless Charging Pad
If you are looking for a simple and convenient, wire-free charging look no further than Choetech's 10W Fast Wireless Charging Pad. This wireless pad will fast charge your iPhone 30+ min faster than the charging pads by other brands.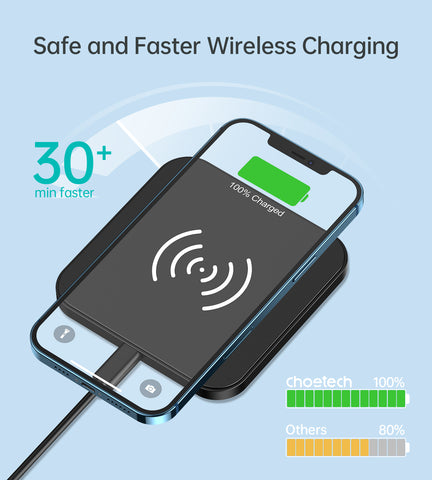 Intelligently Identify Charge Models
Fast wireless charge up to 10W for the Samsung Galaxy S9, S9 Plus, S8, S8 Plus, Note 9, Note 8, S7, S7 Edge, S6 Edge+, 7.5W wireless charging for iPhone X/ XS / XS Max/ XR/ 8/ 8 Plus ( QC2.0/3.0 adapter needed for fast charge) and 5W standard wireless charge for all Qi-enabled Phones.

Ultra Slim & Compact
Ultra slim wireless charging pad with anti-slip rubber to keep it stays in place, wireless charging pad's indicators and compact build ensure simple and convenient charging.

Case Friendly Design
Our wireless charger can identify your phone sensitively and support phone case within 5mm(0.2 inches) while 4mm(0.16 inch) is the best wireless charging distance (Please note that metal attachments or credit cards will interfere with charging).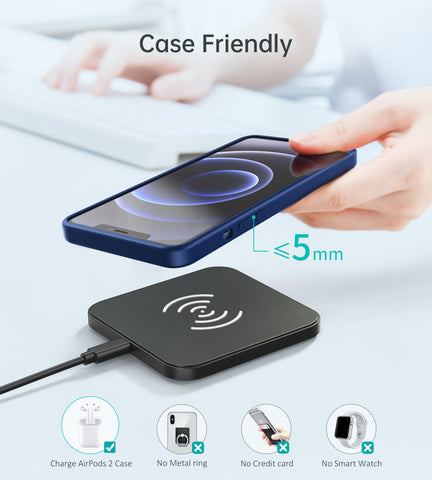 Compatibility & Protection
The qi wireless charger works with QI enabled device like iPhone X/8/8 Plus, iPhone XS/iPhone XS Max/iPhone XR, Samsung Galaxy S9/Note 9/Note 8/S8/S8+/S7/S7 Edge/Note 5/S6/S6 Edge/S6 Edge Plus and other Qi-Enabled devices, Multi protection system for all-around protection against over-charging, over-voltage, over temperature and over-current, provide a safe charge to protect your devices.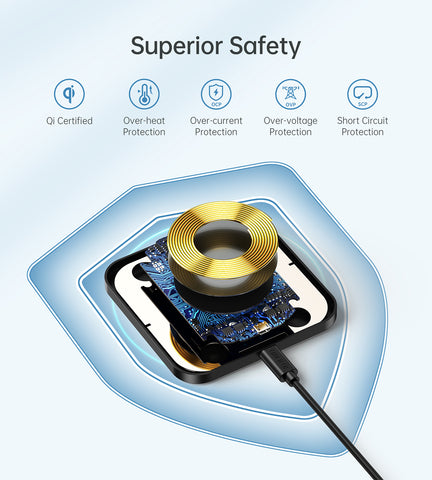 Led indicator displays charging status
Non-disruptive LED indicator to let you know that your phone is actually connected.

Rubberized base
Non-slippery surface lets your phone stay in the pad neatly to deliver steady charge.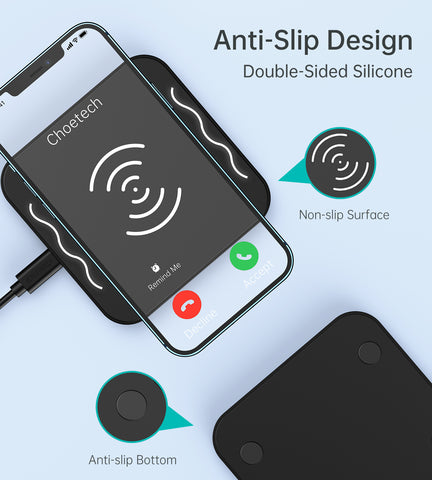 Specification:
Interfaces: Micro USB
Power Input: QC2.0 Standard
Power Output: 10W(Max)
Conversion efficiency:72%(Max)
Standby Power Consumption: 0.05W
Shell Surface Temperature: 45 ℃
Transmission distance: 5mm
Item size: 3.6 x3.6 x 0.4in
Weight: 0.18lb

Universal Qi Wireless Charging Mode:
10W Fast-Charge Mode
Attention: A QC2.0 / QC3.0 adapter is needed
Galaxy S9, S9+, Note 9, Note 8, S8, S8+, S7, S7 Edge, S6 Edge+, and Note 5.
7.5W Fast-Charge Mode
Attention: Using QC2.0/QC3.0 adapter for fast charging
ONLY compatible with iPhone 8, iPhone 8 Plus, iPhone X, iPhone XS, iPhone XS Max,iPhone XR so far
5W Standard-Charge Mode
Galaxy S6, S6 Edge
Nexus 7 2nd Gen, Nexus 4, Nexus 5, Nexus 6

Package Content
1x CHOETECH Fast Wireless Charger
1x User Manual
1x 1.2m micro USB cable
18-Month warranty for quality-related issues
Lifetime technical support & Friendly Customer Service