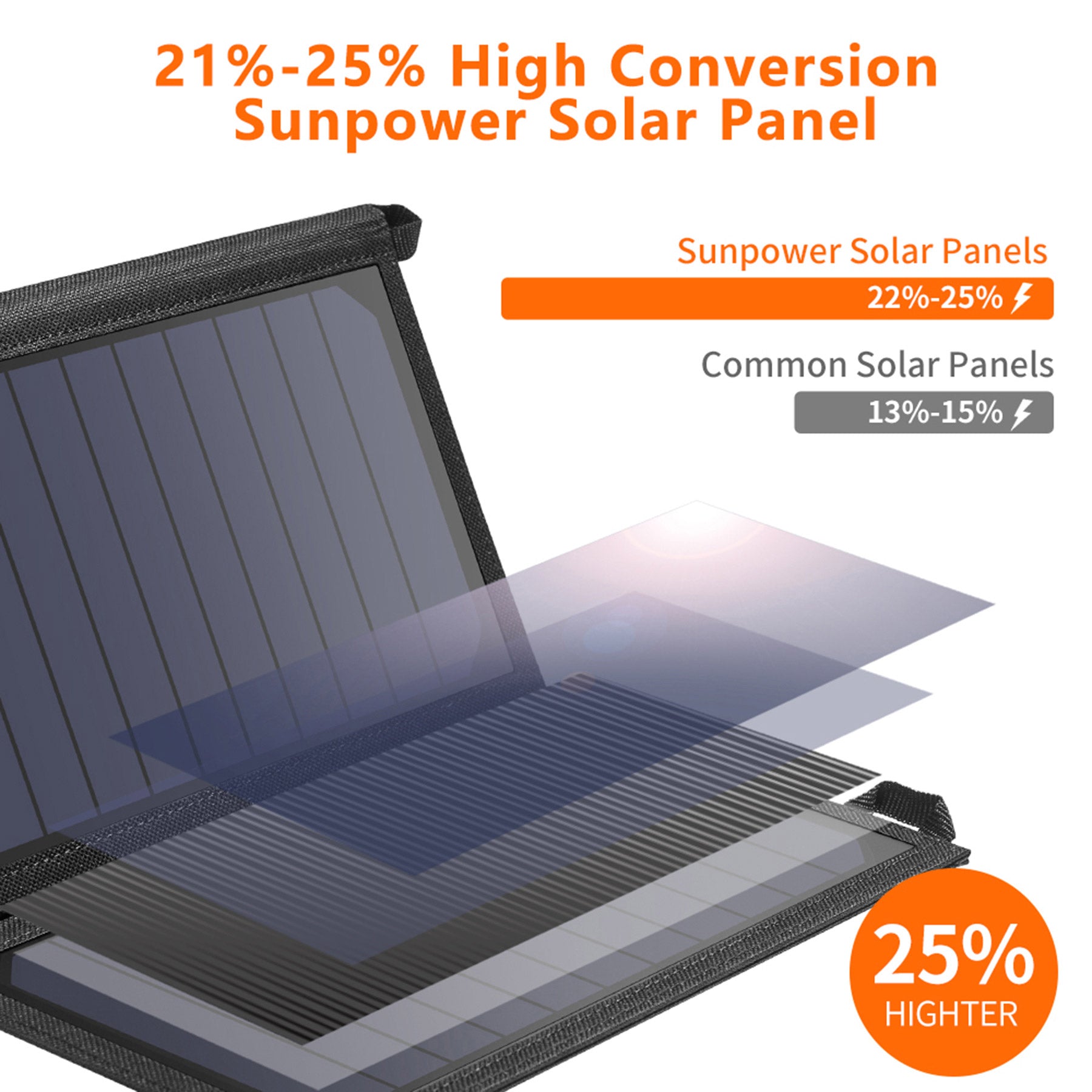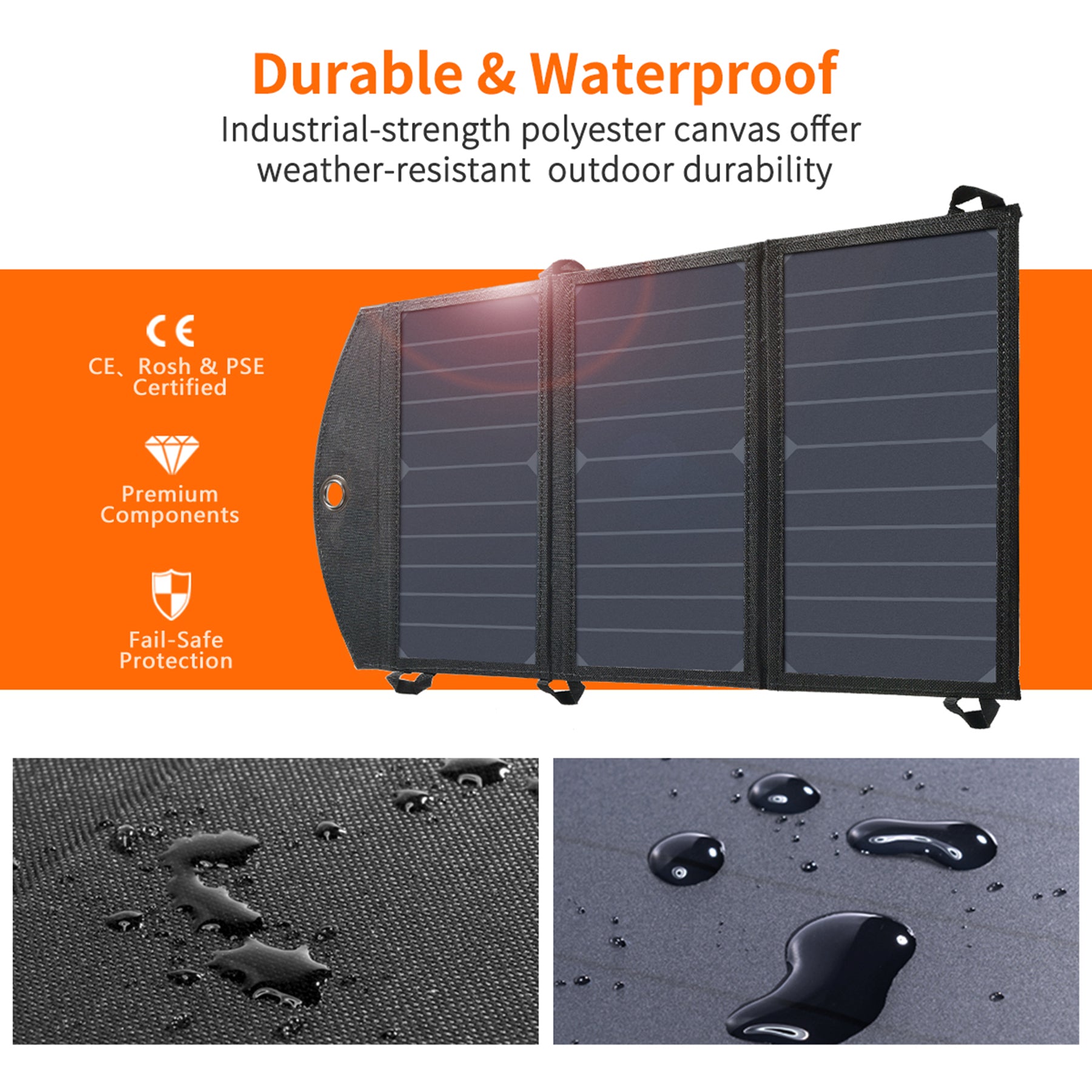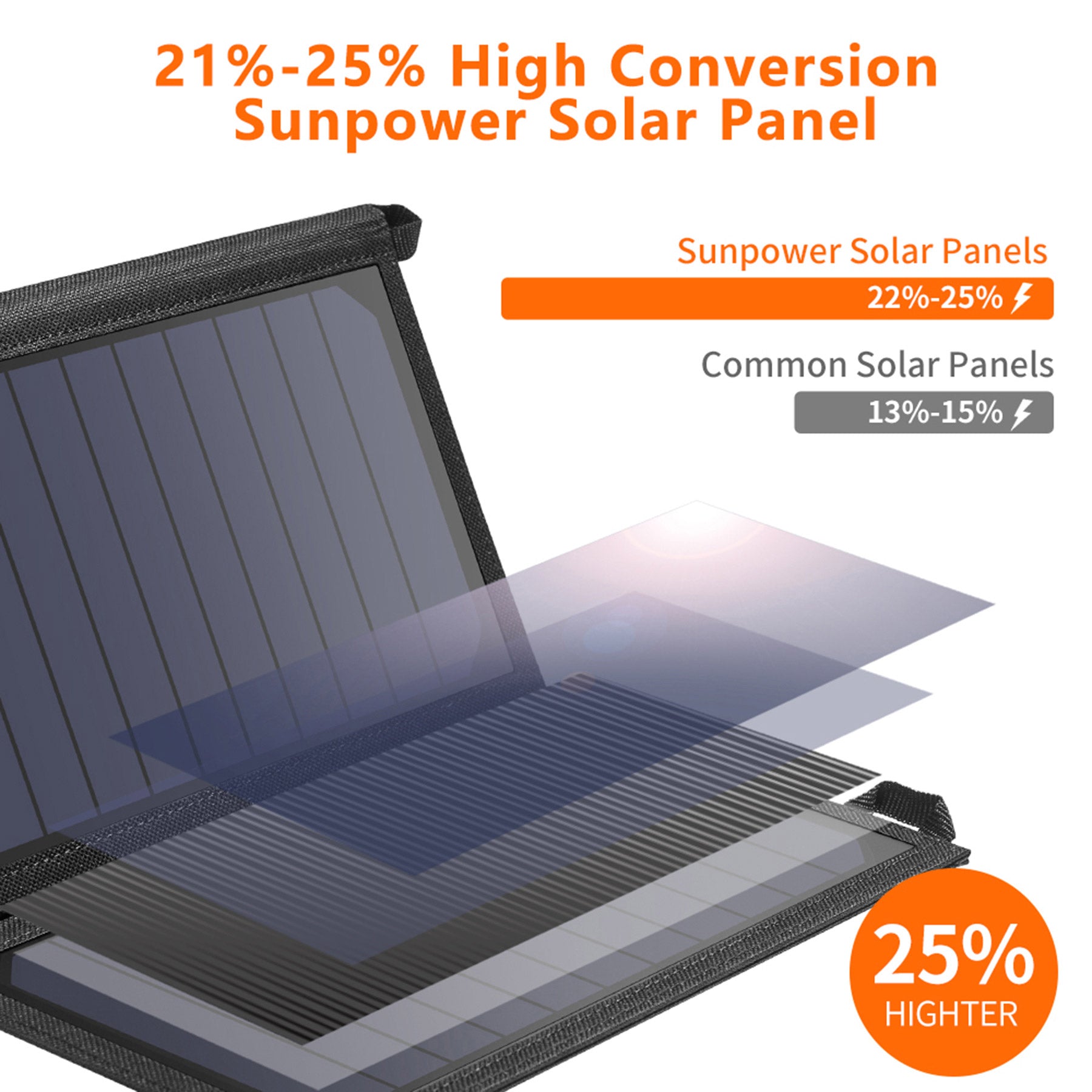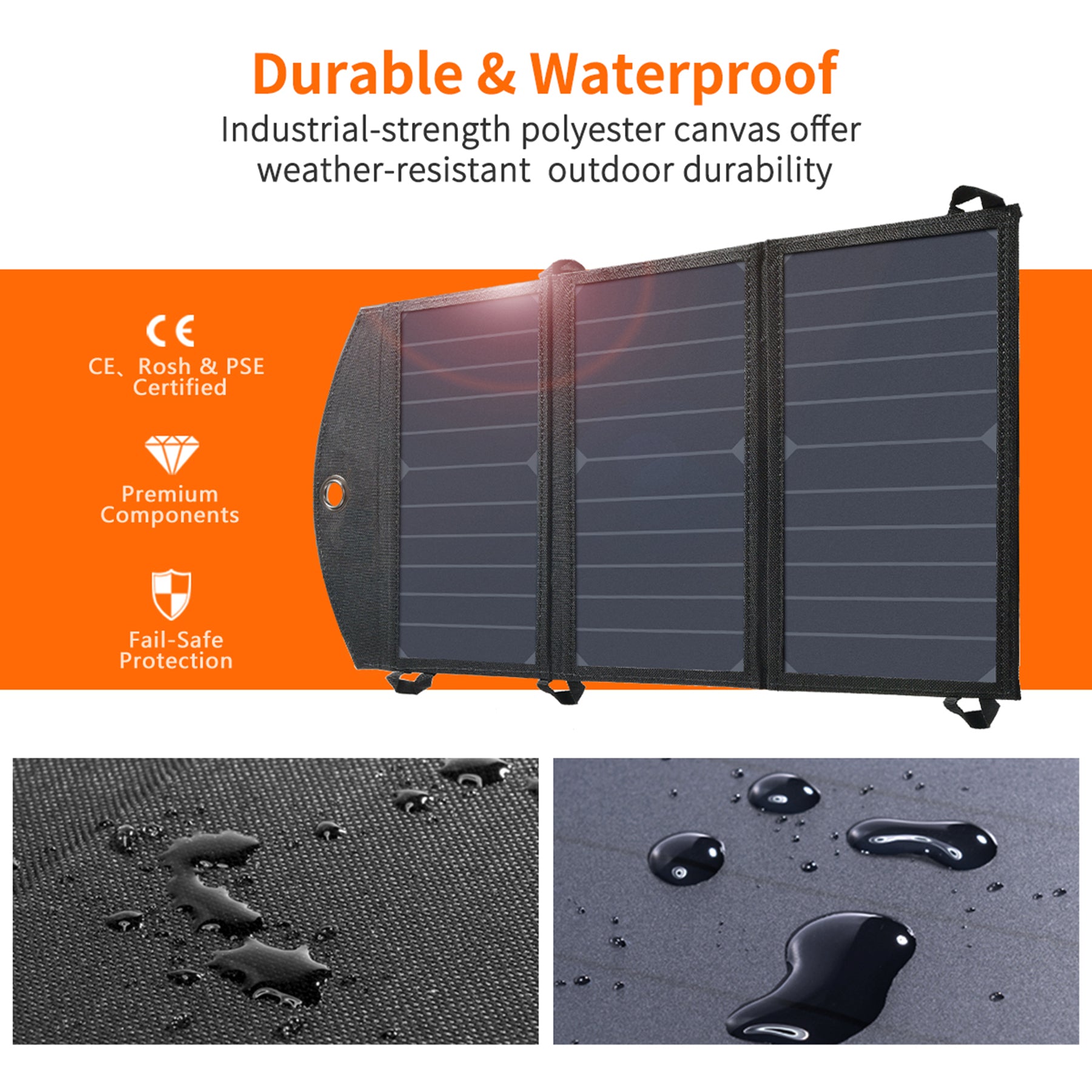 SC001 Choetech 19W Foldable Solar Charger
If you primarily need to recharge phones or small devices while you are busy with outdoor activities, Choetech's 19W Solar Panel is a cost-effective option that's both compact and powerful. When not in use, this solar panel is the size of a tablet. The three interconnected and foldable panels are water and stain-proof. It's protective coating helps with maximum sun energy conversion, while built-in dual USB ports and SMART IC identifies the type of device you are charging to avoid overheating.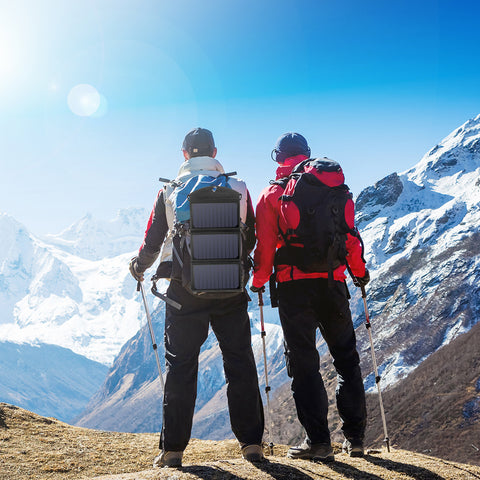 Durable Design 
The canvas surface and precision stitching withstand rugged outdoor use and the PET polymer cover that guarantees IPX4 waterproof level protection will make the solar panels resistant to water and even dust.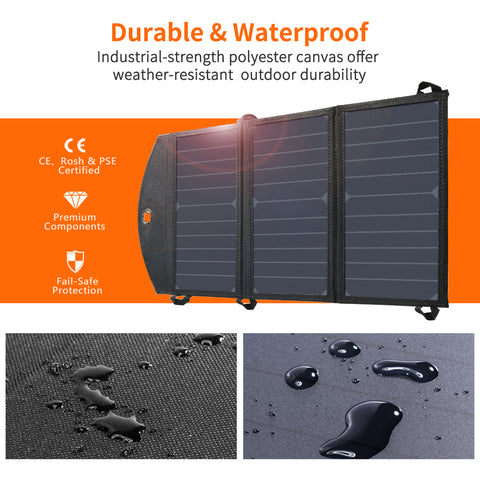 Portable and Foldable
Compact size (10.2*6.3*0.7inch folded or 20.9*10.2inch opened), and stainless-steel eye-holes on each corner allow easy attachment to backpacks, trees, or tents. Lightweight and ultra-thin design make this solar panel ideal for long treks.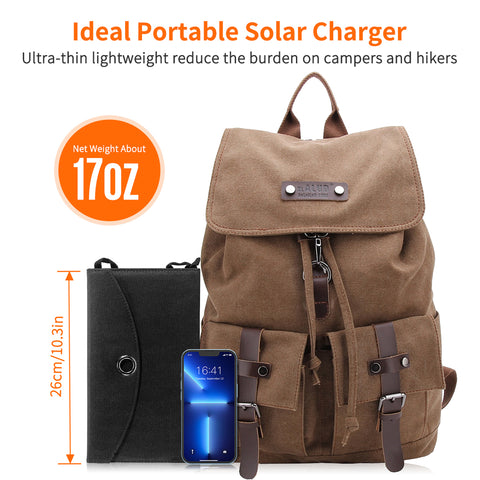 Fast Charging Technology

Auto Detect Tech delivers the fastest possible charging speed at up to 2.4 amps per port or 3 amps overall under direct sunlight. The 19W SunPower solar panel is 21.5-23.5% efficient, providing enough power to charge two devices simultaneously.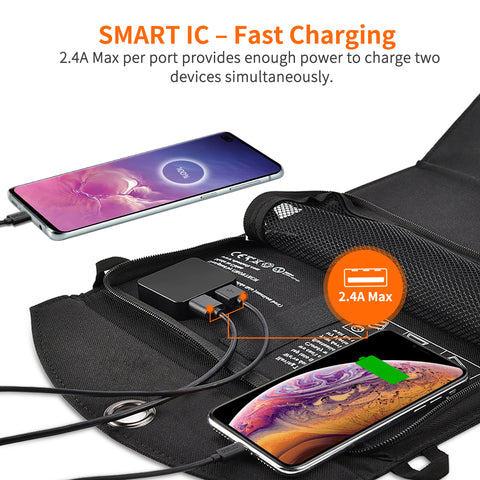 Portable Solar Panel Ideal For Camping 
CHOETECH Solar Panel has high-efficiency conversion rate, so it can capture more sunlight than conventional solar panels, no need for much sunlight to charge your devices. The transmission efficiency is up to 22%-25%, while most of similar products on the market are 15% or even lower.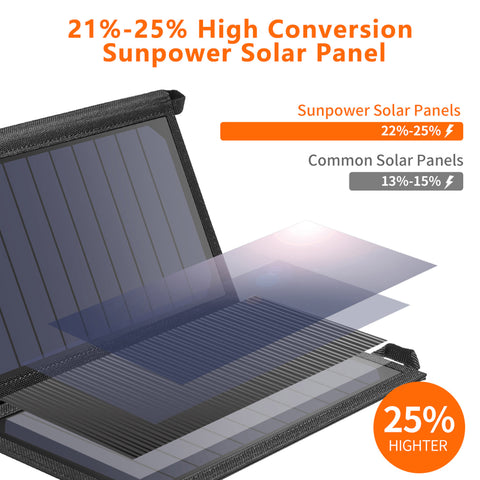 Off Grid Power Source
When you're out enjoying the great outdoors, enjoy another perk: free limitless power. Simply spread out the solar panels or attach it to your backpack to start recharging your electronic gadgets.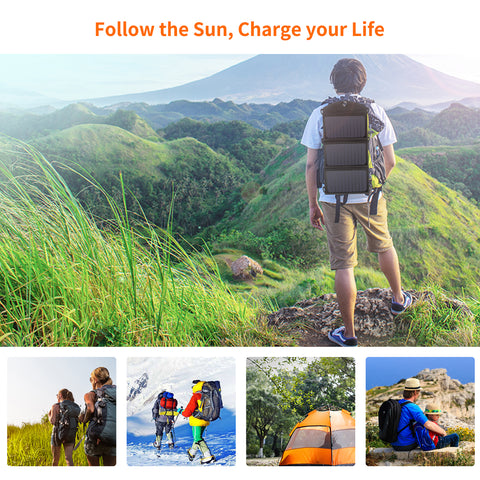 Specification:
19W Solar Panel
Conversion Efficiency 22-25% 
Output 1 : 5V2.4A
Output 2: 5V2.4A 
Folded size: 10.2 x 0.7"; Unfolded Size: 20.9 x 10.2"
Weight: 0.48kg/16.9oz 

Package Content:
1 x 19W CHOETECH Solar Charger
1 x USB cable
1 x User Manual

Customer Reviews

andy stevens from USA, May, 2021
Fantastic! I plugged my Android phone into these panels and while streaming Netflix my phone charged at the rate of 1% a min and it wasn't even particularly sunny. I then promptly charged up my 15,000mha battery pack with no problems. The unit comes with a pouch on the rear allowing you to place your chargeables out of the sun light. There is a LED light that comes on inside the pouch the second these panels hit sunlight. Build quality is very good with the panels themselves behind a plastic cover. I have other solar panel chargers and this 19w solar charger is by far the best one I have. Worth every penny and I intend to purchase others for family members.
Henderson from UK, June, 2021
Bought this 19w solar charger for an upcoming trip to mexico where we plan on being on the beach, boat and traveling on buses a lot. I've had a few different solar type chargers and have never really been impressed. I tested it out by taking my Samsung galaxy that was at 5% charge and went on a 2.5 hour walk. I connected my phone to the charger and then hooked the charger on the outside of my backpack with one of the supplied hooks.. most of the time it was in full sun. When I returned home, my phone was at 100%. What really impressed me was the amount of sun this thing can capture. The panels seem very well made and look to be sturdy. I can see where this would also be very handy to use during camping trips to keep things powered up. I will update once we return from our trip to mexico. I haven't tested the waterproof ability yet but the panels do seem like they are sealed very well. I feel with things like this, you get what you pay for and so far, this is an example of money well spent.


Rempalski April, 2021
I have a large 100W folding panel for emergencies but wanted a small panel for my phone or power bank. This charger is perfect for this. It feels and looks well made, the rear side has a zippered net pouch to hold my phone or power bank (or both at the same time). The net pouch allows for good ventilation and keeps the units contained with the charger and in the shade while charging. I love the bright LED power indicator next to the USB ports to let me know that sun power is available.

We have slightly overcast sky today, I tested the panel with my iPhone and a USB meter that measures volts and amps, this charger provided the same charge rate as my indoor AC charger so I'm very happy with the performance. My phone was almost full so it was only pulling 850mA from both the solar charger and my wall charger.

The 19w solar charger has several fabric loops to allow it to be mounted different ways, when done it folds neatly and stays closed with magnetic clasps. I will be taking this and a battery power bank on all of my hikes to keep things running.