T587-F Choetech 3-in-1 Magnetic Wireless Charging Station
Stay organized and declutter the cable mess while powering up your iPhone, AirPods and Apple Watch with just one charging cable. Choetech's MFi certified 3-in-1 Wireless Charging Station supports the latest magnetic wireless charging technology for iPhone Series 12, 13 and 14 - simply snap your phone onto the magnetic stand and the coils will automatically align for optimal charging speed and efficiency. The strong magnets will keep your iPhone in place as you FaceTime in portrait mode or rotate to watch videos.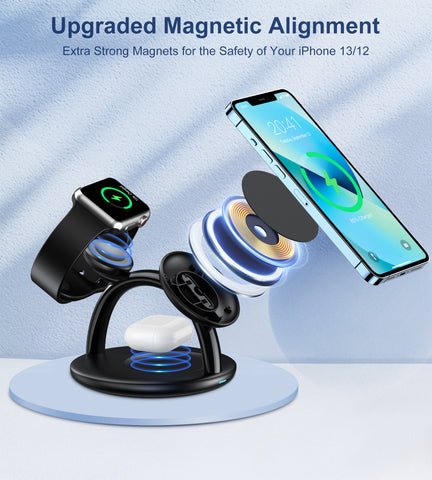 Fast & Efficient Wireless Charging
Snap your iPhone into place with perfect coil alignment to maximize wireless charging speed and efficiency, no more problems with misalignment. Simultaneously charge three devices at once and never worry about annoying cables cluttering up your life. Compatible with Apple Watch Series 1-8, AirPods 2/3/Pro/2 and iPhone 12, 13 and 14.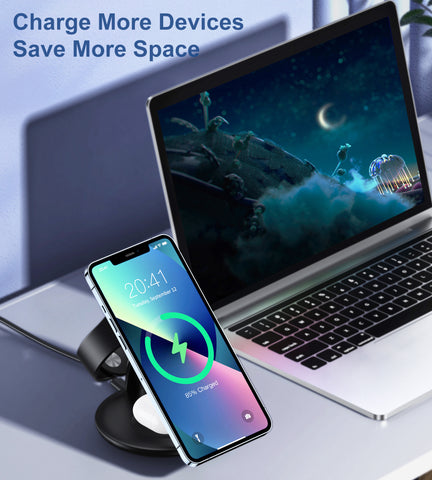 Case Friendly
Designed with two coils made of high-purity copper for a quality connection -this wireless charging station can support cases within 5mm while a 4mm case is recommended for the most efficient charge, 
Safe Multi Charging
Charge securely with multiple safety features put in place such as overcharge, over discharge, overheating, overvoltage and short circuit protection. This safety protocols help with charging over night, especially with all three devices charging at the same time.