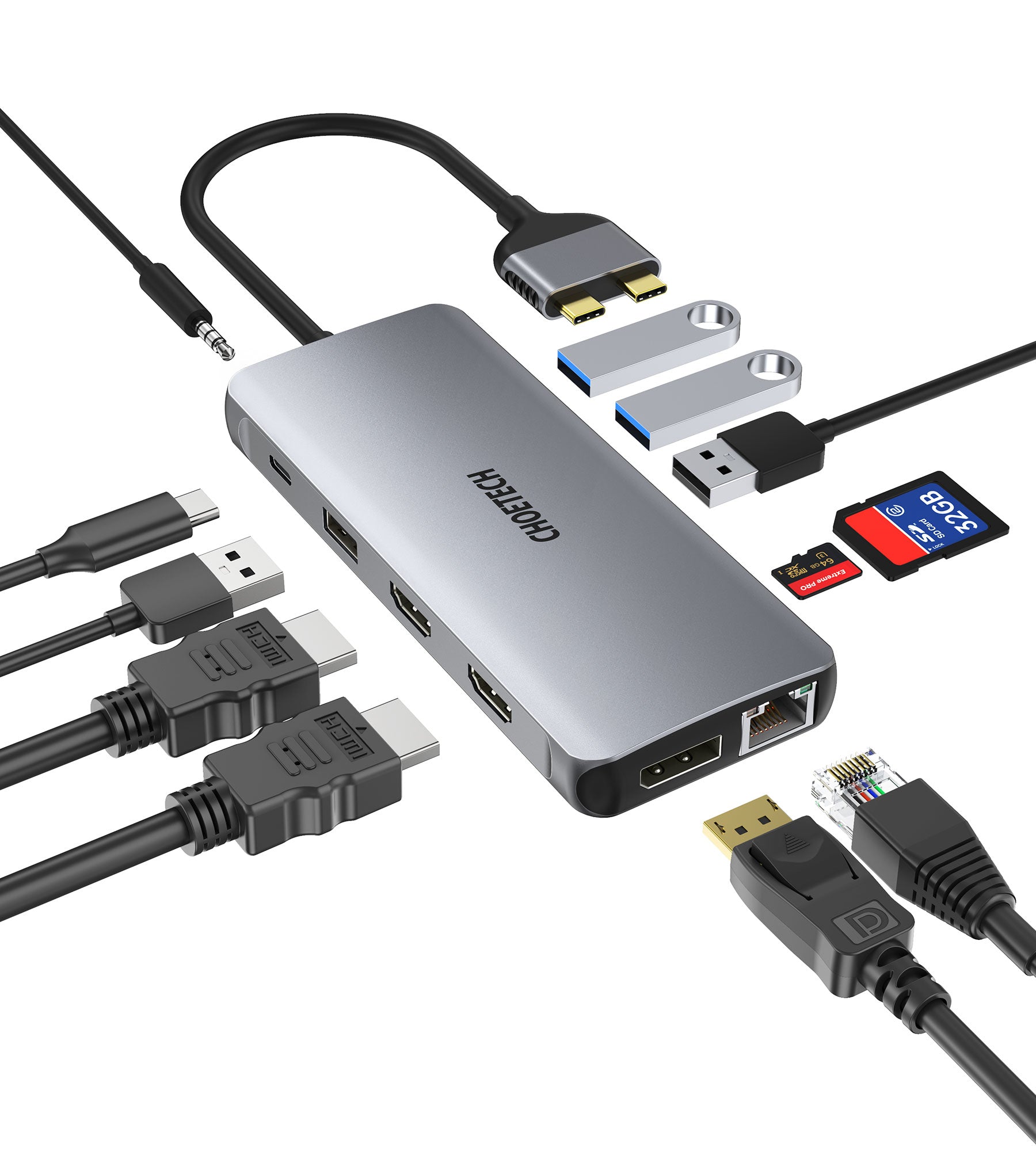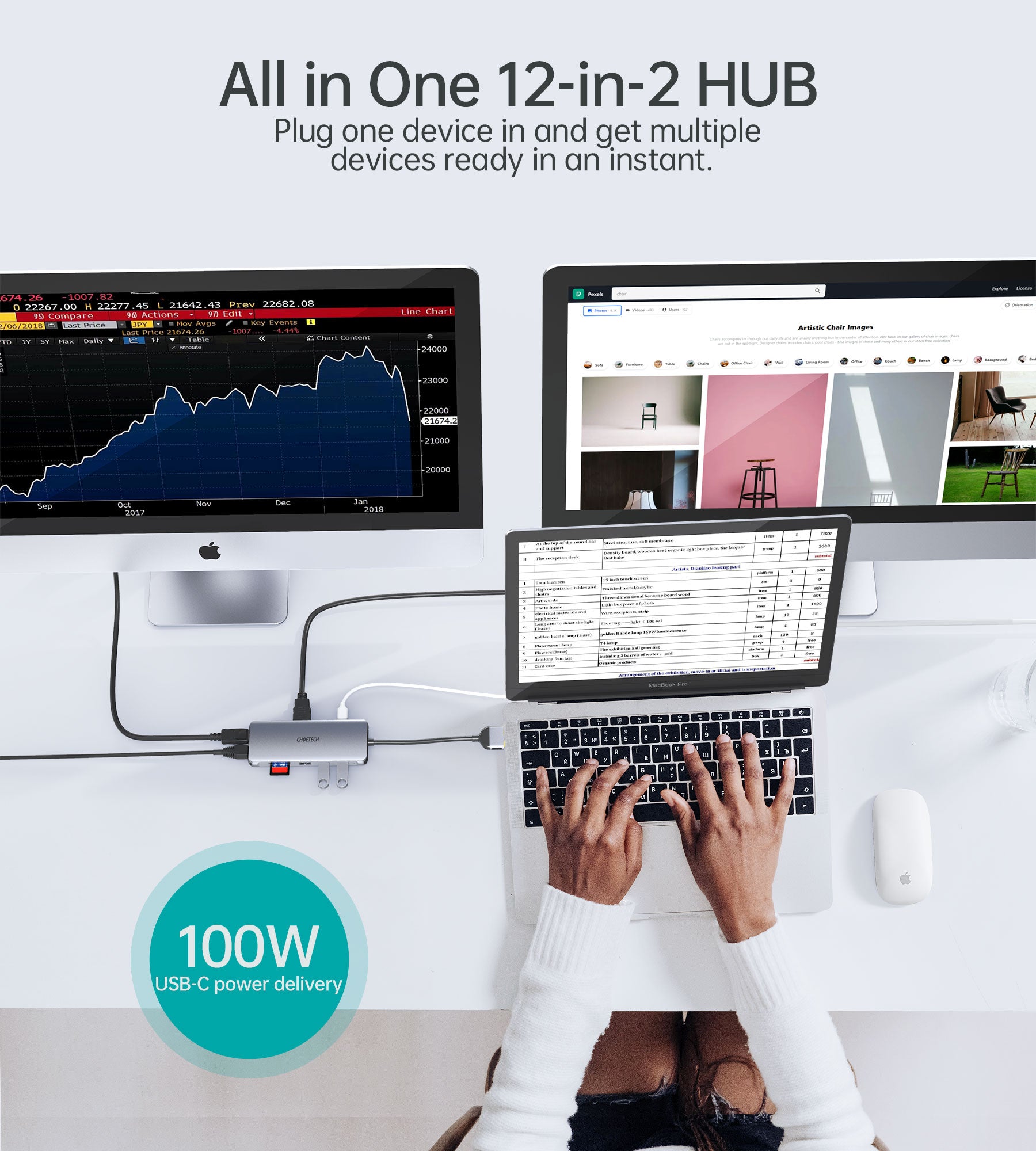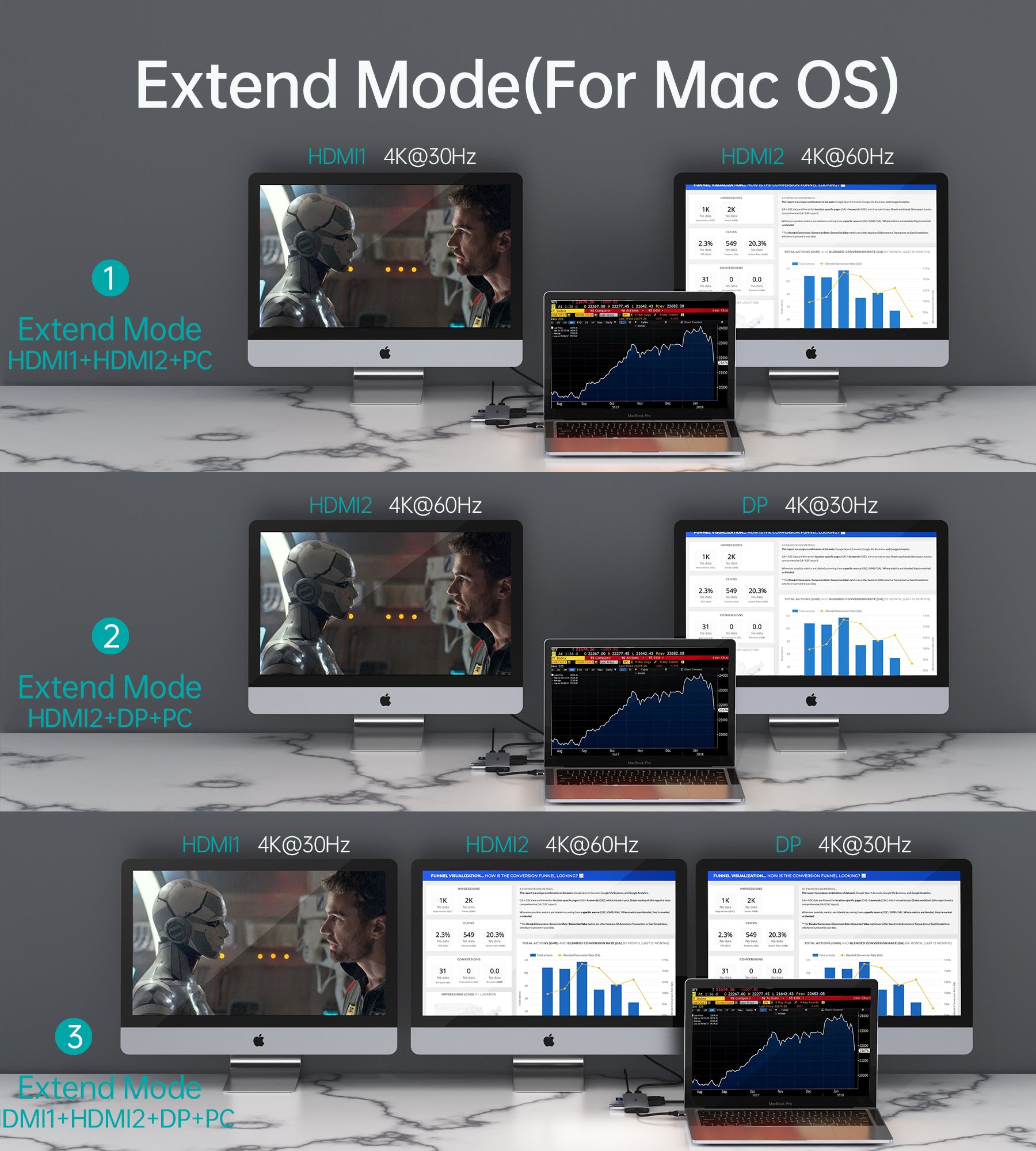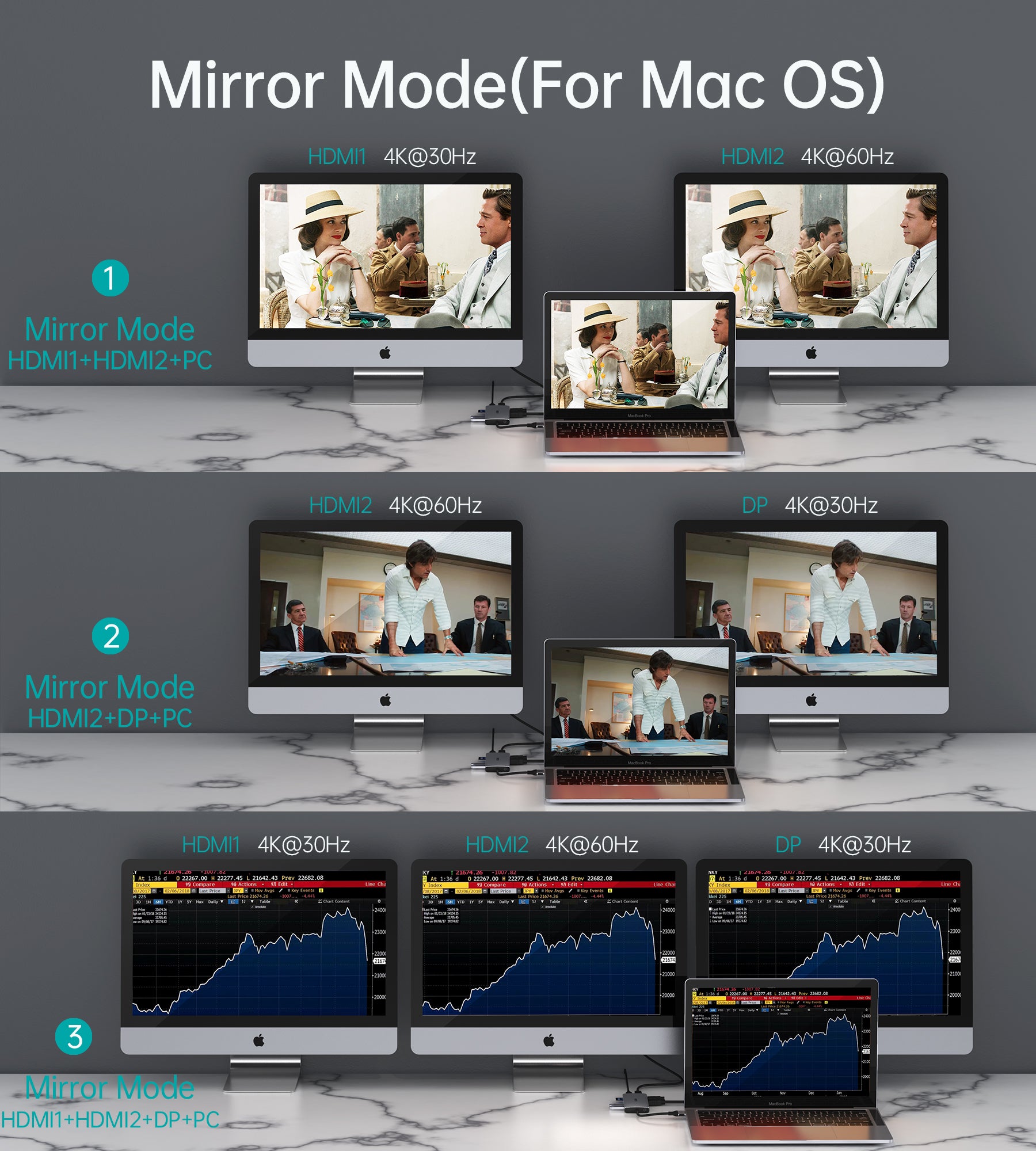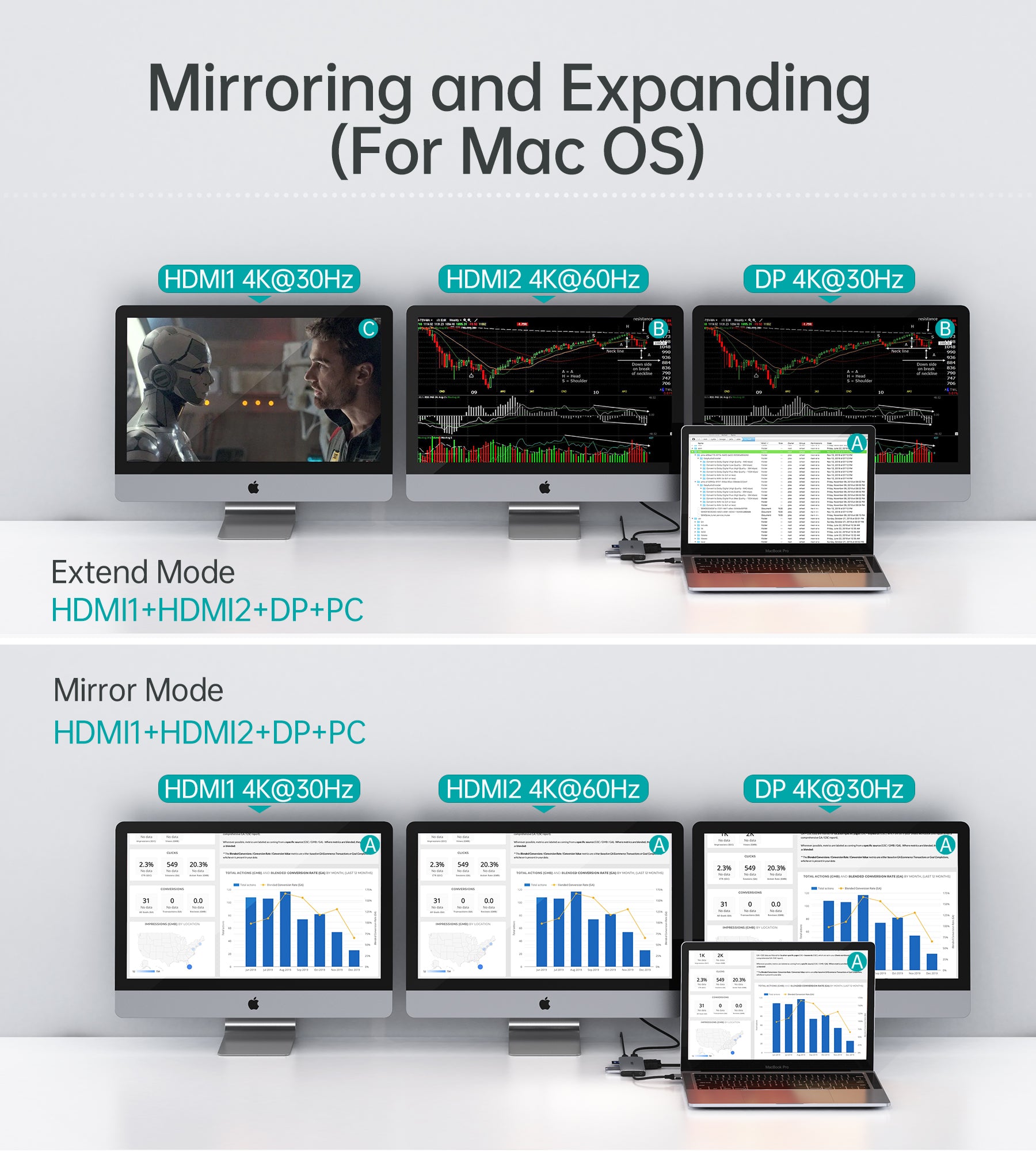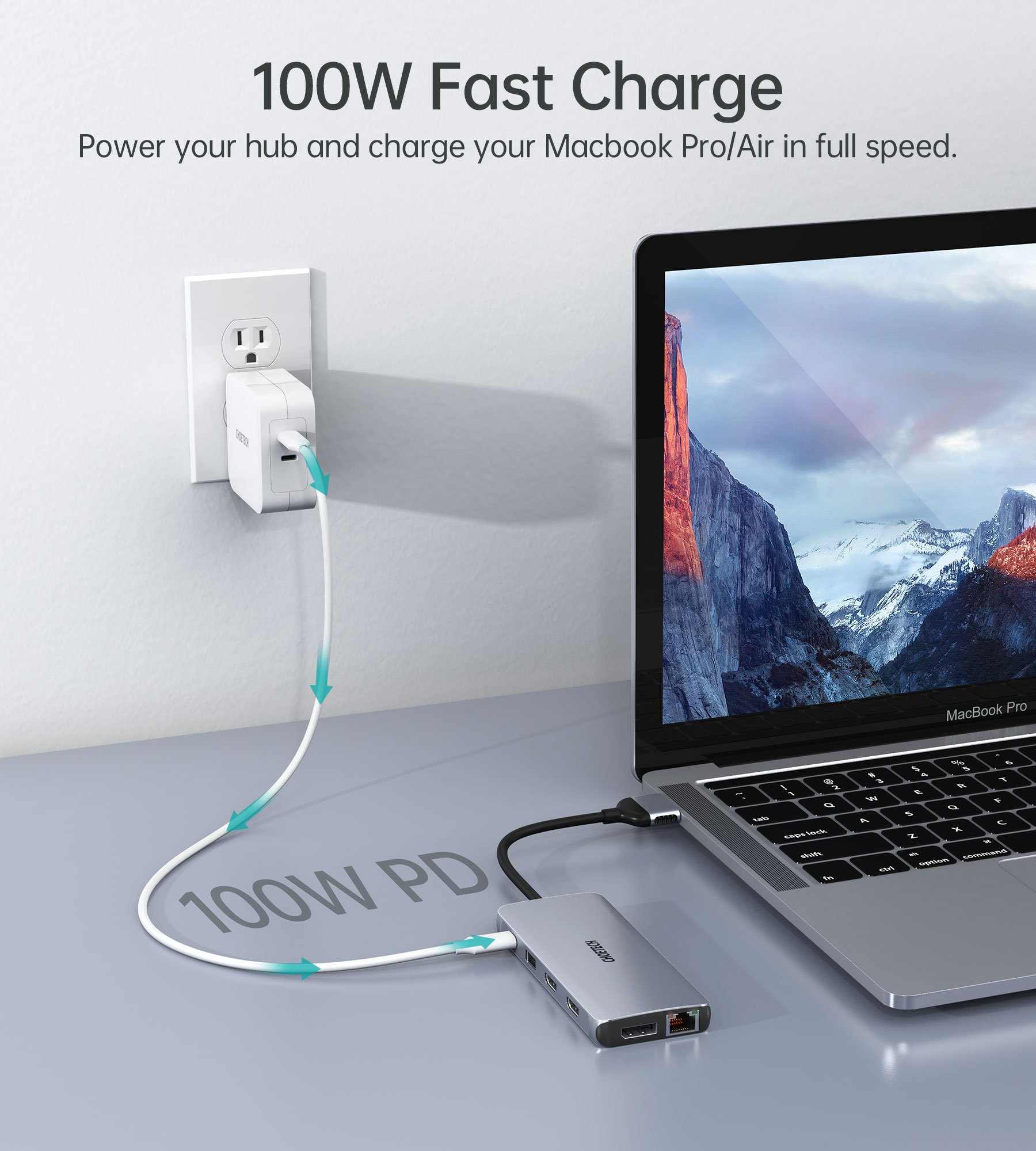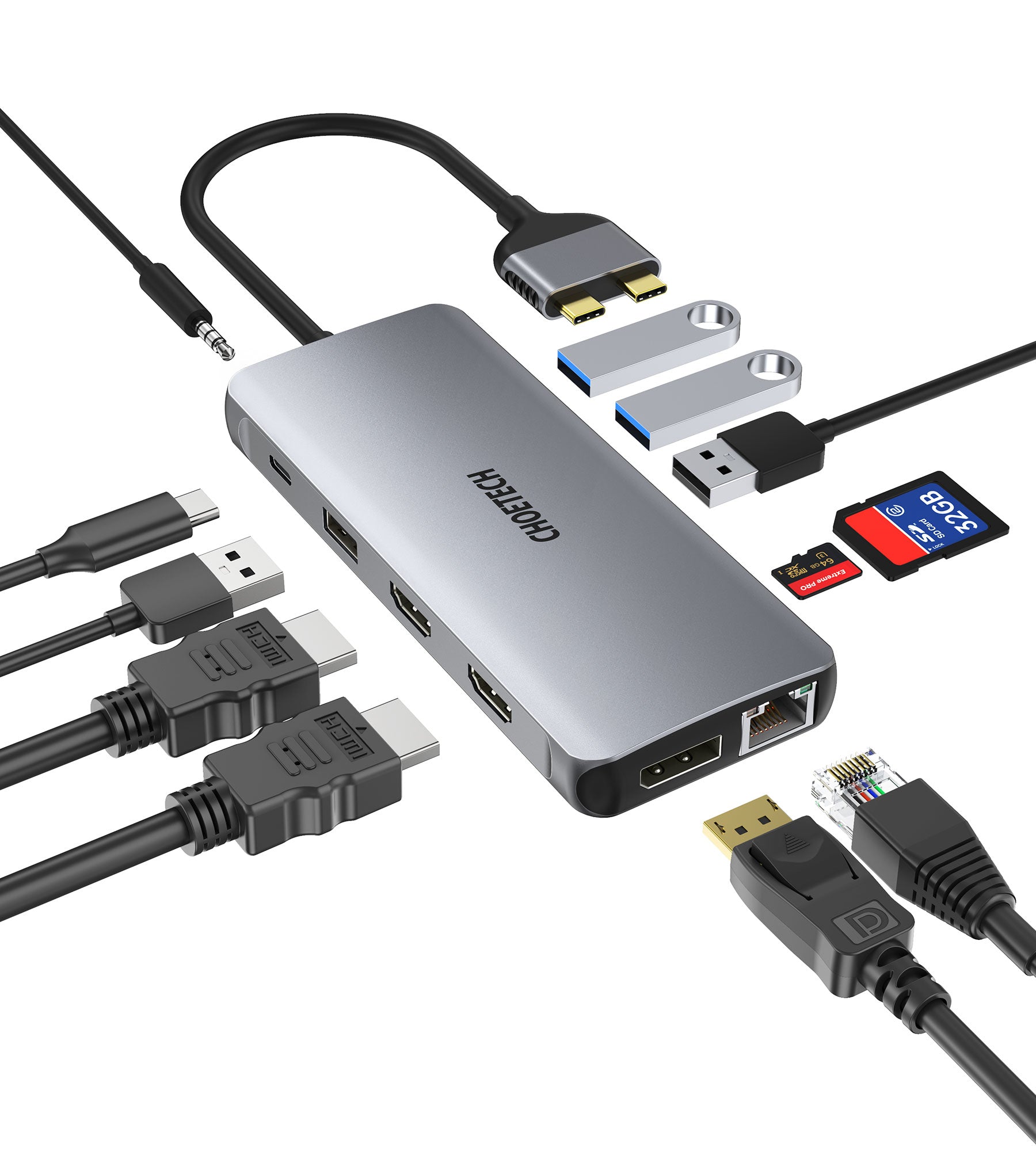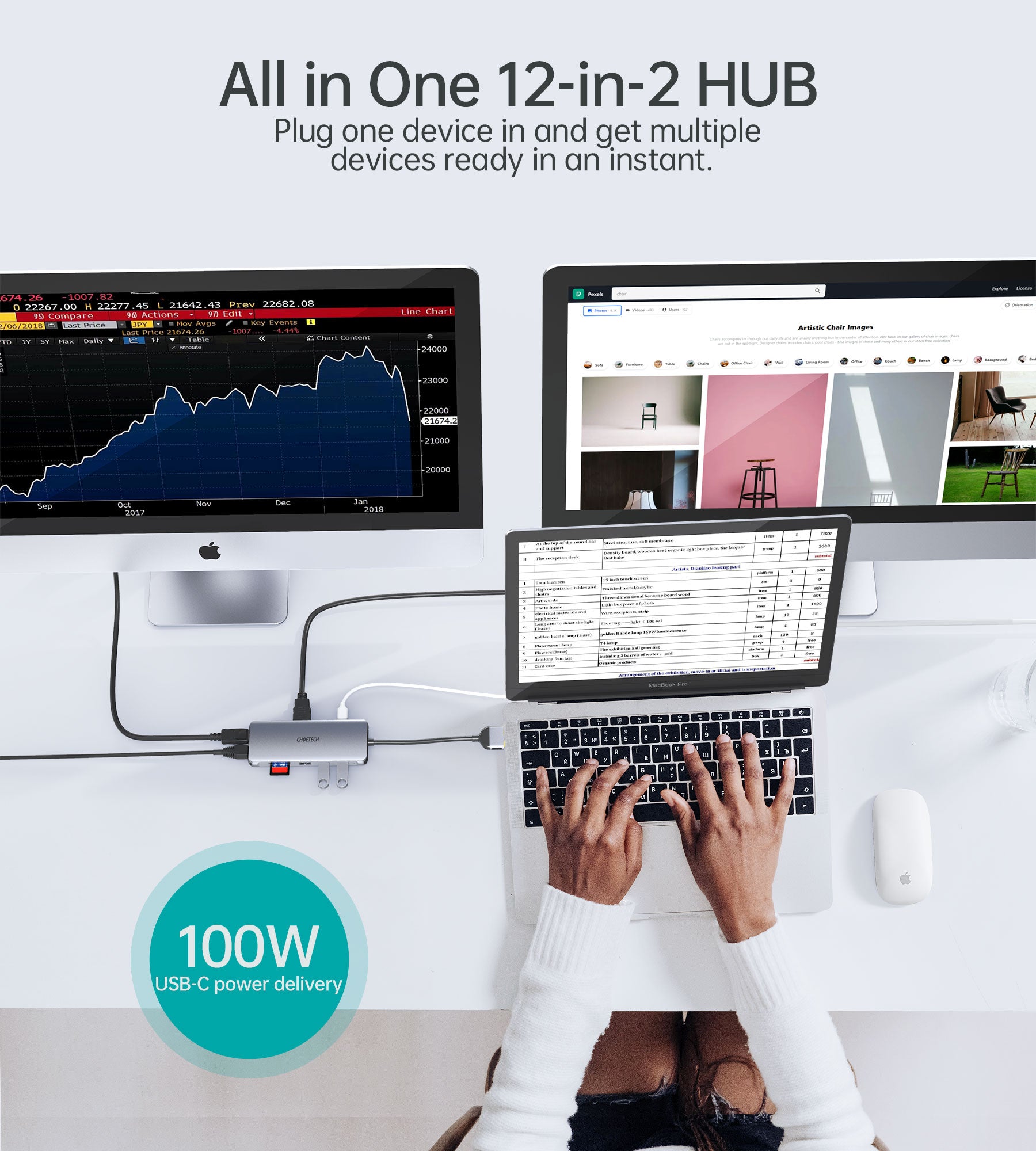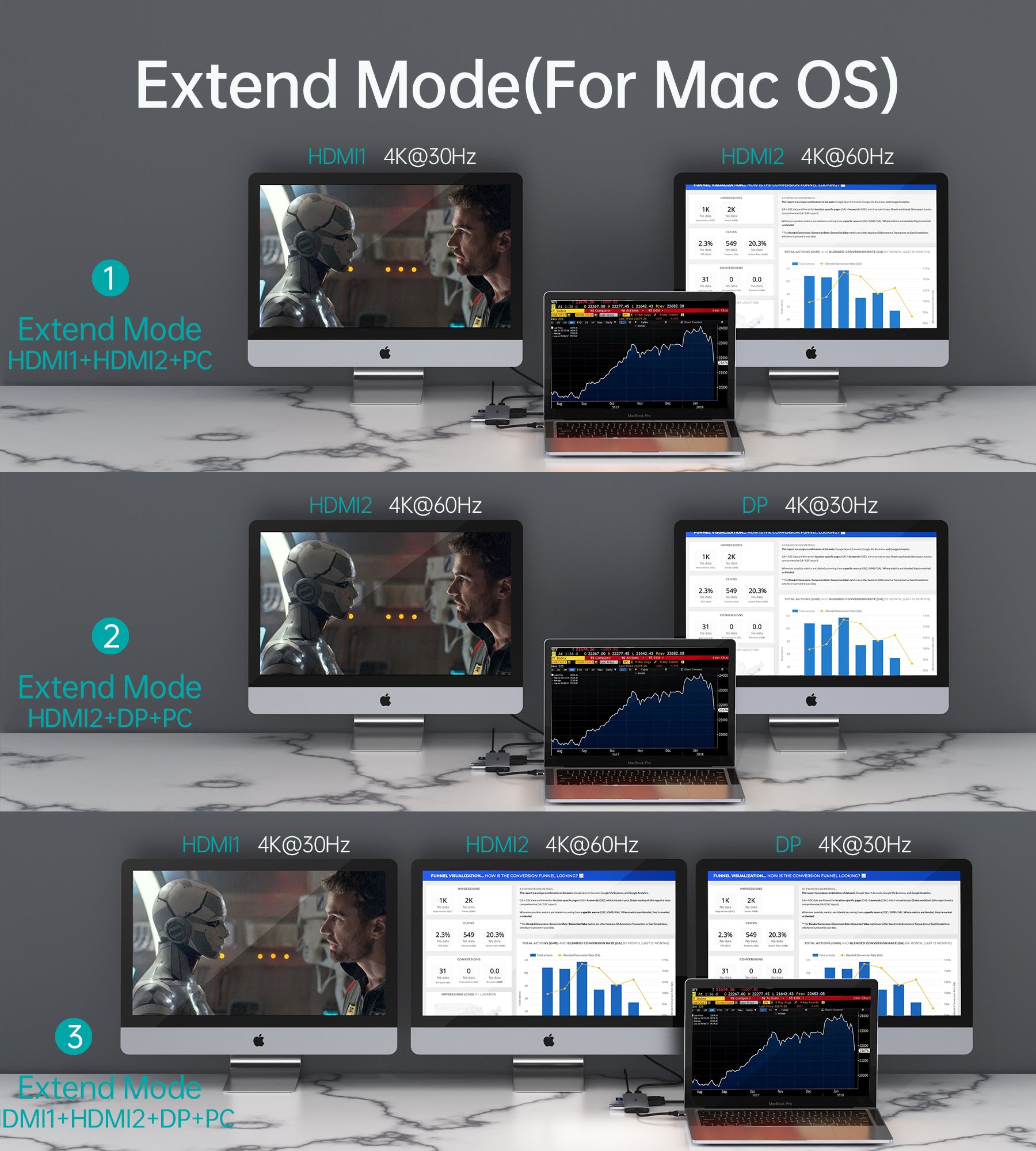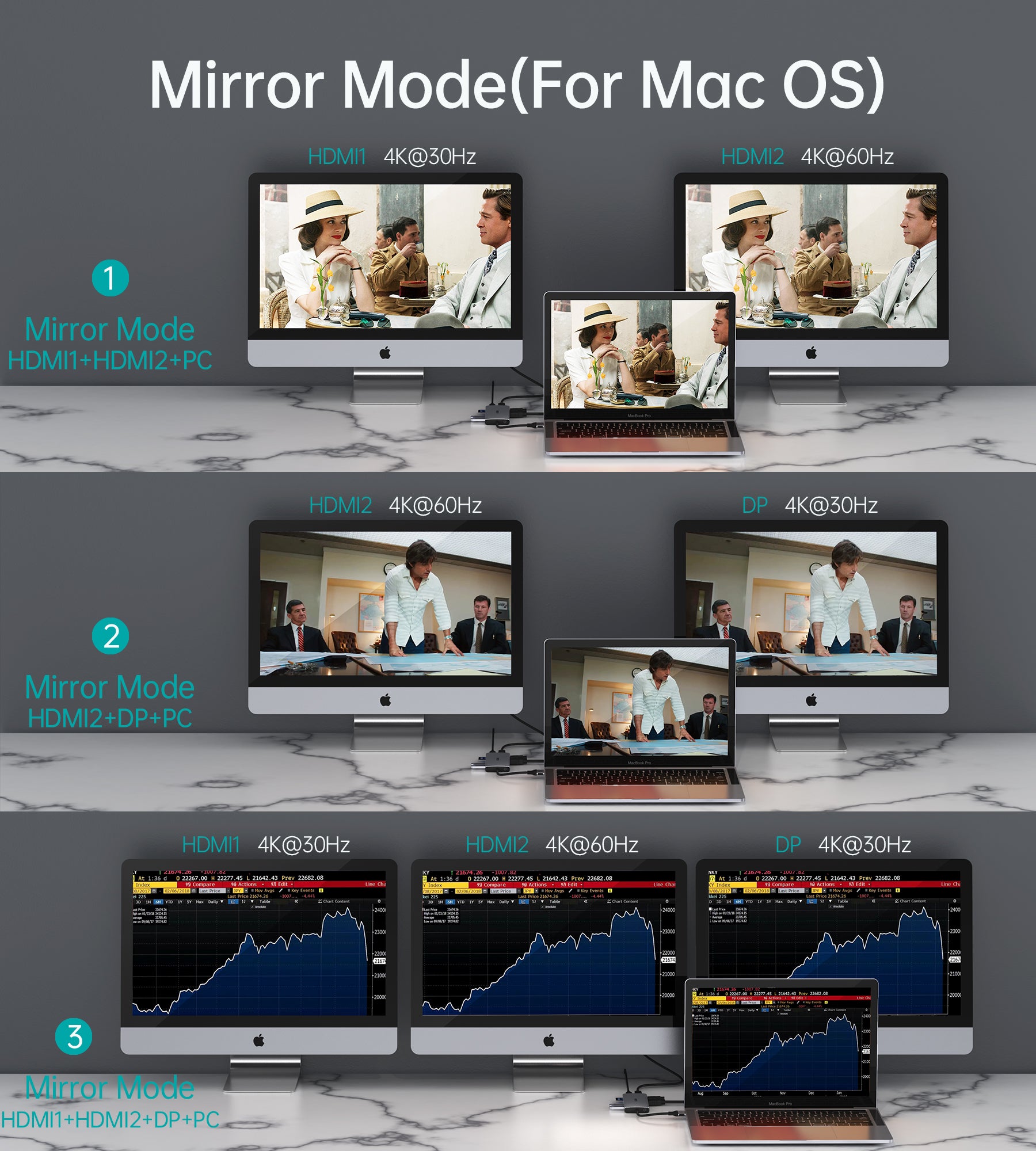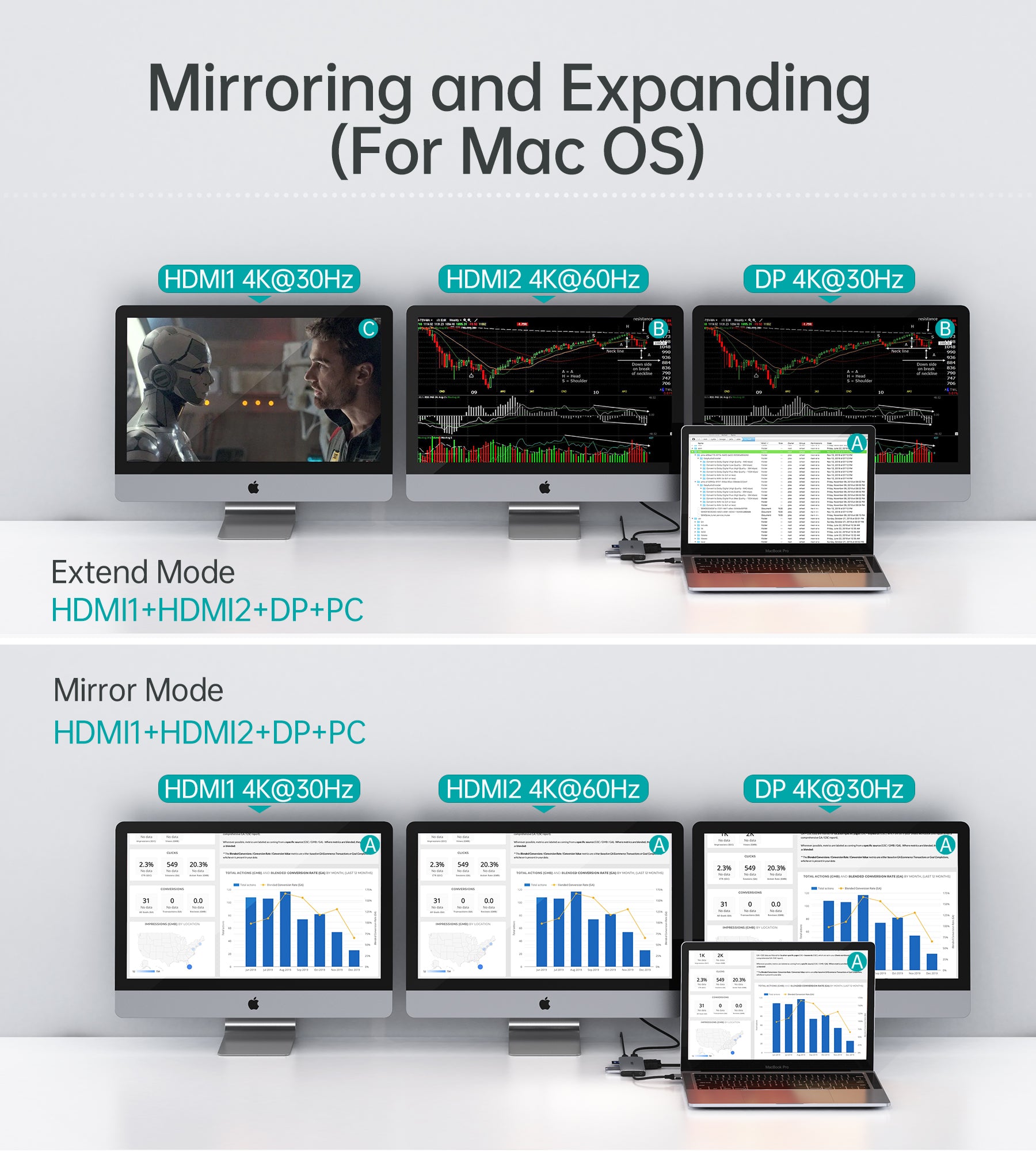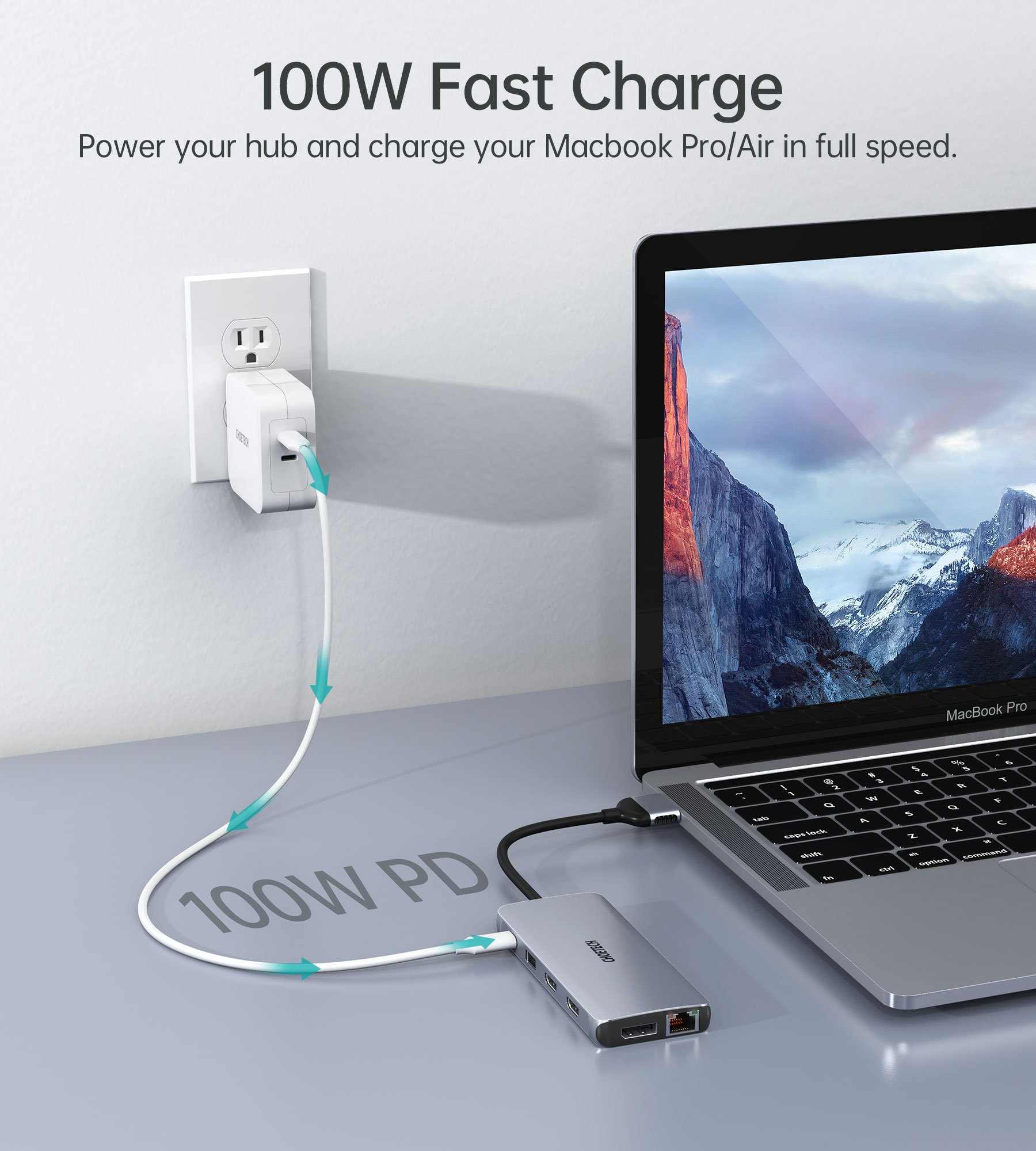 HUB-M25 Choetech 12-in-2 MacBook USB-C Docking Station
The 12-in-2 USB-C Hub docking station for MacBook provides 12 most common ports and supports dual or triple monitors display and 4K@60Hz HDR video output. Connect external monitors and improve efficiency at office or at home. Ethernet port supports up to 1000Mbps to transfer 1GB file in just 5 seconds. Compatible with MacBook Pro 13", 15", 16" and MacBook Air 13"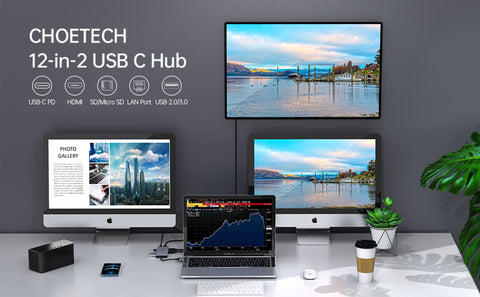 The USB-C docking station extends the capability of MacBook Pro/Air with 12 necessary ports including 2 HDMI ports (4K@60Hz), a DisplayPort (4K@60Hz), two USB-C 3.0 and USB-C 2.0 ports, a 100W PD charging port, an Ethernet port, a SD/Micro SD card slot and a 3.5mm audio/mic 2-in-1 port. Sync and manage your files faster than ever. Expand your laptops's limited port options with this 12-in-2 Docking Station. 

4K@60Hz Triple Monitor Display
Equipped with two HDMI ports and one DisplayPort to make use of the latest triple display technology and achieve Mirror Mode and Extend Mode by connecting dual or triple monitors. Supports up to 4K@60Hz HDR video output. 

Compact MacBook Docking Station
The 12-in-2 Docking Station features two USB-C 3.0 ports that support transfer speeds of up to 5Gbps and a USB-C 2.0 port capable of transfering files at 480Mb/s, The USB-C PD port supports up to 100W charging pass-through. The SD/Micro SD card reader slots will allow you to access files and data at up to 104 Mb/s. The Ethernet port supports up to 1000Mbps and enables you to transfer even a 1GB file in just 5 seconds.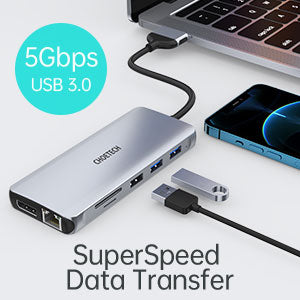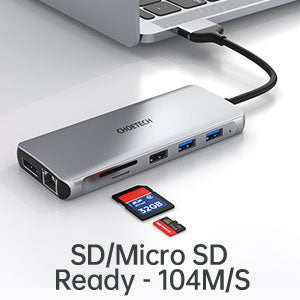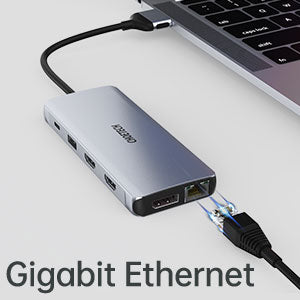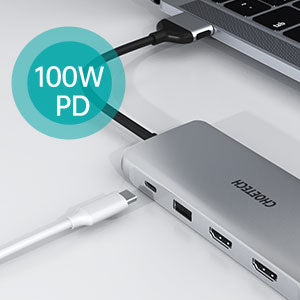 Compatible Plug-and-Play Docking Station
The USB-C docking station is easy to use with a plug-and-play design. No need to install any additional drivers to quickly connect all peripherals into integration. The docking station is compatible with MacBook Pro 13", 15", 16" and MacBook Air 13"
Safety Protection and Heat dissipation
The MacBook Air docking station is designed with dual bendable superior PVC cable to avoid direct contact with your laptop in order to facilitate heat dissipation. Equipped with a Smart Chip to prevent your laptop from over-load, over-current, over-charge and short circuit. 
Note:
The docking station can extend only one display if you use it with a MacBook Air/Pro equipped with the M1 chip. However, you can still mirror two displays.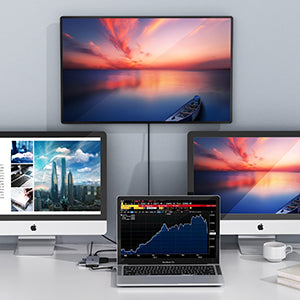 Specification:
2 x HDMI ports 4K@60Hz
1 x DisplayPort 4K@60Hz
1 x 100W PD Charging Port 
2 x USB 3.0 Ports: Data transfer speed at up to 5Gbps
2 x USB 2.0 Ports: Data transfer speed at up to 480M/s
1 x SD Card Slots: Speed at up to 104Mb/s
1 x Micro SD Card Slot: Speed at up to 104Mb/s
1 x Ethernet LAN port: Speed at up to 1000Mbps
1 x Headphone Jack: 3.5mm Audio/Microphone
Material: Space Aluminum/PVC
Color: Grey
Compatible Devices
MacBook Air 13" 2019/2018/2017/2016
MacBook Air 13" Retina 2020 (Intel Core i7 processor)
MacBook Pro 13/15" 2022/2021/2020/2019/2018/2017/2016
MacBook Pro 16" 2022/2021/2020
Dual ports Windows Laptops that are equipped with DisplayPort Alternate Mode
Customer Stories
Mars from USA on December, 2020
Great USB-C hub. It ticks all the boxes in terms of what I needed: Multiple USB-A ports, ethernet, DisplayPort, an SD card reader, and more. I plug in my CF card reader using an adapter; my Dell DisplayPort monitor; my mouse and DAC; ethernet, and whatever else needs to be plugged in. Plus, it provides Power Delivery (PD) over USB-C.

I'm using this on a new M1-based MacBook pro and have zero compatibility issues with this hub.

The only downsides are: It occupies all ports on a 2-port MacBook Pro; the cable between your computer and hub is quite short; there are no USB-C ports to plug in USB-C devices like CFast readers, external hard drives, phones, etc., so you need to use a USB-C to USB-A adapter.

Despite these relatively minor downsides, I give this 4/5 stars!
shadetree from USA; March, 2021
These docking stations can get expensive and I wish that people would post detailed reviews of the cheap ones so that others can see if it will work in their configuration. I'm running two external high resolution monitors, but not at their maximum refresh rates.

MacBook Pro 16" 2019, AMD Radeon Pro 5500M / Intel UHD 630, Catalina 10.15.7 with two Dell curved monitors connected via HDMI.

Neither screen is purple, which sometimes happens when a Mac auto-detects the display as a television and uses the YPbPr color space instead of RGB.

First monitor is QHD/WQHD 2K 2560x1440 at 165Hz. I can only select 120Hz and 60Hz. Runs fine at 120Hz. This monitor supports HDR but I do not see the option to enable it.

The other is UWQHD 3440x1440 at 60Hz. It automatically selects 50Hz and stops working if I force it to 60Hz.
Karthik Padmanabhan from USA; April, 2021
I originally purchased an IOGEAR USB-C dock to connect two monitors to my 2016 15 inch MacBook Pro but due to the limitations of that dock and MST support in Mac OS, two monitors could only be connected in mirrored mode. The CHOETECH USB-C dock takes two USB-C ports, but the advantage is that I can now connect two monitors with just 1 cable. I have the dock connected to a 60 W USB-C charging brick (co-incidentally also made by CHOETECH), and have two 27 inch Dell monitors connected at 2K resolution each. I also have three 1 TB hard drives connected, one of them is a time machine drive. Everything works so nicely, keeping the desk clear of any cable clutter. Highly recommended!
Fizzle from USA; September, 2021
The hubs for my MacBook Pro I've had in the past either were underpowered or blocked too much of the unit (including the headphone jack). This is the best of both worlds. 3 display ports (DVI and HDMIx2), 4 USB ports, USB-C power, ethernet (which is huge for me with the video calls I'm constantly doing), and even a headphone jack (though it doesn't block the jack I have, so it's twice as nice).

Really like it. Check the video to see it in action.
Rahul from US on June, 2022
I really love this hub! It's very easy to use! I just plug my HDMI cord in and then plug the C-type cable in into my iPad 12.9 pro and I'm connected! If you are looking for a hub with several different options, this is your all in one device to have! I have tried this on my iPad, MacBook and a windows laptop and works just like plug and play! No hassle with installing drivers etc. One thing I have noticed with lots of other hubs is that they tend to overheat at long usage of monitor/tv over HDMI. This is not the case with this particular hub, it works at normal temperature and yet performs 4K UHD at 30Hz.

Also, worked well with my old Samsung Galaxy S9+ to connect a TV. I think it offers a big Bang for buck at the price point.
Rather from US on November, 2022
This USB-C docking station has almost every port you could want to expand the ports on your laptop. With two USB-C connections to your computer you get 12 additional ports. Everything from expanded USB ports, to charging, to external monitors are possible, all at the same time. I use my MacBook Pro in my office with two external monitors, mouse, keyboard, speakers, various usb peripherals, and this single docking station does it all. I like this one better than many others since it doesn't require external power. This means that you can take it on the go to use with you. It also widely beats out the price of many other similar stations. Love it!