T586-F Choetech 3-in-1 Magnetic Wireless Charging Stand
AChoetech's 3-in-1 Magnetic Wireless Charging Stand combines the power of wireless charging with the convenience of hands-free magnetic attachment. This is one of the most versatile wireless charging stands available in our line-up: it features a charging base for your compatible AirPods case and Apple Watch, as well as a mount that showcases and charges your iPhone - an excellent design choice if you like to watch videos while charging or use your iPhone as a bedside clock.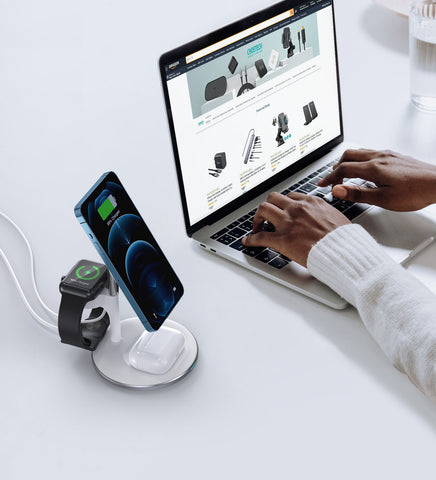 All-In-One Charging Solution
Charge all your Apple products in one place with Choetech's 3-in-1 Magnetic Wireless Charging Stand. Stay organized and declutter the cable mess while powering up your iPhone, Apple Watch and AirPods with just one charging cable. This stand supports the latest magnetic wireless charging technology for iPhone Series 12, 13 and 14. Simply place your phone on the magnetic pad and the coils will automatically align for optimal charging speed and efficiency. The strong magnetic force keeps the phone in place as you rotate the phone into any viewing orientation you desire.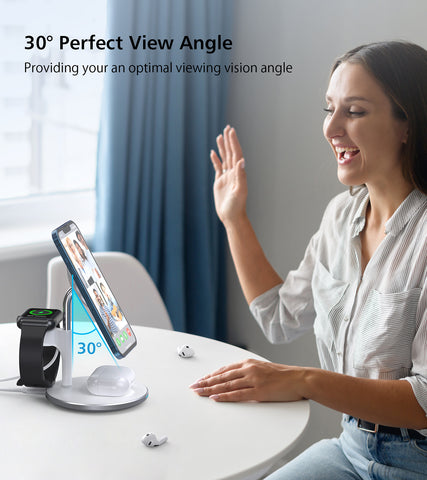 Charge In Portrait or Landscape Mode
This Magnetic Wireless Charging Stand allows you to rotate your phone 360 degrees while it's attached to the magnetic pad. Browse the web while charging in Portrait Mode or watch videos and charge in Landscape Mode.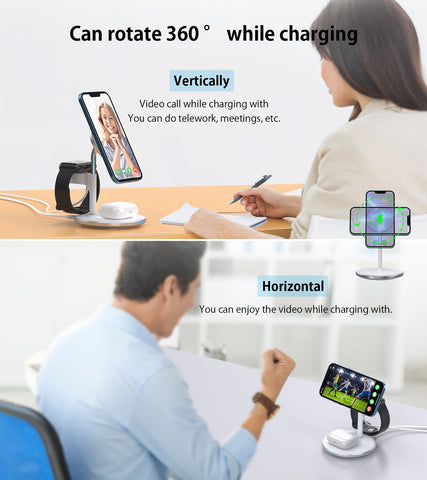 Fast & Efficient Wireless Charging
Snap your iPhone right into place with perfect coil alignment to maximize wireless charging speed and efficiency, no more problems with misalignment.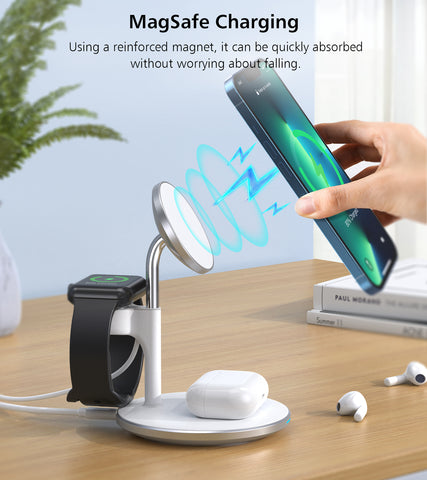 Case Friendly
Choetech's 3-in-1 Magnetic Wireless Charging Stand works flawlessly with MagSafe cases or cases within 6mm - otherwise the phone might fall off from the magnetic pad while it's charging.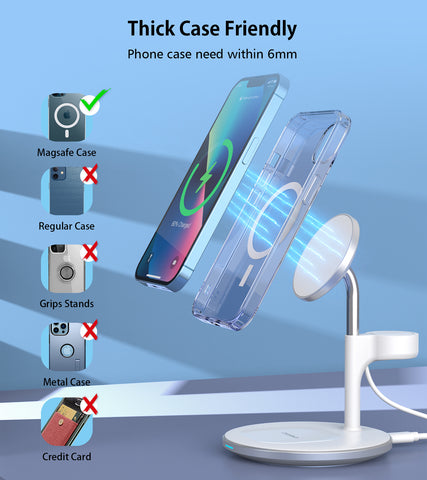 Superior Safety
Our Magnetic Wireless Stand is equipped with over current, over charge, overvoltage, and short circuit protection, as well as FOD - foreign object detection and charging temperature control.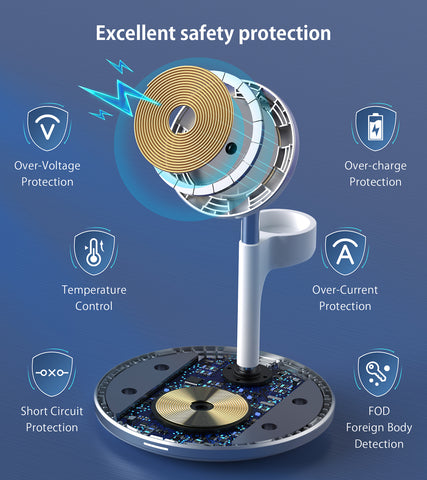 Specifications
Model Name: T586-F
Interface: Type-C
Input: 5V-9V/3A (Max)
Output: 15W for iphone (Max) + TWS headset 5W (Max)
Color: White
Material: Zinc Alloy+PC+ABS+Silica gel
Product Size: 105*146mm