How big is the wireless charging market?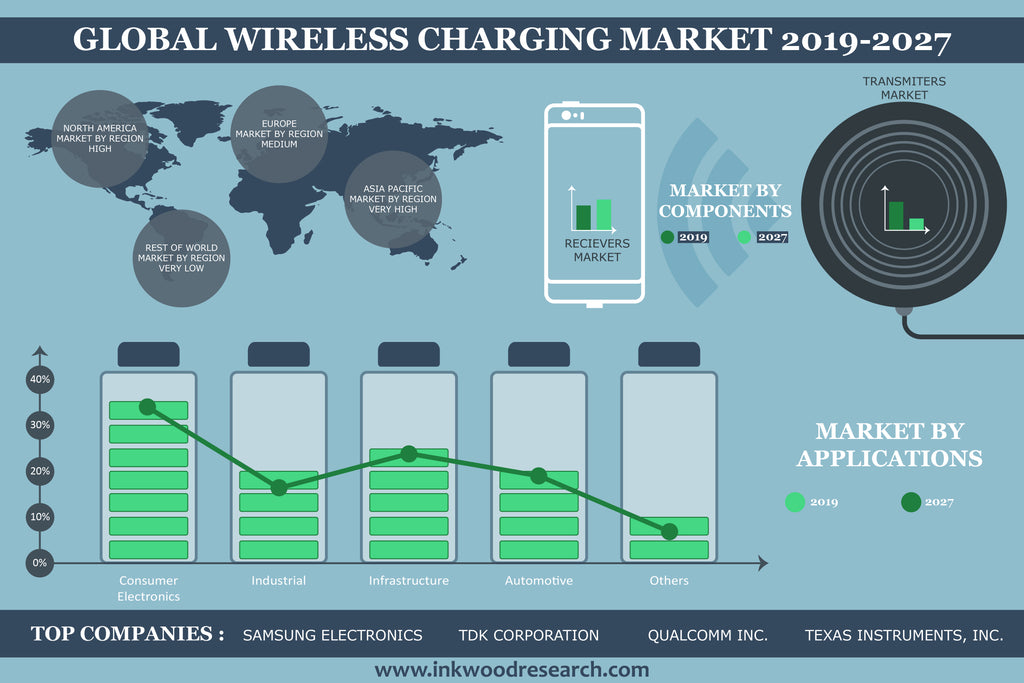 With the popularity of 5G mobile phones, people are using them more and more, and the charging problem is becoming increasingly serious.
The most straightforward solution to the problem is "shared charging" when people are out shopping, eating and so on. The mobile phone wireless charging industry is growing rapidly and now covers restaurants, cinemas, hospitals, convenience stores and even high-speed railway stations and airports. The use of shared wireless charging has almost become an instinct for heavy mobile phone users.
Wireless charging has multiple advantages and a wide market space in the future. Compared with traditional wired charging, wireless charging has advantages in terms of safety, flexibility and versatility, and has broad application prospects in smartphones, wearable devices, automotive electronics, household appliances and other fields, with huge market space. It is expected that by 2024, the annual shipments of smartphones supporting wireless charging will exceed 1.2 billion units. The global wireless charging market was approximately US$3.4 billion in 2016 and is expected to grow to US$14 billion by 2022, with a CAGR of 27%. Currently available wireless charging technologies include electromagnetic induction, magnetic resonance, radio wave, ultrasonic, infrared laser and electric field coupling.
According to the WPC Wireless Charging Consortium, the growth trends of the global wireless charging market from 2017-2026 are summarised, covering the two main blocks of transmitter shipments and receiver shipments, and it can be seen that both are growing exponentially year on year, with receiver shipments being several times higher than transmitter shipments. As for the specific figures, there will be roughly 550 million receivers and 200 million transmitters in 2018, while by 2020 there will be 1 billion receivers and 400 million transmitters, which will almost double! 
Choetech has actually presented a brand-new hiden wireless wireless charger, a Qi-compatible battery charger that can turn workdesks and shelves into a cordless wireless charging point, by being covertly mounted below the surface.
Choetech hopes to build on its core technology, uphold the spirit of science and push for independent innovation. It will actively improve the patent layout of the underlying technology related to wireless charging, deepen cross-field cooperation with household products and other industries, build diversified application scenarios, and make the magnetic resonance wireless charging solution land in more and more scenarios at the market end.