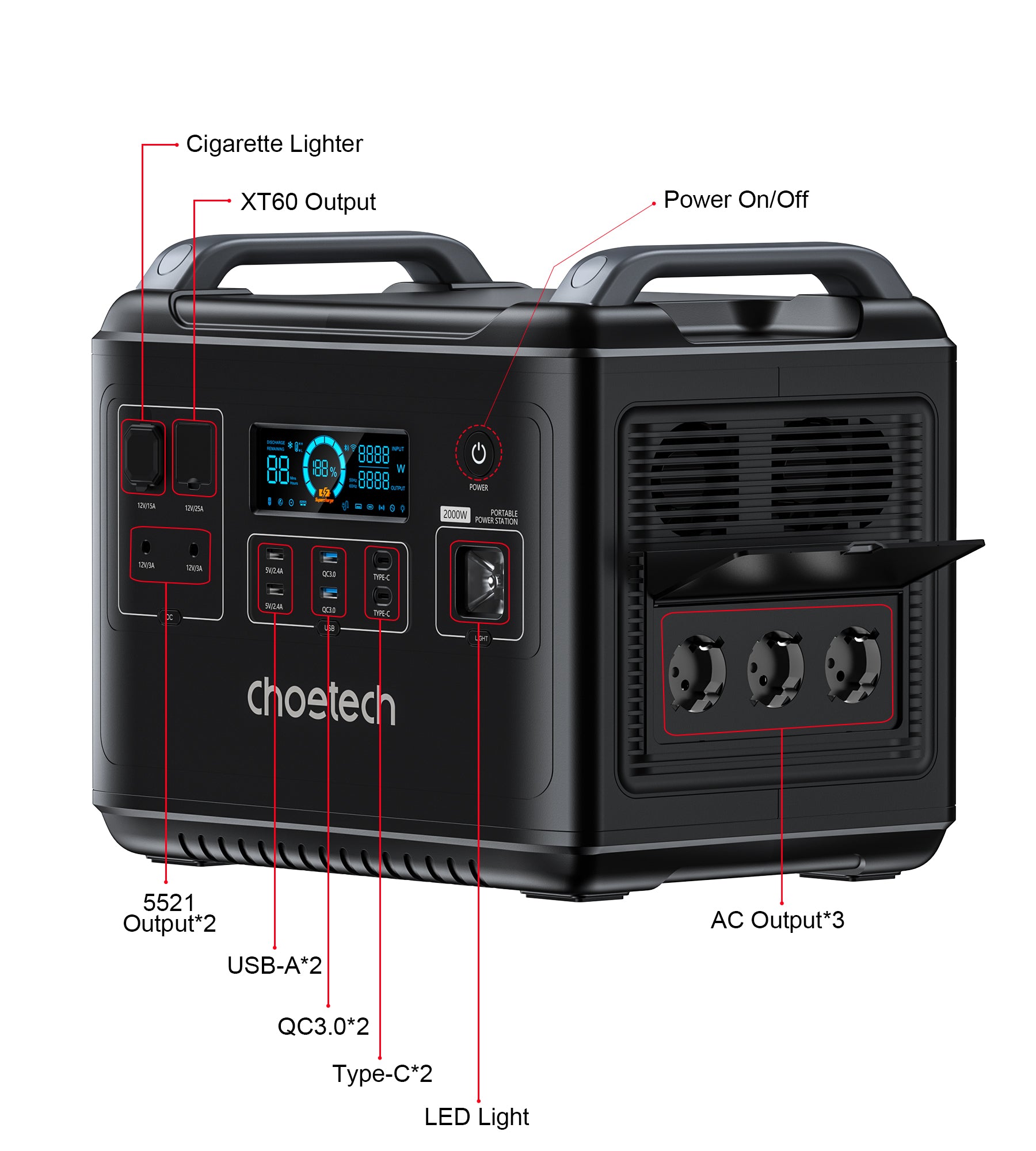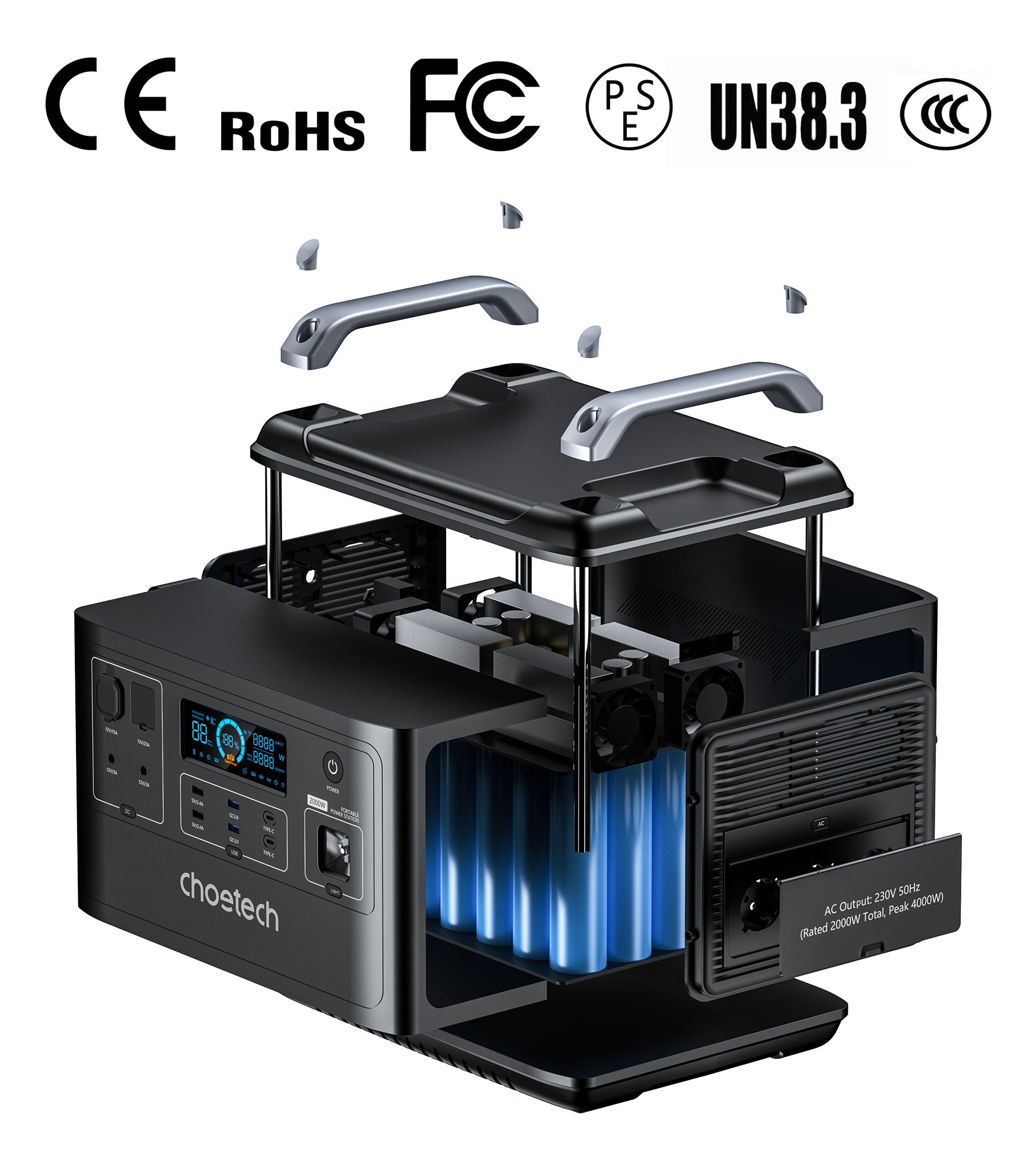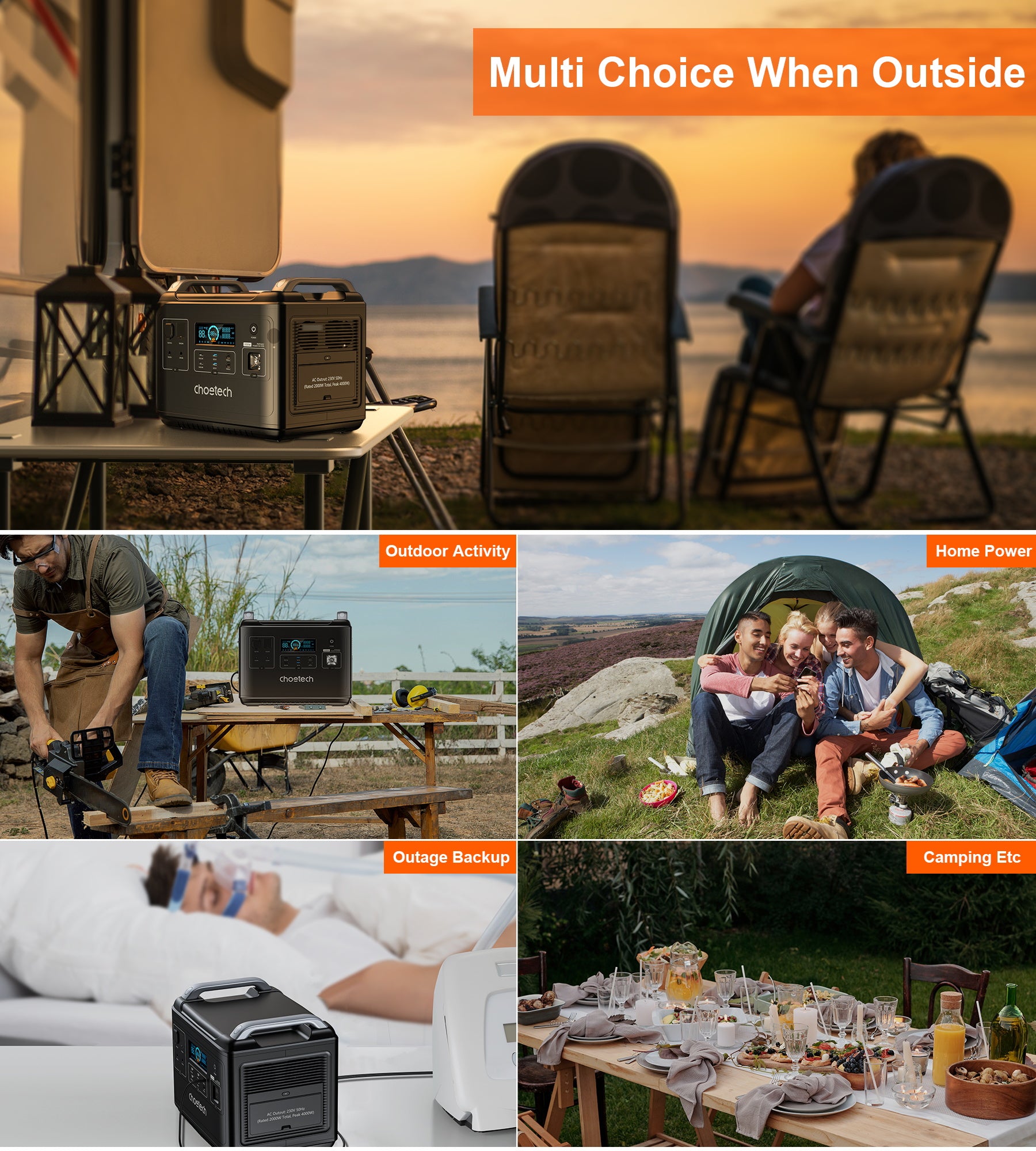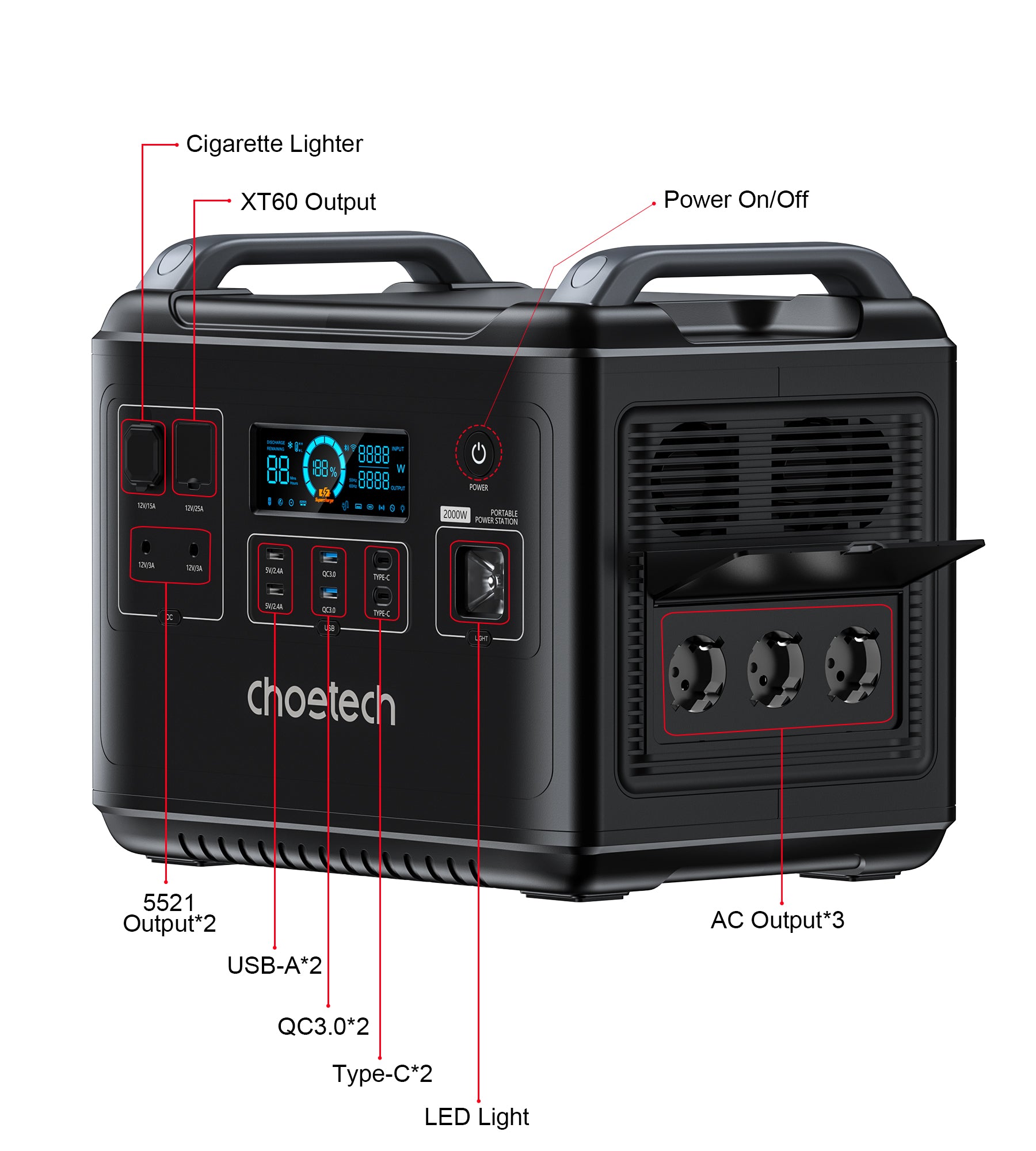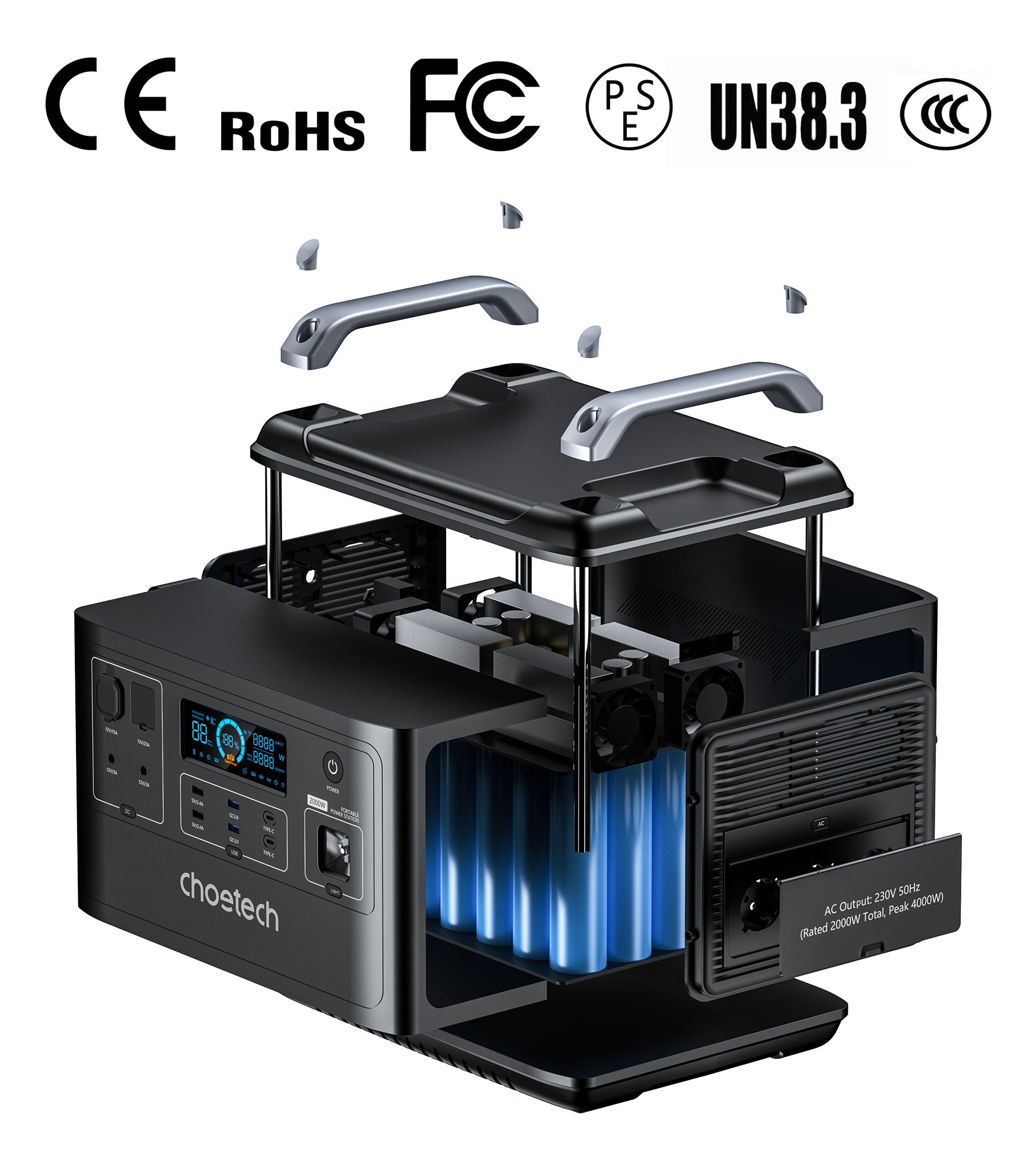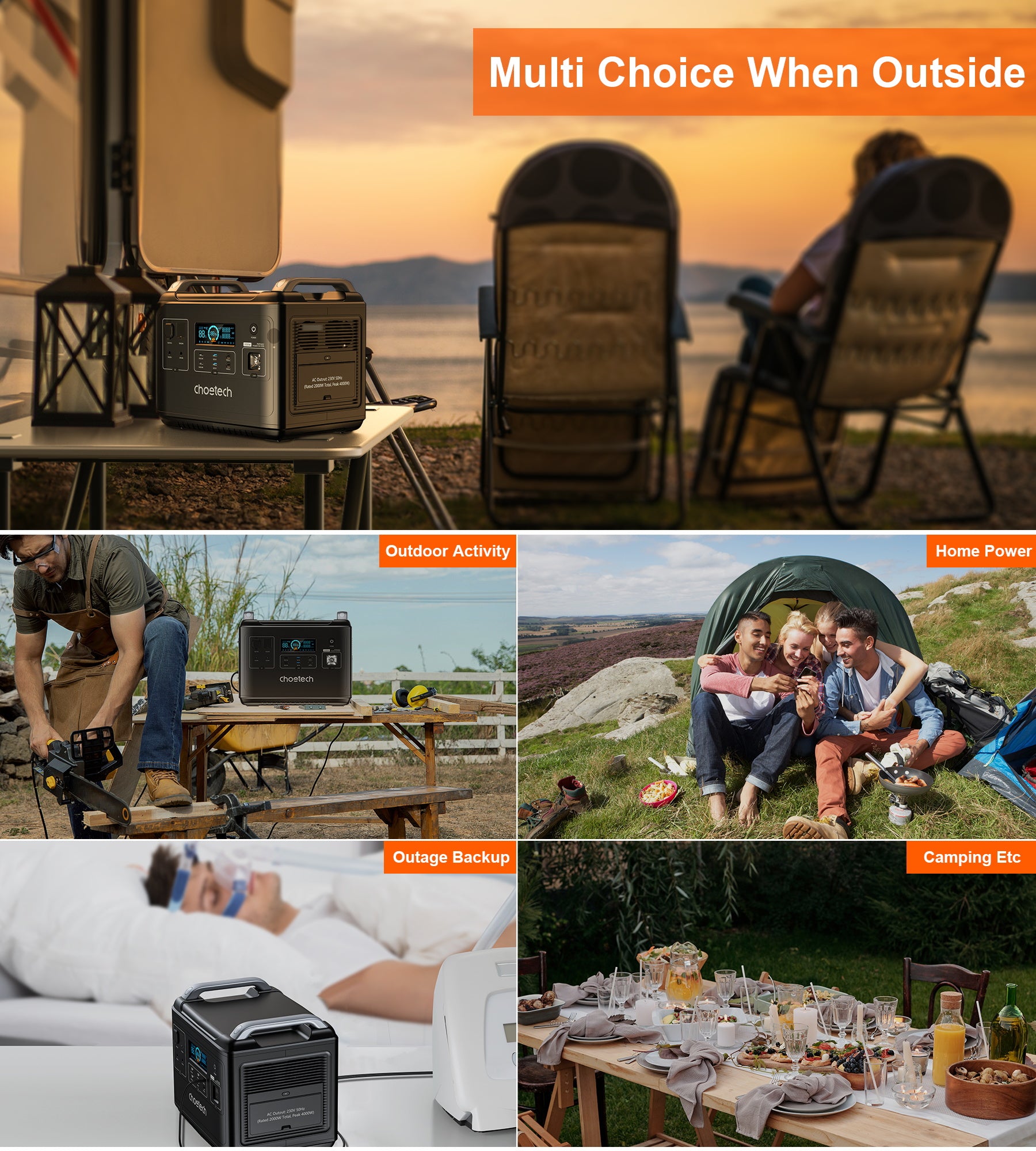 BS006 Choetech 2,000Wh Bidirectional Charging Power Station
Choetech's 2,000Wh Bidirectional Charging Power Station has everything one might need outdoors or at home in case of power outage. This portable charging station will come in handy during your camping trips. Our multifunctional power station, with built-in LED lights, is equipped with 16 ports to charge your mobile devices as well as a rice cooker, MacBook, car refrigerator and a drone.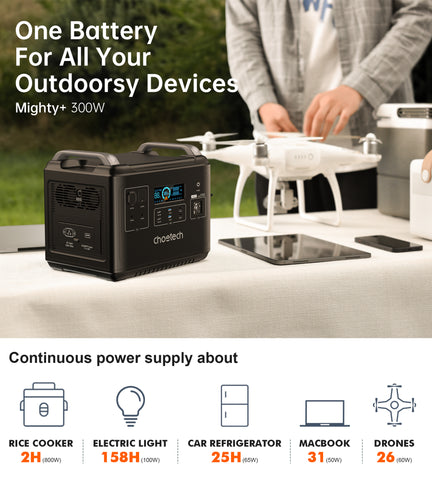 This product is designed to provide off-grid power to your electronic equipment. Whether you are climbing a mountain, taking an RV road trip, or camping outdoors, this power station can provide reliable power to your electronic devices or to power up your devices during power outages and emergency situations.

Three Ways Of Recharging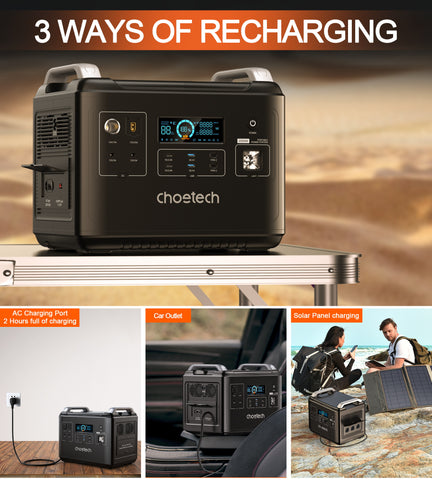 Solar Panel Charging
Our products can be connected to solar panels and can be charged through solar panels. The solar panels produce 400 watts of power and can be fully charged in as little as five hours, Charge the power station using a Solar Panel taking into account weather and climate conditions. Solar panel voltage exceeding 50V will damage the equipment and may not be covered by warranty.
Car Outlet Charging
This product can be charged by the cigarette lighter in the car with an ACC cable. Connect the ACC charging cable to the cigarette lighter port in your car and the Anderson interface on the side of the product, turn on the car engine, and the LED of this product will show the input power. Charging should be carried out with the car engine turned on. If the engine is not turned on, the battery might run out. Car charging usually requires 90-120W, and it will take a while to charge the power station fully. 
AC Charging Port
The two previous recharging options will take quite a while so if you need to quickly power up the power station you will have to make use of the nearest AC charging port. 
Important Safety Instructions
Caution
Do not disassemble, open, crush, bend, deform, puncture, shred or attempt to access the battery. Do not modify or remanufacture the battery, attempt to insert foreign objects into the battery, or immerse or expose it to water or other liquids, expose to fire, explosion or other hazard. Do not expose product to temperatures above 60 C/140 T.
Warning
When using this product, basic precautions should always be followed, including the following:
1. Read all the instructions carefully before using the product.
2. To reduce the risk of injury, close supervision is necessary when the product is used near children.
3. Do not insert your fingers or hands into the product.
4. Avoid dropping or shaking the product.
5. Long-term exposure to high temperatures will shorten the battery life. Please avoid prolonged exposure to strong sunlight.
6. Please keep water, dirt and dust from entering the product.
7. Avoid using this product in direct sunlight, rain or humid environments.
8. Please keep product away from radiators, ovens or any other heat sources.
9. The product will naturally become warm during use. Please ensure the product is placed in an area with good ventilation and sufficient heat dissipation.
10. Do not repair or disassemble this product.
11. Using of a power supply or solar panel not recommended or sold by choetech may result in a risk of fire or injury.
12. Do not use the power station in excess of the output rating (in watts). Overload caused by usage above power rating may result in a risk of fire and injury to people.
13. For product safety, please have product repaired by a qualified repair person using only original replacement parts.
Specifications
Shell Material: ABS+PC 
Battery Type: Lithium Iron Phosphate 40135
Battery Brand: Yiwei Lithium Energy
Output Power (W): 2000
Peak Power (W): 4000
Energy Storage Capacity (Wh): 1997
Energy Storage mAh/Voltage: 624000mAh/3.2V
Energy Storage Ampere/Voltage: 39Ah/51.2V
Product Size (mm): 392*279*323
Packing Size Inner Box (mm): 464*352*420
Packing Size Outer Box (mm): 486*374*432
Product Net Weight (kg): 22
Gross Weight (kg): 24.5
Number of units/carton: 1 
Number of card boards (card board 1m*1m): 12pcs (12 CTNs, 4*3 stacked)
Number of card boards (card board 1m*1.2m): 18 pcs (18 CTNs, 6*3 stacked)
Quantity/20ft container (1m*1m card board): 10 pallets - 120pcs
Quantity/40ft container (1m*1.2m): 20 pallets - 360pcs
Output:
AC Output: US/JP: 100V-120V 50Hz/60Hz; EU/UK: 230V 50Hz; CH: 220V, 50Hz
AC Output Interface: 110V*6, 220V*3
PD Output: 100W*2
QC Output: 18W*2
USB-A Output: 5V*2.4A*2
Cigarette Lighter Output: 12V/10A
XT60 Output: 12V/25A
DC Output: 12V/3A
Bypass Conversion: Support

UPS Function: 10ms
Car Battery Charging: Support
Input:
AC Input (W): 1100W
AC Charging Time (H): Around 2 hours
Solar Input (W) Anderson: 500W Max
Solar Charging Time (H): Around 4.5 hours
Car Cigarette Lighter Input (A): 10A (120W)
Car Cigarette Charging Time (H): Around 17 hours
AC+ Solar Charging: Around 1.3 hours
Temperature:
Charging Temperature: 0-55C
Operating Temperature: -10-60C
Protection Mechanism: Overcurrent, overvolt, overcharge, over discharge, short circuit.
LED: Steady On, SOS, Blinking
App (Bluetooth): The reserved interface can be connected to a custom app which will be available at the start of 2023. 
Screen: LCD Display
Accessories: AC cable, User Manual