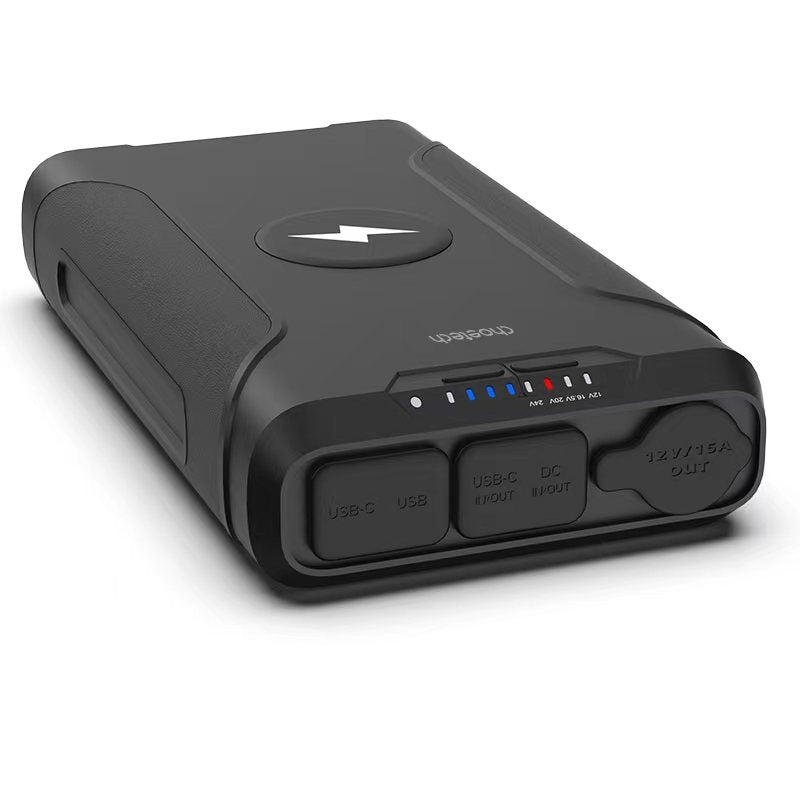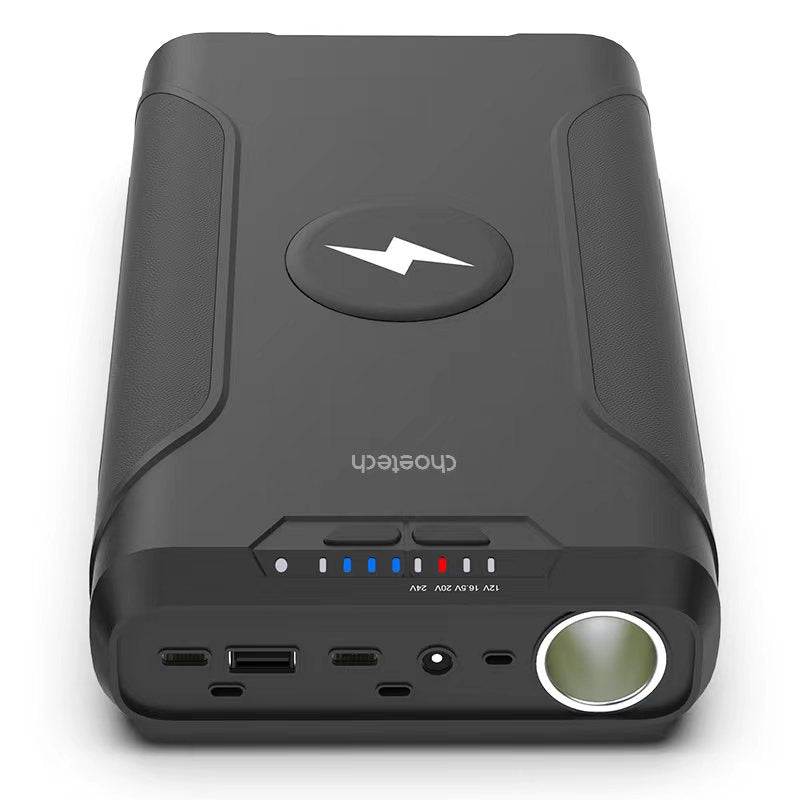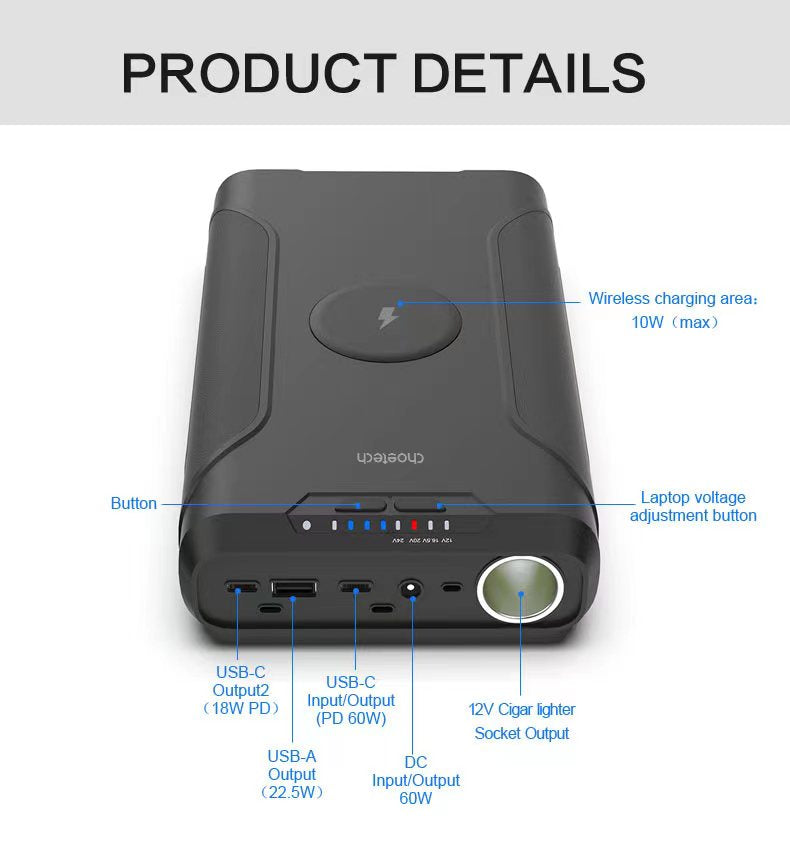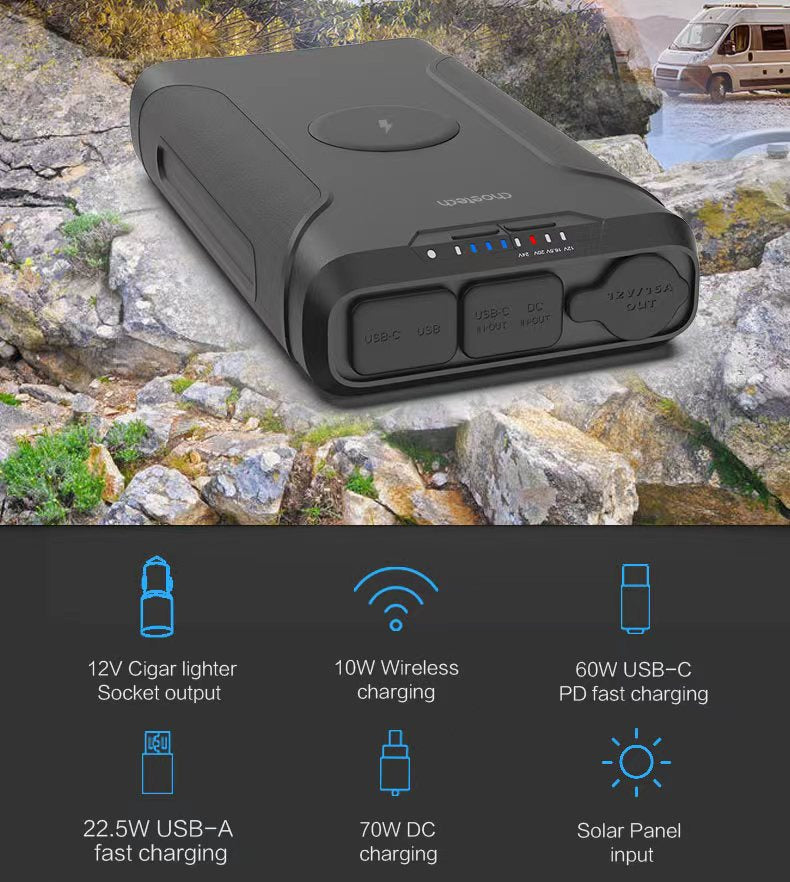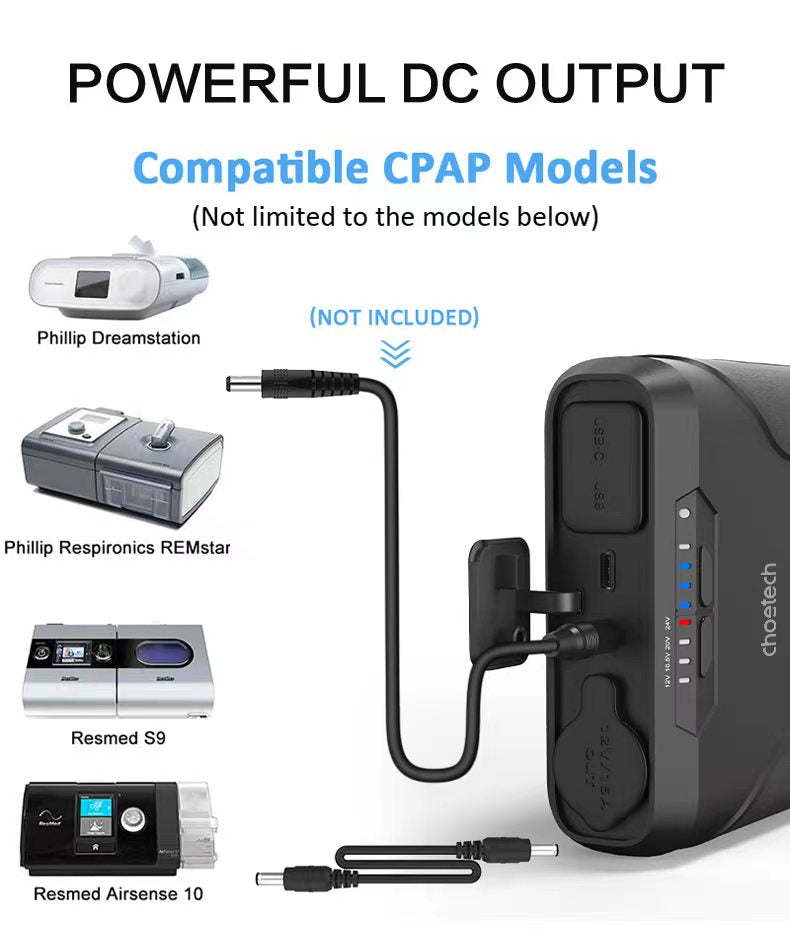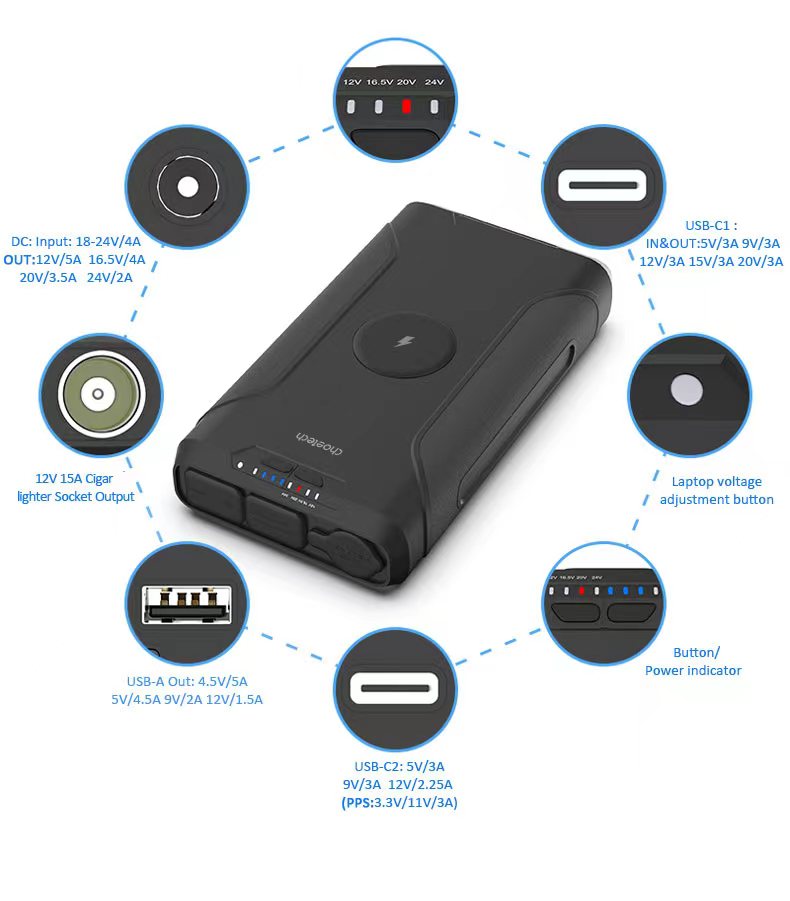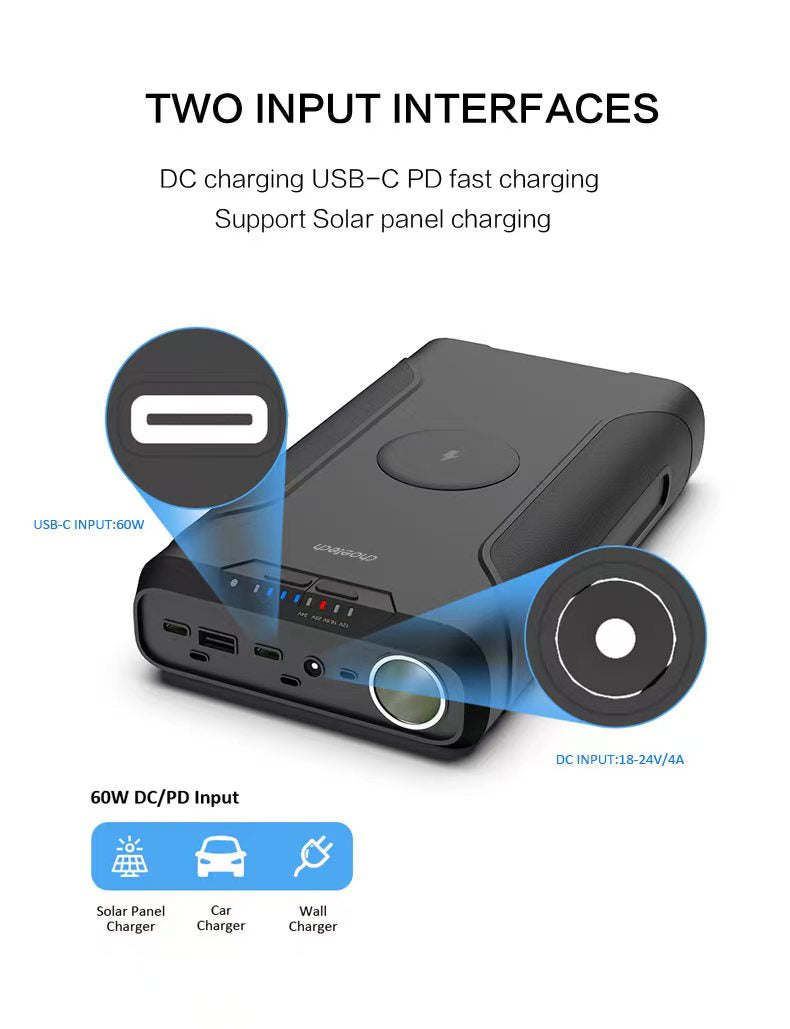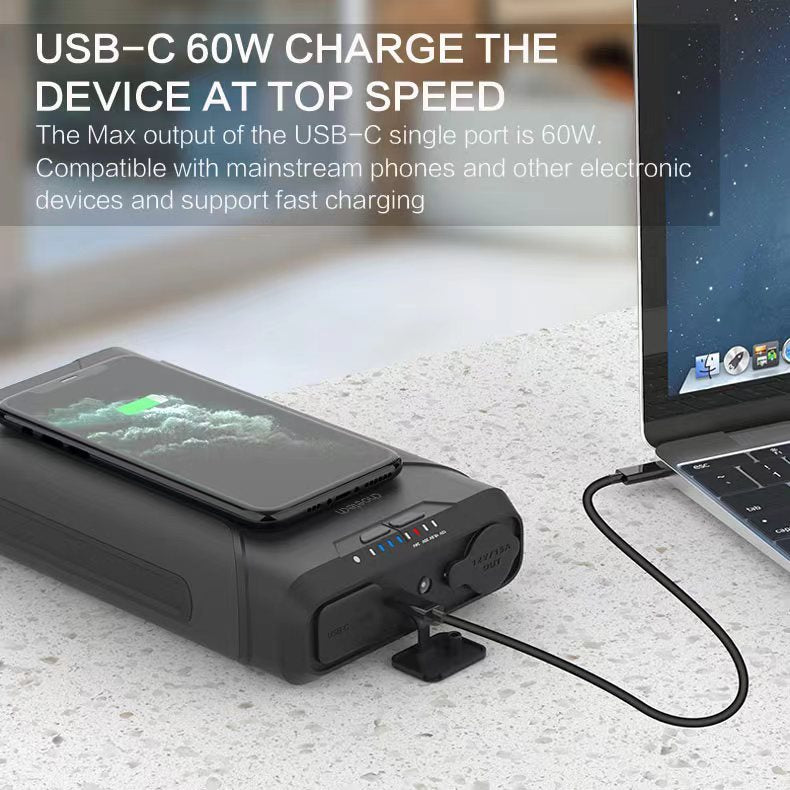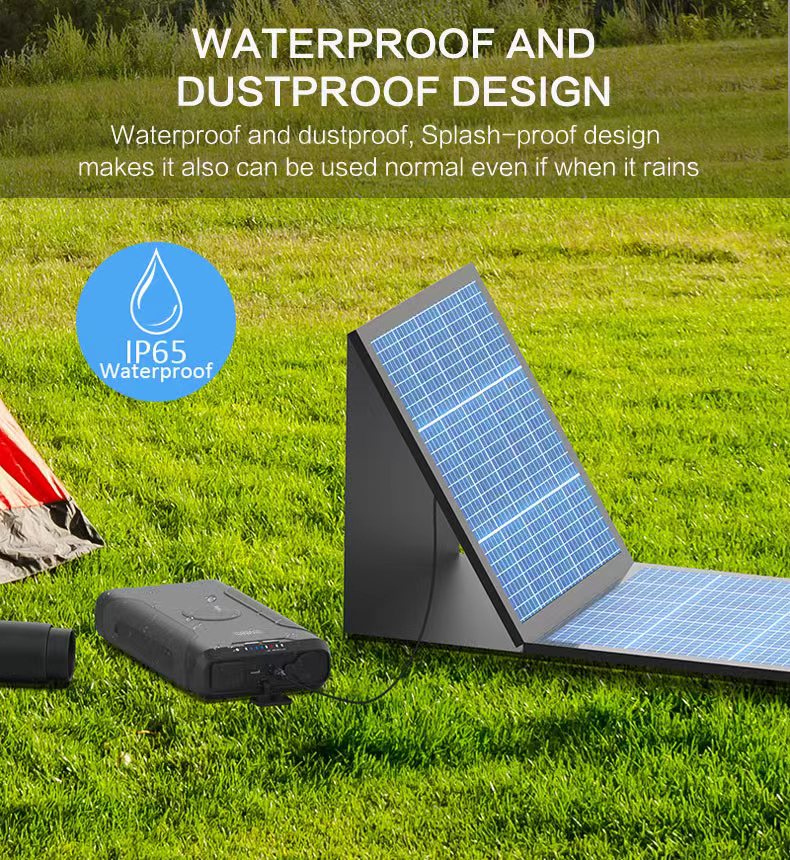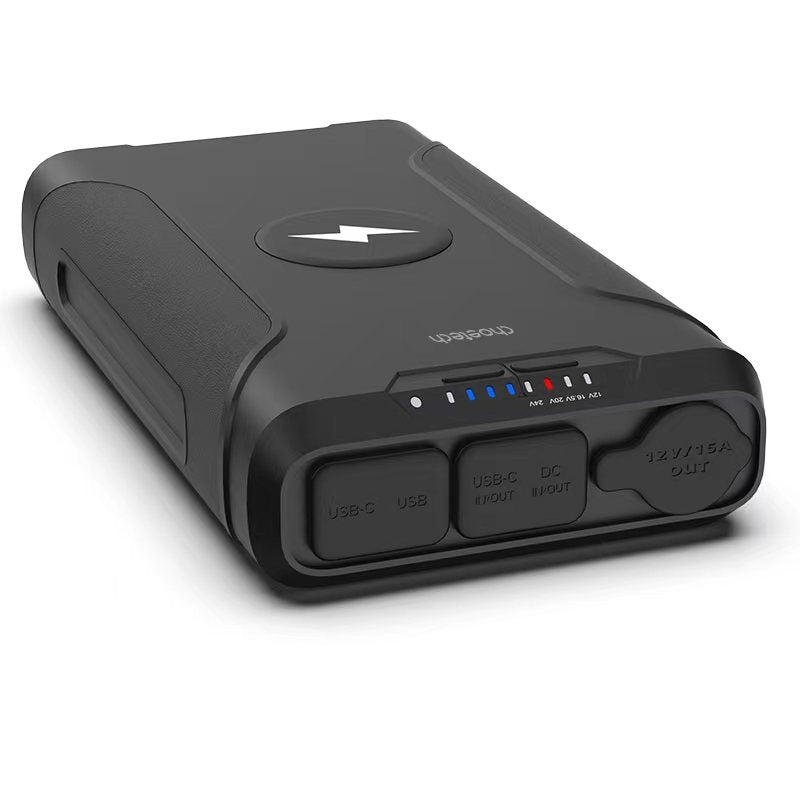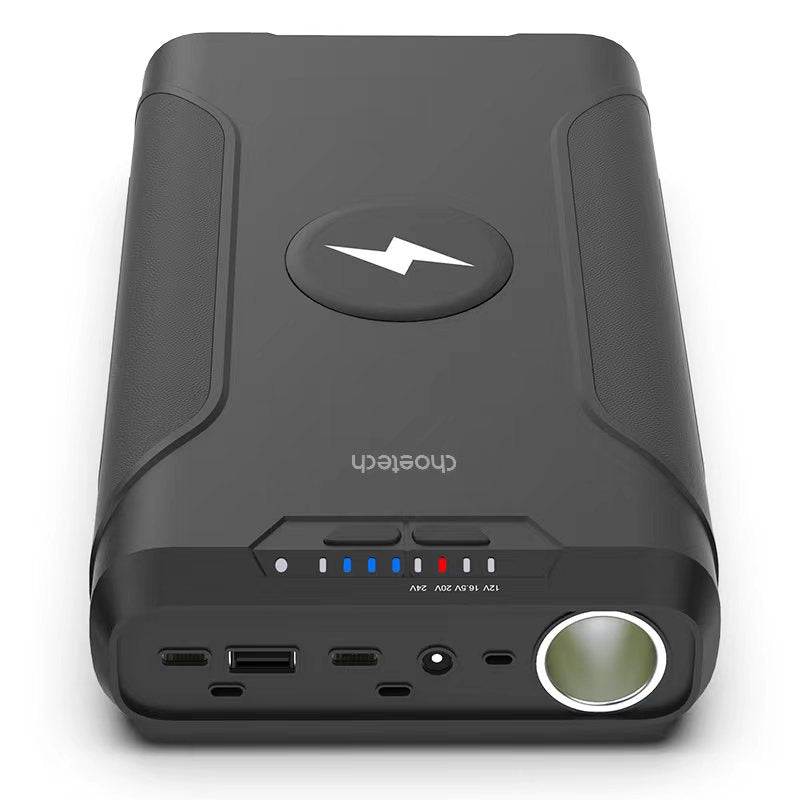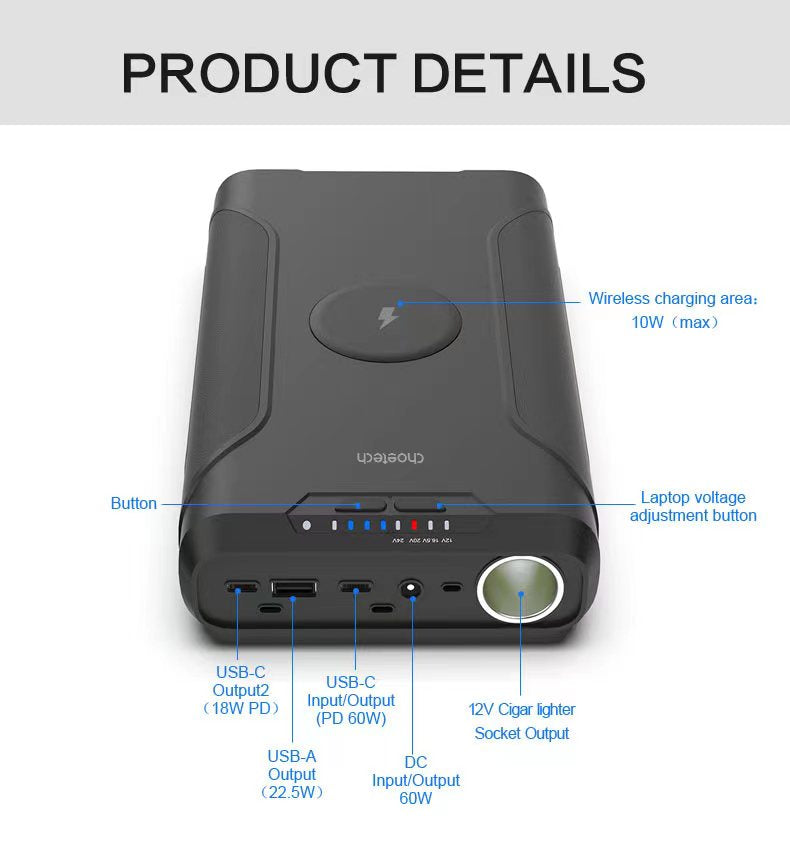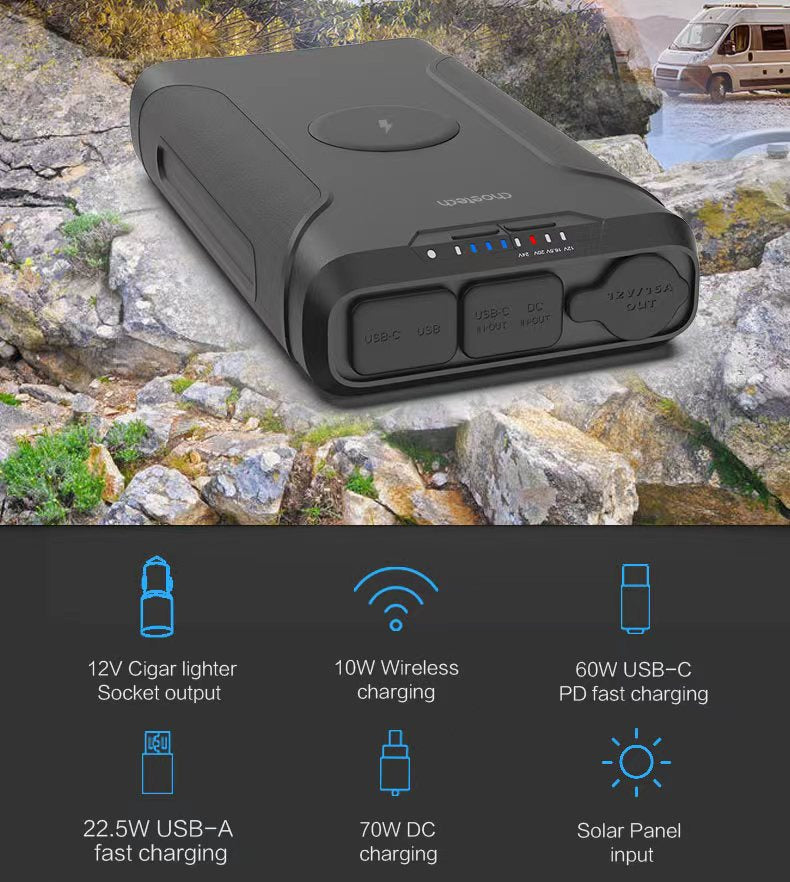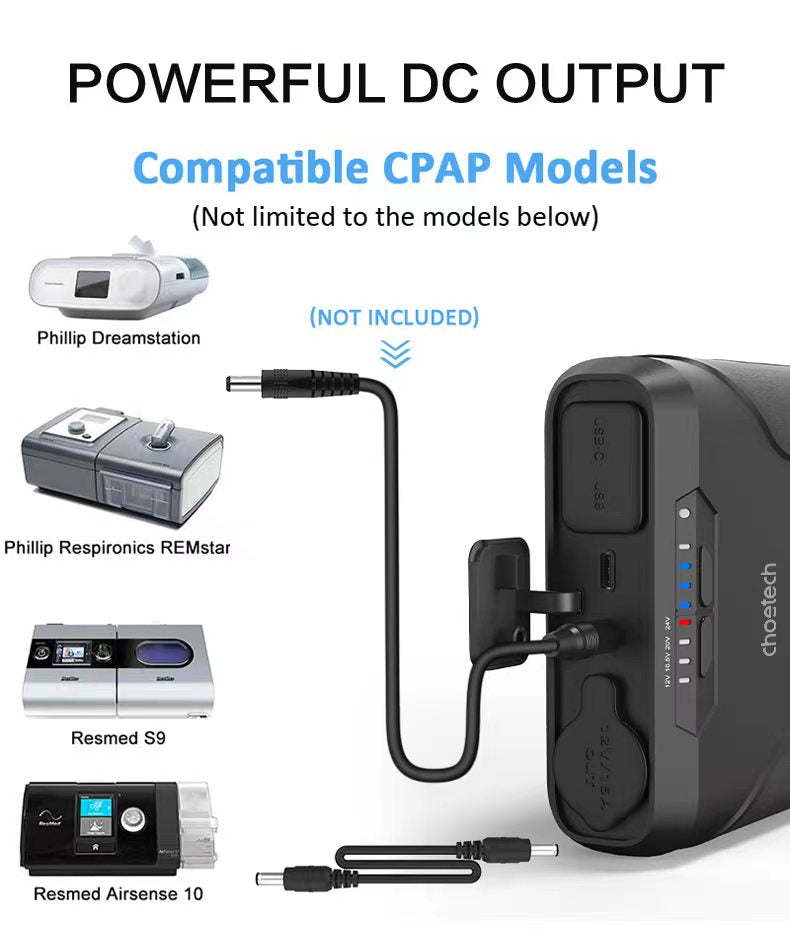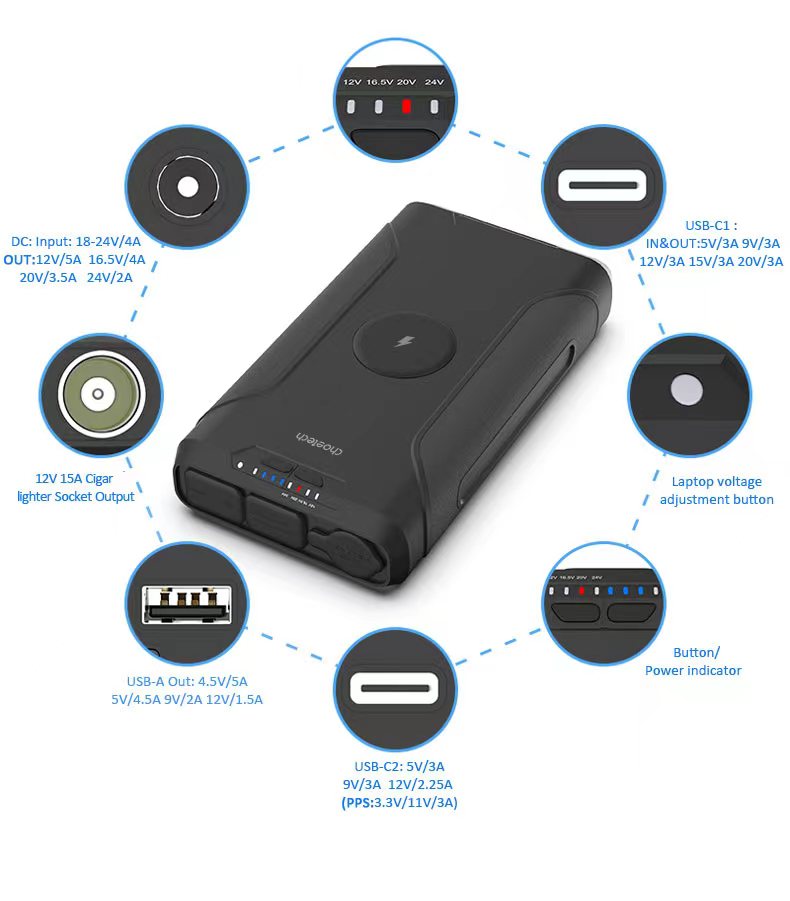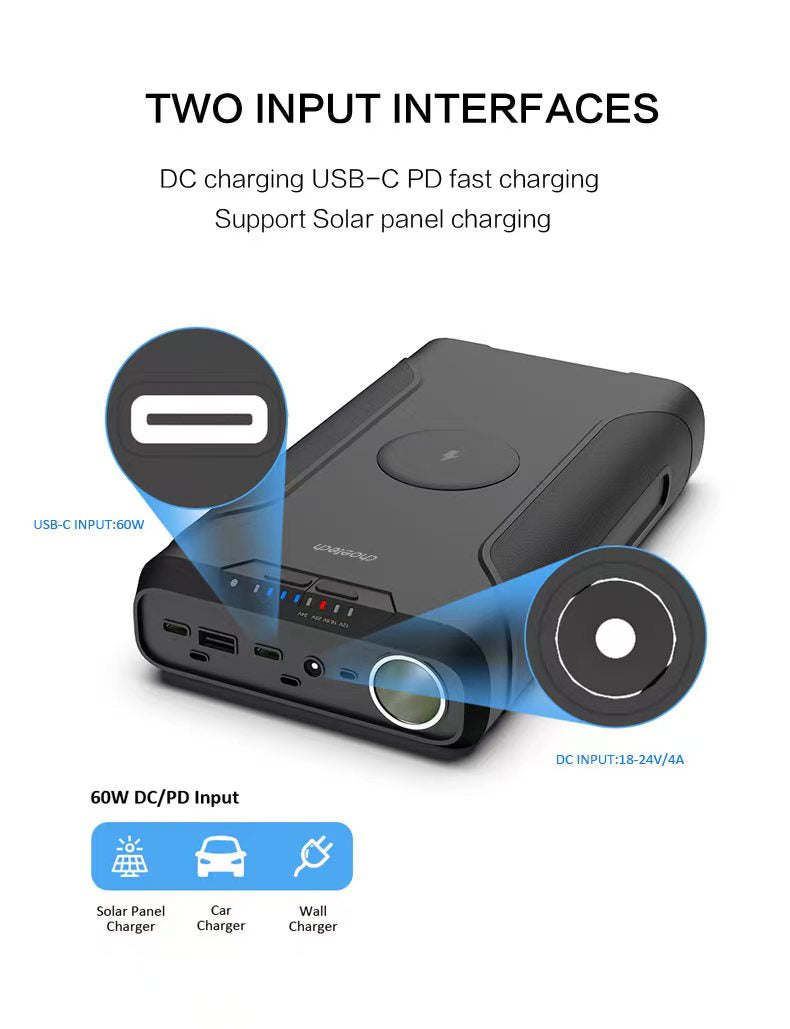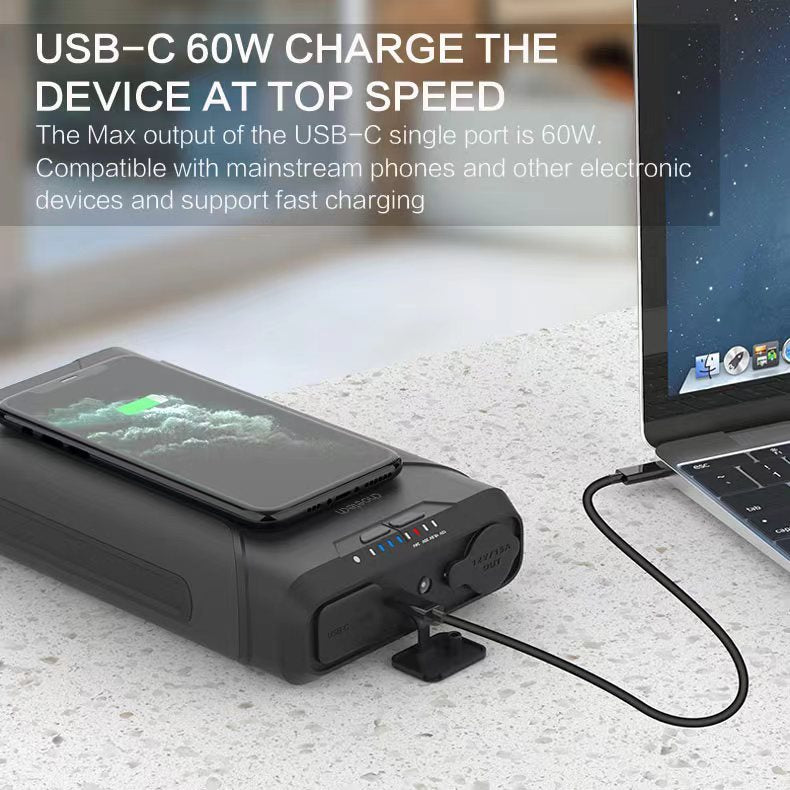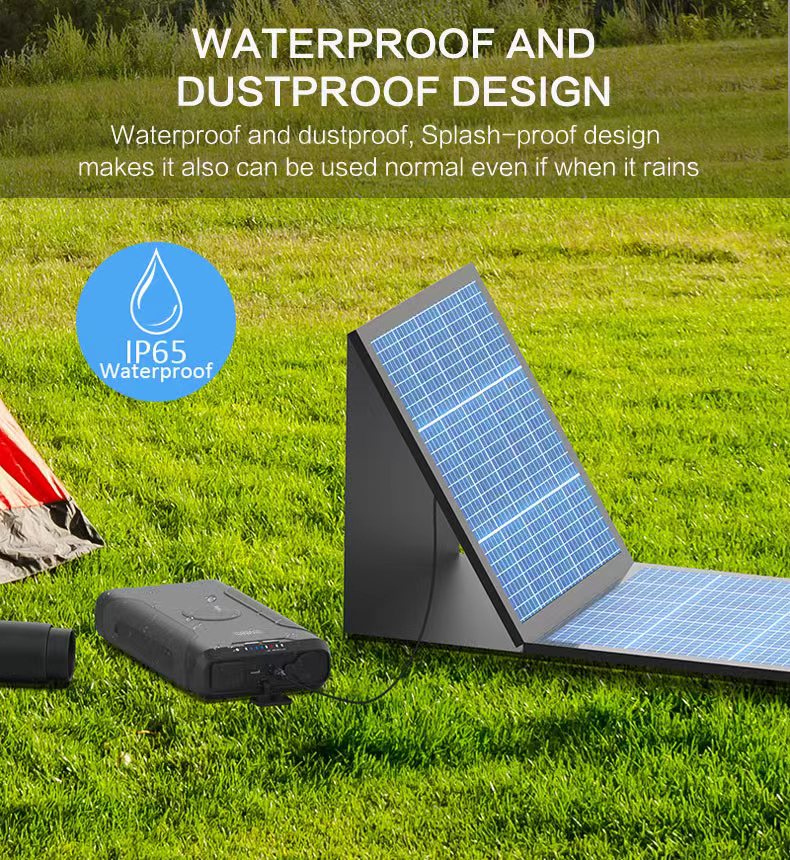 B661 Choetech 69,600mAh 254Wh with DC Output Power Bank
Choetech's outdoor power bank has an energy content of 69,600mAh/254Wh which allows our power bank to supply a mini fridge with power for several hours without any problems. The power bank is also capable of powering a car refrigerator, car air pump, a drone, tent lights, an inverter and a ventilator among other devices.
Fast Charging 60W USB Type-C PD Output
Furthermore, with the powerful 69,600mAh capacity, you can charge your laptop up to five times - very handy when there is no socket nearby. Laptops that have a USB-C PD charging input can also be charged via the 60W USB-Type C PD output. This USB output is compatible with phones, tablets as well as a digital camera, Playstation, wireless router, projector, etc.
10W Wireless Charging Feature and Simultaneous USB-C and USB-A Charging

Mobile phones can also be charged wirelessly at the front of the power bank (on the lightning symbol) with 10W. The wireless charging function is activated by briefly pressing the power button so that the green light comes on.
Flashlight and SOS Mode Feature

The power bank has a flashlight function on the front of the power bank. The flashlight can be activated by pressing the power button twice. When the power button is pressed again, the flashlight is dimmed. After pressing the power button twice, the flashlight switches off again. By long pressing the power button 2 red LED lights are activated. After long pressing the power button again, they turn off again.
Multi Purpose Functions
Due to the high capacity, our power bank is capable of:
Running  a 5V USB lamp for more than 54 hours;

Charging a smartphone battery no less than 20 times;
Charging a tablet or an iPad up to 8 times;
Charging a laptop battery 5 times.
Note: the DC output is max 70W and USB-C output max 60W. So not suitable for laptops or other mobile devices that require a higher charging capacity than 70W (DC) or 60W USB-C PD.
Mini fridge (via car plug up to 150W)
Drone batteries
CPAP air pump
Laptop (DC to max 70W) with 8 type adapters
Laptop (USB-C up to max 60W)
MacBook (Air / Pro / Retina) Magsafe 1 & 2 compatible
Digital camera
Camping lamps
Projector
Wireless Router
Tablet
Smartphone
USB lamp
Other USB devices
Designed for Outdoors
Choetech's 69,600mAh power bank is your ideal power solution for outdoor activities and everyday carry. IP65 rated and waterproof up to 2m, our power bank can take a splash when you are trekking or kayaking. Carry it with confidence no matter where you go.
Technical Specifications
The 69,600mAh Power Bank has the following inputs and outputs:

DC Input: 18V- 24V/4A (max) for 20V 2A adapter or Mobisun 60W solar panel
Car plug output: 12V/15A/150W (max)
DC Output: 12V/5A 16.5V/4A 20V/3.5A 24V/2A (max)
USB-C PD output 1: DC5V/3A 9V/3A 12V/3A 15V/3A 20V/3A (max)
USB-C PD output 2: DC5V/3A 9V/3A 12V/2.25A(PPS:3.3-11V/3A) (max)
USB-A output: V/4.5A 4.5V/5A 9V/2A 12V/1.5A (max)
Phone wireless charging: 10W
Flashlight function.