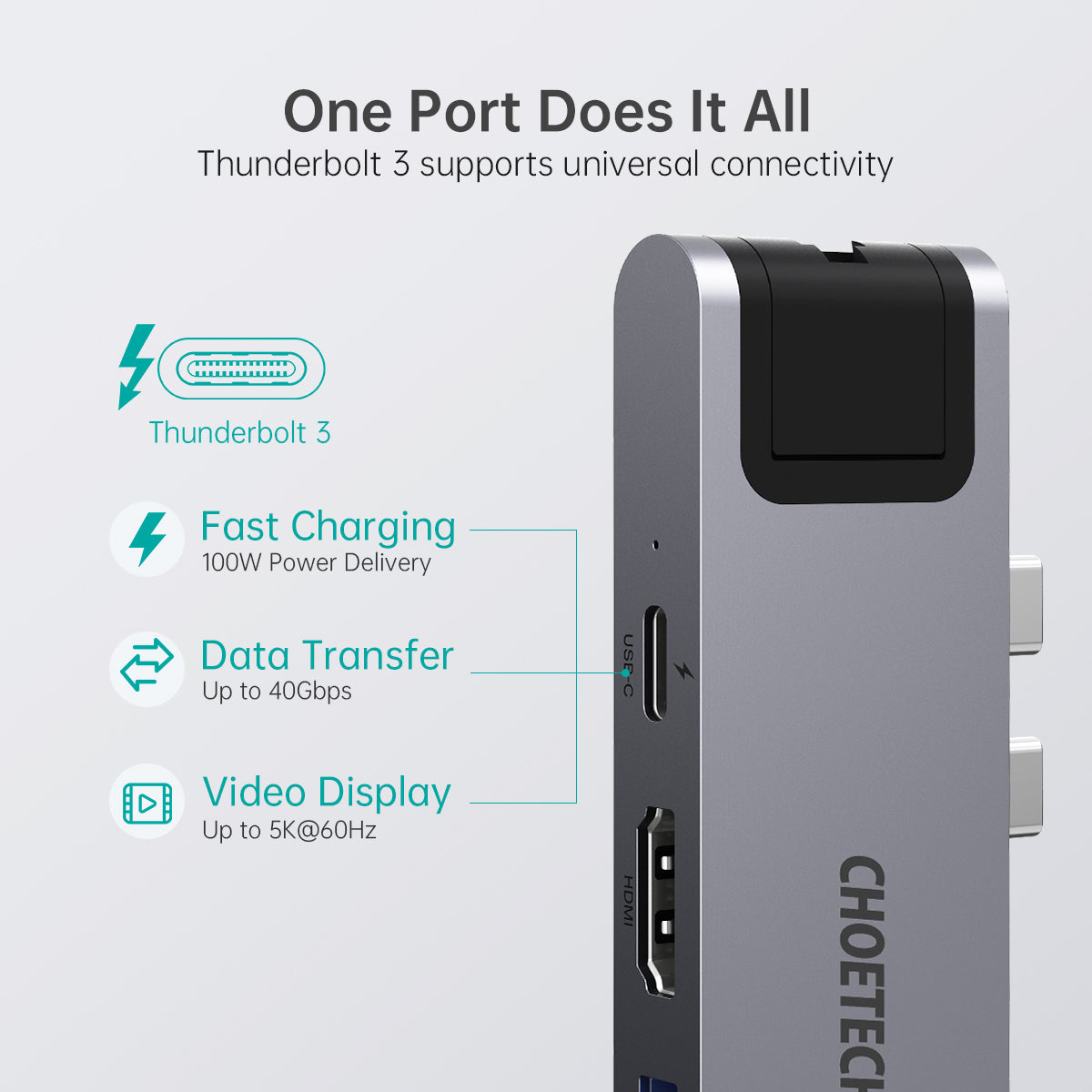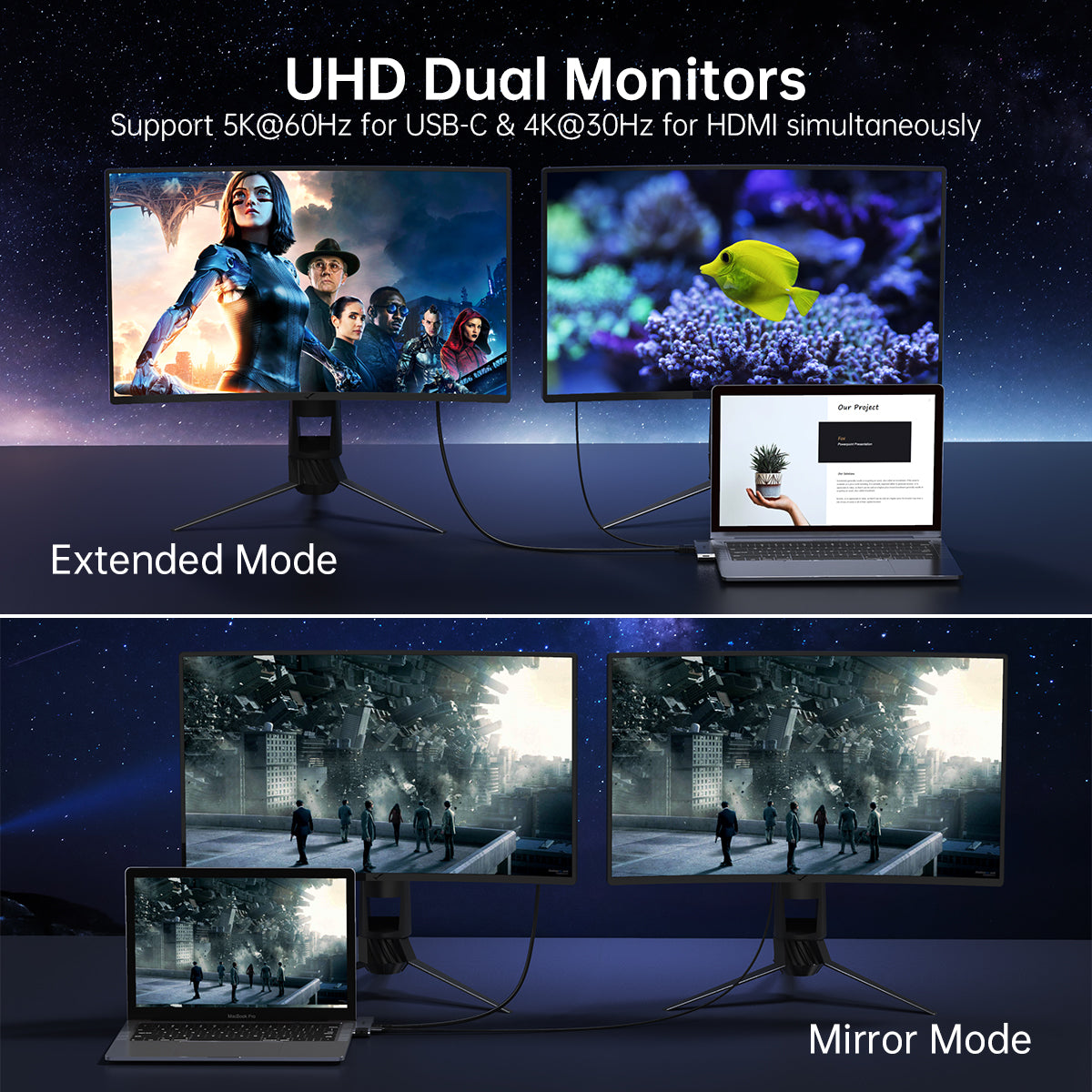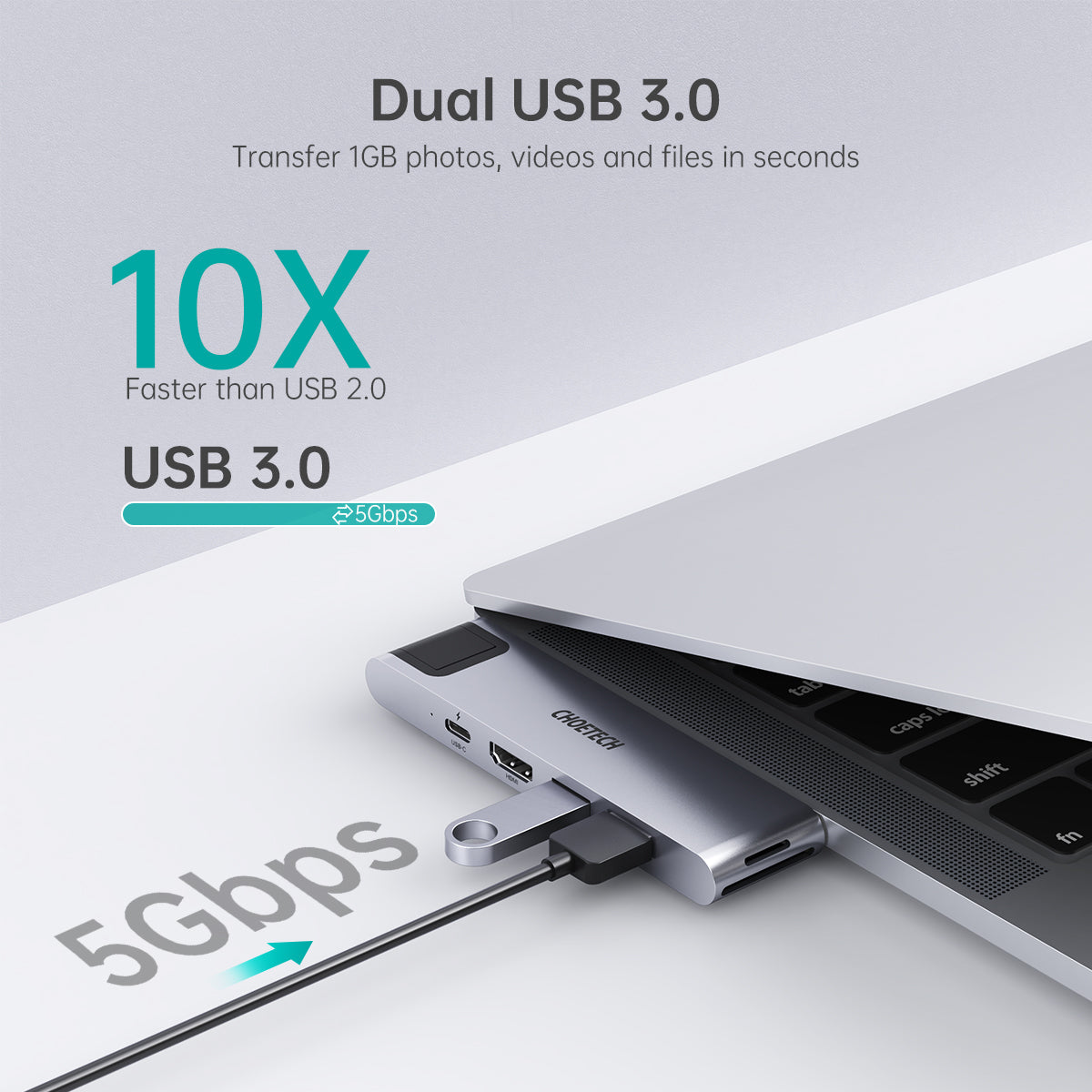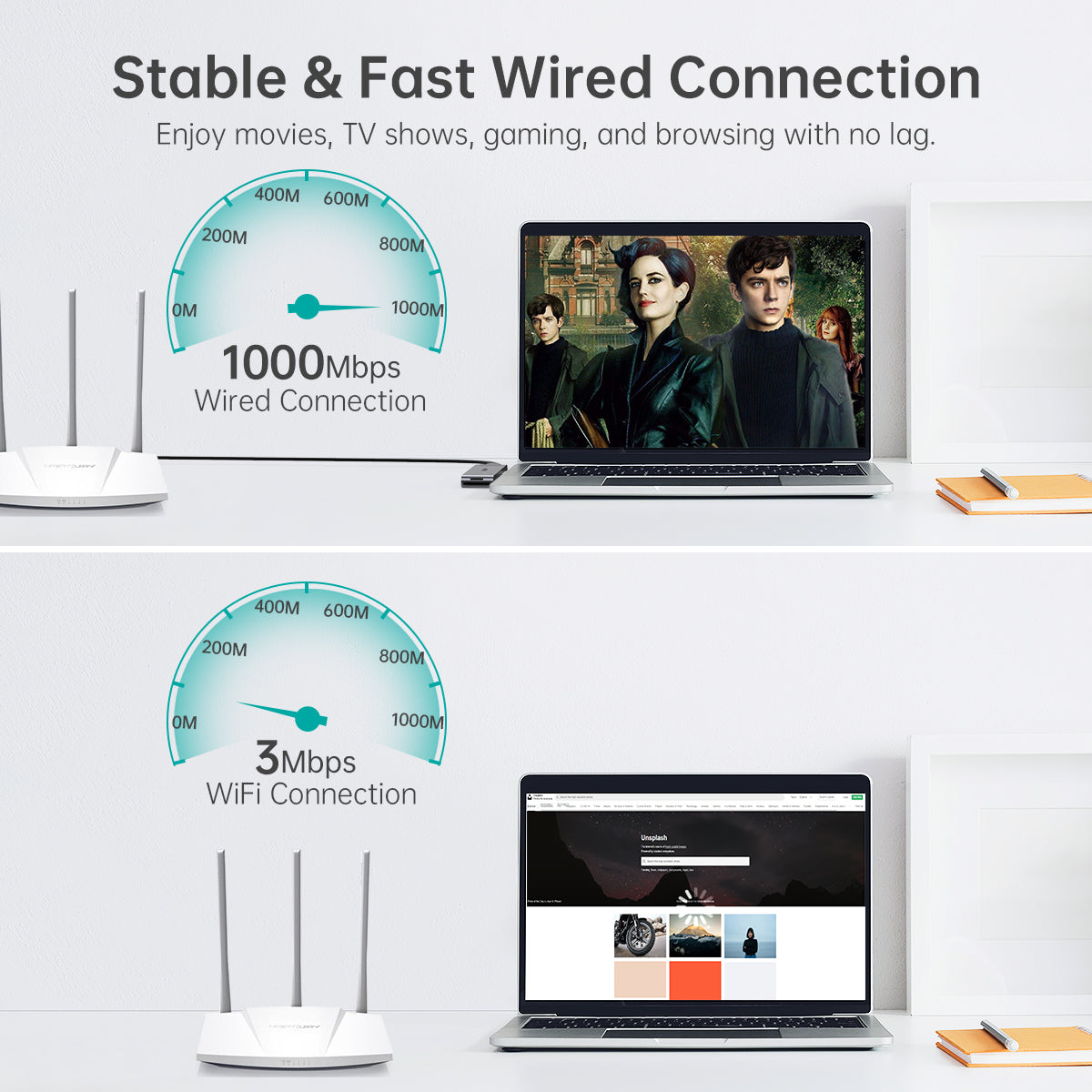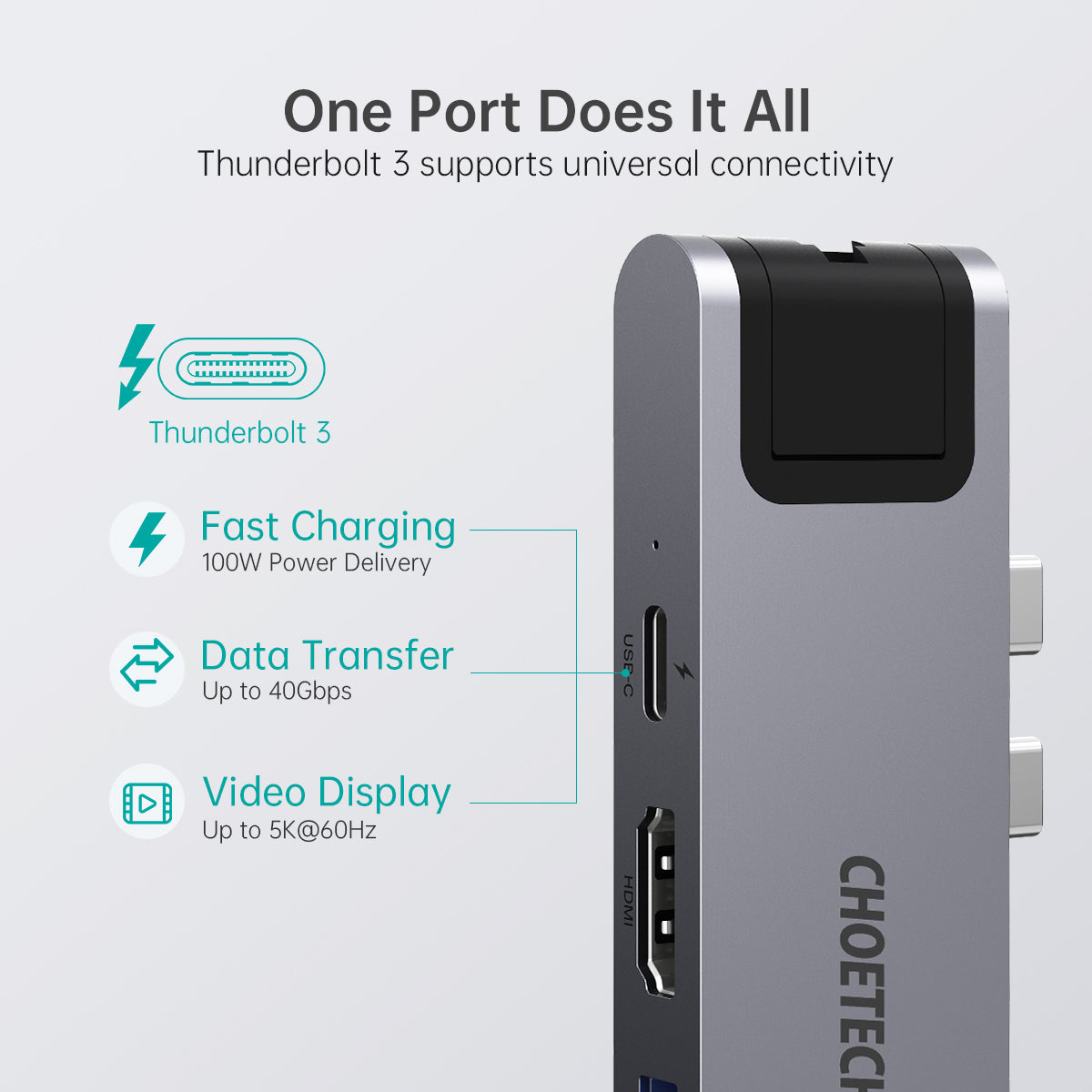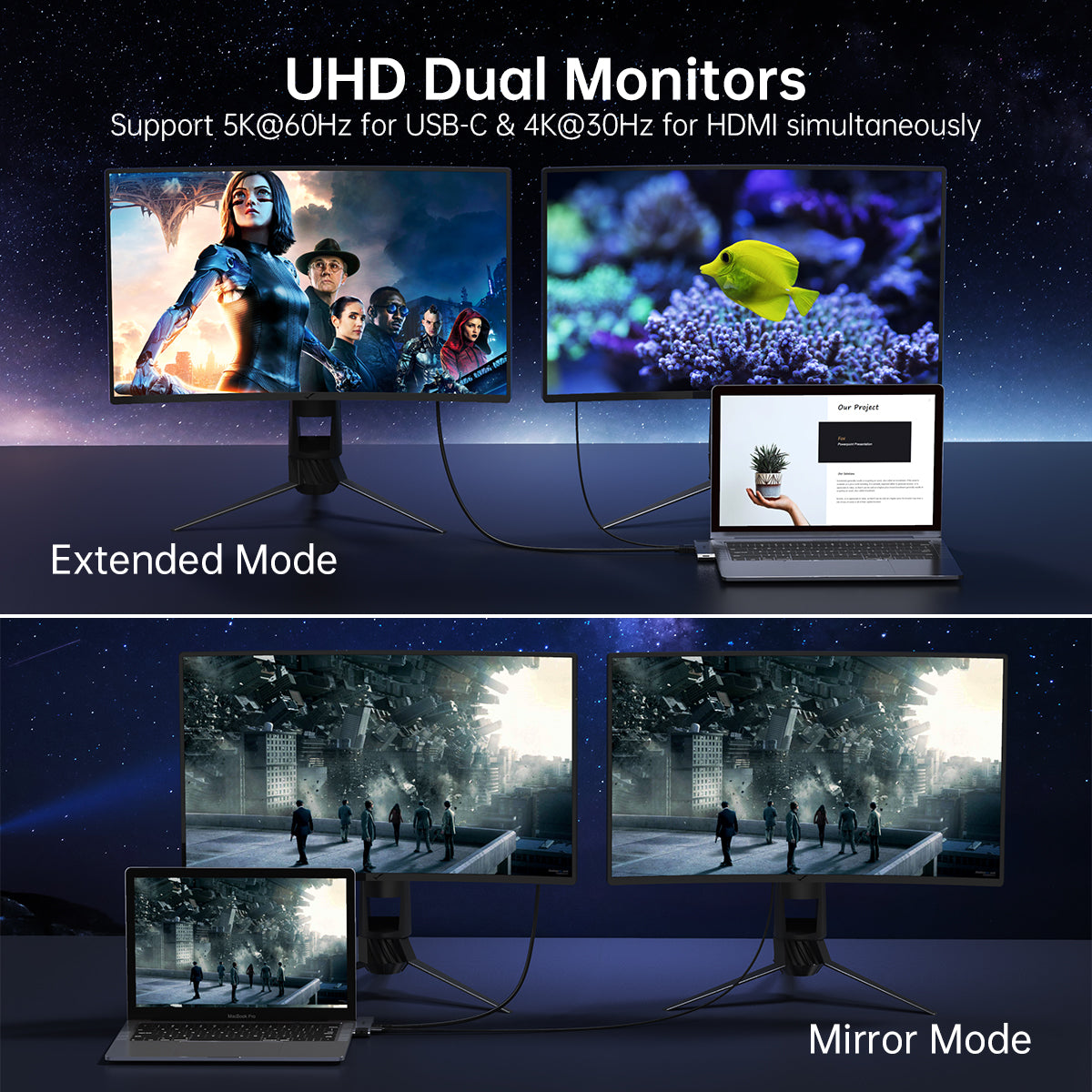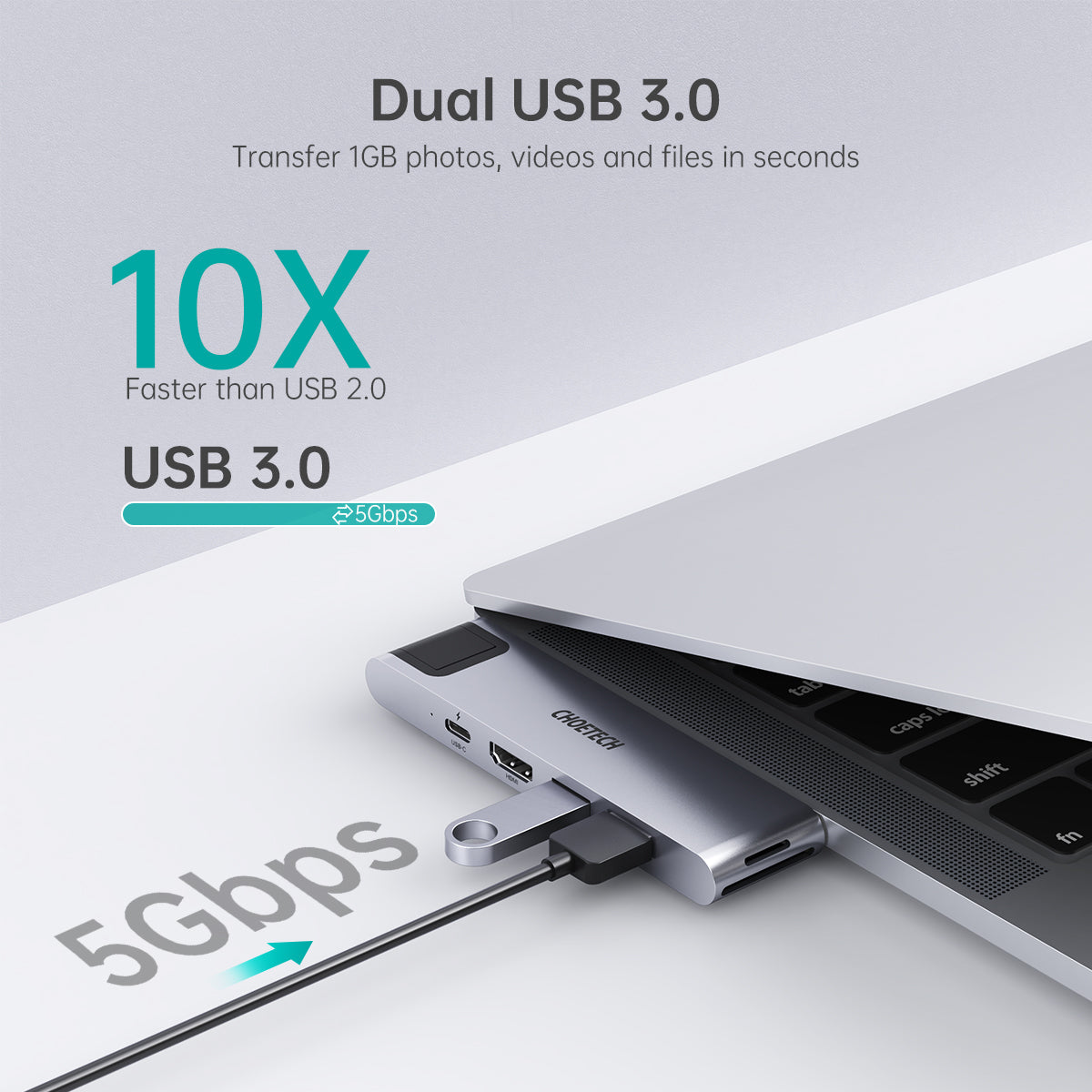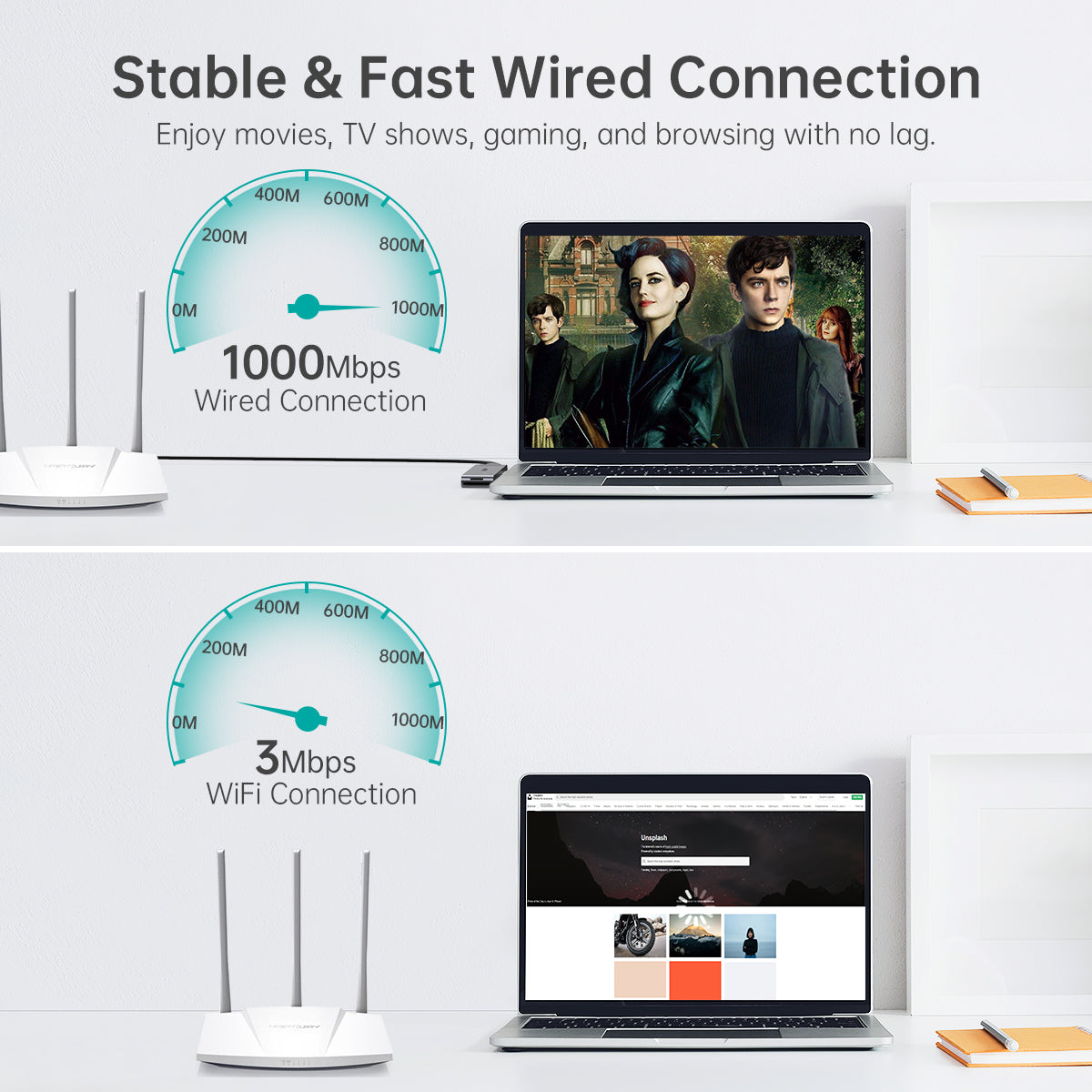 HUB-M24 Choetech 7-in-2 USB-C HUB Adapter for MacBook Pro/Air
Choetech's 7-in-2 USB-C Adapter HUB will expand your MacBook Pro ports into two USB 3.0, HDMI 4K @ 60Hz, 100W Thunderbolt 3, 1,000Mbps Ethernet and SD/TF card readers. This USB type-C HUB supports dual HDMI up to 4K @ 30Hz UHD through the HDMI port - duplicate or extend your screen for multitasking at work or relaxing in daily life. 
Model: HUB-M24

Multi-Port Expansion: This USB-C adapter HUB is equipped with 4K HDMI, 1,000Mbps Ethernet, 100W Thunderbolt 3 port, two USB 3.0 ports, and SD/Micro SD card slots. Perfect companion for your MacBook Air/Pro 2019/2018/2017.
4K HDMI Output Macbook Pro Hub: Mirror or extend your USB-C laptop screen stream 4K@ 30HZ video using the HDMI ports. Experience vivid 5K video in high-resolution from your Type-C compatible computer to an external monitor.
Thunderbolt 3 Port: Choetech's USB-C hub adapter features a Thunderbolt 3 port that supports data transfer up to 40Gbps to 5K displays with a 100W power output. 
What You Get: 1 x Choetech Macbook Pro Hub Adapter, 1 x User Manual
7-in-2 Macbook Pro USB Type-C Hub
This Macbook Pro hub with multiports is a great expansion for new MacBook Pro/Air. It features 4K HDMI, 1000Mbps Ethernet, 100W Thunderbolt 3 port, 2 USB 3.0 ports, and SD/Micro SD card slots, expand your MacBook's capabilities simply ; Easy to use, Plug and play.
HD 5K HDMI MacBook Air USB-C Hub
Mirror or extend the display of your MacBook Pro / Air to your TV, monitor or projector in up to 4K @ 30Hz UHD resolution through the HDMI output port. The MacBook Air USB C hub adapter is also equipped with thunderbolt 3 port supports up to 2 monitors in 4K @ 60Hz displays or 1 monitor in 5K@ 60Hz display.

Gigabit Ethernet Connection
More stable and Ultra-faster wire connection of MacBook Pro hub with speed up to 1Gbps. The USB C to ethernet adapter enable you to get all of your Internet speed with the included ethernet port, no more losing connectivity in larger meetings. It also backwards compatible with 100Mbps/10Mbps RJ45 LAN.
Powerful Thunderbolt 3 Hub
With thunderbolt 3 port, the MacBook Pro hub adapter supports strong power input up to 100W, which charges laptop at max 87W pass-through while connecting other peripherals.Transferring data at speeds of up to 40Gb/s ultra-high data speed and 5K@ 60Hz video output, working as a MacBook Pro 13 inch/16 inch accessory.
USB 3.0 Ports & Micro SD/SD Ready
2 super speed USB 3.0 ports transfer data up to 5Gbps, support USB keyboard, mouse, USB driver, USB hard disks, webcams, scanners, and high-capacity storage systems. SD card and Micro SD card reader can be used at fast transfer speed up to 104M/s. The USB Type C hub for MacBook Pro is easy to transfer photos or videos files from cards to MacBook Pro/Air rapidly.

Compatiblity List
13"/15" MacBook Pro 2020/2019/2018/2017/2016
13" MacBook Air 2020/2019/2018

Plug and Play
Not bulky or hanging from a cord, say goodbye to a messy look.
Fit into your macbook pro's sleeve, obtain a more stable connection.

Gigabit Ethernet
Access to reliable wired Internet connection speeds up to 1000Mbps. Also works on 10M/100Mbps networks. Get all of your Internet speed with the included Ethernet port, no more losing connectivity in larger meetings.

4K HDMI Video Output
Supports Video and Audio output with a resolution of up to 4K@30 Hz or 5K@60Hz. It is convenient to extending a second display or mirroring your MacBook Pro/Air to a projector.

Thunderbolt 3 Port
Supports Max 5K@60Hz video output, highest data transfer rate up to 40 Gb/s, power delivery with max 100 W quick charge.

Micro SD/SD Card Reader
Support SDHC, SDXC, Micro SD, Micro SDHC (UHS-I), Micro SDXC (UHS-I) card up to 104MB/S data speed, 2TB capacity.

Dual USB 3.0 Ports
2* USB 3.0 ports support high data speed up to 5Gbps. You can connect hard drive, usb keyboard, mouse, usb driver, usb hard disks, webcams, and more USB devices to your mac.

Sleek Design for MacBook Pro/Air
Slim and premium precision milled aircraft grade aluminum enclosure makes it a perfect MacBook accessory expansion for your MacBook Pro/Air.
Customer Reviews
JayDubzy from US on November 3, 2020
Perfect fit for 

Macbook

 

Pro

. Also perfect is the size. Small and compact but can easily plug in Ethernet, Thunderbolt, HDMI, and USB 3.0's all at once even when using cables with larger than average plugs (not all HDMI plugs are the same size). Now I can bring my 

Macbook

 home, plug this adapter in, and have my monitor, keyboard and Gigabit Internet going in seconds. It looks taller than the 

Macbook

 but it isn't. My 

Macbook

 lays flush on my desk. So, avoid breaking and wearing out plugs and jacks with daily plugging and unplugging, just use this 

Macbook

 

Pro

 adapter. Definitely worth the price and makes my life easier and more productive.
Jerry from US on October 31, 2020
I purchased this USB hub for my 13.3 inch 

MacBook

 

Pro

 in the color space gray. The color of the adapter matches pretty well and all the ports worked with my laptop - no surprises there. The really important thing for 

MacBook

 USB-C hubs is the spacing of the USB-C plugs. The mechanical tolerances need to be fairly tight in order to align perfectly with the 2 ports on the side of the 

MacBook

 

Pro

, otherwise the adapter can cause strain on the ports and laptop chassis. The USB-C plugs are also extruded, not stamped (each plug is one continuous piece of metal all around without any seams). This manufacturing process is more expensive and results in a stronger connector. When the laptop is laid on a flat surface with the hub connected, the adapter clears the surface and doesn't put any pressure on the USB ports. The folding ethernet connection is a really nice touch. This is perfect for travel, especially when needing to read my camera's SD card and connect to an external hard drive at the same time. The SD card reader does read/write at USB 3.0 speeds. Overall, very pleased. Fingers crossed that Apple doesn't change the USB-C positioning on the next 

MacBook

 

Pro

, but knowing Apple's business strategy right now, the next 

MacBook

 

pro

 won't have any USB ports and no charger will be included in the box.
McMuffins from US on November 10, 2020
There are a lot of USB-C hubs on the market, and I've had a number of them. I selected this Choetech hub because I've owned several Choetech products in the past and they are always great value and built well. This product is no exception - I can report that all the ports on this device work well and quickly - and it's a great product to travel with, since it also has an Ethernet port.

Other products in this price range I've used from other brands have either fallen apart, or the specs don't match reality, ie. the USB ports are 2.0 and not 3.0. If you're in the market for a USB-C hub to give your Macbook some additional ports for convenience, I highly suggest taking a good look at this one.
Dahal from US on October 2, 2020
It has HDMI port that can be connected to a TV and it's fun to watch movies on a big screen, plus it is fun to duplicate the display and attend zoom classes on the big screen. USB copying speed is pretty nice. It also has an ethernet port that I can connect to my old router which is underneath my bed when I need high-speed internet to upload videos on youtube. I am happy for what I paid!!

NOTE
1. This USB-C Adapter HUB for MacBoor Pro/Air can't be used with a protective laptop case on.

2. In order to achieve maximum video resolution compatible displays and cables are required. 

3. This USB-C Adapter HUB is not recommended to use for charging two USB 3.0 Type-A compatible devices. 

4. For a stable connection, do not use this USB Type-C hub adapter MacBook Pro with high power consumption devices. It supports one hard drive max and does not support Apple USB Super Drive.

5. Only supports the FAT32 format not the NTFS and requires power support when connecting the hard disk.