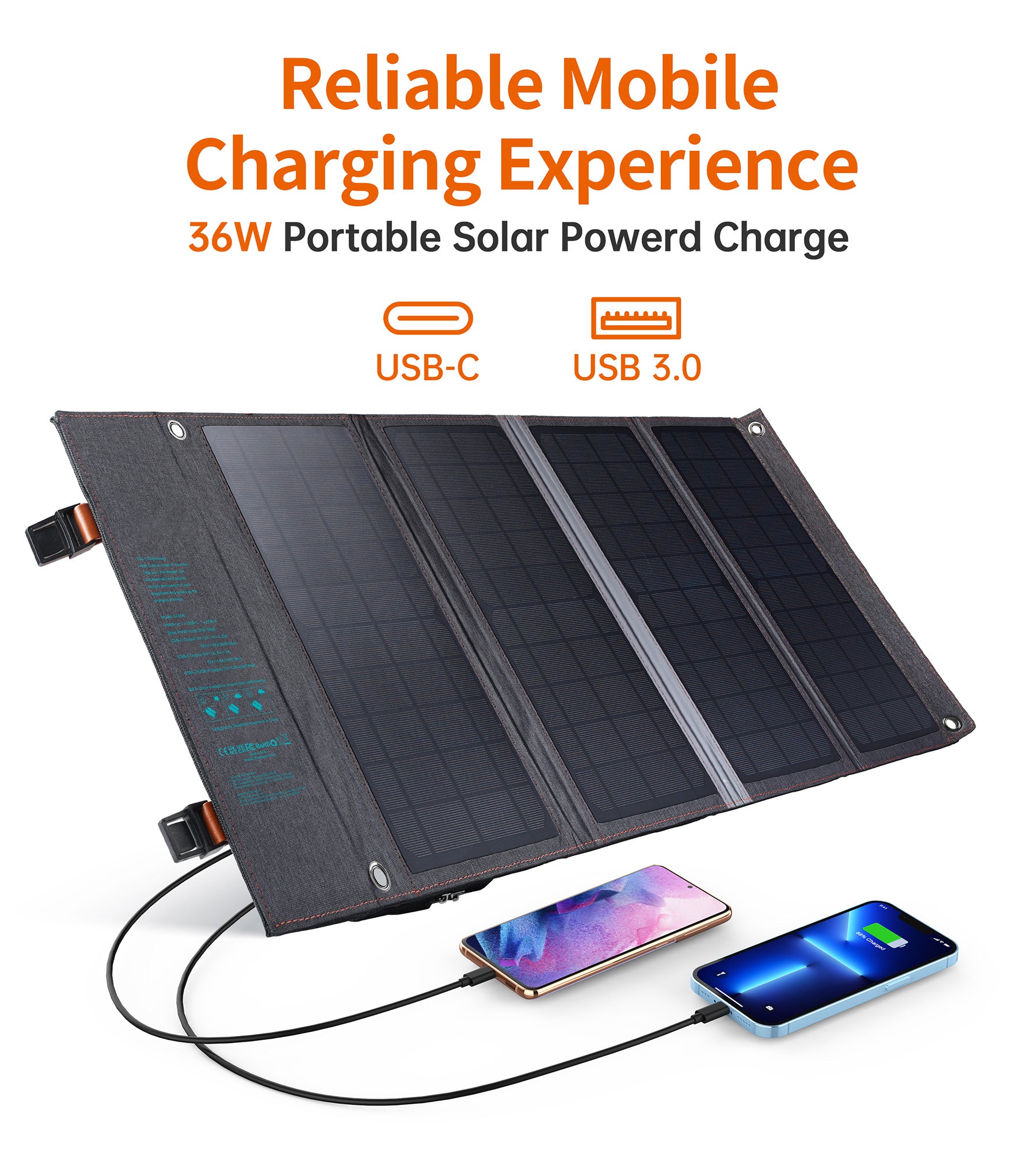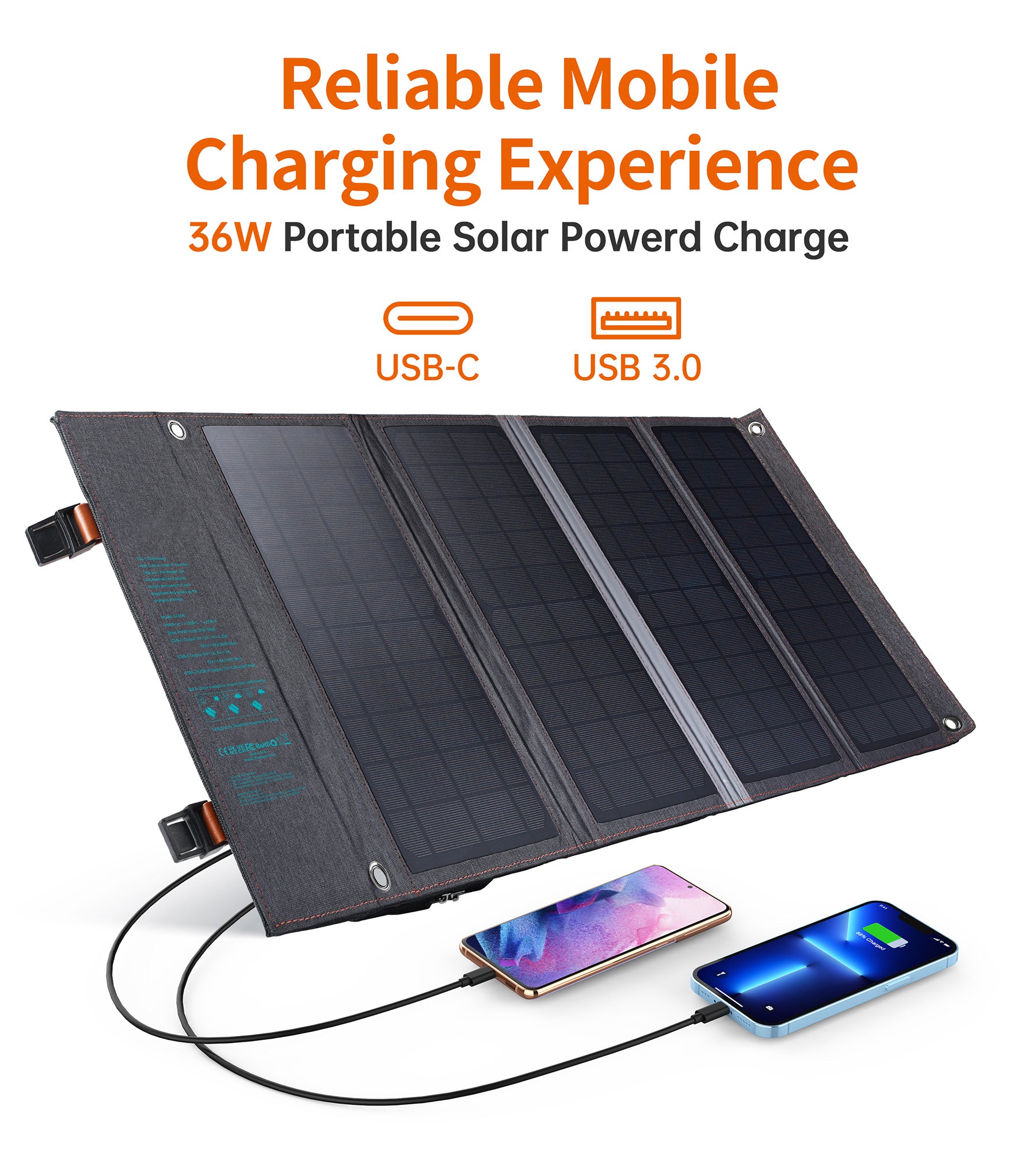 SC006 Choetech 36W Foldable Solar Charger
Choetech's bestseller - the 36W Solar Charging Panel is suitable for anyone who values portable energy. This solar charger has a 23% conversion efficiency, is equipped with USB-C and USB 3.0 ports to power up your compatible devices, has a built-in kickstand and comes with a stylish bag to carry it on every trip you take. 

High-Efficiency Solar Panel
This 36W highly efficient solar panel converts up to 20% of solar power into free energy. You can make the most use of the sun and convert sunlight into clean energy. Our portable solar panel is a great option for hiking, camping, road trips, fishing, emergency backup CPAP and off-grid power.
Multiple Function with Dual Outputs
Equipped with Type-C PD 3.0 output port (20W Max) and one USB QC 3.0 output port (18W Max), our solar panel charger provides enough power to charge two devices simultaneously. Enjoy an unplugged lifestyle: this folding solar panel charges smartphones, tablets, iPads, power banks, cameras, AirPods Pro and Nintendo switch 2x faster than other solar panels.


Durable Design
The solar panel is made of industrial-strength PET plastic sewn into high-quality polyester canvas that can withstand the trials of your outdoor adventures. And, with the water-resistant feature, our solar panel can endure all weather conditions and is ideal for outdoor activities. (NOTE: The junction box is not waterproof, please keep it dry)

Portable and Foldable Solar Charger
The foldable and ultra-light solar charger panel with a PU handle is easy to take anywhere. It only weighs 3.4lb (1.55kg), folding dimension: 360*195*35mm, making it convenient to transport, hang, and remove. The stainless steel eye-holes on each corner allow easy attachment to backpacks, trees, or tents.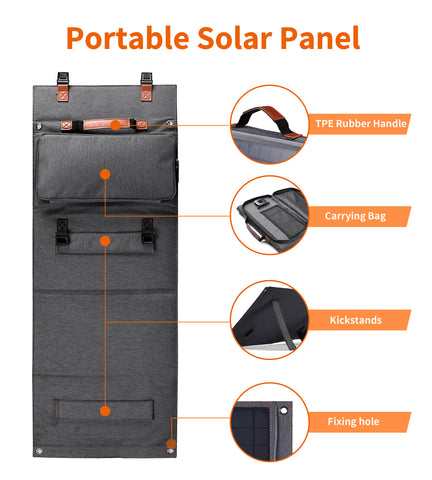 Easy to Use
Unfold the solar packs under direct sunlight (without shadow) and then connect your device with a certificated power cable. Make sure the panels are not bent and mistakenly folded. An Easy-to-read LED indicator provides immediate charging feedback: when the LED turns red, it's ready for charging.