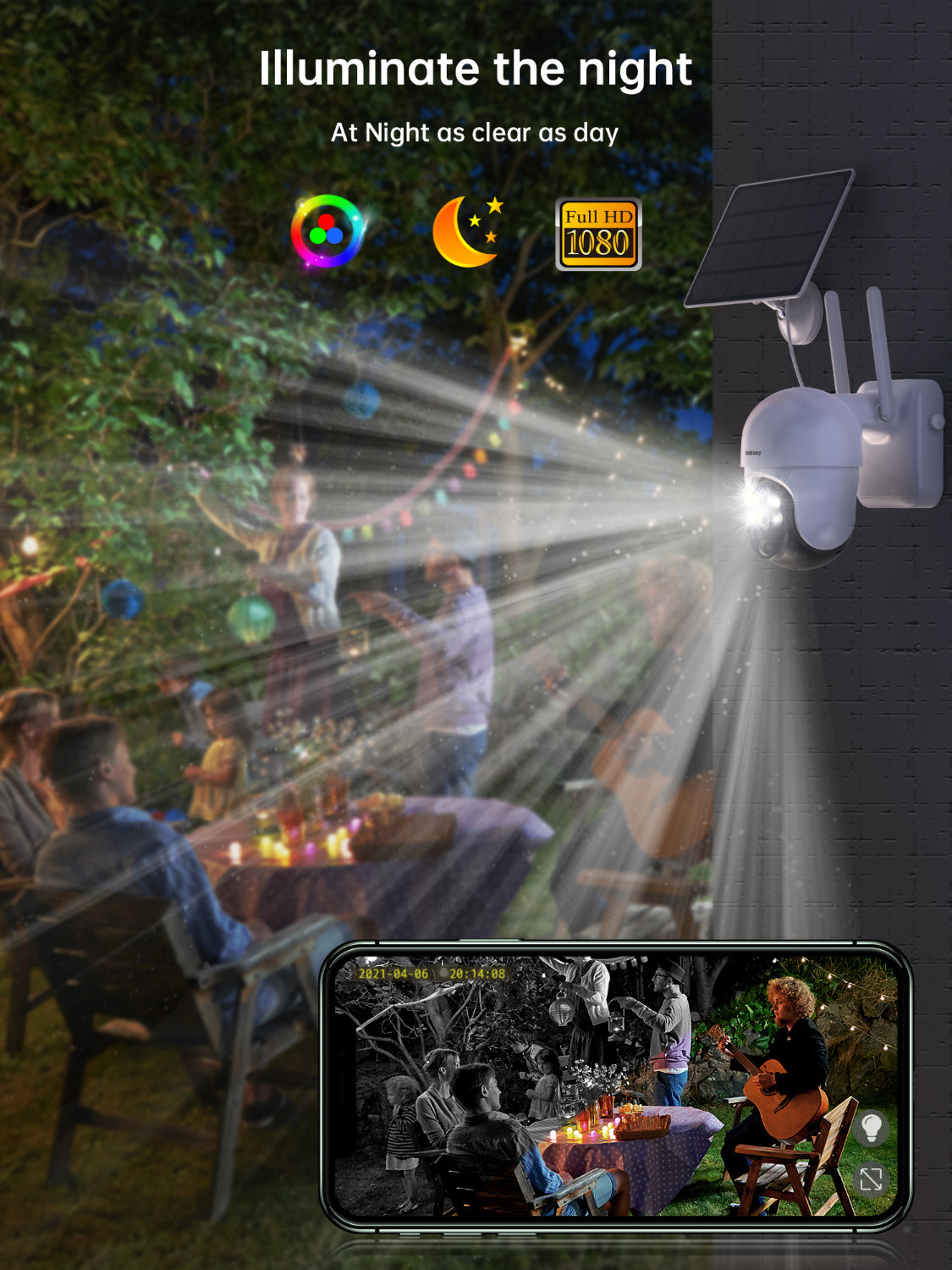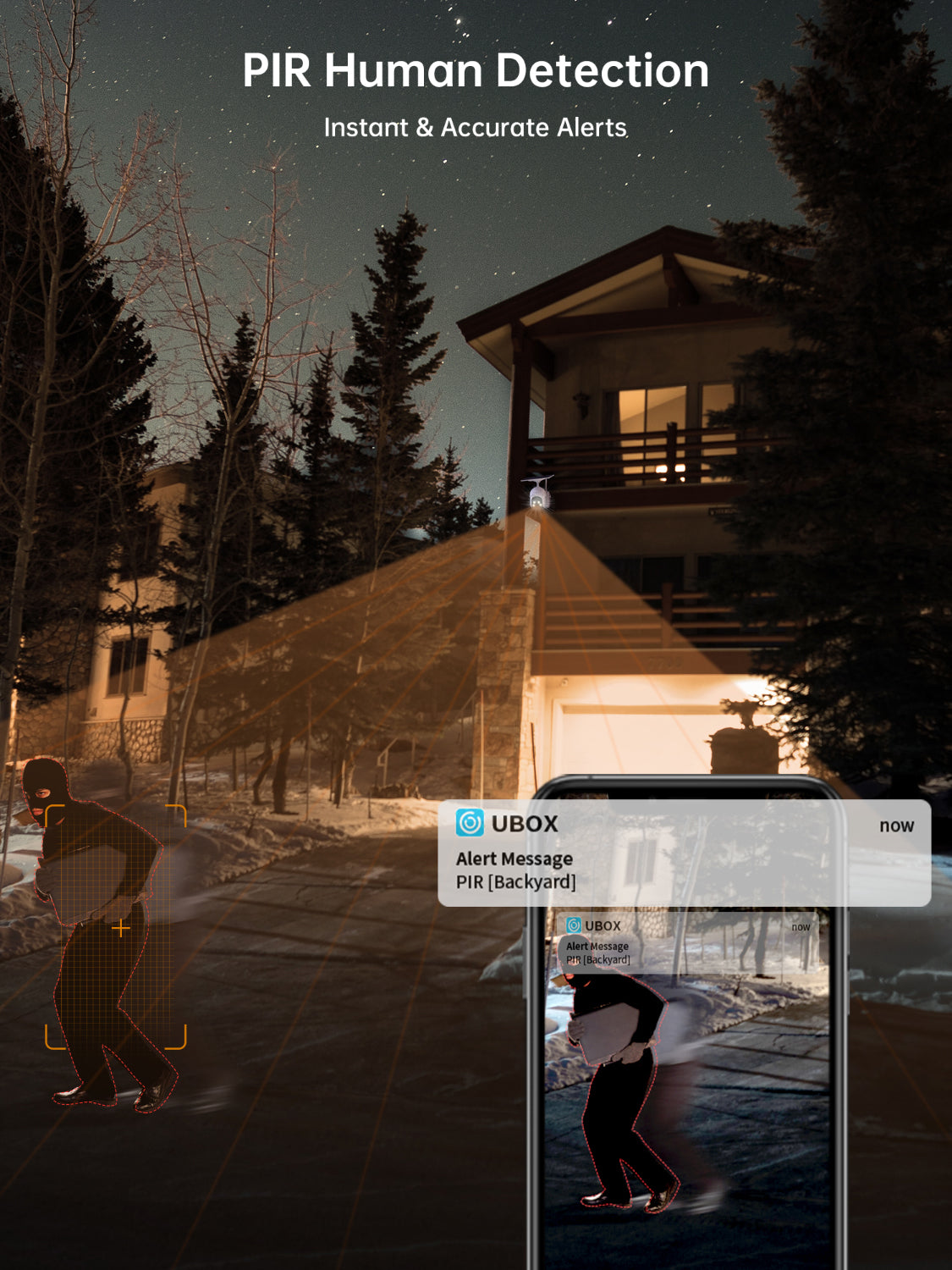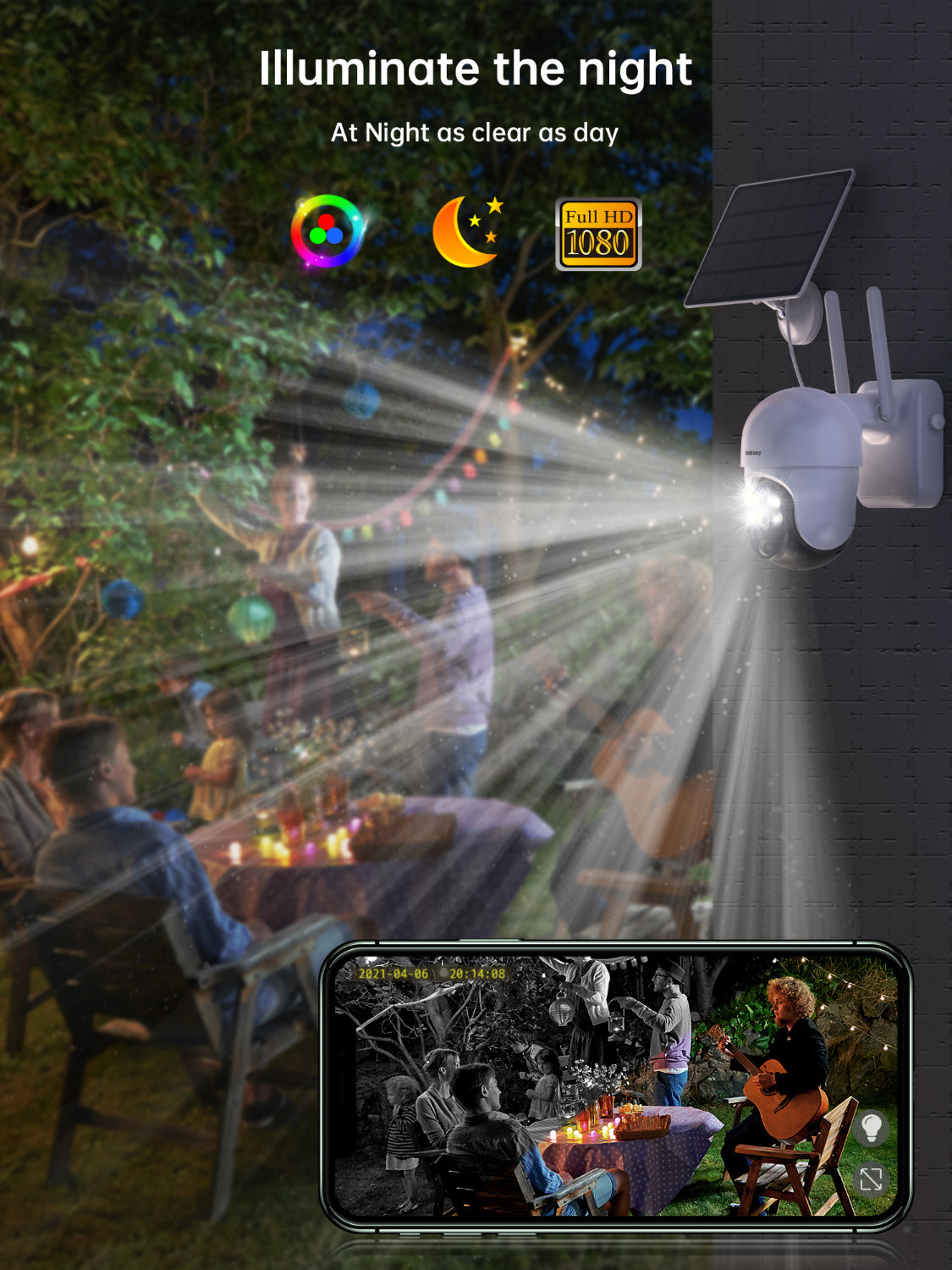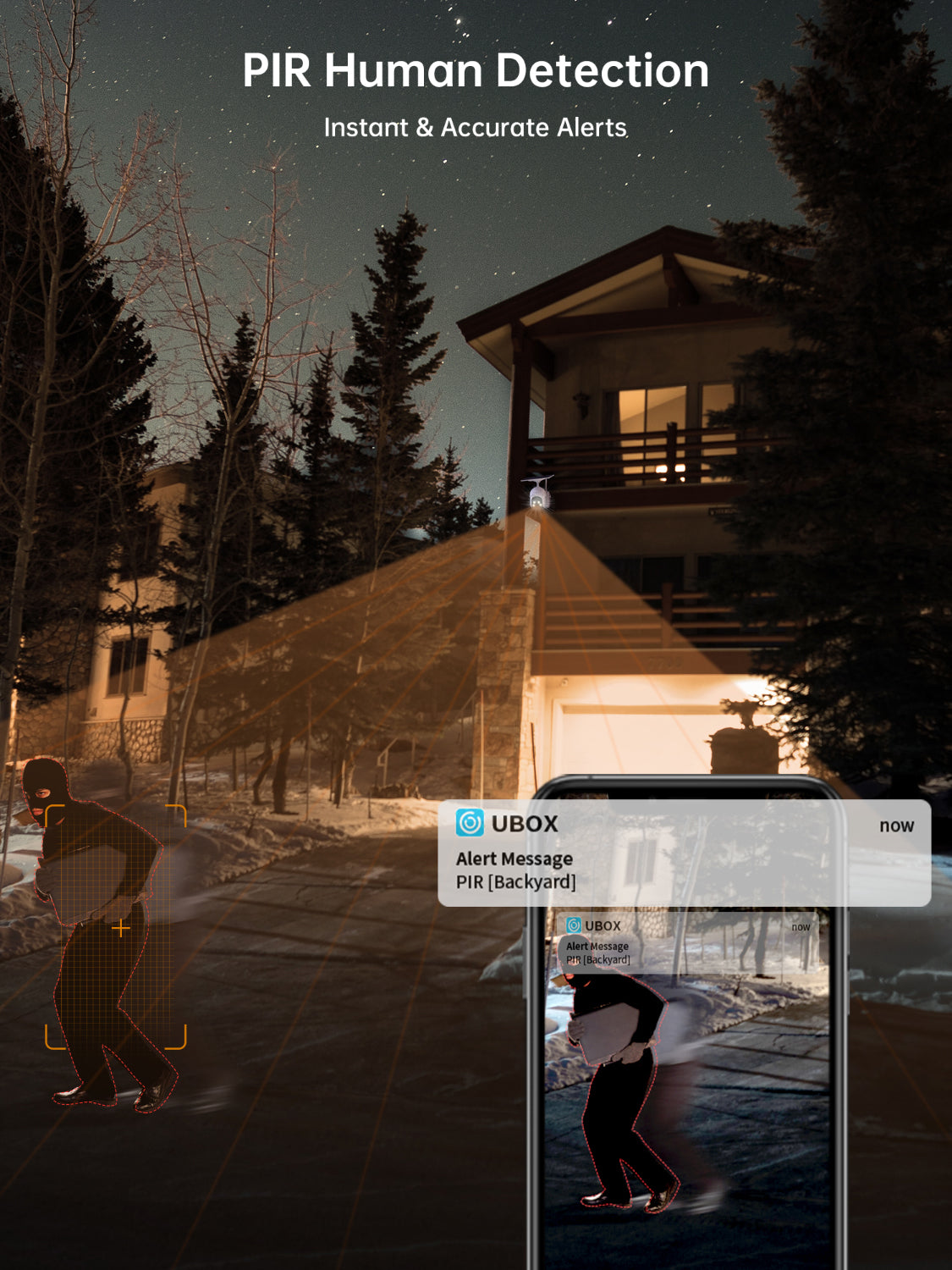 ASC005 Choetech APP Operating System Solar Power Alert PTZ Camera 4G General Resolution 3MP 4MP
Our outdoor wireless security camera with solar panel and 18000mAh rechargeable batteries ensure eternal power. No hassle of removing camera to charge. 4dbi Dual antennas entitle the camera a stronger and more stable network reception.
Specification: 
2048*1536 2592*1520
Main processor Ingenic-T31ZL Ingenic-T31ZX
Image Senor GC2063 GC4653
Compression H.264+/H.265
Internet Connection 4G TD-LTE,TD-LTE / LTE FDD TD-LTE / LTE-FDD
4G Version CN/ AU/ EU/ JP/ US/ ASEAN (Optional)
Alarm Detection Mode PIR Human detection + AI Human shape detection
Detection Distance 0~12M
Detect Angle 105°
Alarm Mode Realtime calling or push message
PTZ PTZ Angle Horizontal 355° Vertica 100°
Speed ​​Horizontal 55°/S Vertical 40°/S
Night Vision Full color night vision 0.001 Lux
IR LED infrared LED 20M IR distance
White light LED white light LED 20M distance
Audio Built-in speaker (input) 3W
Built-in microphone (output) voice monitoring distance 20M
Lens Lens 2.8mm
Lens Angle 105°
Storage Cloud Storage Cloud storage, storage when alarm recording
Local Storage TF Card Max 128G
Power Power Supply Mode Solar Panel+ Build in Batteries
Panel Material monocrystalline silicon
Solar Energy Power 5W
Battery Capacity 4pcs 18650
Operating power consumption Max 3W
Standby consumption 0.003W
Others Working Environment Indoor/outdoor
Operation Temperature -30°~+60°
Humidity 0%~90%RH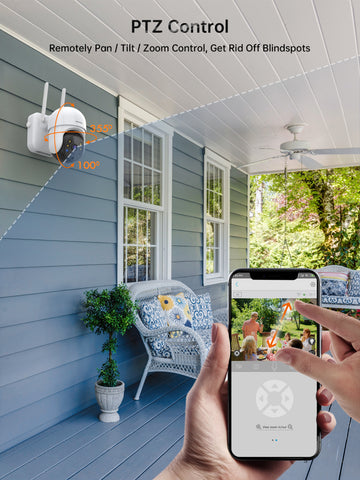 This is a wireless solar-powered outdoor security camera that can be set up anywhere, requires minimum sunlight, and just a faint WiFi signal. It is 100% self-sustained and never needs to be plugged to recharge. Incorporating a rotatable lens that you control from your phone, it includes a camera and a solar panel with a built-in long-life battery that attaches to the top of the camera to capture maximum power from the sun.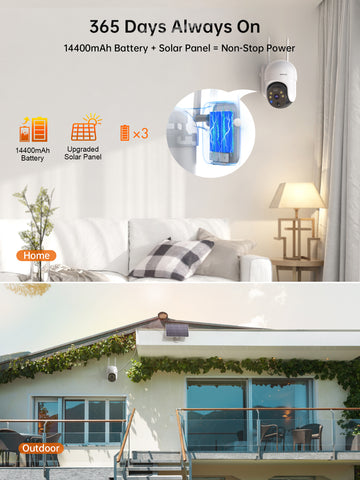 Unlike other outdoor cameras, you don't need an electrician to wire power to remote areas of your home or office. Simply mount the Soliur XS7 Pro in any area you wish to monitor. The camera's IR LEDs have a range of up to 90 feet and its powerful white LEDs flashlight ensures the most detailed and clear picture.
This is the only solar-powered camera that has a rotating lens allowing it to pan and rotate a full 360 degrees and horizontally 120 degrees. You can control the camera's movement from your smartphone app from anywhere in the world.
It records bright and crisp videos in 1080p HD (with audio!), allowing you to identify faces from far away and even in the dark. It also sends instantaneous motion alerts, and streams video and audio live to your smartphone.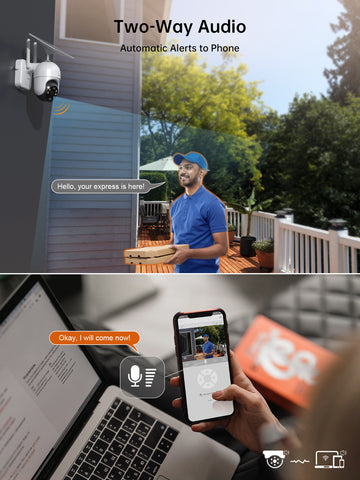 With its built-in speaker and mic, you can listen to everything the camera records anytime on the app, and even deter intruders by projecting your voice over the built-in powerful 2-way speaker.
Equipped with a waterproof solar charger and built-in Lithium-Ion rechargeable batteries, the waterproof camera operates flawlessly in the rain, shine, snow, or ice. No matter the conditions outside, you can depend on uninterrupted surveillance without having to worry about charging or wiring your camera.
It is an all-in-one solution for surveillance outside your home or office. It can be mounted easily on any surface at any angle, and you can get instant alerts when somebody is at the front door. You can see when your package was delivered, or who stole it! Get alerts when somebody is snooping around your backyard-- the surveillance possibilities are endless. No matter the area, the weather, or the lighting conditions, it will capture the action, record it, and notify you!
Main Features
Easy setup--under  5 minutes

Separate camera with Solar Panel to allow flexible camera placement 

Rotatable Lens (360 Horizontally & 120º Vertically)  

IP65 Waterproof Temp (- 4º to 140º)  

Powerful 2 Way Mic/Speaker

Powerful 90 feet IR and white light LED