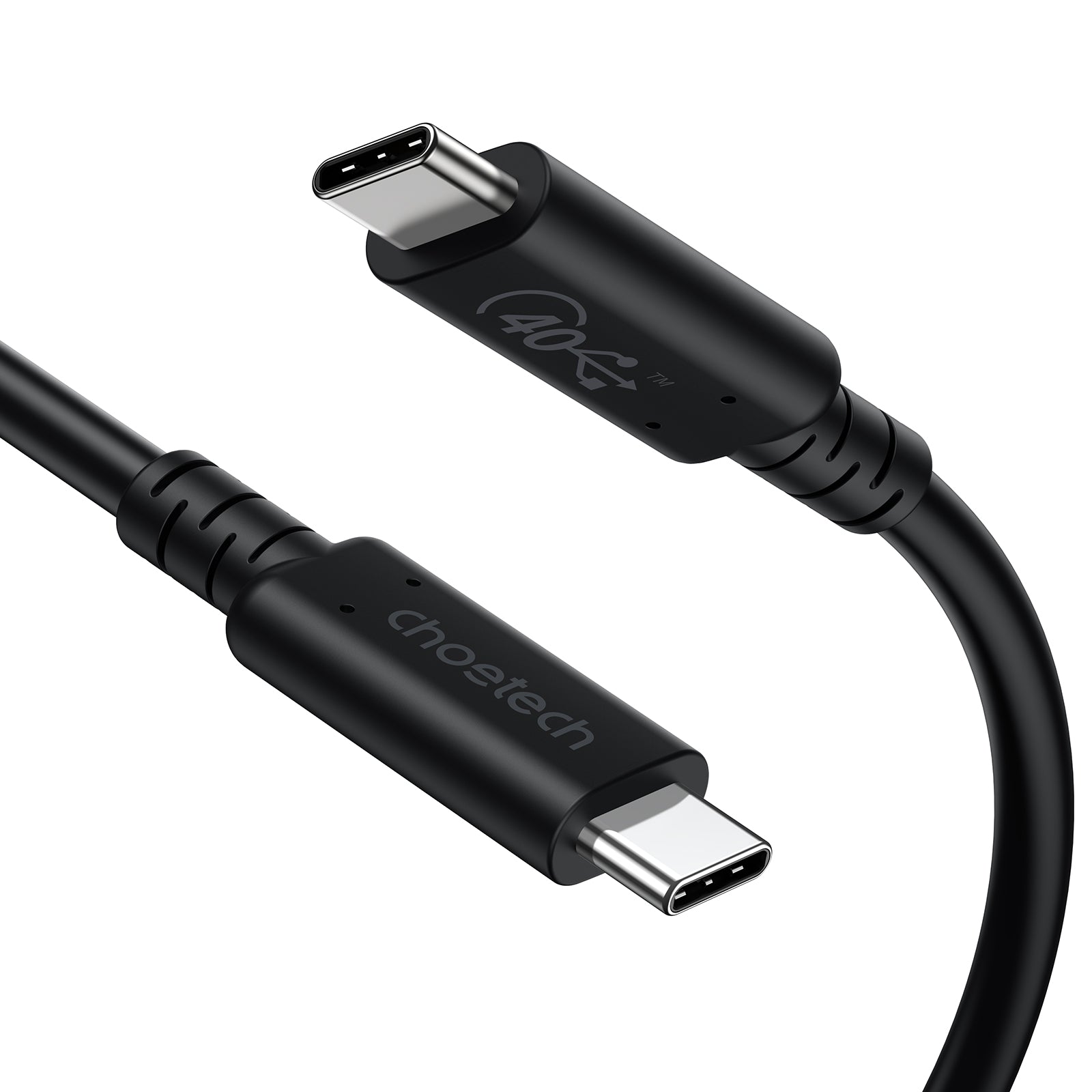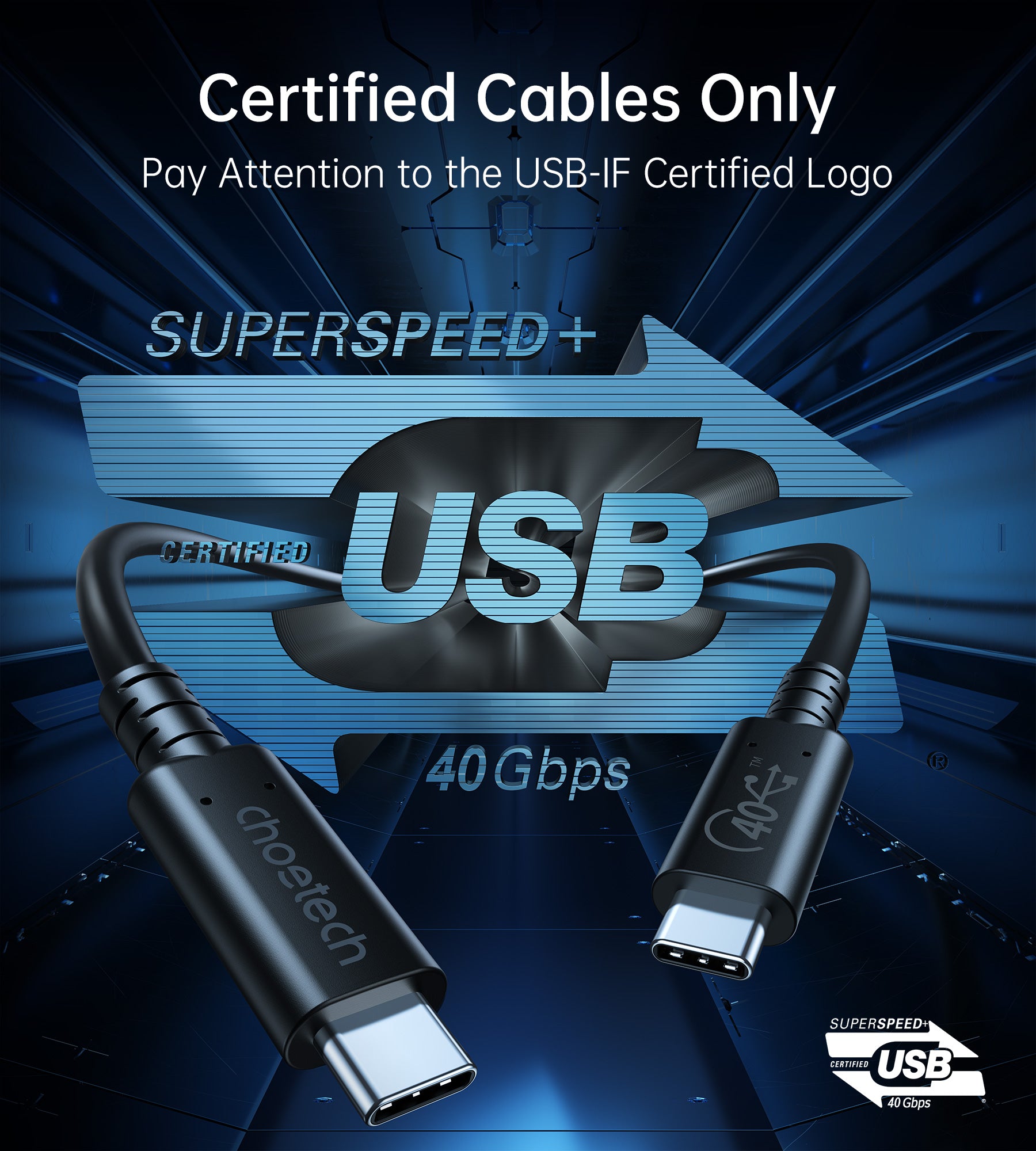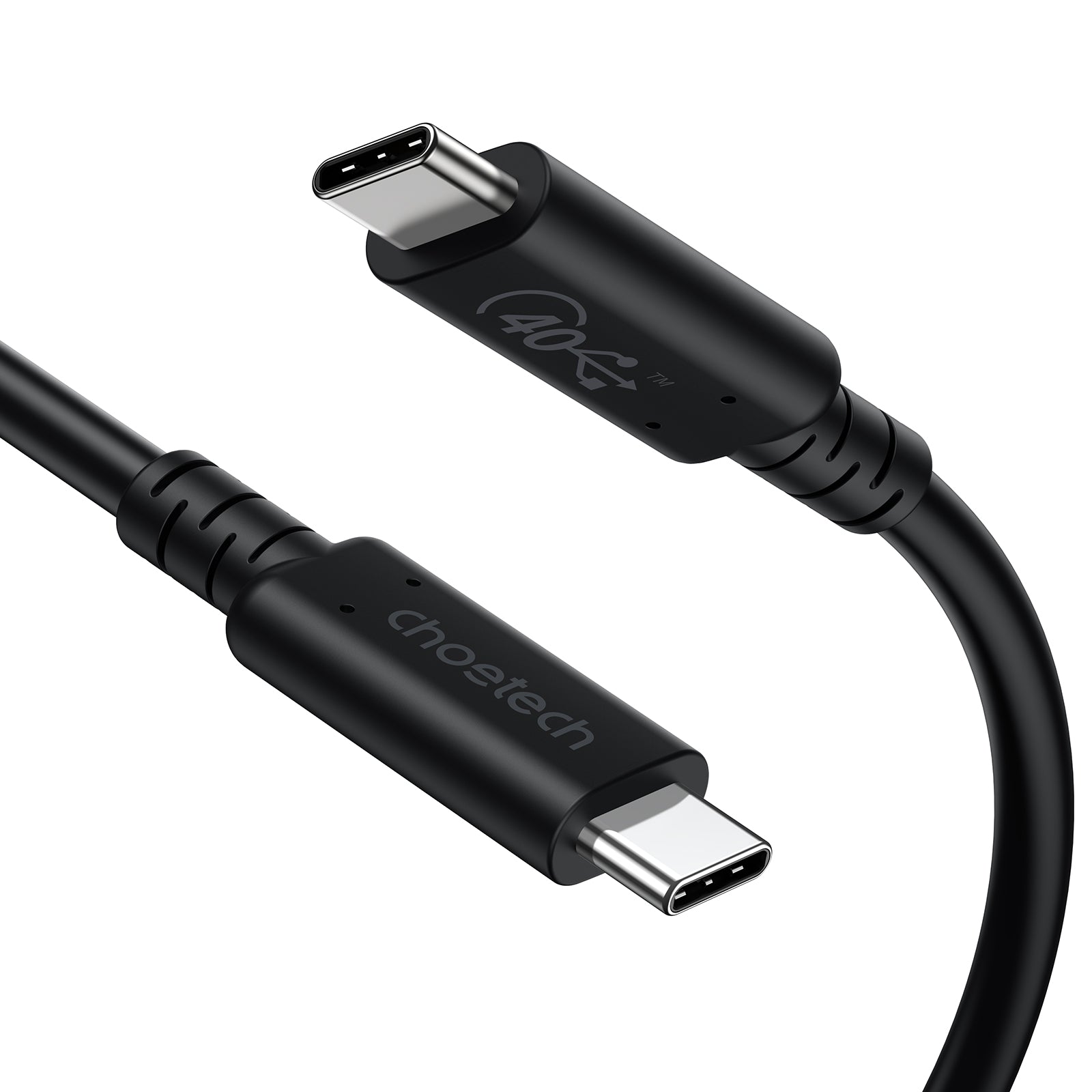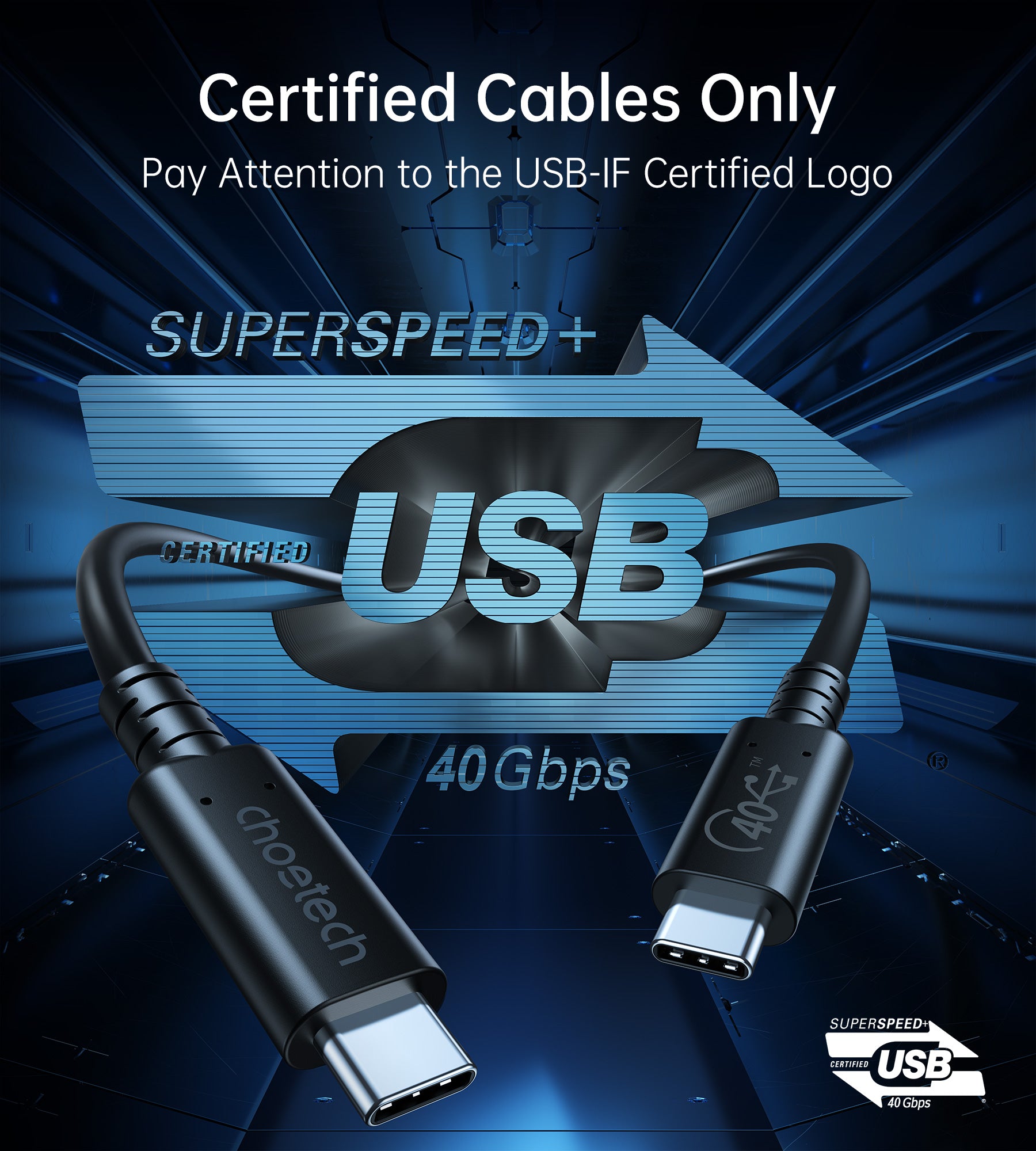 USB-C to USB-C Cable [USB-IF Certified] 100W USB 4.0 Gen 3 Cable

USB 4.0 Gen 3 Cable with USB-IF Certified

USB 4.0 Gen 3--The new generation of USB one of the highest standard of USB Type C cable. Equipped with USB-IF Certified, meets safety standards of the USB International Federation for worry-free charging and transferring, so this full-featured USB 4 cable offers the highest USB-C data transmission rate, 8K video delivery, and 100W power delivery.



8K@60Hz Video Output

Our USB 4 cable supports video resolutions of up to 8K (7,680x4,320), and advanced video features like HDR, 10-bit color depth, and Display Stream Compression. Also, supports DisplayPort DP 1.4 Alt Mode, you can connect 4K@60Hz/120Hz, 2K@60Hz and more external display. Works great with newest Apple M1 devices and Lenovo ThinkPad with USB 4 port. (The video transmission function works with the hosts that support USB-C video output via DisplayPort Alt Mode).



40Gbps Superfast Data Transfer and 100W Charging Power

Enjoy reliable super-fast data transfer on all devices with USB4/Thunderbolt3/4/USB-C interfaces. Don't wait for sync or transfer any more. A 40Gbps transmission rate means you can transfer shows, movies, and music in a matter of seconds. Meanwhile, power and charge devices with Power Delivery 3.0 charging support, compatible with rapid charging protocols up to 100W. All fully USB-C compatible, for all generations and devices.



Universal Compatibility

This type C to type C USB 4 cable compatible with most USB-C port devices including laptops, smart phones and monitor with PD ALT mode, please view Product Description for more details. Compatible with Windows ( Acer Aspire Switch 12 S, ASUS ROG G752VT, Clevo P750DM, DELL Alienware 17, HP EliteBook x360 G2, ThinkPad Yoga 370, etc.) Mac OS X( Apple 13-inch MacBook Pro, Apple 13-inch MacBook Pro with Touch Bar, Apple 15-inch MacBook Pro with Touch Bar etc.


Secure & Reliable

It's completely authorized by USB technology's leading association—proven to work flawlessly and safely with any and all USB-C devices. Sync & Charge with total peace of mind. And, our USB 4 cable use premium materials to maintain consistent performance, reduce heat, and provide an optimum user experience every time.



Maximum Compatibility
Backwards compatible with USB 4.0 Gen 3, USB 3.2/3.1/3.0, USB-C Gen 1/2, USB 2.0


High Resolution Display Support
Perfect for Thunderbolt or USB-C Displays up to 8K@60Hz. Perfect for connecting your docking station or laptop to a monitor with astonishing resolution, contrast, and color depth for amazing detail.

Extreme Performance
40Gb/s for maximum USB 4 throughput. Ideal for users who require a stable high bandwidth connection.


Description:
Electrical Specification:
*Video Transmission Protocol: DisplayPort DP 1.4
*Compatible Protocols: USB4.0 Gen 3/USB 3.2 Gen2/USB 3.1 Gen2/USB 3.0/USB 2.0
*Power Delivery: PD 3.0
*Charging Power: 100W
*Data Transfer Speed: 40Gb/s
*Output: 20V/ 5A (max)

Features:
1. This is USB C to USB C 4.0 Gen 3 Cable, fully compatible with USB C 3.1 Gen 1 and Gen 2 Ports.
2. The video function only works for those devices whose USB-C port supports DP Alt Mode.
3. Up to 100W 20V@5A pass through supporting Power Delivery, comparable to the full speed original cord (Actual charging speed depends on your device and wall charger, with 96W original charger at a full 96W, with 45W orginal charger at a full 45W)
4. USB 4.0 Gen 3 cable supports video resolutions of up to 8K@60Hz (7680x4320), and advanced video features like HDR, 10-bit color depth, and Display Stream Compression




Compatible with Type-C Port Smartphones (Smartphone for charging only)
Samsung Galaxy S20/S20+/S20 Ultra/S10 / S10+ / S9 / S9+ / S8 / S8+ / Note 10 / Note 10+ / Note 9 / Note 8
Samsung Galaxy A50 / A70 / A80
Google Pixel 4a / 4a XL / 3a / 3a XL / 3 / 3XL / 2 / 2XL
HUAWEI P30 / P30 Pro / P20 / P20 Pro
Nexus 6P / 5X
Nintendo Switch


Compatible with Type-C laptops

MacBook Pro 16'' 2019
MacBook Pro 15'' 2019 / 2018 / 2017 / 2016
MacBook Pro 13'' 2019 / 2018 / 2017 / 2016
MacBook 2017 / 2016 / 2015
MackBook Air 2020 / 2018
iPad Pro 11" 2020 / 2018 iPad Pro 12"9 2020/2018
Dell XPS 15 / 13
Google Pixelbook
ZenBook 3 UX390UA
Samsung Galaxy Tab S3
Samsung Galaxy Book Flex 13
Samsung Electronics Notebook Pen S
Lenovo ThinkPad L390 Yoga
Lenovo Miix 720
Lenovo TinkPad P50/P51/P70/P71
Lenovo TinkPad T470/T470s/T570
HP EliteBook x360 1030 G2/Elite x2 1012 G1
Razer Blade (Pro)
Razer Blade Stealth (late 2017)
And more type c devices