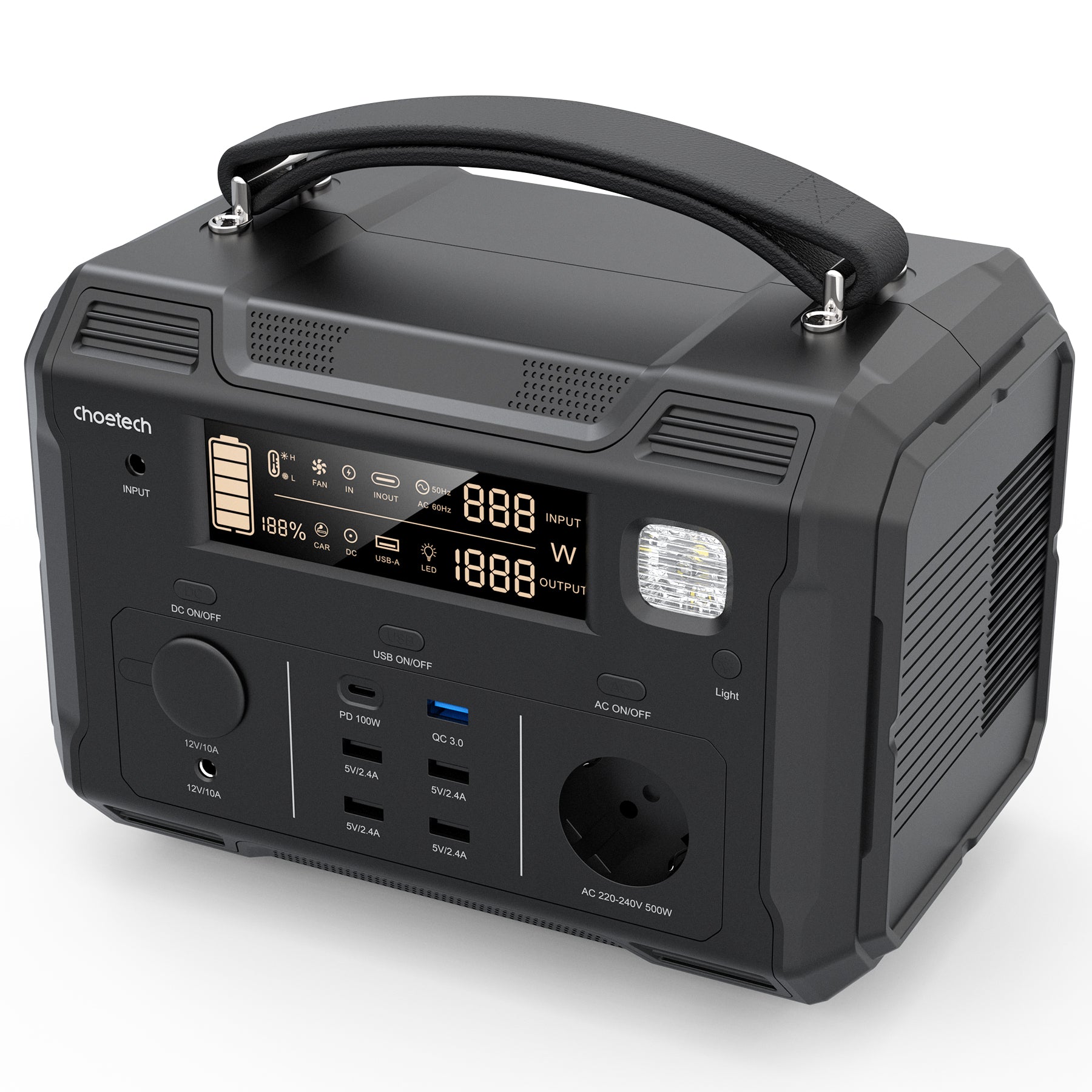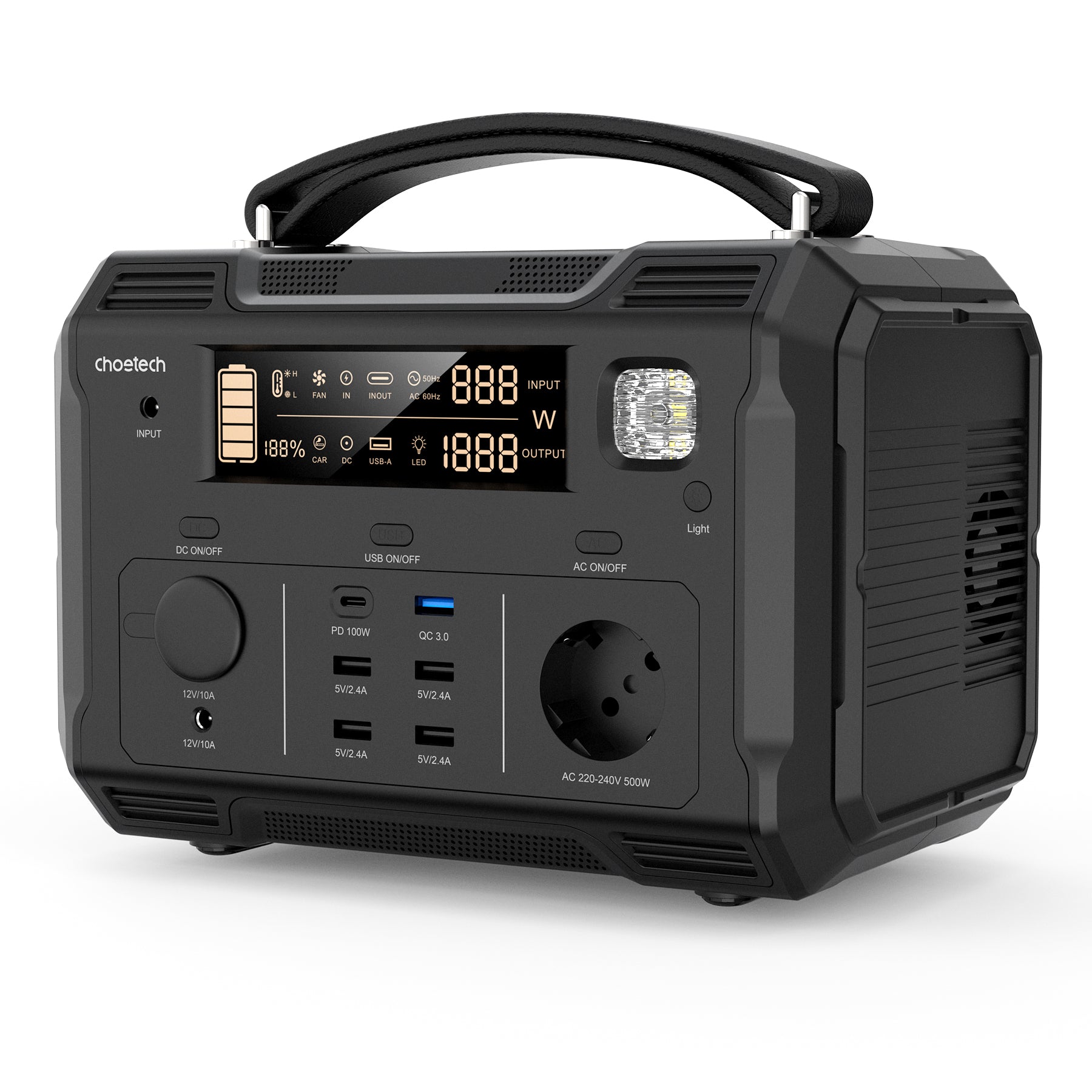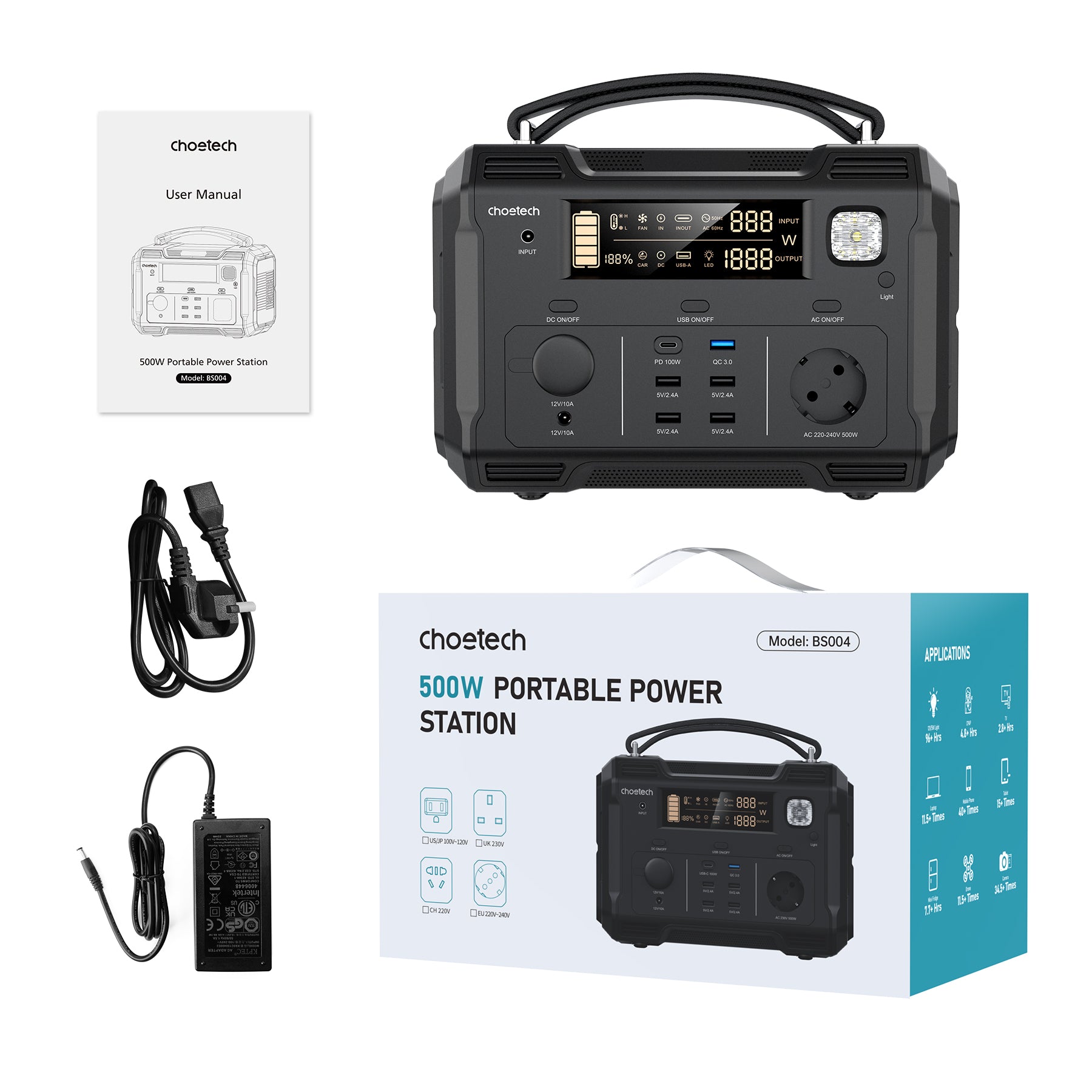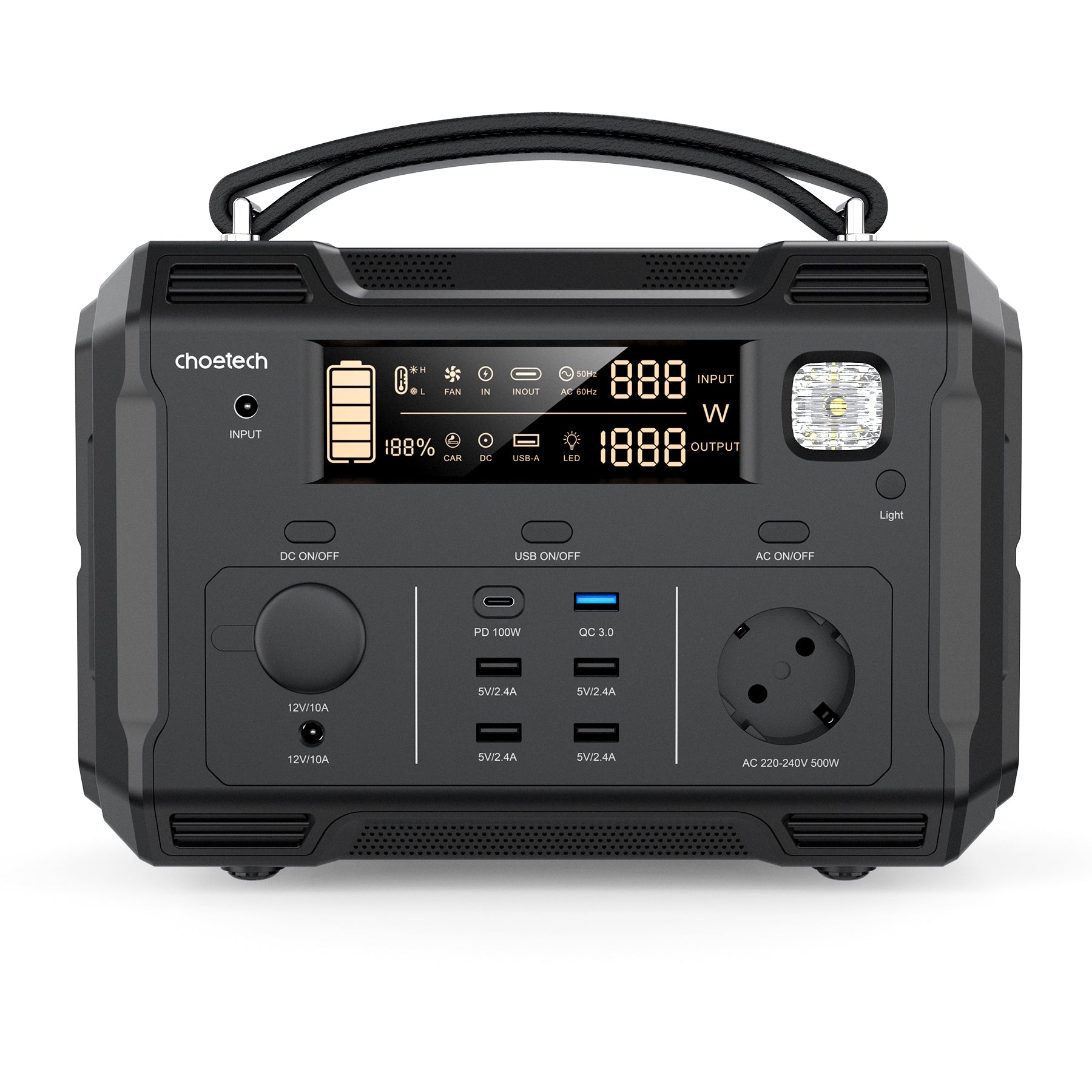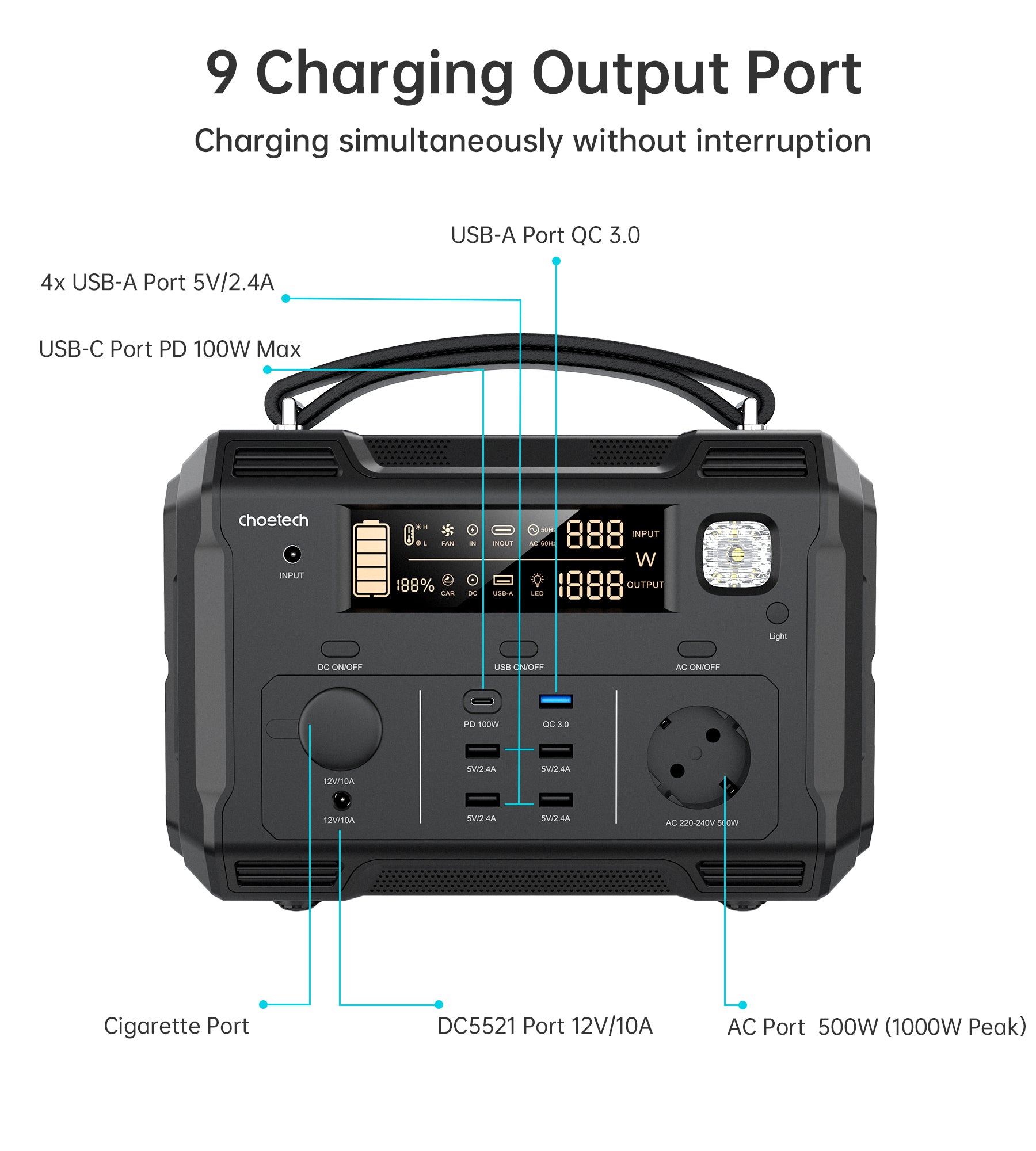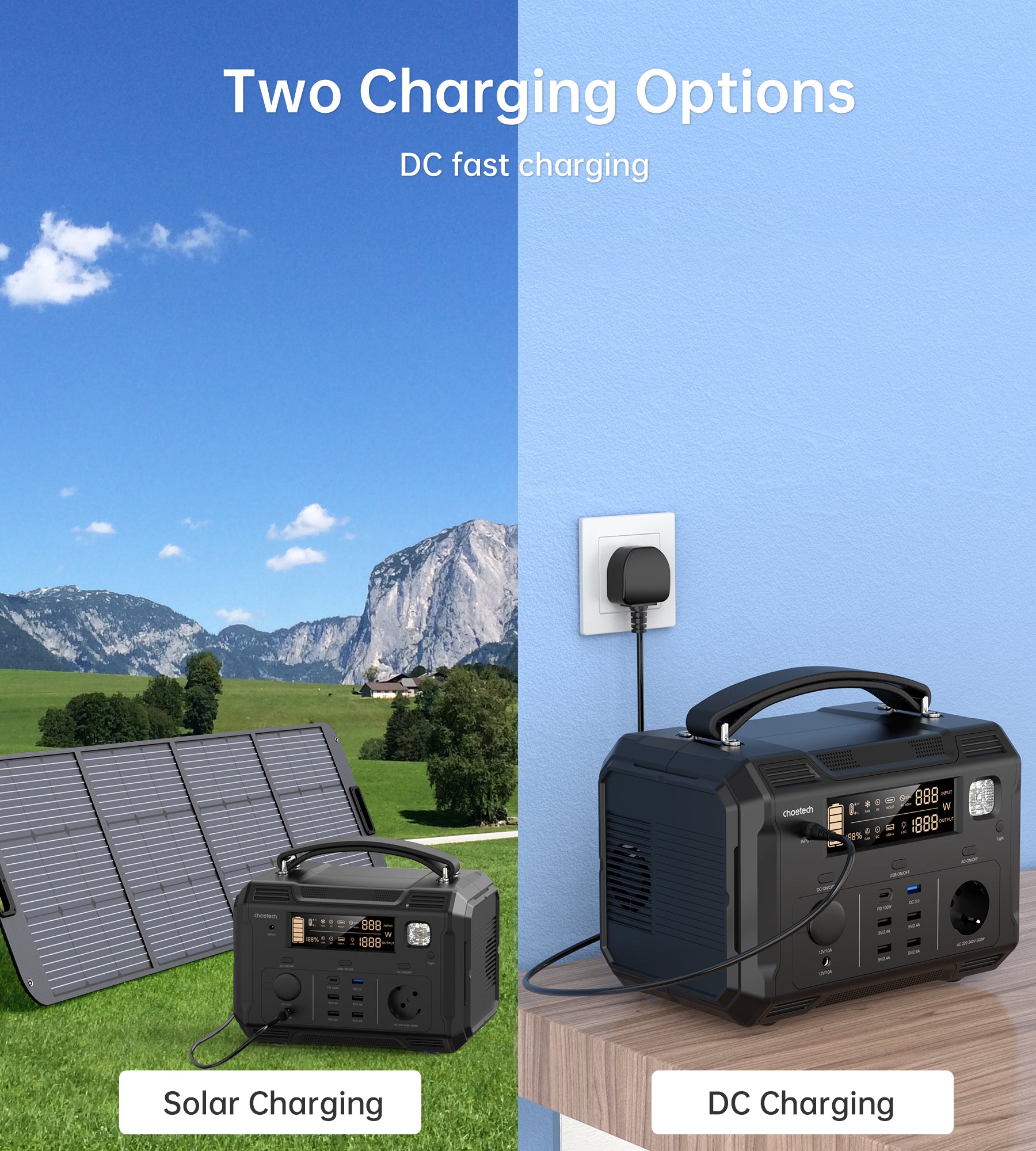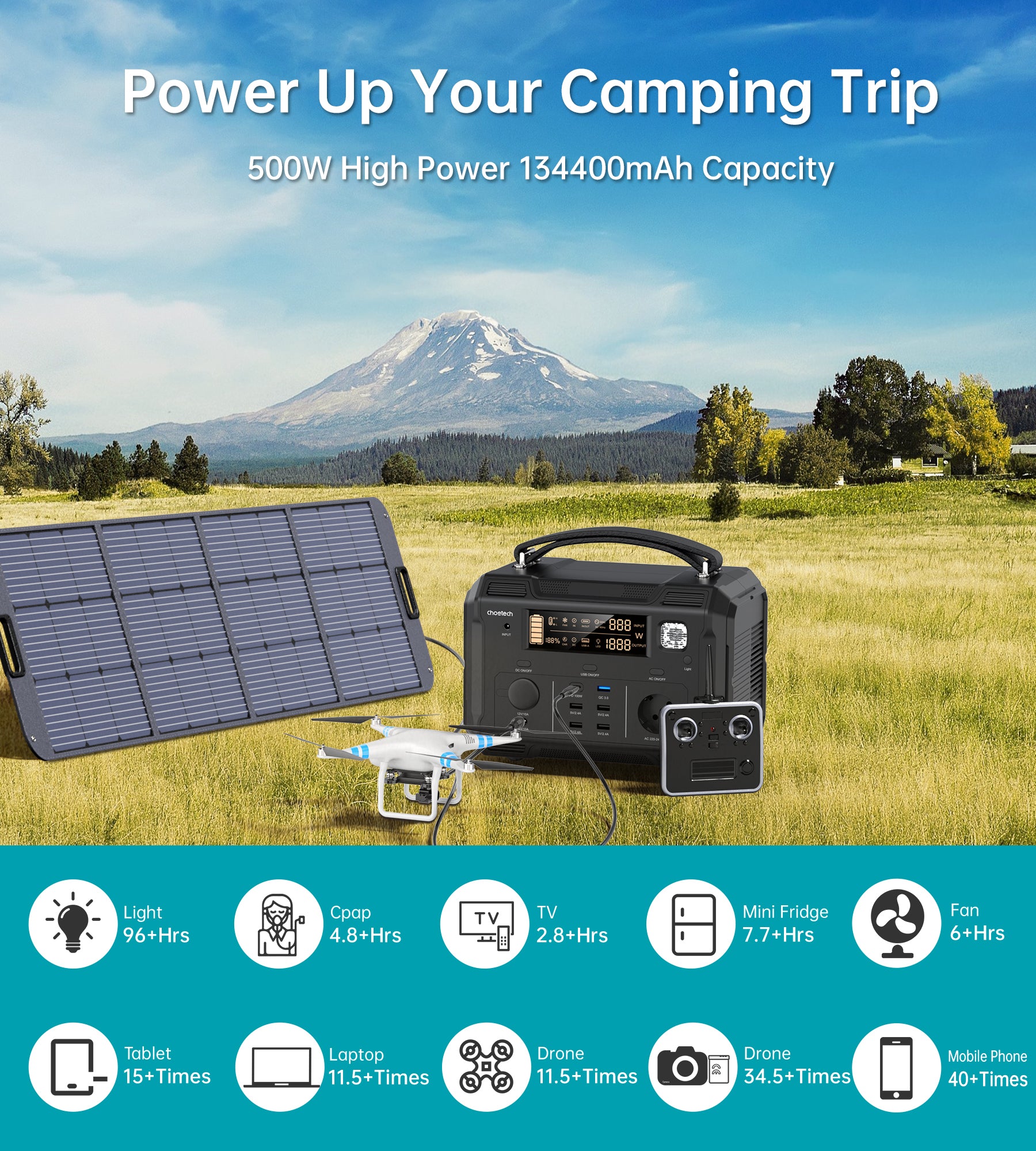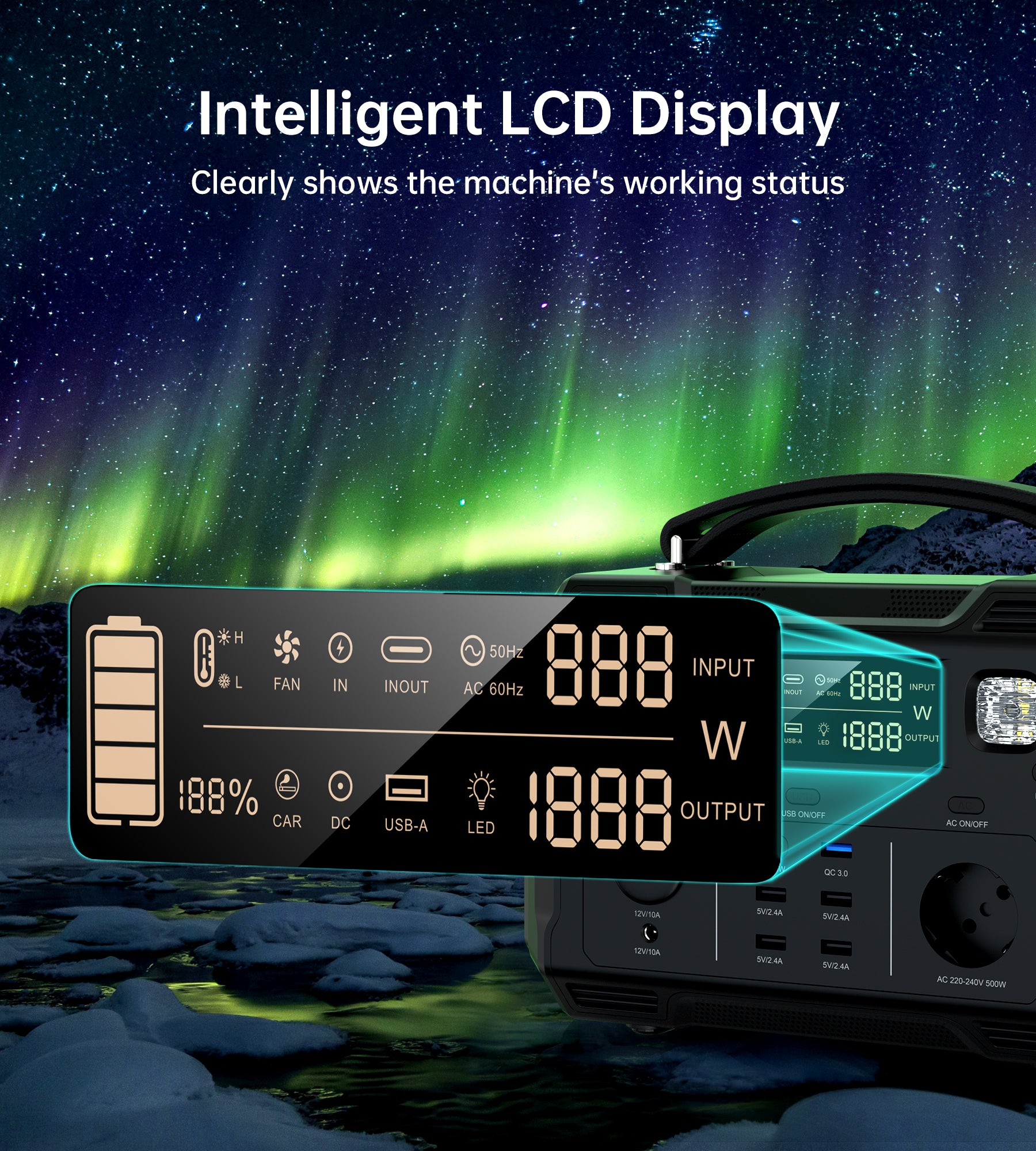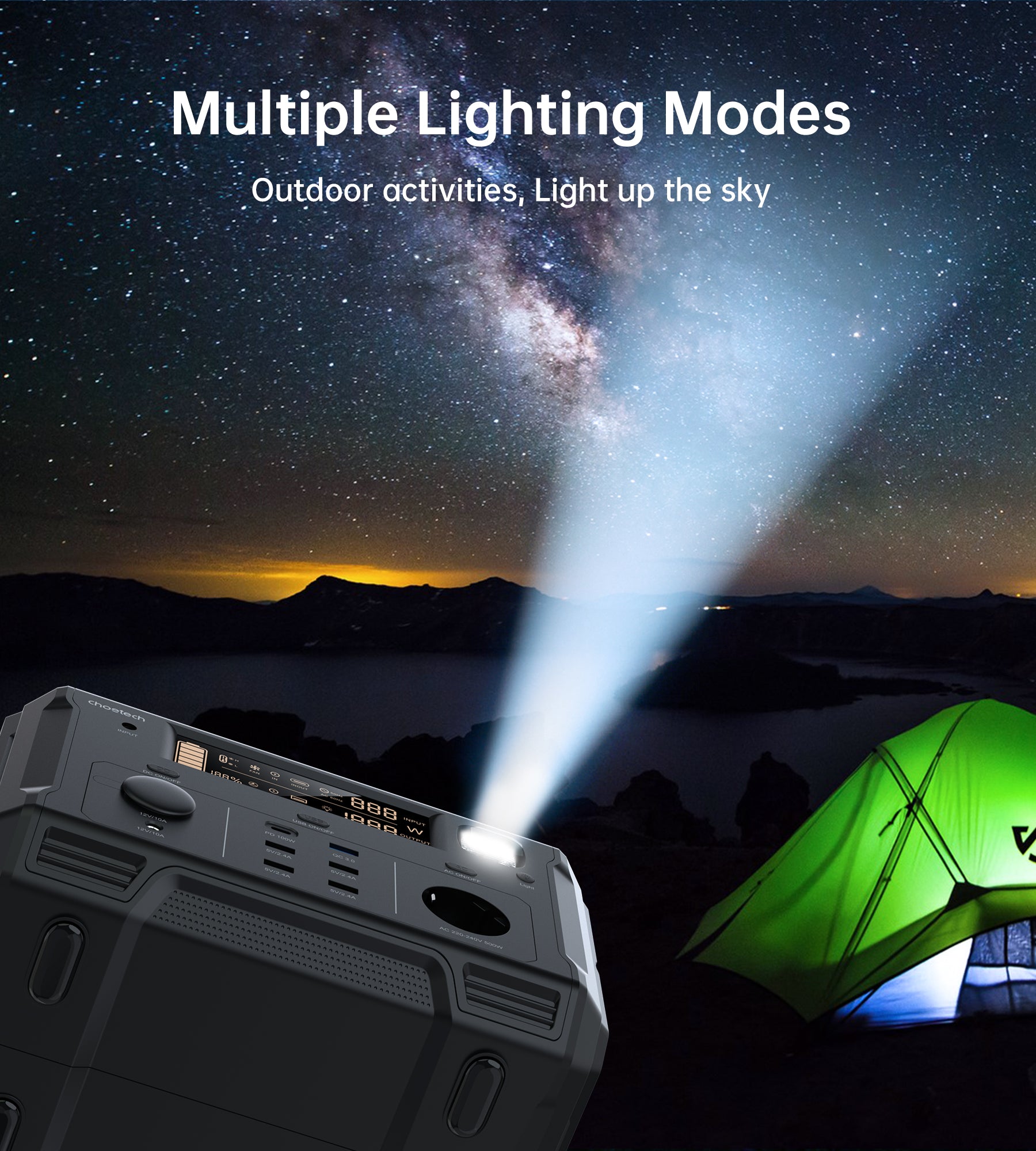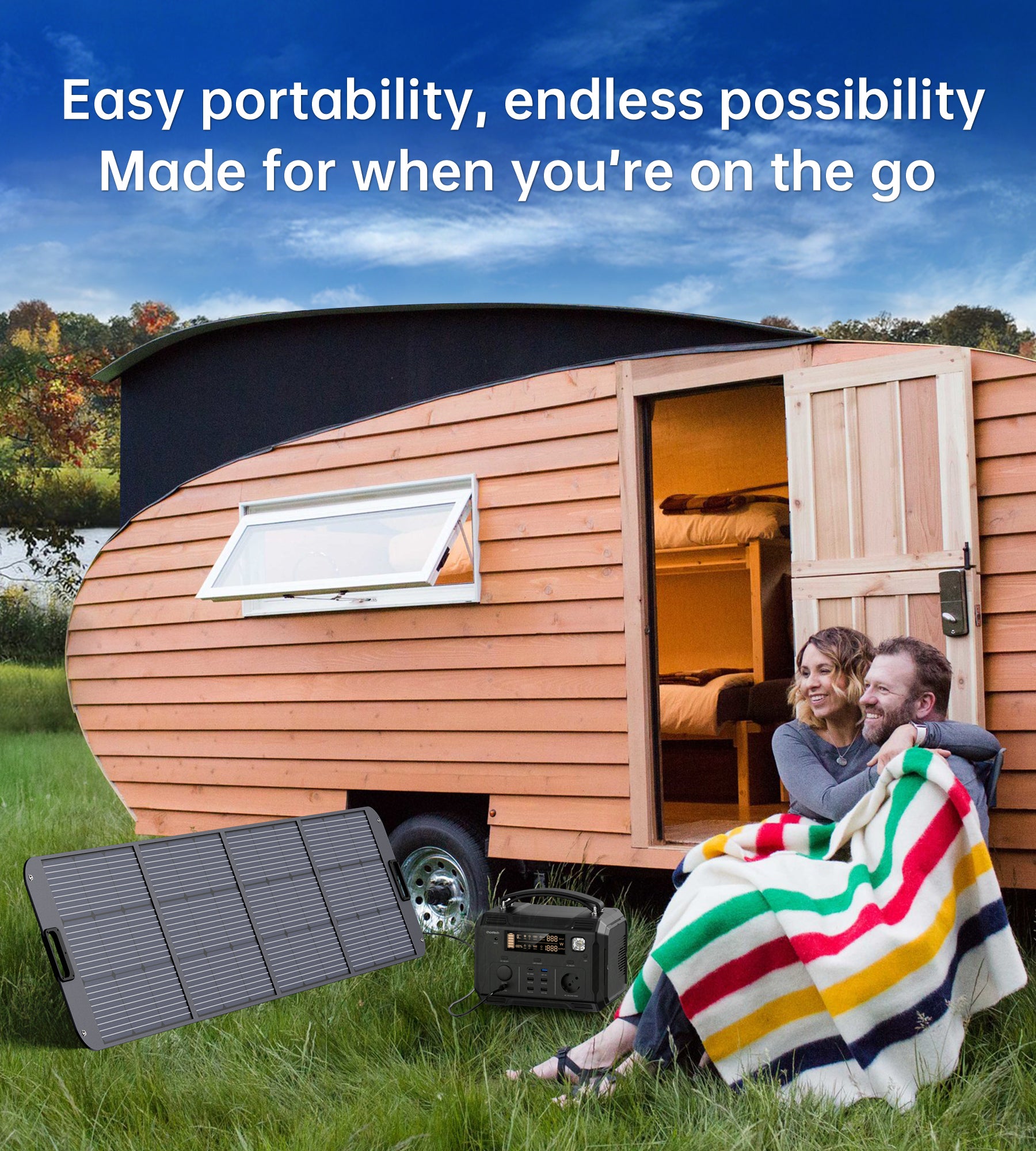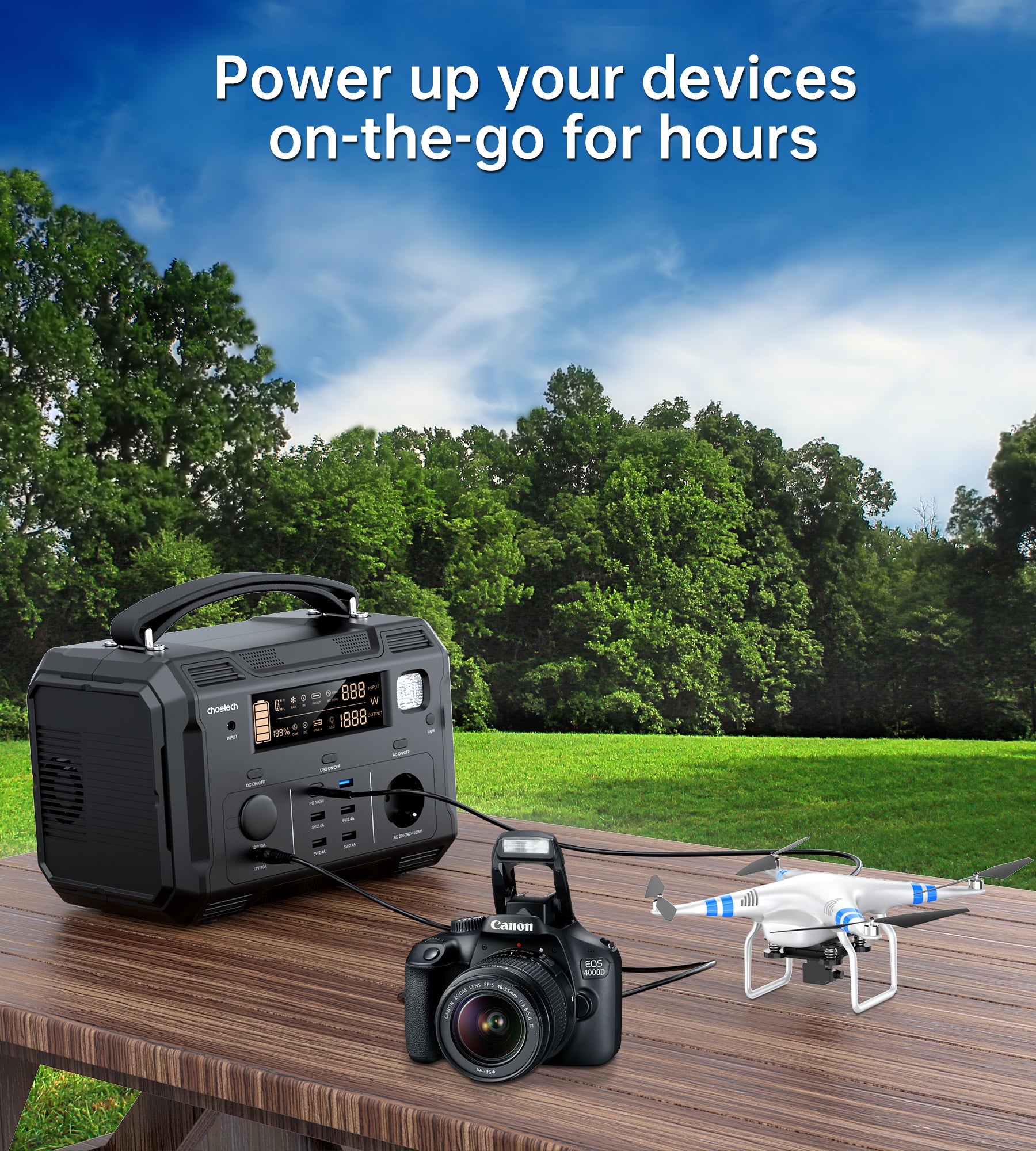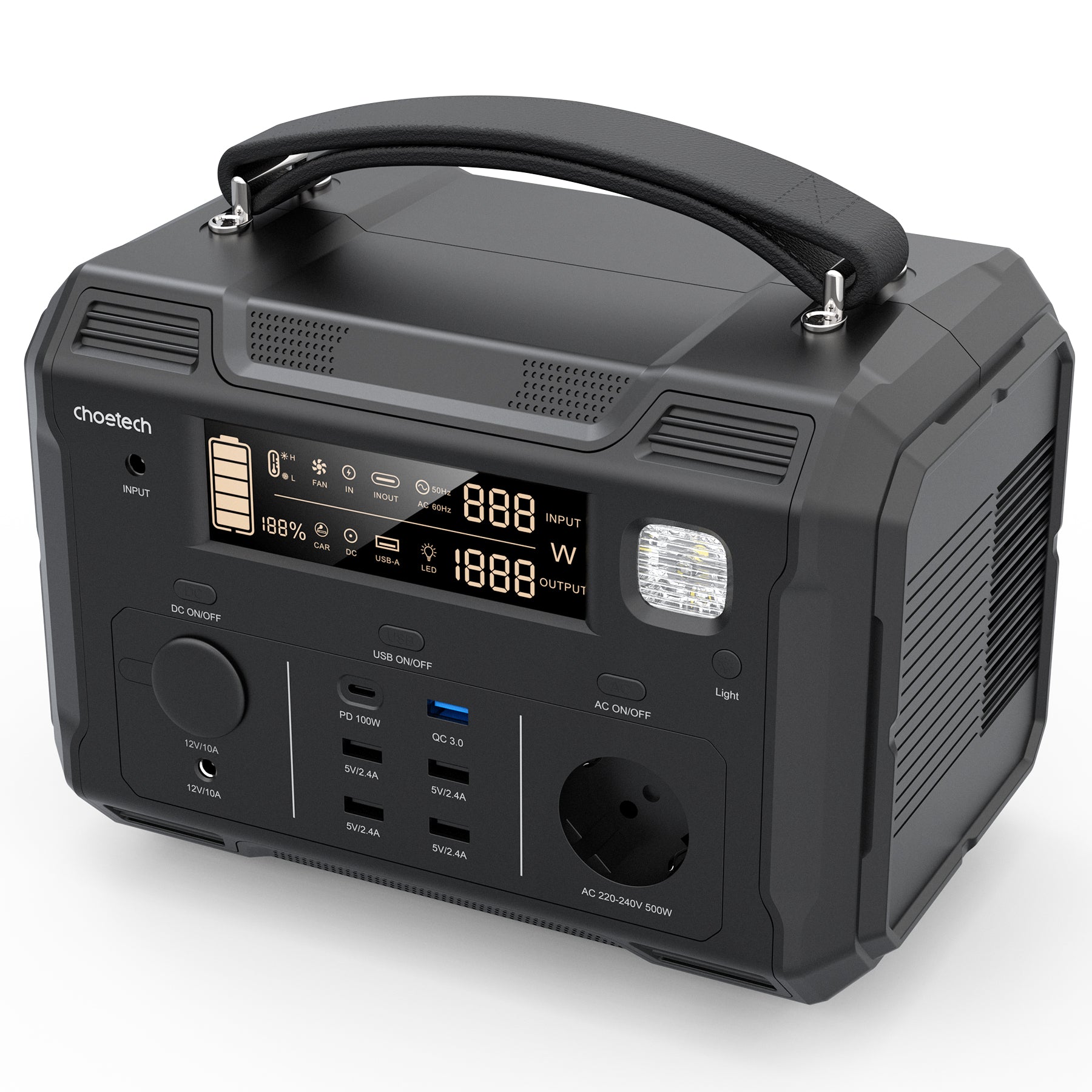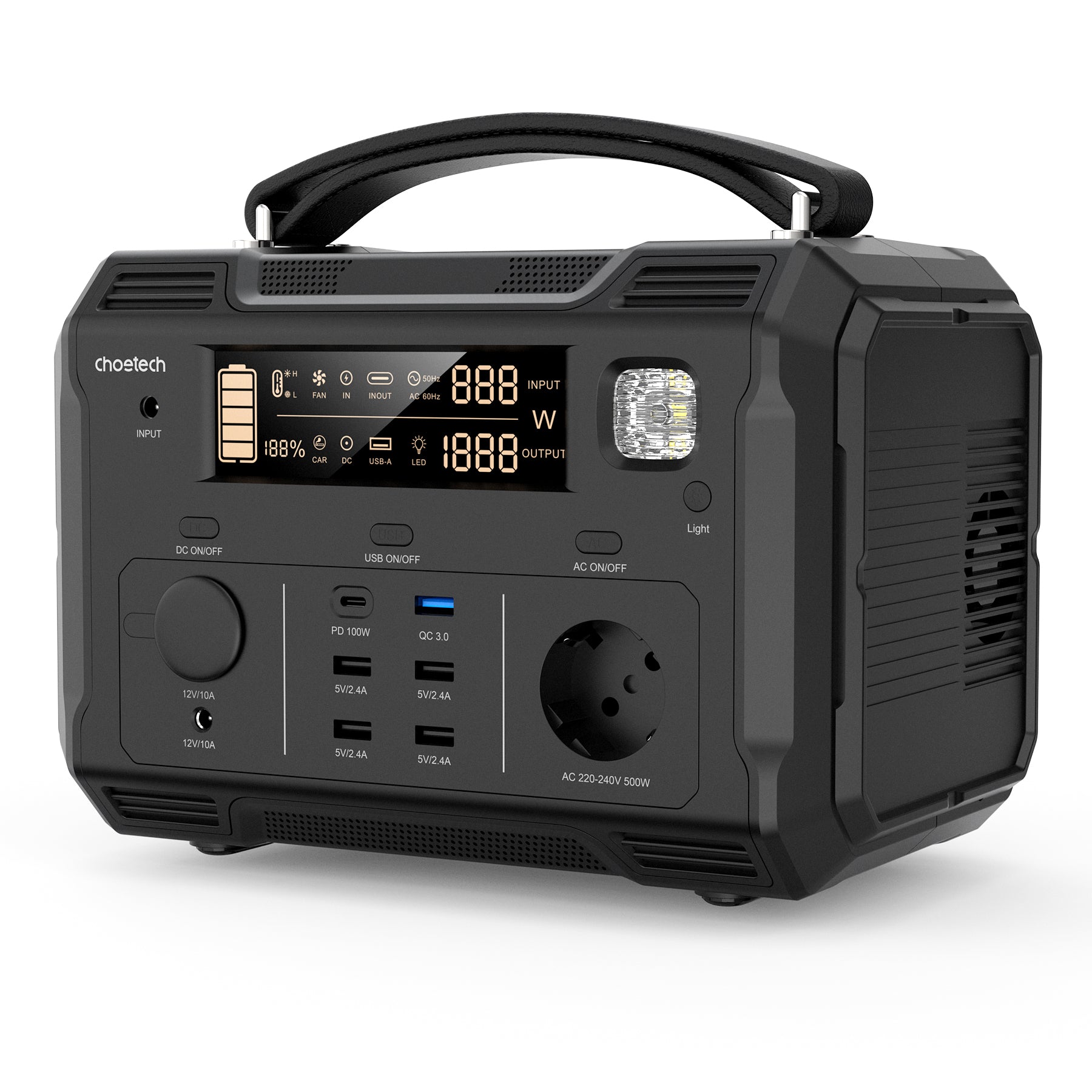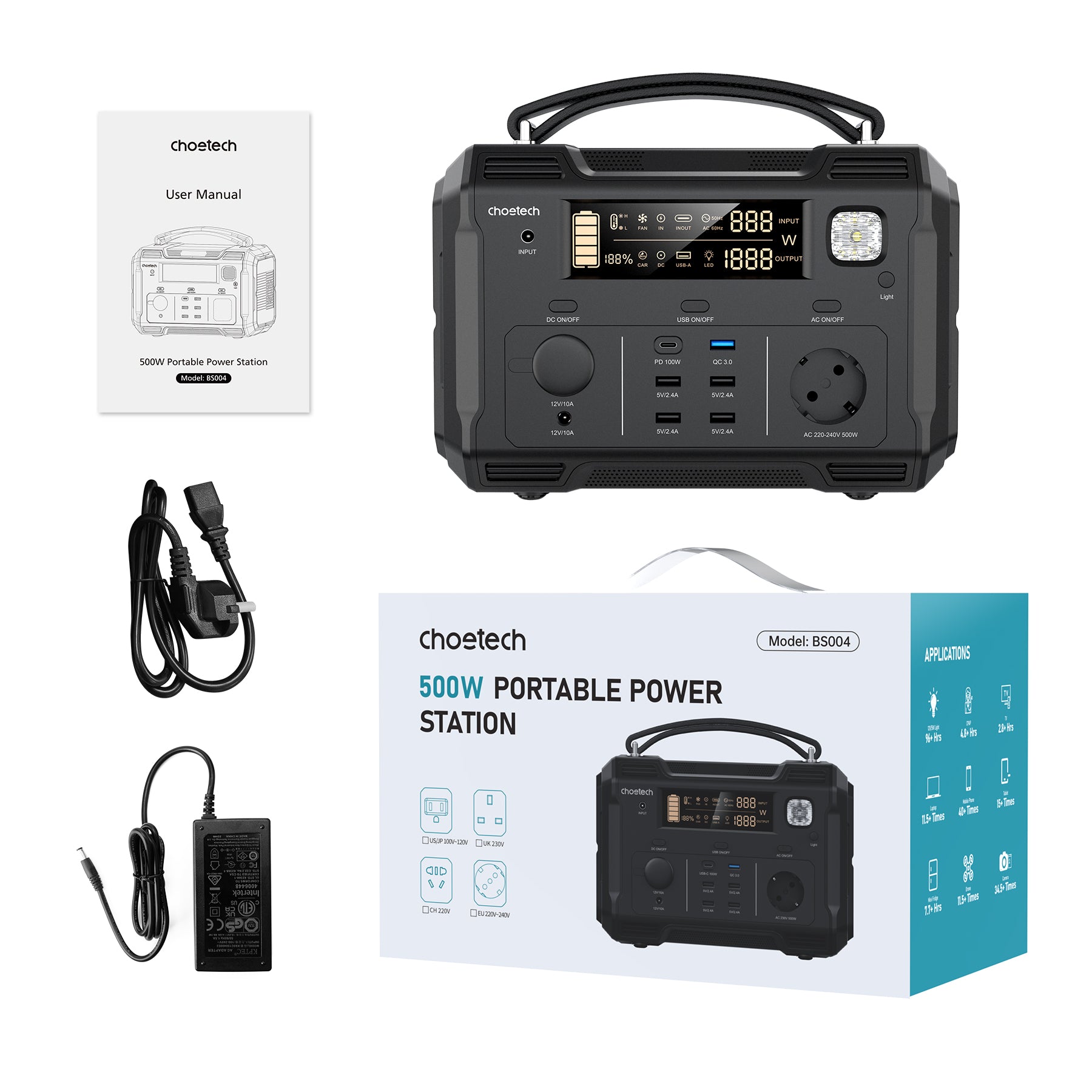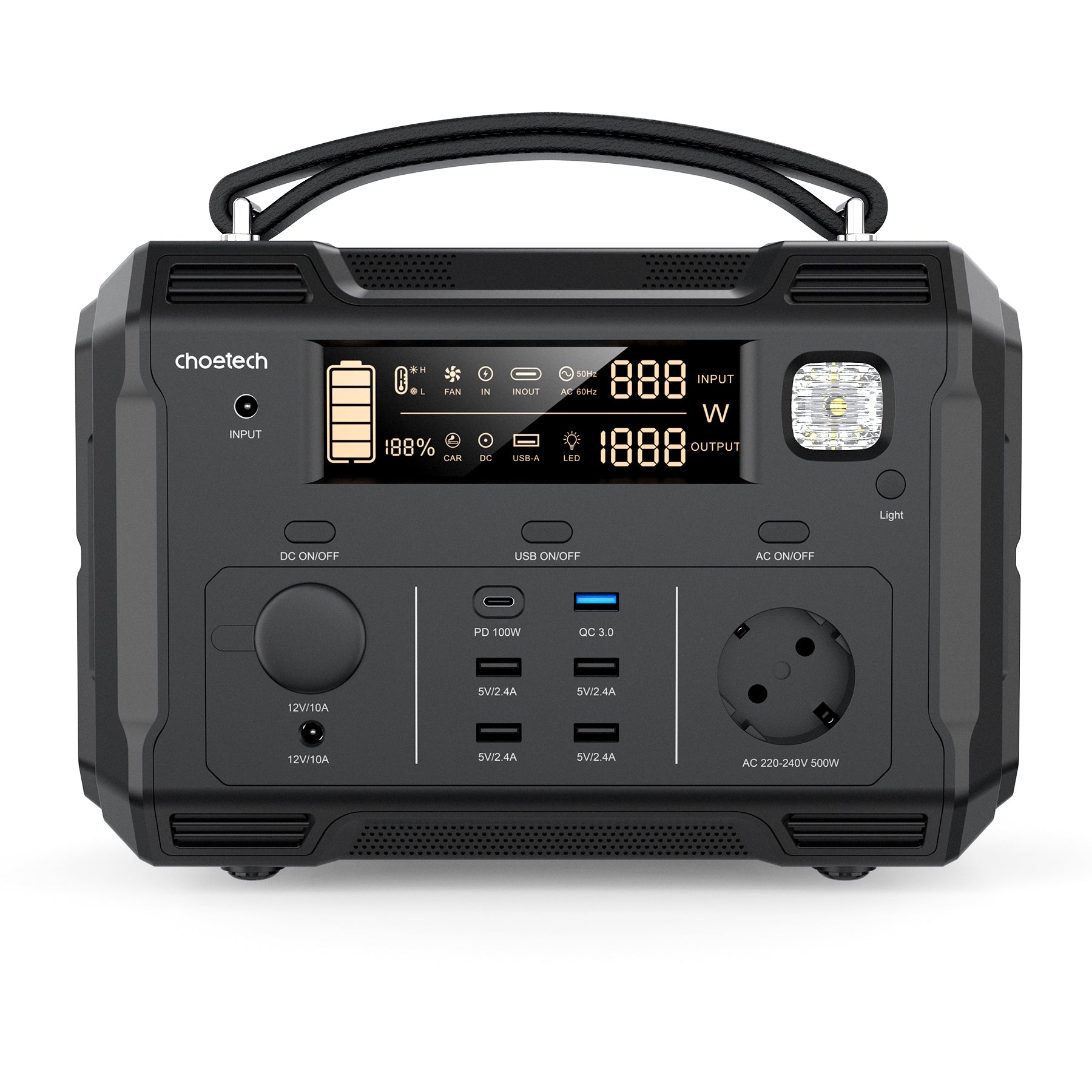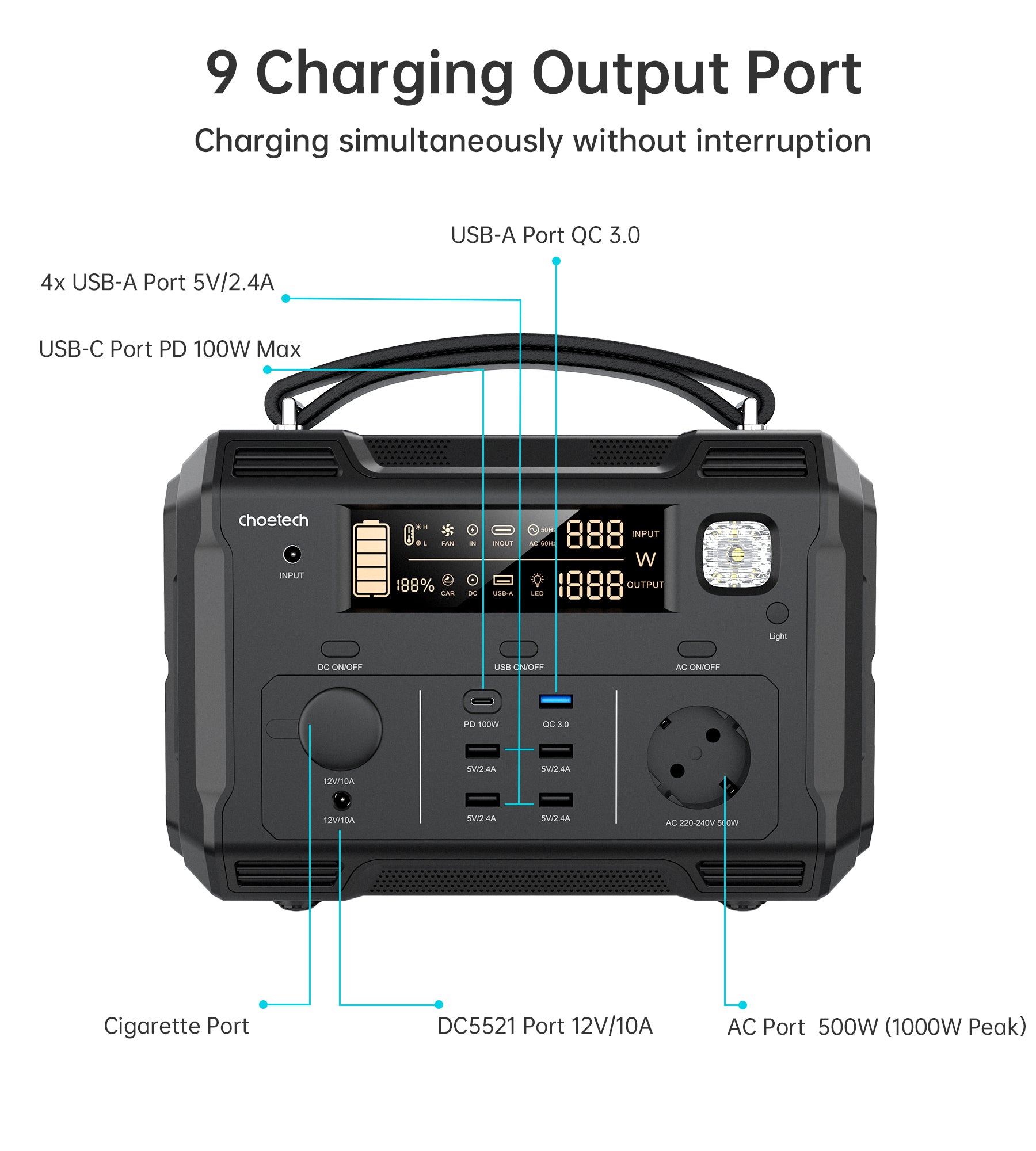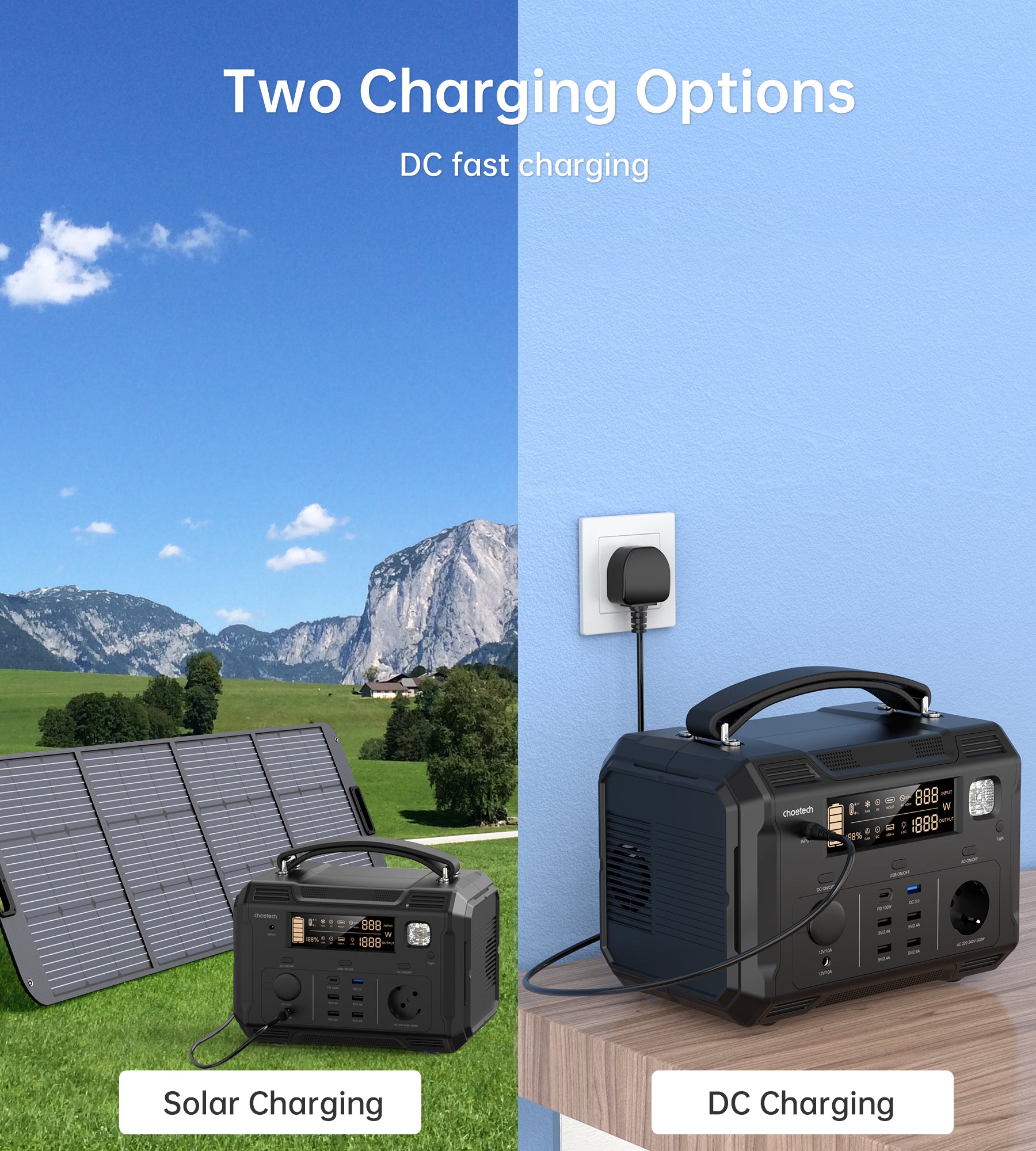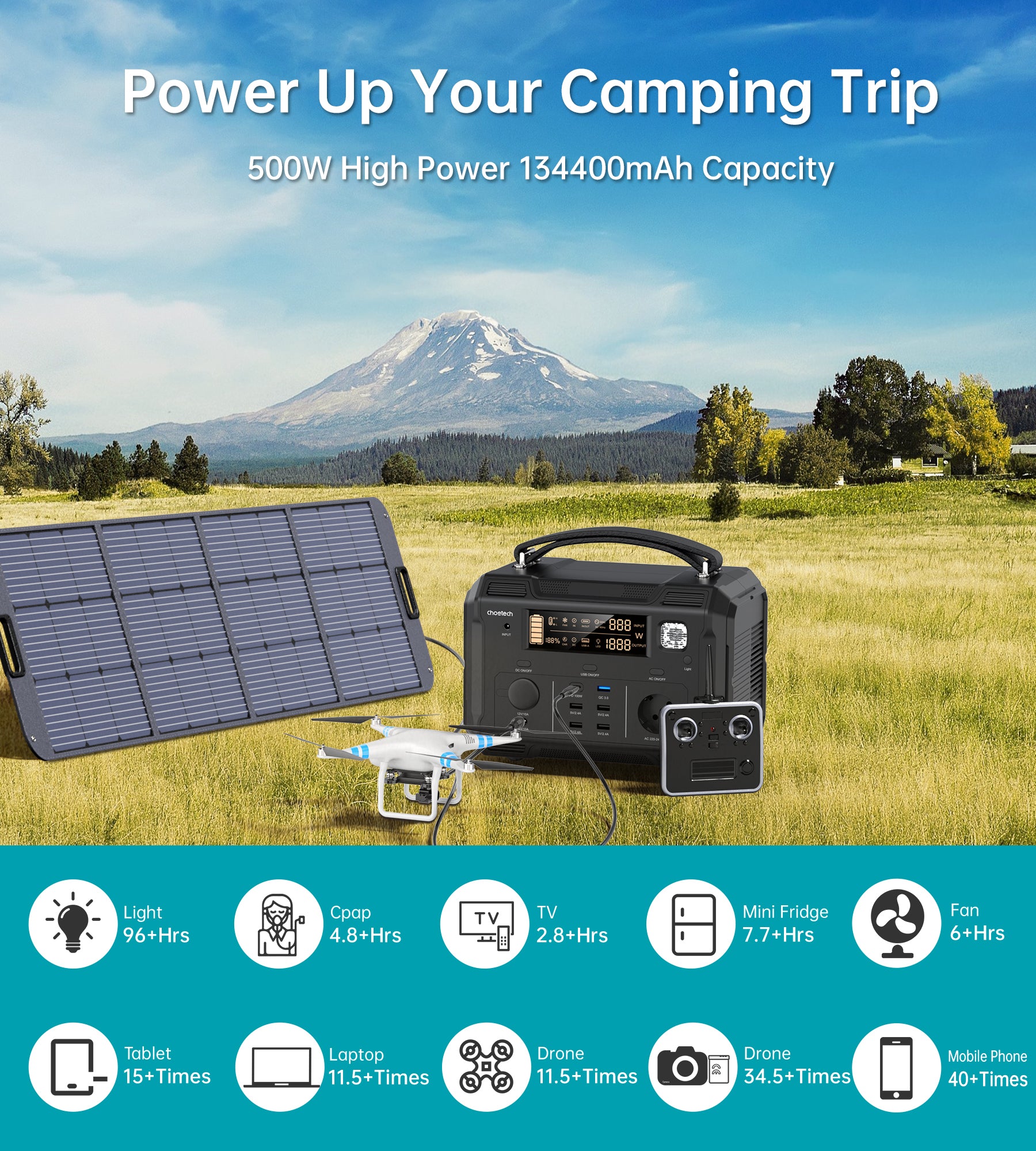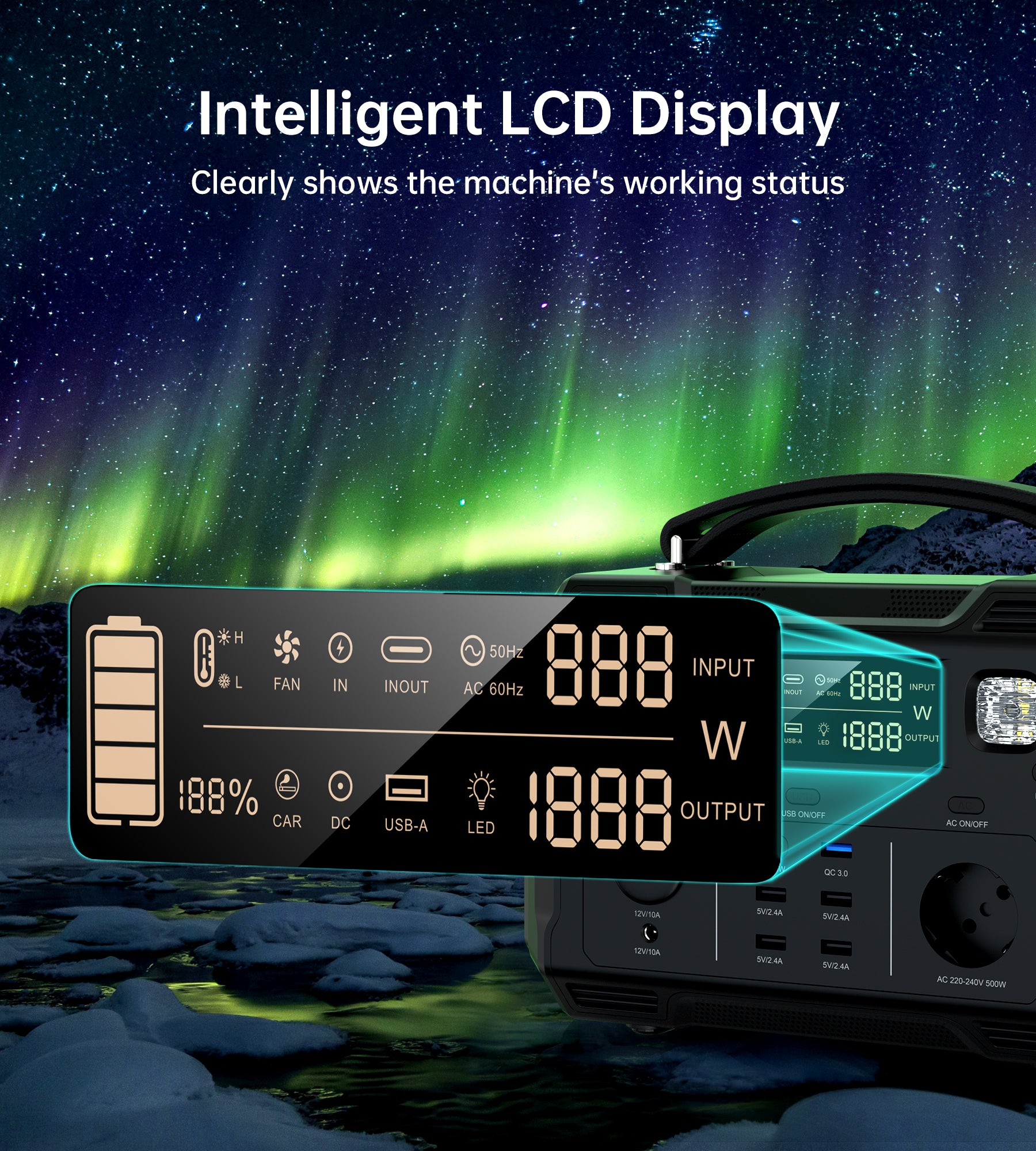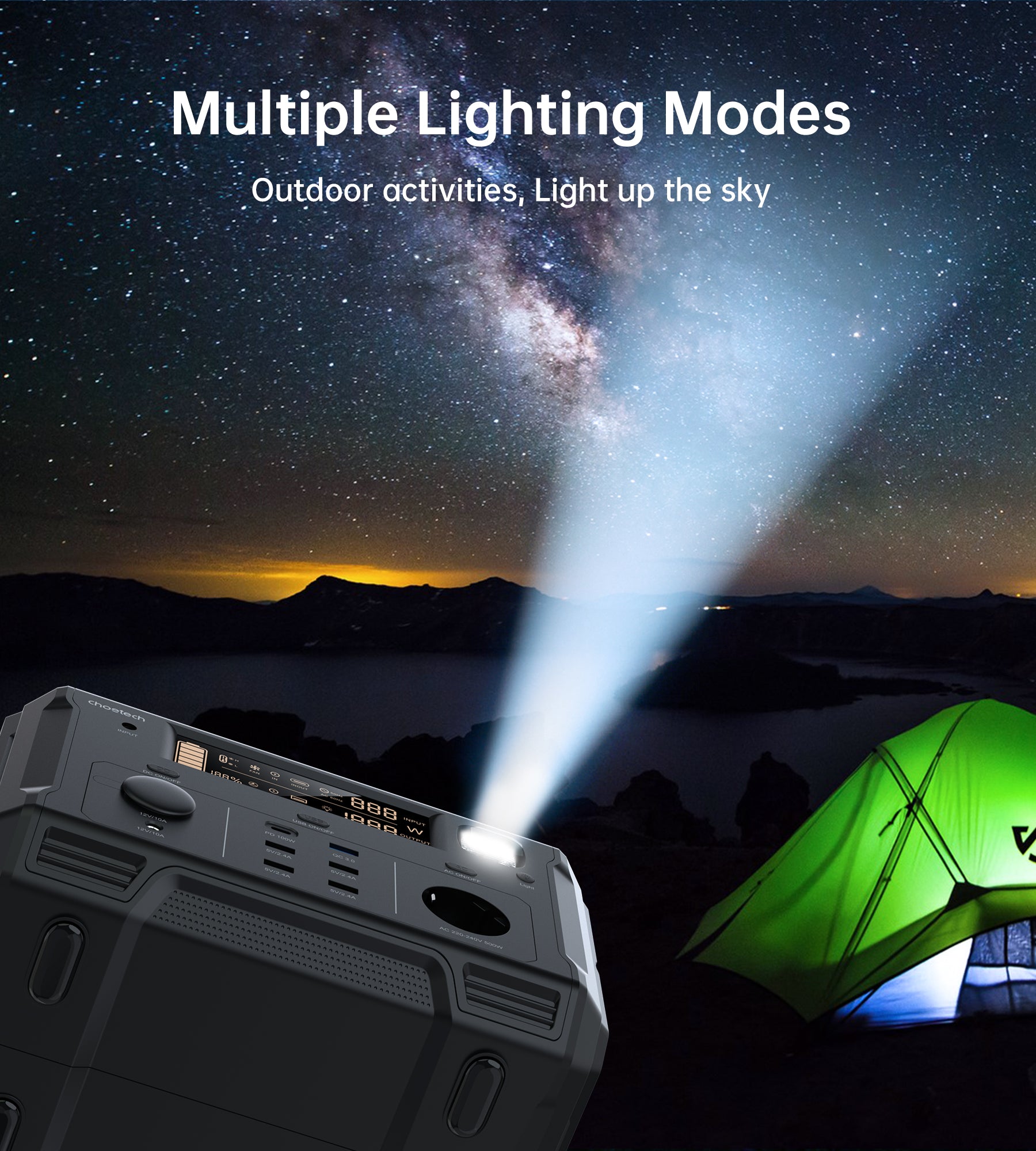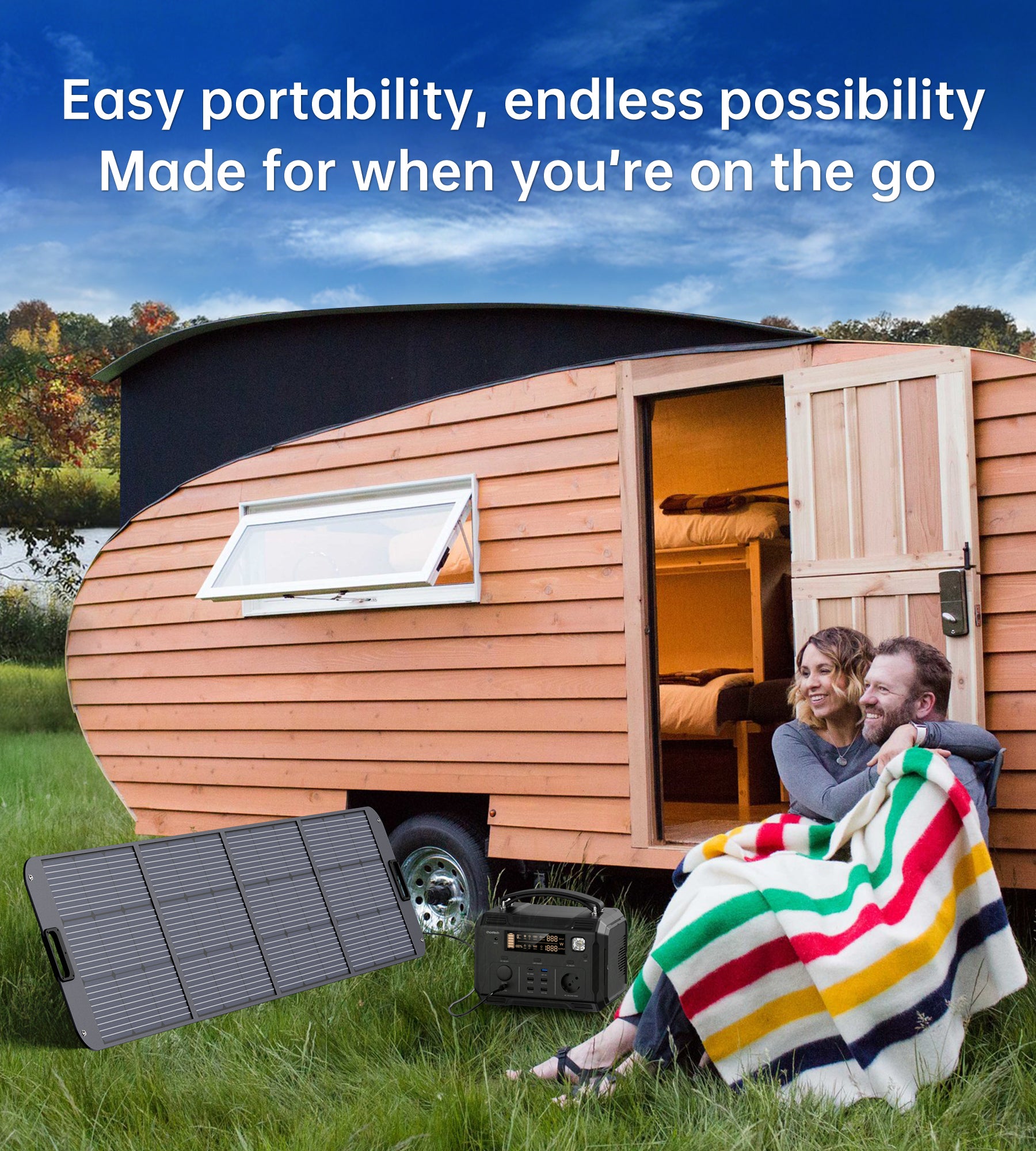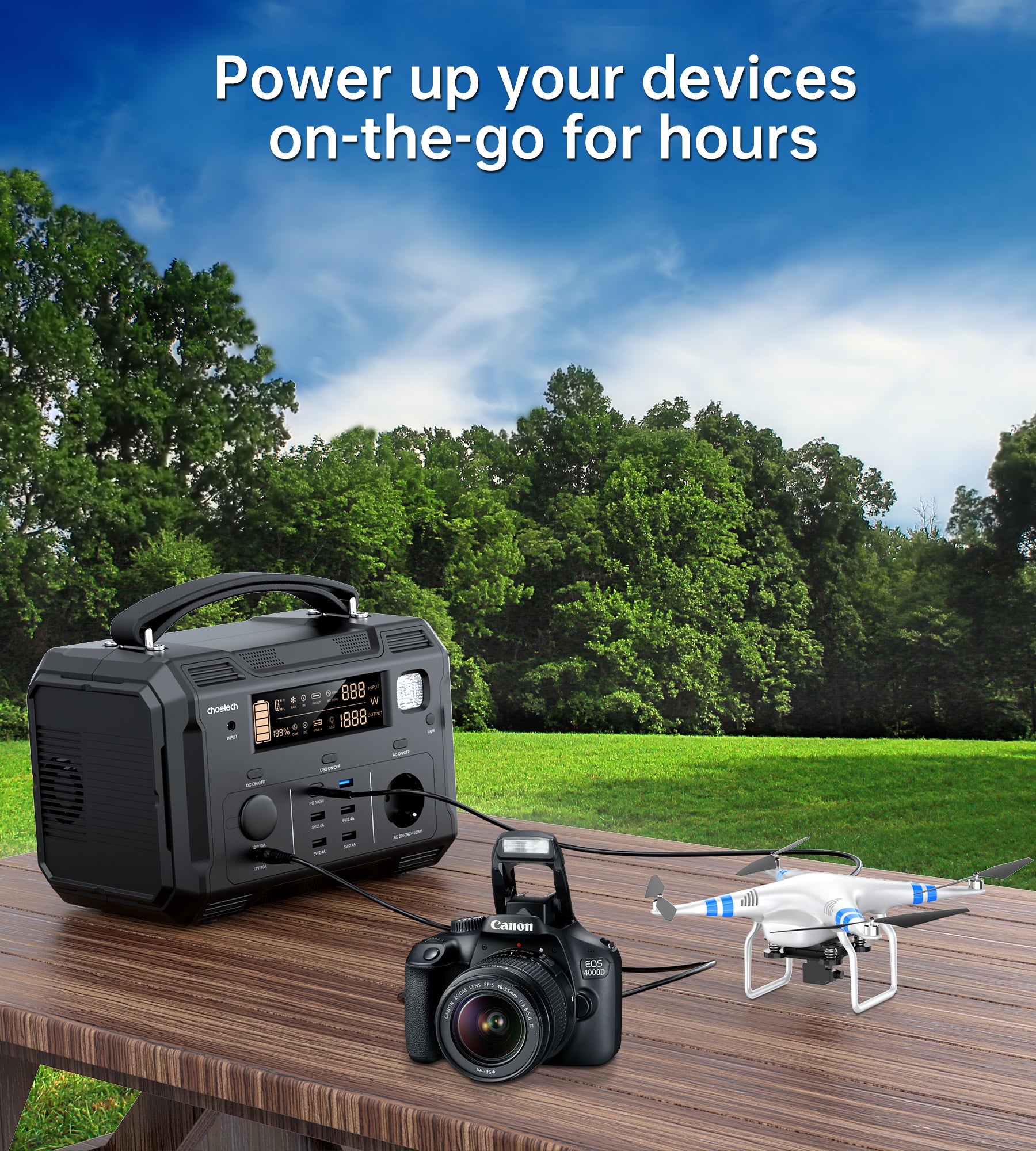 BS004 Choetech 500W Portable Power Station
Choetech's 500W Portable Power Station is designed to provide off-grid power to your electronic equipment. Whether you are climbing a mountain, taking an RV road trip, or camping outdoors, this power station can provide reliable power to your electronic devices. Power up your devices during power outages and emergency situations. 
500W Multiport Generator
This 500W Portable Power Station is equipped with AC input/output, DC input/output, a QC3.0 USB-A port, four 5V/2.4A USB-A ports, one 100W USB-C PD port, and a cigarette lighter port. It's the most portable all-in-one power station that can meet any demand: charge your laptop, mini-cooler, drone and other outdoor electronics when you are camping.
ECO-Friendly Power Supply
The environmentally friendly power station features pure sine-wave technology that safely powers electronic devices by providing clean, stable electricity that is just as dependable and safe as the power you get at home. Gas-free and can be easily charged by a solar panel, providing and storing free and green energy. Runs quiet without any exhaust fumes.
Efficient Solar Generator
This power station can be recharged in two ways: the battery can be fully recharged with a Solar Panel (Not included); and DC fast recharging. You can take this power station as an emergency/backup power supply for your phone, small fan, laptop, radio etc.
Ready for the Great Outdoors 
Slim design with a comfortable to carry handle, take this backup battery everywhere you go: whether you are in the great outdoors or within the confines of your home, we've created a way for you to never run out of power and stay connected.
Military Grade Build
Full side body aluminum alloy shell and ABS material strengthens the edges, convenient handle and its anti-slip mat at the bottom prevents the unit from damage. The power station has built-in protection against overcurrent, overvoltage, and overheating, ensuring the safety of your devices.
Irreplaceble for RV/Van
Features AC/ DC/ USB ports: AC input/output, DC input/output, a QC3.0 USB-A port, four 5V/2.4A USB-A ports, one 100W USB-C PD port and a cigarette lighter port. The power generator can be widely used for indoors or outdoors: at home, in your office, during travel or camping, etc. Charge it and throw it it the back of your car.
Portable Power Source
Equipped with a comfortable handle and designed to be the ideal size for traveling: it will fit perfectly in your backpack or the backseat on long road trips: crank up the music, power up a drone, keep the lights on, charge a phone, and power up other useful appliances.
Off-Grid Companion
This massive 500W generator can be charged by a solar panel and produces exceptionally low emissions making it environmentally friendly. Also, no gasoline required and no toxic fumes, this ECO-friendly power generator is completely safe to use inside your house, tent, and car.
3 Ways of Recharging:
* Recharge with a solar panel
* Recharge by DC
* Recharge with a Car Cigarette Lighter Port 
Multi-Protection
Features built-in protection against overcurrent, short-circuit, overcharging, overvoltage and overheating.  
Specifications
Shell Material: ABS+PC
Battery Type: Ternary Lithium 18650
Battery Brand: Yiwei Lithium Energy
Output Power (W): 500
Peak Power (W): 1000
Energy Storage Capacity (Wh): 484
Energy Storage mAh/Voltage: 134400mAh/3.6V
Energy Storage Ampere/Voltage: 22.4Ah/21.6V
Product Size (mm): 269*178*205
Packing Size Inner Box (mm): 420*231*267
Packing Size Outer Box (mm): 486*435*304
Product Net Weight (kg): 5.5
Gross Weight (kg): 7.6
Number of units/carton: 2
Number of card boards (card board 1m*1m): 72pcs (36 CTNs, 6*6 stacked)
Number of card boards (card board 1m*1.2m): 72pcs (36 CTNs, 6*6 stacked)
Quantity/20ft container (1m*1m card board): 10 pallets - 720pcs)
Quantity/40ft container (1m*1.2m pallet): 20 pallets - 1440pcs
Output:
AC Output: US/JP: 100V-120V 50Hz/60Hz; EU/UK: 230V 50Hz; CH: 220V 50Hz; KR: 220V 60Hz; AUS: 240V 50Hz
AC Output Interface: 110V*2, 220V*1 
PD Output: 100W*1 
QC Output: 18W*1
USB-A Output: 5V/2.4A*4 
Cigarette Lighter Output: 12V/10V
DC Output: 12V/10V
Input:
AC Input (W): 120W
AC Charging Time (H): Around 5.5 hours
Solar Input (W) Anderson: 150W
Solar Charging Time (H): Around 4 hours
Car Cigarette Lighter Input (A): 5A (60W)
Car Cigarette Lighter Charging Time (H): Around 12 hours
Temperature:
Charging Temperature: 0-40C
Operating Temperature: -10-40C
Protection Mechanism: Overcurrent, overvoltage, overload, overcharge, over discharge, short circuit
LED: Steady On, SOS, Blinking
Screen: LCD Display
Accessories: Adapter, User Manual