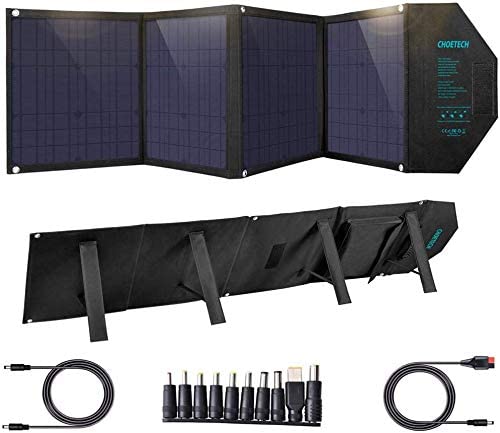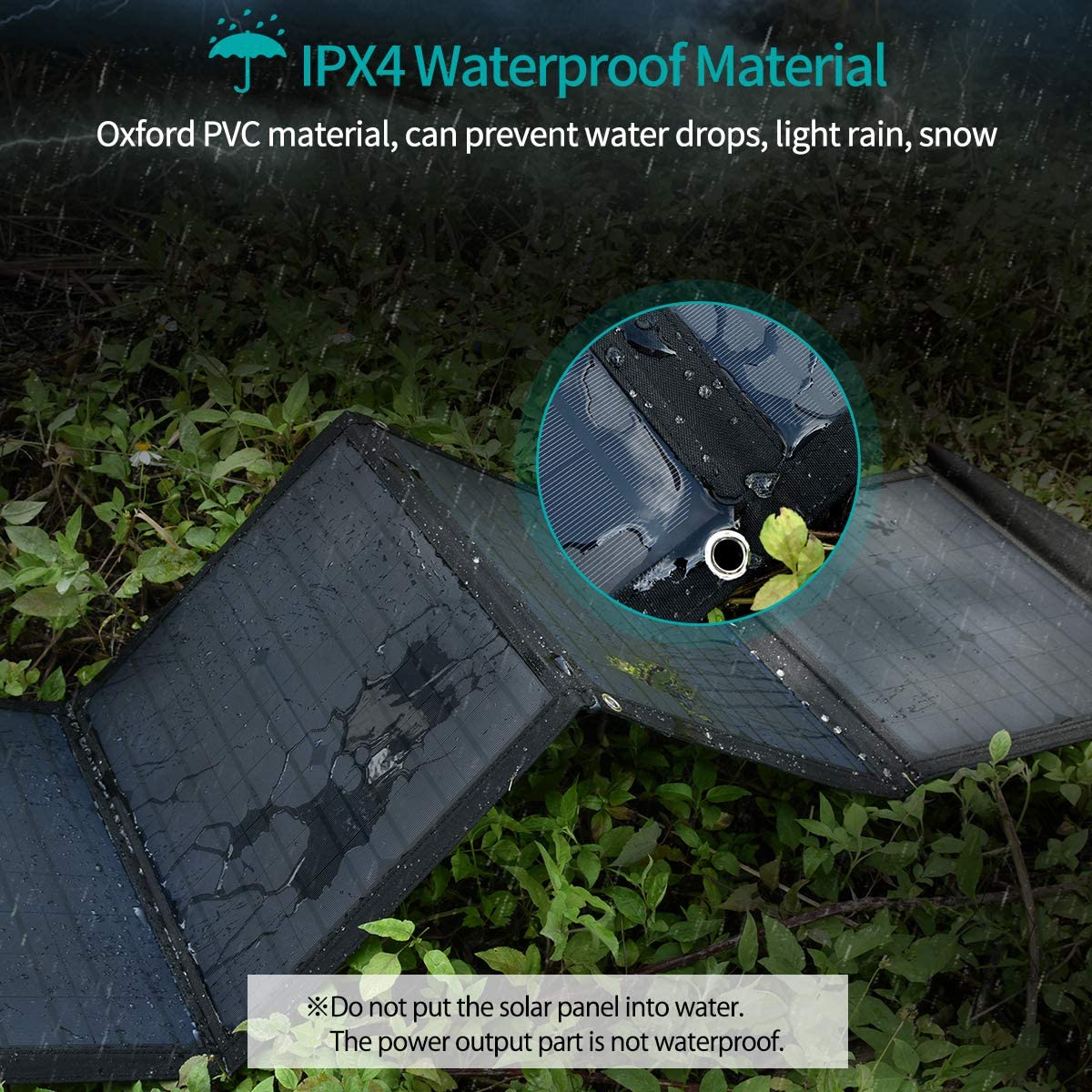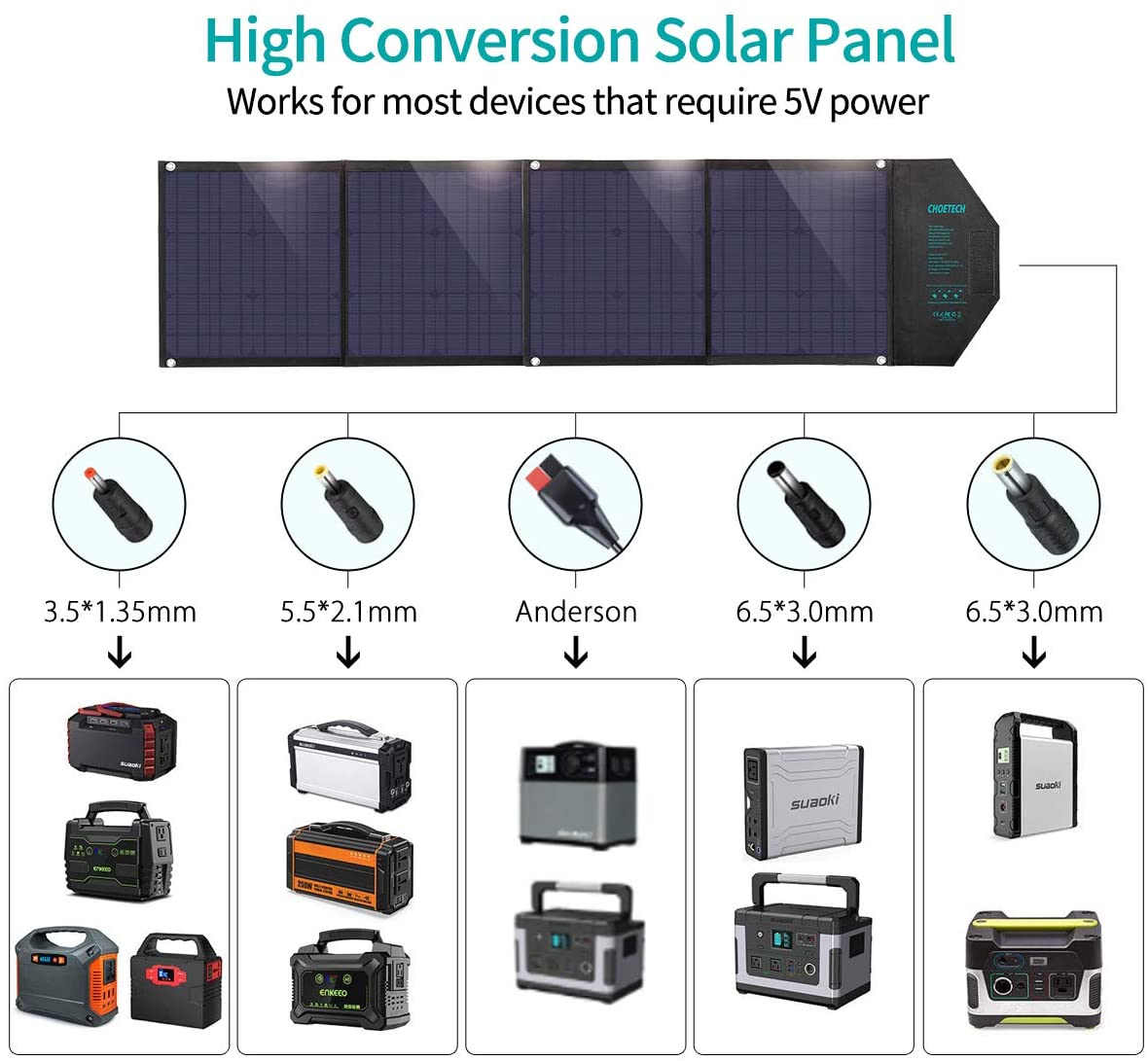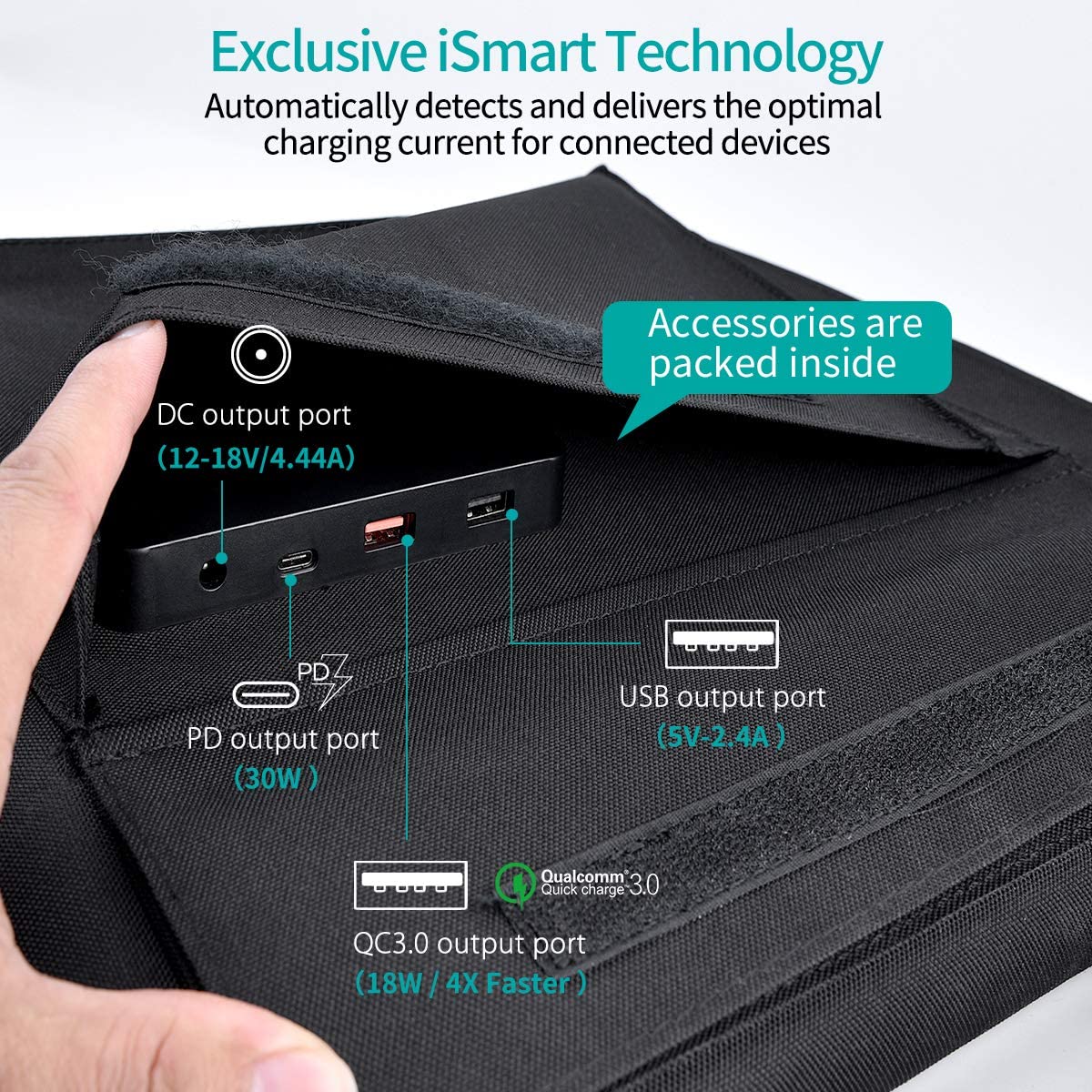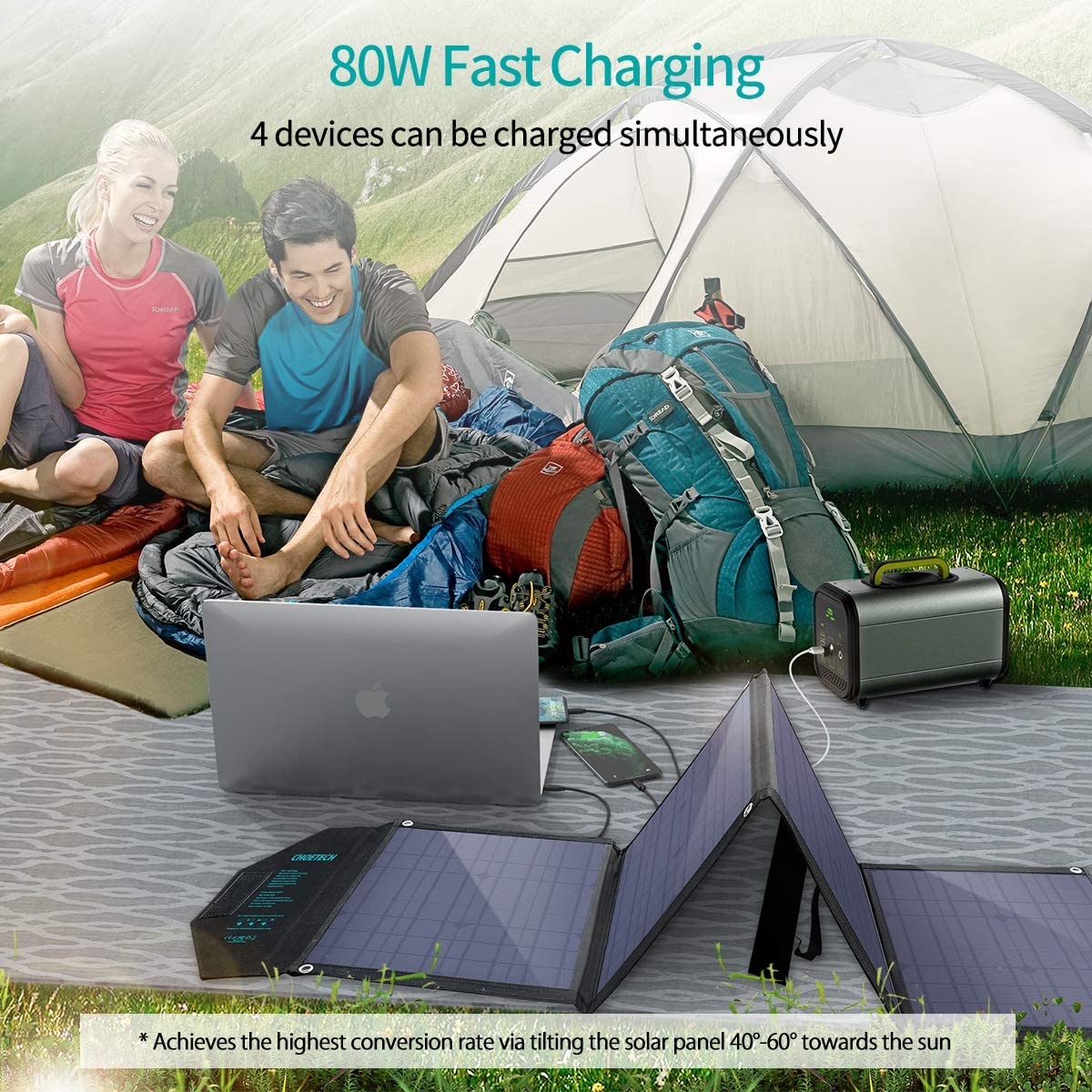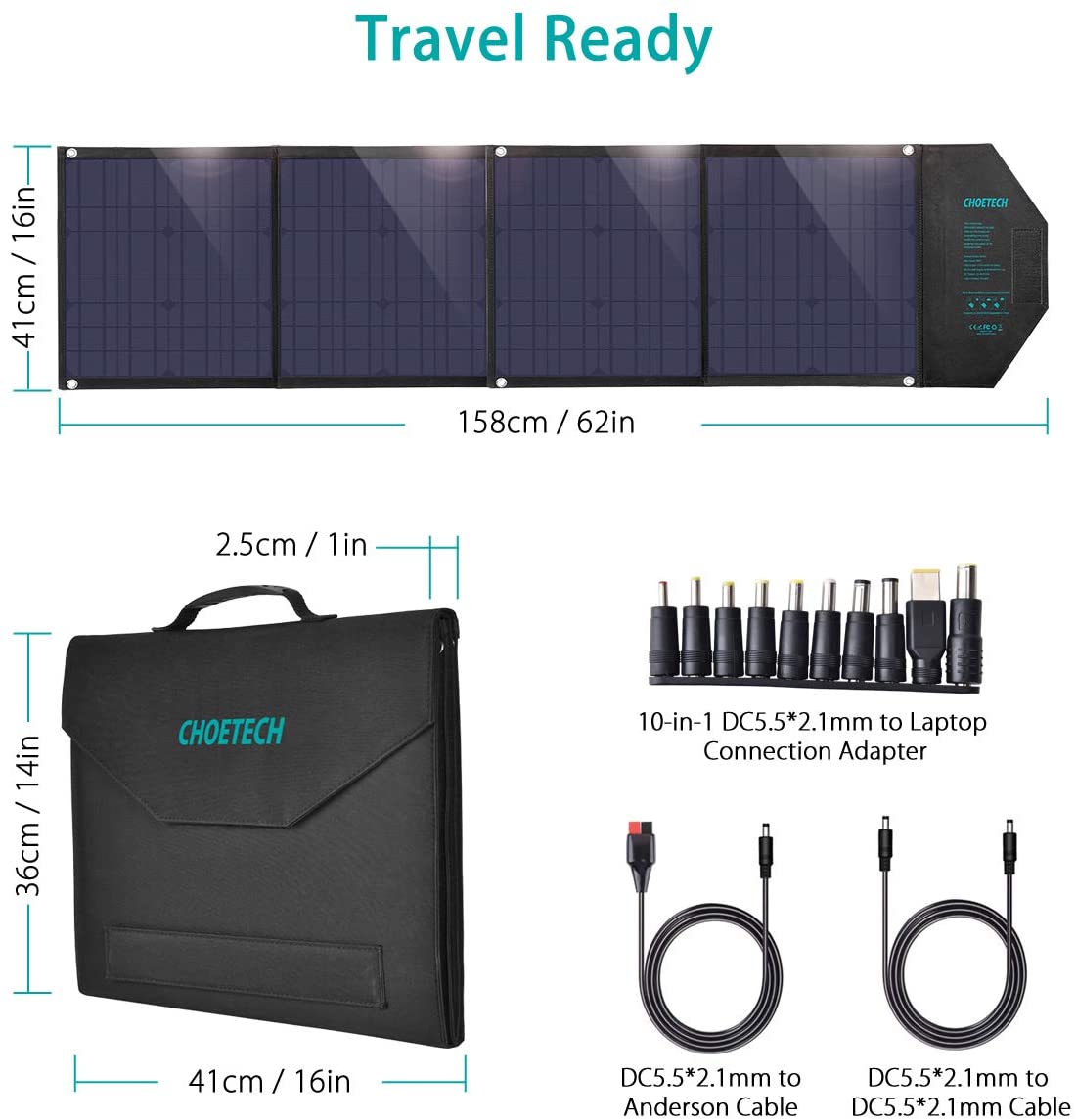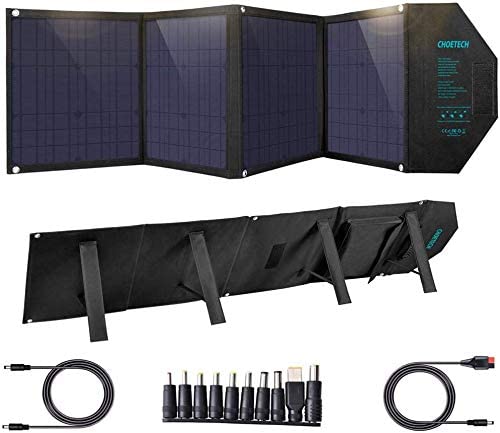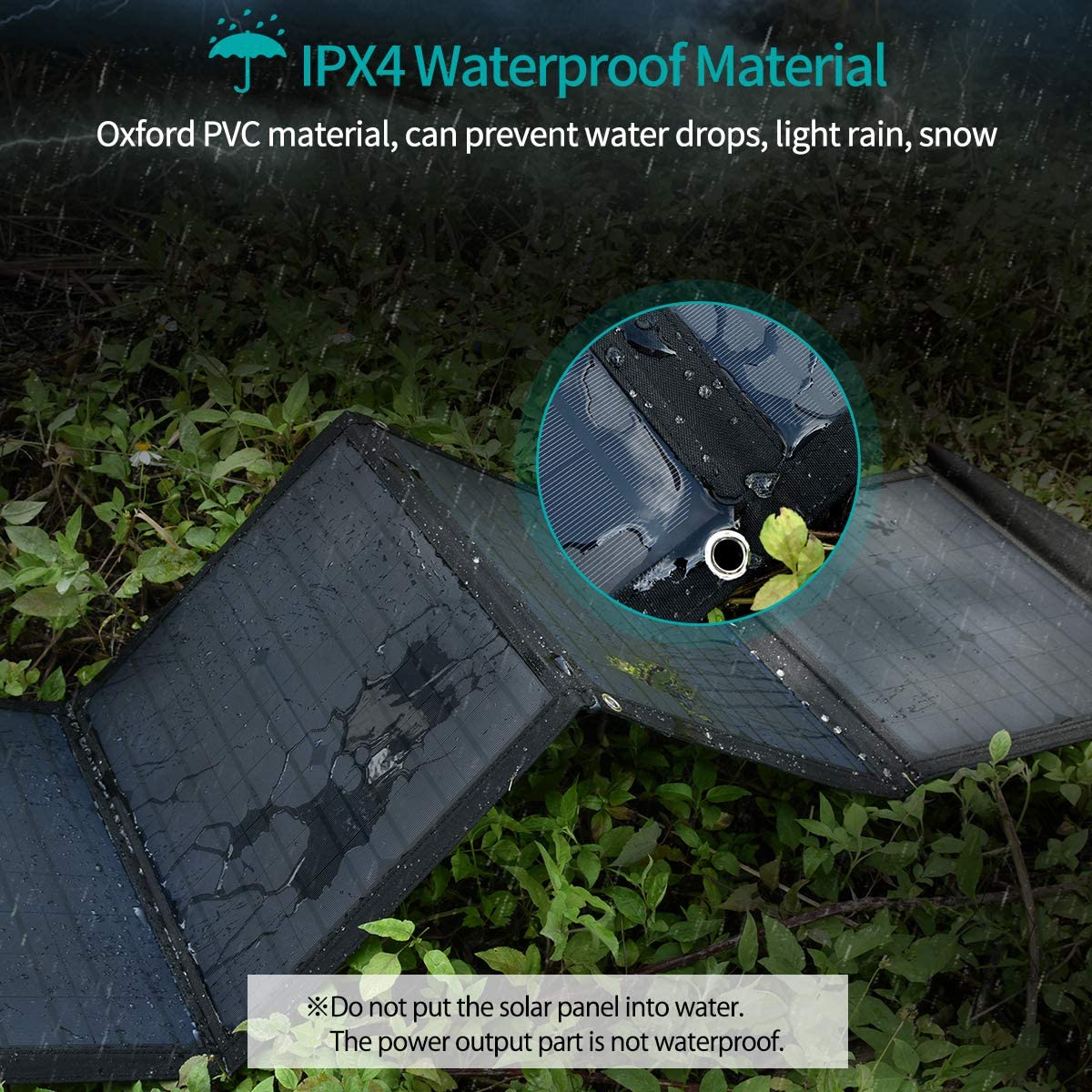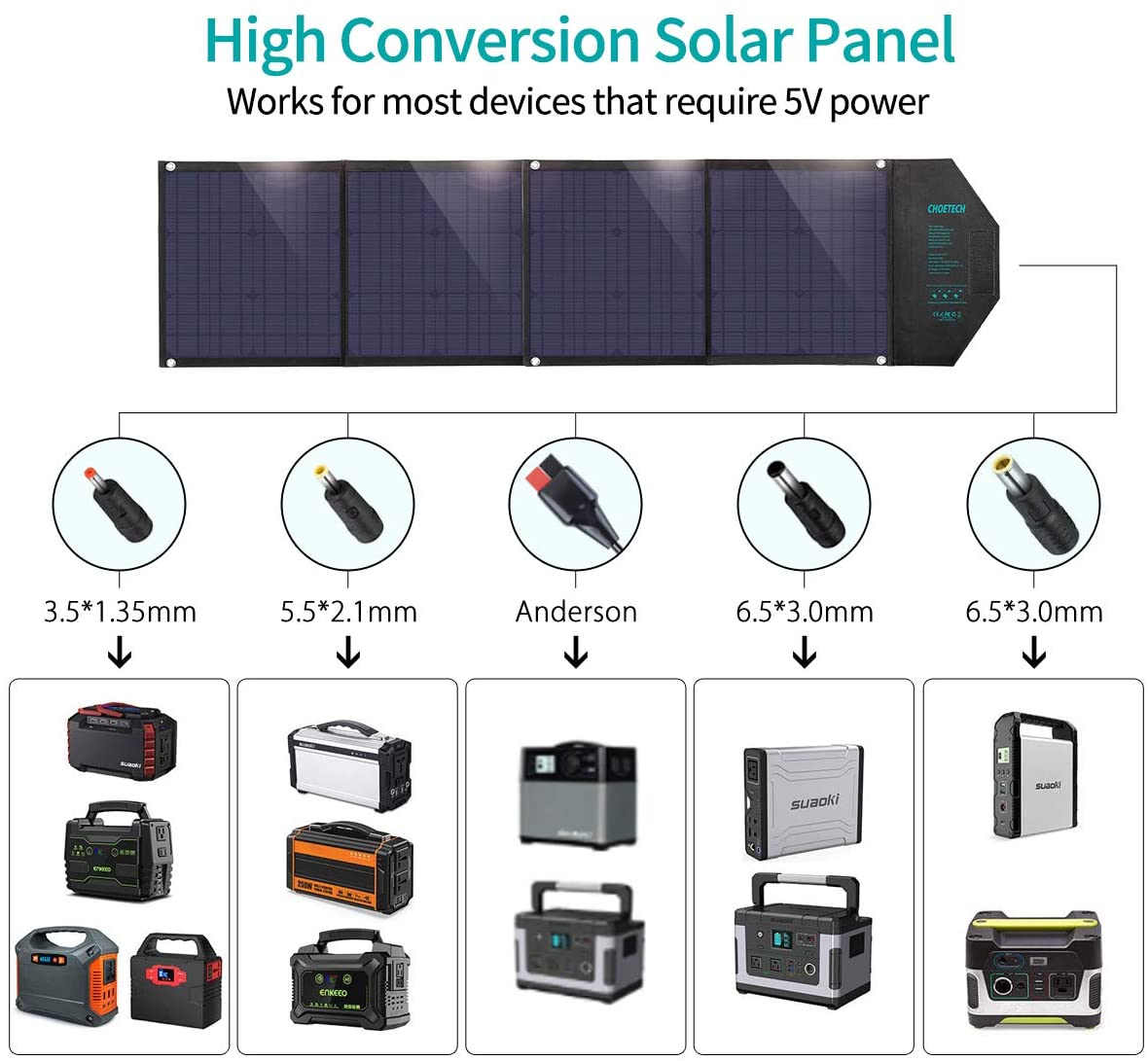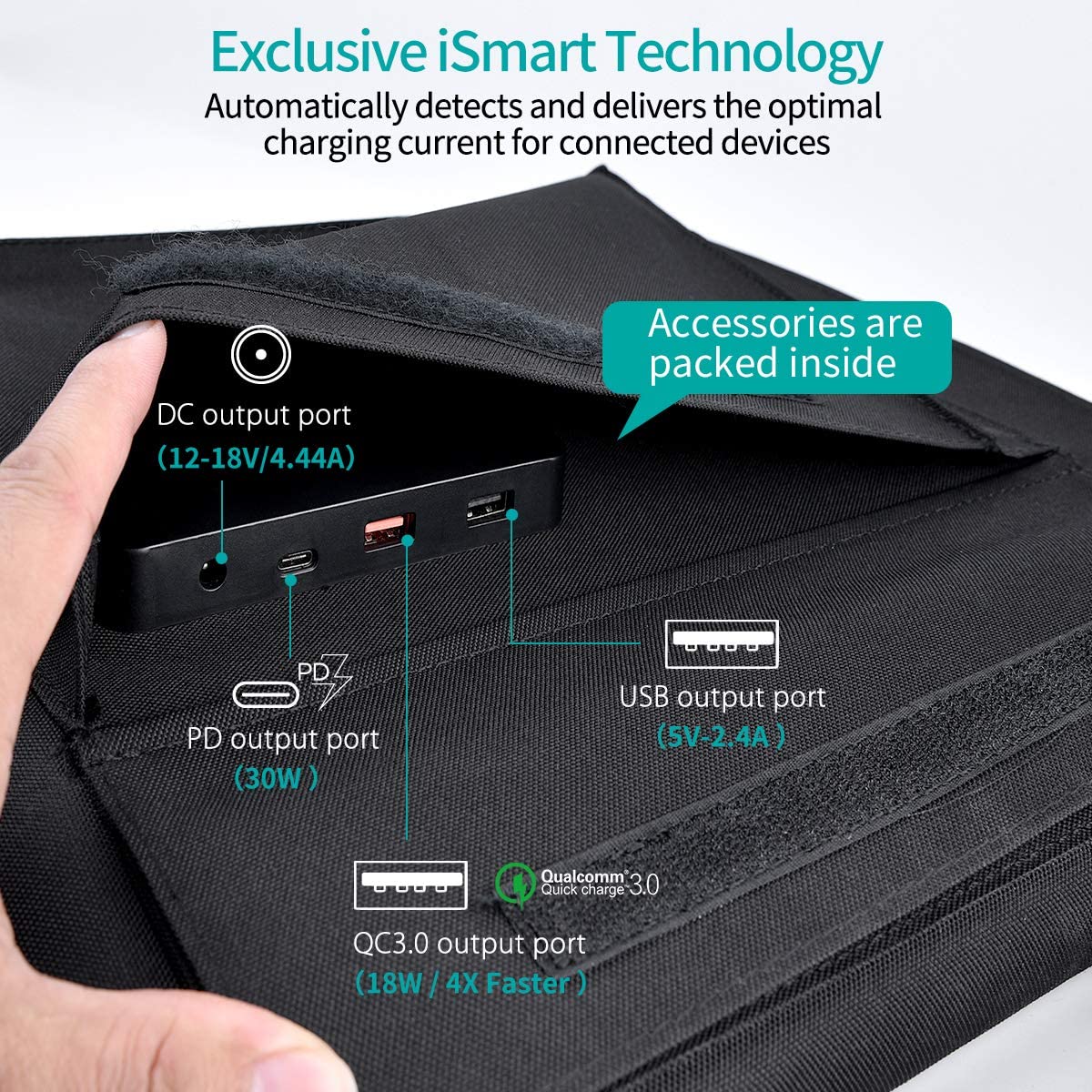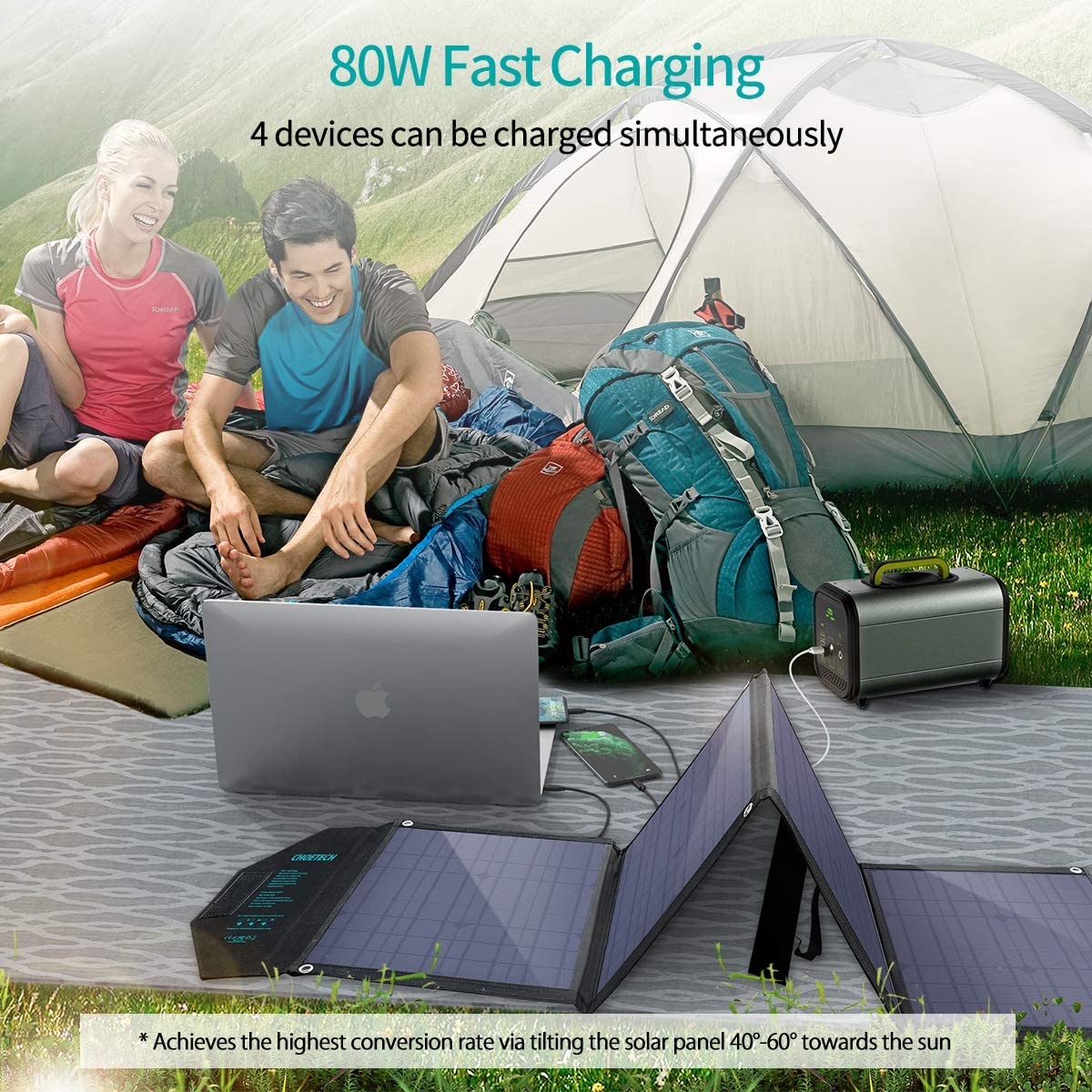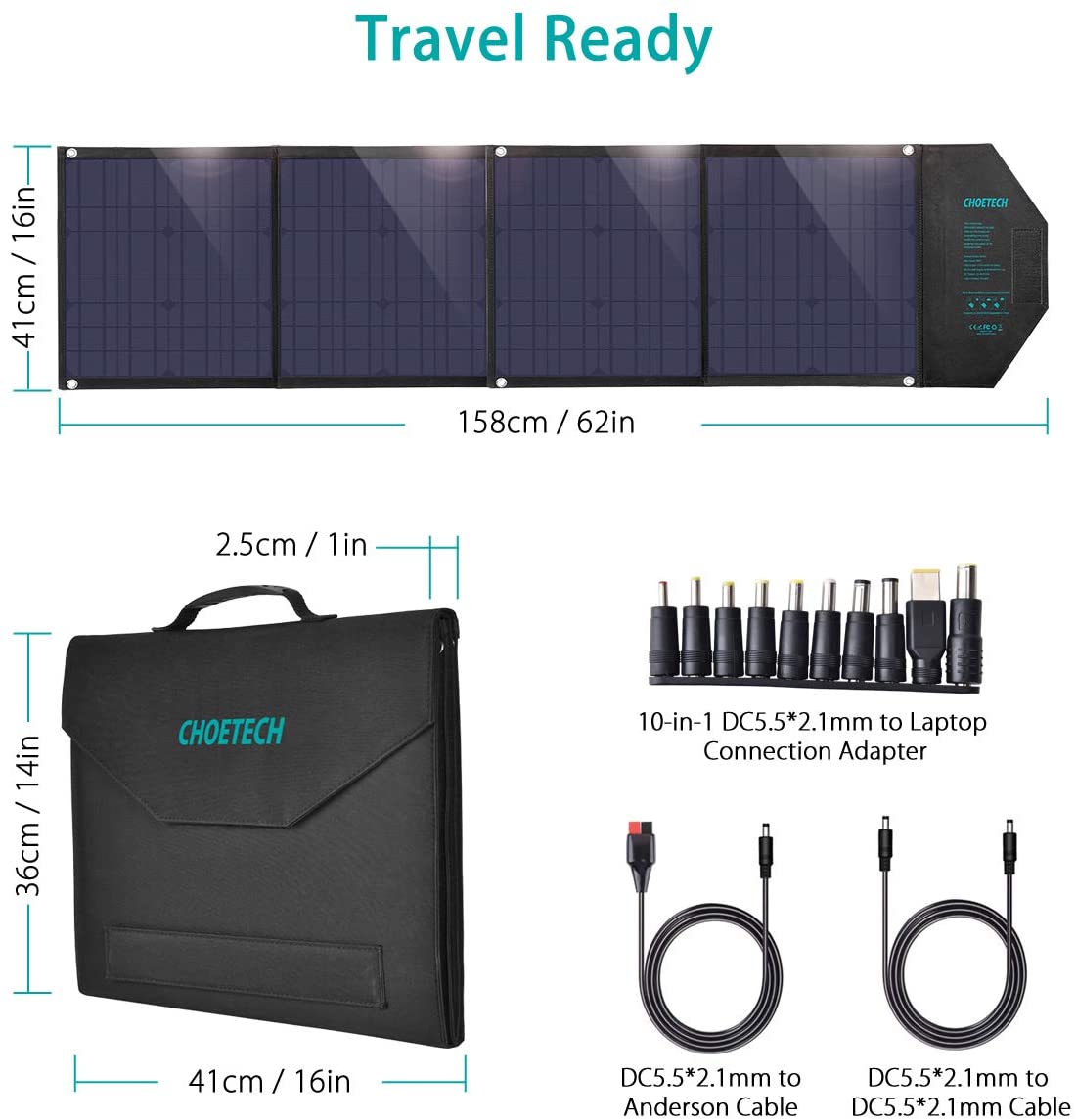 SC007 Choetech 80W Foldable Solar Charger
Where there is sun, there is power. Providing convenience and dependability power anywhere you need it. The high efficient solar panel portable charger makes good use of unlimited sunshine, enjoys the outdoor adventures of green and clean power while off-grid.

Designed for Solar Generators
This 80W solar panel usb charger can charge your power stations via included DC port or the DC to Anderson cable, it can meet your multiple needs for Jackery solar generators. This portable solar panel is a great choice for camping, rv, and even emergency power supply for home use.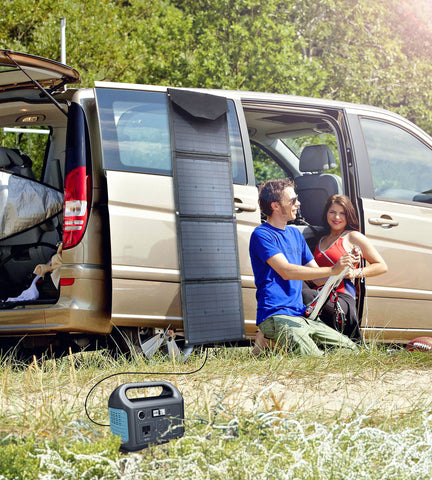 High Conversion Efficiency
High-efficiency solar panels arrays that could offer a conversion of up to 21-23.5%. The solar panel portable charger makes the most use of the sun and convert the sunlight into clean energy.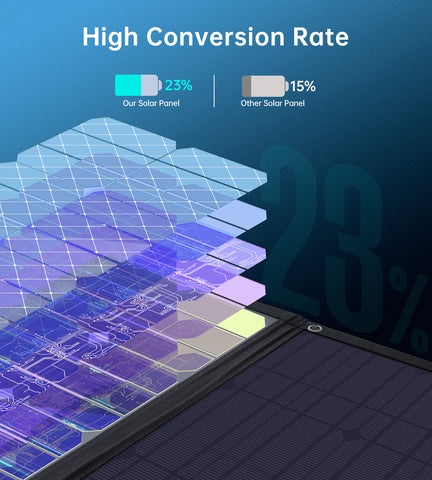 Portable 
With a folded size of and with a TPE rubber handle, CHOETECH portable solar panels stand can be folded into a briefcase and easy to take out everywhere. Designed with kickstands on the backside, it can be a portable solar panel stand for efficent using.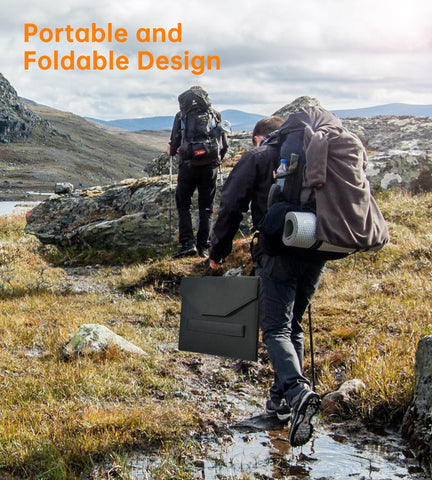 Universal Compatibility 

Equipped with 1*DC output port (18V/4.44A), 1*PD3.0 Type C port(30W), 1*QC3.0 fast charging USB port(18W/4X Faster) and 1*USB output port(5V/2.4A). This portable solar panel for RV is deal for charging phones, tablets, laptops, power banks, Macbook Pro, etc.
Adapter Kit
The 80W foldable solar panel can charge your power station directly with the 10-in-1 connector kit (except for MacBooks). With three USB ports (USB-A1: QC3.0, Apple 5V-2.4A, USB-A2: Apple 5V-2.4A), one USB-C port ( PD30W: compatible with PD3.0), and a 80W DC output can keep two devices simultaneously full of power.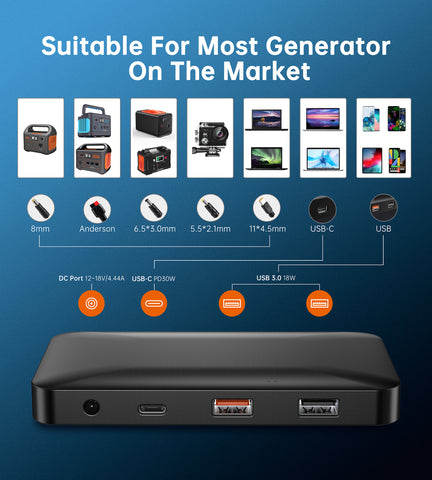 Compatible with most solar generators on the market with DC connections such as Jackery, Chafon, Suaoki, Goal Zero Yeti, Webetop, Paxcess and ROCKPALS and offers grid-independent green power solutions. 
Package Content
1 x 80W Foldable Solar Charger
1 x User Manual
1 x DC 5.5 * 2.1mm to DC 5.5 * 2.1mm Cable
1 x DC 5.5 * 2.1mm to Anderson Cable
1 x 10-in-1 DC 5.5 * 2.1mm Connector
Customer Reviews

Kaducky, from US
This is the first solar panel I've gotten so I can recharge my devices while we are outside. So far the thing has worked great for that purpose. The panels are nice and big to capture a lot of sunlight. It has 2 regular usb ports for 2 different charging rates and a usb tyce c port. It comes with a ton of different adapters so you can charge many other devices like a laptop. I unpacked the solar panels, put it in the sun, plugged in my phone and it worked perfectly. A great buy!

Vijava, from Australia
I am using this solar panel since last 10 days to charge my phones, power banks and sometimes laptop. So far I really liked it and I don't have to depend on electricity to charge phones. Not sure if I am saving on electric bill but this solar panel really helped me to charge hand held fans and phones while I am in camping in woods. This one when open is big but can fold to laptop size to carry easy. I recommend this solar panel for home use and for someone going camping where you don't have access to electricity to charge electric devices.

Mei.L, from US
Bought this 80W solar panels for charging phones and iPad when we're camping. This solar panels are pretty light-weight and solid and does not take too long to fully charge the power banks. I like it has additional USB port to charge a separate although it slows down a bit. Looking for a 120W one!

Carla, from US
I'm heading up north to go camping this upcoming weekend and thought this would be a great add-on. It's a very off-grid campsite, so no power... But that's no problem. The solar panels came well-packaged and there was no damage to them. I must also add that the design is amazing! It doesn't feel like cheap material either! I set it out for a few hours when it arrived and it was already halfway charged! I plugged in my phone, my laptop, and voila! It worked! I highly recommended these solar panels if you're going camping anytime soon. I may be picking up another solar panel from them soon! Hope this helps anyone.

Mac, from US
This is an awesome solar panel. It is a great companion to my power station. It is 80w and does a great job of charging my station throughout the day while we are camping . I love how the panel folds up into a small carrying case. It opens up with ease and plugs right in. I am very impressed with the quality, design and ease of use of this solar panel.